MINING
Growing emphasis on consumer satisfaction and safety has proliferated the testing, inspection, and certification (TIC) services market as governments worldwide have implemented stringent quality regulations on almost every industry vertical. Whether it is construction, automobile, energy, healthcare or other segments, continuous advancement in products and components have necessitated upgraded testing and certification requirements. Improvements in management, product quality, manufacturing processes, supply chains and service value have become imperative for the growth of any business, imposing a need for the TIC services market. Existence of recognized certifications such as ISO:9001 or ISO/TS 16949 make it easier for customers to search for companies that provide excellent product quality, better customer service and new, innovative solutions. The global TIC services market valuation in 2017 stood at over USD 150 billion, driven by the obligation of companies towards meeting specific product requirements and to comply with international quality standards.
U.S. Testing, Inspection, and Certification (TIC) Services Market Revenue, By Service, 2017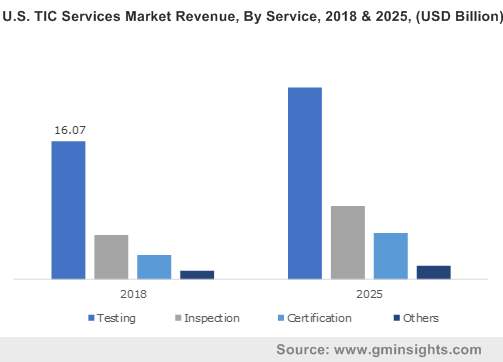 Besides helping to control the quality, effective testing and inspection processes aid in minimizing rejections, reduce manufacturing costs and identify reasons for a defective output. The transportation segment, in general, constitutes a major part of the global manufacturing industry where thousands of components or auto parts go through daily quality checks. As governments and international agencies are constantly raising the weight, material and other standards of automobile components to enhance the safety and efficiency of vehicles, the TIC services industry is subsequently gaining massive popularity. OEMs as well as small auto component vendors are striving to achieve high level of quality and get certified, to get documented and provide validity to their proficiencies and expertise. Frequent inspection and evaluation of manufacturing processes by in-house or third party services to maintain a grip on the quality level will continually boost the TIC services market.
Get a Sample Copy of this Report:@ https://www.gminsights.com/request-sample/detail/2318
As per estimates, the EU alone produced over 17 million passenger cars and 2.6 million commercial vehicles in 2017. With strict regulations in place to enhance the fuel efficiency of future vehicles and reduce carbon emissions, the TIC services market will experience tremendous growth from testing and inspection of advanced auto components and manufacturing processes. New processes need to be sufficiently tested before implementation and vigorously inspected for any faults or defects to ensure product uniformity. Globally, an emerging product line in the automotive sector is connected and self-driving cars, which presents a challenging task for the TIC services industry. Chipmakers and testing companies are helping to develop these products by adhering to ideal temperature, voltage, electromagnetic interference and several other standards put down for an efficient autonomous system. Automotive standards like ISO 26262 have been introduced related to the safety of electrical and electronic systems within vehicles, warranting adequate testing and inspection to be done on advanced automotive chips.
The TIC services industry is rapidly witnessing demand from the healthcare and life sciences segment, with test and inspection reports of pharmaceutical equipment being critical in assessing whether the international standards are met. TIC companies are trying their best to evolve with technological developments and remain up-to-date with new regulations pertaining to safety and quality. Products, apparatus and supply chains are subject to quality testing activities regularly, as pharmaceutical companies are responsible for providing vital therapeutic solutions. Even other parties involved in the supply chain must go through intense inspection by assigned representatives to be eligible to acquire critical certifications. Citing an instance that signifies the importance of the TIC services market, Swiss WorldCargo recently received IATA's Center for Independent Validators (CEIV) Pharma certification, which encompasses not only the airline but also the entire organization.
To elaborate, a CEIV Pharma certification indicates that the lifesaving pharmaceutical products are being handled in compliance with the best global standards of safety, security and efficiency by the certified party. With this certification, Swiss WorldCargo has attained a milestone which only a small number of airlines have been able to earn, recognizing them as globally consistent in exhibiting high quality standards while handling pharmaceutical products. Further, U.S. based Nu-Med Plus Inc. has established a quality management program and trained its employees regarding quality standards in an effort to gain ISO 13485 certification. The certification is essential for the company before it files for the approval of its new nitric oxide delivery devices with the FDA and demonstrates the significance of the TIC services market in forming the image of a top-quality healthcare product or service provider.
Overall, the TIC services industry will undergo remarkable transformation due to incessant developments in the life sciences field, resulting from the existence of rigorous certification eligibilities in healthcare and mandates that demand high quality control. Slated to record a 6% CAGR from 2018 to 2024, the TIC services market is highly dispersed with key players like Intertek, SGS SA, Bureau Veritas, DEKRA, TUV SUD, Apave and Eurofins being the major participants.
Author Name : Pankaj Singh
The profitability landscape of borehole equipment market has been witnessing a massive turnaround of sorts in the recent years, on account of the rising number of mining operations, heavy infrastructural development, and the increased demand for water in drought-ridden areas. In this regard, companies partaking in borehole equipment industry share have been striving to brainstorm rather innovative products and techniques for borehole drilling. For instance, merely a couple of years earlier, Boart Longyear, a rather prominent player in borehole equipment market, was involved in a project that included installing a ventilation shaft for a longwall coal mine in Wyoming. The company deployed a dual-tube flooded reverse-circulation drilling technique that was far advanced than the ones used for a traditional raised bore rig, as it pumped air via the outer tube, forcing mud upward through the inner tube, thereby preventing porous rock from being plugged for the borehole. The same year witnessed Boart launching the game-changing TruProbe drilling system that enables the deployment of gamma, geophysical, survey sensors inside drill strings for identifying any traces of previous metals and minerals at an affordable cost, majorly impacting the product landscape of borehole equipment industry. In retrospect, it would be apt to state that Boart Longyear has indeed established itself as one of leading participants in borehole equipment market, setting ambitious standards for its fellow rivals and new entrants.
U.S. Borehole Equipment Market, By Product, 2016 & 2024 (USD Million)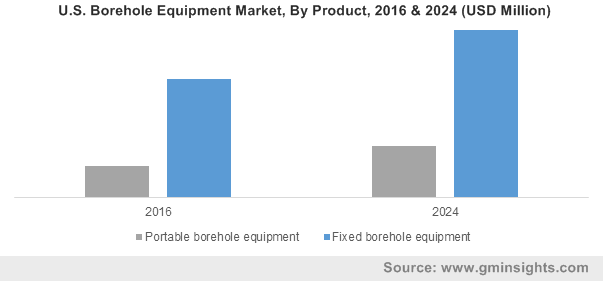 The emerging economies of Africa: The upcoming hotbeds for borehole equipment market
While the developed and developing economies across the globe have been rather proactive in global borehole equipment industry, in recent times, companies have been tapping the unexplored suburbs of the African continent, that seem to have depicted quite a perceptible potential as far as drilling operations and deploying the apt equipment for the same are concerned. Countries such as Zambia, South Africa, and the Republic of The Gambia, have lately emerged as profitable avenues for borehole equipment market, subject to the stream of favorable initiatives that are being undertaken by regional and international governmental agencies in order to combat the water shortage in these areas. A succinct gist of a couple of these productive initiatives that have transformed borehole equipment market outlook has been enumerated below:
The CEO of the Vision Development Foundation recently approved a borehole project in Kerr Demba Holley, Upper Niumi, Gambia, for GMD 500,000, that would be powered with solar and storage tanks to deal with the water supply shortage in the district.
Get a Sample Copy of this Report:@ https://www.gminsights.com/request-sample/detail/2266
In a bid to deal with the severe impact of the droughts in KwaZulu-Natal, a funding of nearly ZAR 500,000 has been provided to drill boreholes in communities such as Verulam, Wyebank, Umbumbulu, and Ladysmith. To combat the water scarcity in the region and aid the expansive regional mining industry, companies and governmental organizations plan to make sufficiently huge investments in South Africa, that would eventually impel the regional borehole equipment market share.
The National Savings and Credit Bank (NatSave) and the Musika Development Initiative struck a deal in the second quarter of 2017 for implementing a 12-month-long project in the Kalomo district of Zambia, worth ZMW 2 million. The program would apparently entail the sinking of 20 solar-powered boreholes for increasing the productivity of small-scale farmers and improving their access to irrigation solutions in the area. The memorandum of understanding (MoU) for this pilot project is certain to gain ground in the regional borehole equipment market, encouraging other players to follow suit.
With extensive developments prevalent in the construction and infrastructure development verticals, it goes without saying that the humongous demand for advanced infrastructural facilities, massive requirement for residential and commercial spaces, in tandem with the regulations enforced with respect to strong building foundations and soil quality would have a profound impact on borehole equipment market size. Furthermore, these products find colossal applications in various grades of mining operations, thus opening up a plethora of new vistas for borehole equipment industry, given the vast expanse of mining exploration activities and the regulations that mandate mine operators to deploy highly advanced machinery for drilling. By and large, it would be apt to state that borehole equipment market trends would undergo dynamic transformations in the ensuing years, contingent on the changing demands of the expansive construction and mining sectors.
Author Name : Saipriya Iyer
Global Mining Equipment Market is witnessing many twists and turns since the past decade with the constant involvement of modern technology to enhance the quality of operation. Machine failure detectors, real-time monitoring, and open pit mining are the some of the hi-tech integrations fueling the smart mining solutions. The growing trend of using multifunction machinery instead of single function counter parts is also expected to positively influence the overall market expansion. As per a report by Global Market Insights, Inc., "Mining equipment market in 2015 generated a revenue of more than USD 69 billion, and is poised to grow lucratively at a CAGR of 4.7% over 2016-2024."
China Mining Equipment Market size, by application, 2013-2024 (USD Billion)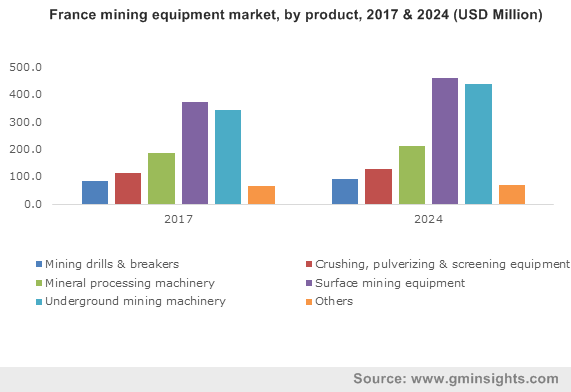 Another vital factor which is pushing mining equipment industry worldwide is the surging need to extract mines from lower grade ores and to cope with the remote locations. The constant effort by the key market players to address these major issues for enhancing the productivity and overall efficiency has resulted in automation and product innovation.
Metal mining applications to bring lucrative business opportunities for the global industry
Mining equipment industry has observed significant growth in two application sectors-metal mining and coal mining. In 2015, metal mining equipment market surpassed a revenue of USD 29 billion and is anticipated to grow exponentially in the upcoming period with an annual growth rate of 5% over the timespan 2016-2024.The heightening global demand for precious metals especially gold, as it supports the financial, emotional, as well as cultural values of the consumers, is augmenting the industry in metal mining.
Get a Sample Copy of this Report @ https://www.gminsights.com/request-sample/detail/793
Mining equipment industry from coal mining has also developed over the recent years, in the transition from manually extracting the coal on carts to economical open cut long wall mines. The massive progression can be credited to the rising electricity requirement to feed the growing population.
Surface mining and underground mining are two basic techniques adopted for extraction. Today, surface mining being more predominant, surface mining equipment market has evolved robustly. It had a revenue share of more than 35% of the total volume in 2015 and is slated to show heavy growth at a CAGR of 3.4% over 2016-2024. Rising trend of exploration of untapped resources specially across developing nations is expected to offer ample opportunities to the market over the years ahead.
Mining drills and breakers market will also benefit from the increase in demand for sub surface mining of metals, minerals, and coals with the incorporation of effective hi-tech solutions.
Asia Pacific, driven by China, to witness heavy gains over 2016-2024
Asia Pacific is one of the prominent regions propelling the overall market with a collected revenue of more than USD 40 billion in 2015. Increasing concerns toward worker's safety, strong demand for energy efficient technologies, and environmental considerations are the key factors driving the China mining equipment industry over the 2016-2024.
Furthermore, the recent market trend of using lease-based equipment is also encouraging industries to use more of advanced machinery. For instance, barcode technology helps in tool tracking, therefore various manufacturers are now incorporating digital barcode in hand tools as well as power tools to favor effective monitoring.
Another niche region driving the market is U.S. Key players in this region are investing continuously on energy efficient techniques, to reduce pollution.  U.S. mining equipment industry is set to cross over USD 11.5 billion by 2024, with a projected CAGR of 3.2% over the period 2016-2024.
Product diversification without increasing the overall cost is the prime focus of the industry participants. Prominent players of mining equipment market include Sandvik, Caterpillar, Atlas Copco, and Joy Global.
Author Name :Satarupa De