MINING
Geospatial imagery analytics market trends will witness increasing traction, owing to rapidly advancing technologies that have allowed companies to adopt spatial tracking and imaging tools including remote sensors and wireless devices. The technology offers different ways in which maps could be produced and used by several public and private enterprises as well as communities. Researchers and GIS professionals using cloud computing to access any resourceful information related to geospatial data will expand the scope of geospatial imagery analytics industry.
APAC Geospatial Imagery Analytics Market Size, By Region, 2018 & 2025 (USD Million)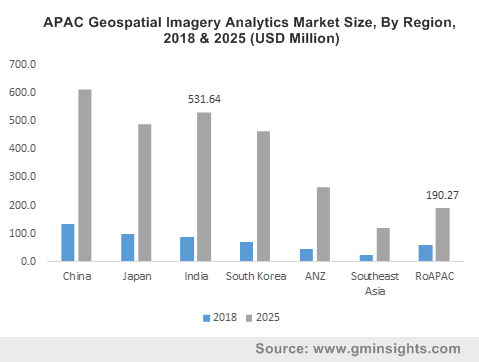 Governments seem have their own geospatial requirements – government agencies face critical challenges like providing information during emergencies or undertake initiatives towards building a smart community. Procuring geospatial data through different image capturing sources provides them access to detailed information to take decisions, such as those related to agricultural lands, which cover the complete jurisdiction and are updated regularly. These agencies have increasingly been adopting the services of satellite imaging firms, contributing significantly towards geospatial imagery analytics industry share.
There has been a surging demand for geospatial tools based on the cloud, to keep an organization's infrastructure regularly updated and making it easier to map the records and manage them, at lower costs. In fact, the cloud-based deployment model in geospatial imagery analytics market will witness a decent growth rate of more than 25% between 2019-2025. Companies are now offering cloud GIS services through pay-per-use pricing models to enable more agencies gain access to geospatial data. This will eventually help consumers who do not have skills and resources required to achieve GIS implementations.
Get a Sample Copy of this Report:@ https://www.gminsights.com/request-sample/detail/2841
The Geospatial Intelligence Center (GIC) in U.S. introduced a new tool in July 2019 for GSI users, called Virtual Inspection Studio (VIS), that enables users to enhance remote property assessment by using ultra-high resolution in aerial imagery. It can give assess to a 360 degree property view and accurate measurement of area and distance calculations. The United States Automobile Association (USAA) has demonstrated their use of VIS in quickly assessing damage and helping to settle claims. Similar use cases will boost the application of imaging solutions and reinforce geospatial imagery analytics industry outlook.
The defense and intelligence community utilizes geospatial imagery that is heavily dependent on image processing software, providing the benefits of multispectral imaging features. Hawkeye, a commercial satellite constellation operator, recently launched RFGeo that uses satellite generated data to introduce new geospatial analysis of data which the satellite delivers, in a standard format for a common tracking software. The company has also reached military market and has demonstrated the remarkable potential for geospatial imagery analytics industry in partnership with the intelligence community.
The construction, marine, defense and agriculture sectors use several aerial imaging platforms like surveillance cameras and drones in order to gather land related information that GIS professionals can use to solidify their decision making process. Government initiatives in Asia Pacific countries to develop the space industry will help enhance navigations systems to capture geospatial images which can be used to support numerous industrial applications. Reportedly, Asia Pacific geospatial imagery analytics market is anticipated to witness a more than 25% CAGR over the forecast timespan.
The Union Mine Ministry in India is exploring the use of drones that could work for mine related functions like surveillance, operation of mines, reclamation of land after mining and managing waste dumps. Large public sector units have been involved in the exploitation of these drones like National Mineral Development Corporation, Hindustan Copper Limited as well government organizations like Geological Survey of India and Indian Bureau of Mines. Substantial research and investment activities promoted by public enterprises will help drive APAC geospatial imagery analytics industry size.
Several companies are involved in the development and advancement of geospatial products that are experiencing high demand, with the fast-paced advancement of smart technologies, including Bentley Systems, AeroVironment Inc., Harris Corporation, PrecisionHawk, Inc. and Satellite Imaging Corporation. Strategic partnerships with other companies, governments and intelligence agencies will help bolster geospatial imagery analytics market size, which is estimated to surpass annual revenues of USD 8 billion by 2025.
Author Name : Riya Yadav
The escalating growth of compressor oil market can be attributed to the high-performance lubrication benefits provided by the product. Its properties such as excellent oxidation performance, resistance to rust and corrosion, wear protection, foam control, and rapid water separation expands the product's area of usage to manufacturing, power generation, automobile, mining etc., augmenting compressor oil market share.
U.S. Compressor Oil Market Revenue, By End-use (USD Million)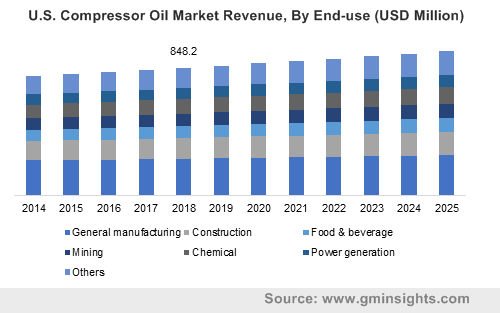 The revenue portfolio of compressor oil market is likely to gain traction owing to expansive product demand from mining applications in particular. The product finds usage in a number of portable compressors that are massively deployed for operations such as vertical drilling, soil nails, rock bolting, shotcreting, anchoring, grouting, and more, given the necessity for smooth compressor operations.
The rising efforts to enhance mining capacity will drive compressor oil market share. The National Mineral Development Corporation (NMDC) for example, last year, announced that it plans to increase the iron ore production capacity to 50 million tons by 2019-20, by forming a joint venture with Chhattisgarh Mineral Development Corporation (CMDC) named NCL. Compressor oil market will gain a fair advantage from mining sector via such operational tactics in the coming years.
In addition to mining, automotive sector is the world's biggest consumer of lubricants. Apparently, automobile and truck engines consume close to 20 million tons per year, which is about half of total lubricant use. In 2018, approximately 95,706,293 motor vehicles were manufactured in the world and the figure is expected to grow substantially in the years ahead. As the production rate of automobile depicts a rise, compressor oil demand will also increase simultaneously, thereby propelling compressor oil market size.
Get a Sample Copy of this Report @ https://www.gminsights.com/request-sample/detail/2557
Regionally speaking, APAC holds the largest share in compressor oil market owing to the significant presence of various industry players and their efforts to expand their reach worldwide. Recently, independent lubricant manufacturer Fuchs Petrolhub made it to the headlines for opening a plant in the Wujiang district of Suzhou, China. The facility's production portfolio is inclusive of numerous industrial and automotive oils, rolling oils, and metalworking fluids. The 80,000 m² plant has been constructed with an investment of around EUR 46 million with a capacity of 100,000 tons in phase 1. The rising efforts by industry contenders to enhance production capacity will augment China compressor oil market.
Another country that will consolidate its stance in APAC compressor oil industry is India, the growth of which is supported by the expansion plans of industry giants. In 2017, BASF India Ltd., a subsidiary of BASF SE, had apparently launched a new technical lab for lubricant and fuel solutions at its Innovation Campus Asia Pacific. The facility was developed with the intention to deliver modern lubricant formulations and high-performance fluids for industrial and automotive applications.
As more and more major companies invest huge amounts to improve their footprints, APAC compressor oil market size will rise significantly over the coming years. Regional expansions by the key players will also push the growth graph of global compressor oil market in the times to come.
The demand for compressor oil will increase due to the rising production of compression equipment. Recently, Atlas Copco made it to the headlines for launching a new high-efficiency oil-injected screw compressor. These next-generation compressors are particularly well suited for metal processing, power plants and mining applications. Innovations pertaining to screw compressors will also augment rotary screw compressor oil market size, slated to exceed $3.5 billion by 2025.
Compression equipment producing companies have been undertaking various other strategies to increase their customer base. For instance, the compression equipment manufacturing company Gardner Denver Holdings, Inc. has announced that it has signed a definitive agreement with Ingersoll-Rand plc to combine Ingersoll Rand's industrial segment with the company. The merger will expand margins through increased efficiencies and allocate capital effectively, accelerating strategic priorities of both the companies. Such moves by leading companies will contribute to the growth of compression oil industry share.
Many oil giants reportedly follow collaborative strategies to expand their business and increase their footprints worldwide. For example, American multinational oil and gas giant ExxonMobil, owns around 37 oil refineries in almost 21 countries, and has recently announced that it has proceeded with an oil development plan in Bajo del Choique-La Invernada block of Argentina. The project is anticipated to produce around 55,000 oil-equivalent barrels a day within next 5 years. Such strategic moves by the oil majors are backing the growth graph of compressor oil market.
Governments worldwide have been planning to increase mining facilities to increase mining production, which will help enhance compressor oil market outlook substantially. With rising number of industry leaders undertaking strategic efforts to expand business reach and product demand increasing across myriad applications, compressor oil market share will increase majorly in the years to come.
Author Name : Anchal Solanki
The expansive consumer spending has encouraged rapid industrialization around the world, fueling the sodium hydrosulfide market size, with increased manufacturing activities giving rise to environmental concerns. Sodium hydrogen sulfide, chemically known as NaHS, has been found to be critical in treating industrial waste and is utilized for effective wastewater treatment to remove heavy metal contamination. Important uses in the leather tanning, chemical processing and mining sectors have been driving the sodium hydrosulfide market growth for many years. However, it is expected that industrial cleaning and waste management would be a considerable revenue source in the near future, owing to the escalating need to prevent river and soil pollution.
U.S. Sodium Hydrosulfide Market Size, By Application, 2017 & 2024, (Kilo Tons)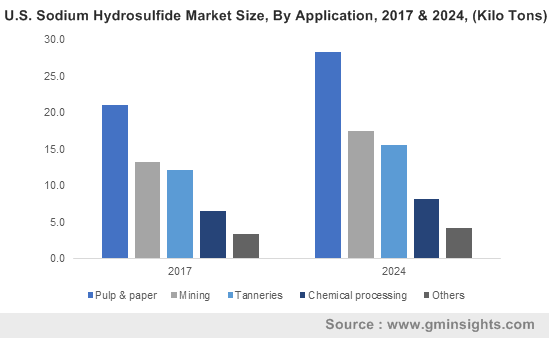 Individual heavy metals like nickel or chromium can be released from wastewater through precipitation process, an application that has transformed the sodium hydrosulfide industry tremendously. NaHS has gradually earned the position of an affordable alternative for water treatment in metal, glass, printing and ceramic industries. These industries generate large amounts of waste and if it reaches nearby lands or water bodies, it could end up polluting the ecosystem. As companies will look to adopt efficient treatment systems for managing their waste, with environmental agencies imposing stringent rules, the sodium hydrosulfide market is expected to garner immense momentum going forward.
In essence, meeting regulatory requirements and enhancing the overall community health can be a major driver for the sodium hydrosulfide industry. Asia-Pacific (APAC), in particular, would be needing a greater number of industrial and sewage waste treatment solutions over the next few years, as the region is immensely populated and promises to exhibit an incredible industrialization rate. It is estimated that over 2 billion people would be added to the world population before 2050, with a majority people living in APAC and creating enormous demand for food, consumables and automobiles.
Get a Sample Copy of this Report:@ https://www.gminsights.com/request-sample/detail/3004
A key source of heavy metal contamination in industrial waste is the automobile and associated segments such as glass and battery. Flat glass is commonly utilized across the automotive and construction industries as it can be easily adapted to doors, windows, mirrors, among other parts. Apparently, glass manufacturing and processing requires high purity water and various types of wastewater is generated from mirror production, polishing plants, and other areas. This waste mostly contains several pollutants, including heavy metals, indicating the need for water treatment and a lucrative potential for the APAC sodium hydrosulfide market.
Reports predict that by 2025, construction sector would be one of the biggest contributors to the global industrial output, accounting for nearly 13.5% share. China, India and Indonesia would be among the top seven countries in the world that will be responsible for up to 72% of the projected growth, underscoring the massive opportunities in APAC over the forecast period.  The region will also witness growing automobile production, a segment which also entails the progress of the glass production industry. Subsequently, the sodium hydrosulfide industry will take advantage of the mounting demand for glass and other products that release hazardous wastewater during production.
Worldwide, the speedy recovery of the chemical sector and the rising exports of specialty chemicals has also bolstered the sodium hydrosulfide industry, as NaHS is extensively used for chemical processing by manufacturers. APAC is a well-known chemicals market and China is the main driver of chemicals demand around the globe. In 2016, China had also exported chemicals worth more than USD 54.29 billion, demonstrating its prowess the critical segment, establishing itself as a viable target for the sodium hydrosulfide market.
On the whole, the accelerated growth of chemical, automobile and construction industries in APAC region will certainly propel the use of NaHS across the application spectrum, supported by the consistent demand for metals, paper and leather goods world over. Comprising key industry participants like AkzoNobel, Cayman, Genesis Energy, Henan Tianshui Chemical, Merck, Solvay and TCI Chemical, the sodium hydrosulfide market revenue is anticipated to surpass USD 350 million globally by 2024.
Author Name : Pankaj Singh
The increasing importance imparted to network stability & wireless communication to speed up network capability has been stimulating private LTE market share. Nowadays, private LTE is used extensively for numerous beneficial purposes such as real-time monitoring, geo positioning activities, in the mobile devices, energy utilities, telecommunication applications, and automotive equipment. The rapid acceptance of long-term evolution (LTE) for high-speed wireless communication across numerous industrial sectors has been encouraging companies in private LTE market to adopt LTE network connectivity.
Europe Private LTE Market Revenue, By Infrastructure, 2017 & 2024 (USD Million)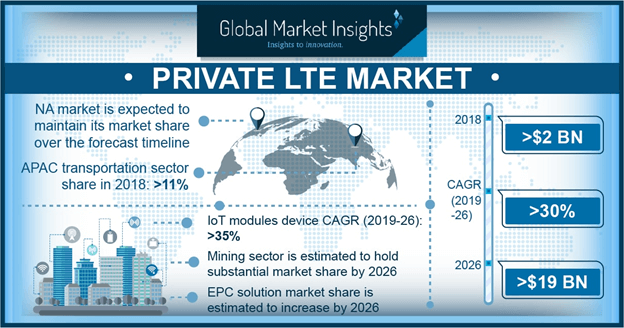 Over the last few years, most of the mobile network providers have shifted to LTE services from 2G and 3G coverage to improve existing communications. The surging digitalization and modernized mobile services have also substantially enhanced data services. Recently in India, the nation's largest telecom company, Airtel has decided to switch to LTE network services to boost data speed. This move will turn out to be rather beneficial for Airtel as it already has a widespread, far-reaching network coverage. The shifting focus of telecom service providers to LTE to phase out older networks is slated to fuel private LTE industry share.
Taking into account the network benefits of high-speed data services, most of the energy companies have been signing deals with wireless network providers that will have a positive influence on the product demand. For instance, a month before, the Brazilian power distributor, Elektro collaborated with Nokia for deploying a private LTE network in its City of Atibaia based electric grid. The deployment of LTE services is slated to help improve the efficiency and reliability of the electric grid that has been serving approximately more than 75,000 business and homes. Through this network, it is also possible to operate smart meters, grid equipment, substation and distributed energy generation sources.
Get a Sample Copy of this Report:@ https://www.gminsights.com/request-sample/detail/2757
Such strategic deals will help players in the private LTE market strengthen their customer base and diversify the traditional telecommunication practices. The surging adoption of digital technologies such as IoT and machine learning will thus further propel the use of private LTE service in the energy sector. For the record, as per estimates of Global Market Insights, Inc., private LTE market from energy applications is slated to depict a commendable CAGR over 2018-2024.
In order to achieve a dominant stance in the market, telecom firm Nokia has also lately been adopting myriad business tactics. Recently, it has collaborated with China Unicom to deploy a private LTE network at BMW Brilliance Automotive Ltd plant based in the Liaoning province. With the use of private LTE connectivity, BMW can carry out smart manufacturing activities and ensure communication for critical applications including video surveillance, object tracking, and analytics at the plant.
The integration of private LTE network in the enterprises to secure data and voice communication, wireless video communication, ensure indoor investigation, and inspect the production line maintenance is slated to fuel the product demand over the years ahead. Heavy investments to develop digitalized, modern factories with a secured and transparent work culture will further propel private LTE market share considerably.
The emergence of LTE connectivity has also turned out to be rather useful for maintaining peace across the globe. That is to say, the UN (United Nations) has been working continuously to resolve the several global issues for which it has been using LTE network for providing critical communication capabilities. Peacekeeping troops are able to effectively use this LTE network for secure, stable, and future-proof broadband services while operating through the tough geographic terrain. Currently, UN is working on fourteen peacekeeping operations across the globe and it is planning to establish high-speed LTE networks by 2019 to accelerate the communication throughout the missions.
Substantive use of LTE connectivity for ensuring digital and standardized work output in the industrial as well as the defense sectors is likely to propel the product demand over the years ahead. On-going changes in the telecommunication technologies to enhance the network connectivity will further stimulate the industry trends. As per estimates, with the surging acceptance for network connectivity across various application sectors, private LTE market is poised to surpass a revenue collection of USD 11 billion by the end of 2024.
Author Name : Sunil Hebbalkar
The increasing deployment of sorting machines for improving plant productivity has been propelling optical sorter market share. The shortage of labor and surging need to handle more quantity of products in a less time are a couple of the most prominent causes behind the increasing deployment of sorting machines. In recent years, the optical sorter has emerged as one of the pioneering products to handle grains, pulses, spices, beans, rice, nuts, fruits, vegetables, and plastics. The capability of this device to sort the products based on their shape, color with high efficiency, excellent precision, and performance is poised to expedite optical sorter industry outlook considerably.
Germany optical sorter market, by application, 2017 & 2024 (USD Million)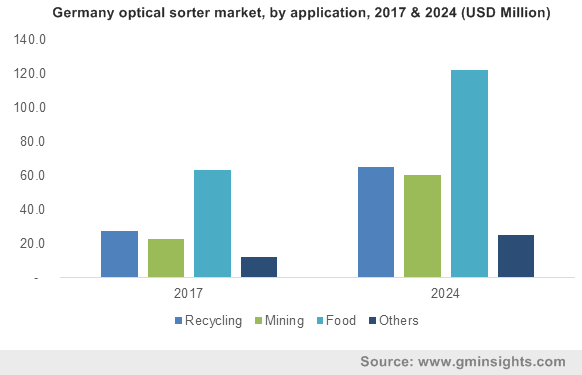 The commitment of key players in the optical sorter market toward innovation, superior manufacturing, and intelligent design will have a notable influence on future product demand. Recently, the leading food sorter manufacturing company, TOMRA Sorting, Inc., has revealed its plan to launch innovative sorting machines at Pack Expo. TOMRA has been working to resolve customer issues with its new product launches to enhance its customer base. With this recent launch, it seems to have resolved the issues pertaining to the food processing companies that had been struggling earlier to filter out foreign materials like stones, wood, metal, glass, and plastics from vegetables and potato products. The company claims that the newly developed machine will filter 98% of all types of filtering objects. The incidence testifies that the innovative capabilities of the companies to fulfil the customers' needs with their high standard products is likely to stimulate the optical sorter market share from the food industry over the years ahead.
The advent of next-generation technologies such as the Internet of Things (IoT), and Artificial Intelligence (AI) also has augmented the product development strategies of optical sorter industry contenders. Considering the ease of use of technologically advanced sorting equipment, several end-users have been deploying sorting machines on a large scale. For instance, in the middle of 2018, the UK based waste management company, Viridor has invested nearly 445,000 pounds to upgrade its plastic processing facility with the deployment of the robotic sorter. This robotic sorter can be utilized to purify PET plastics by filtering metals and other kinds of contamination pertaining to the integration of AI-powered vision systems.
Get a Sample Copy of this Report:@ https://www.gminsights.com/request-sample/detail/2500
Speaking along similar lines, in order to resolve the issue of the labor shortage, U.S. based Diamond Fruit Growers has recently invested to deploy its first ever optical sorting line specially designed for pears. The Italian company, Unitec has also engineered an optical sorter with the integration of software that can minimize the damage by sorting out fruits based on their grade and size without scuffing. The use of such machines to handle a plenitude of products at the food processing facilities will help companies to handle more volume with less labor. Continuous investments in technology by prominent end-users to handle a large volume at a time is likely to propel optical sorter market trends.
In addition to food processing, the mining sector is a pivotal revenue generating ground for optical sorter market players that have been incorporating new features into existing models. They have also been enhancing the design features of the products to improve its wear-resisting capability and ease of maintenance. Taking into account the extended life cycle of the products, most of the mineral and metal ore extraction industries have been deploying modern optical sorters on a large scale which will have a positive influence on the market growth. For the record, in 2017, the mining industry held a 15% share of the optical sorter market.
Growing availability of highly advanced product ranges will propel the optical sorter industry outlook over the years ahead. In addition, increasing awareness among the end users about the cost-effective returns obtained from the automated processes at the workplace will also have a notable influence on the product demand. For the record, by the end of 2024, optical sorter market will surpass revenue collection of USD 3 billion.
Author Name :Sunil Hebbalkar

Owing to the rapid adoption of advanced technologies by diverse industrial sectors, the simultaneous localization and mapping (SLAM) technology market has been witnessing gradual increase in demand over the last decade. Unprecedented growth in digital and remote communication technology has accelerated the development of robots and UAVs, which are ideal for installing sensors and mapping systems. The eagerness of core industries to utilize modern technology for replacing human workforce in hazardous or time consuming tasks has further pushed the SLAM technology market penetration. Constant innovations in robotics are providing more opportunities to integrate new systems that help in achieving cost-efficiency across distinct processes, boosting demand for the global SLAM technology market, which registered a valuation of over USD 56 million in 2017.
Singapore SLAM Market Share, By Application, 2017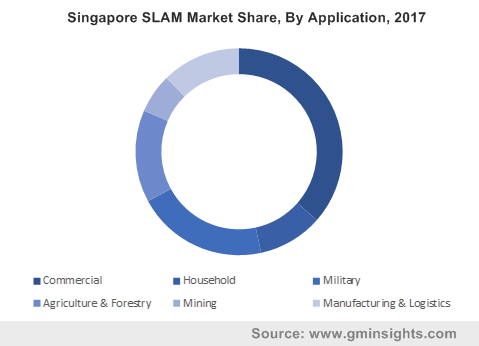 Growing automotive and manufacturing segments have not only deployed collaborative robots that assist in assembling products but also autonomous robots that roam factory floors and have to face a number of human and stationary obstacles during operations. The need for accurately handling objects and moving across the floor has brought the SLAM technology industry into limelight. Various tech firms have cropped up throughout the world, developing more precise mapping solutions to complement existing and new localization systems. These can be incorporated within robots for purposes like surveying and moving objects from one place to another on congested surroundings. Increasingly declining costs of manufacturing robots will certainly boost their presence in several industry verticals, presenting tremendous growth opportunities for the SLAM technology market.
The International Data Corporation had projected that by 2021, the spending on robotics worldwide would reach USD 230.7 billion, driven by increased utilization in areas such as manufacturing and resource industries, besides healthcare, education and retail. The resource industry, consisting of mining, oil & gas and agriculture has the potential to become a key target segment for the SLAM technology market. Mining, in particular, offers immense prospects for the use of new technologies as it is a business filled with dangerous exposure for humans, and requires a lot of capital to carry out mining operations. Inaccuracy of underground maps pose serious threats to the safety of miners and robotic exploration is seemingly a more feasible option in regard to this.
Get a Sample Copy of this Report:@ https://www.gminsights.com/request-sample/detail/2928
In the imminent future, integrating simultaneous localization and mapping technology with autonomous mobile robots would be an effective way to build accurate 3D maps of underground mines, helping to plan the overall operations. Aside from mining robots that would replace humans in hazardous environments, companies are also building robots that would work alongside people to assist them in analyzing quality of ore samples, carrying loads and other necessary devices. The SLAM technology industry will consequently experience a prolific growth rate over the next few years, with solutions being developed to automate mining activities. Key factors for the industry propagation would definitely be elimination of safety hazards, reduction in overall costs and time saving.
Benefitting from higher commodity prices, the top 40 mining companies globally had recorded earnings of nearly USD 496 billion in 2016, demonstrating the massive scale of mining activities and the potential to improve bottom lines. As old mines get exhausted, these companies are expected to start exploring new mines to keep the mineral supply flowing, indicating the possibility of significant expansion for the SLAM technology market. For instance, the Victoria Gold's Eagle mine, under development in Canada, would become the biggest mine in the territory of Yukon with production anticipated to at 12.5 million tons per year across a 10-year life span. Further, the USD 2.9 billion South Flank iron ore mine in Australia being constructed by BHP is slated to commence production in 2021 and supply ore until at least 2046.
With many such mines being explored to fulfil the global requirement of essential minerals like copper, gold, silver, coal and uranium, the SLAM technology market could establish a strong hold due to the need for safe mapping of underground mines as well as open quarries. Increasing production of consumer electronics has elevated the demand for minerals like silver, strengthening the global mining industry. The SLAM technology market is expected to grow at a CAGR of 71% over 2018-2024, influenced by the rising need for mitigating safety risks and improving bottom lines.
Author Name : Pankaj Singh
The increasing importance for geospatial technologies for visualizing and analyzing geospatial data has stimulated mobile mapping industry trends. The advent of new technologies such as Lidar, AI, and IoT has also significantly transformed mobile mapping technology over the last few years. With more innovations across this technology, it has become easier and effective to carry various tedious projects like urban development, rail-road creation, and power plant construction across inaccessible areas. Thus, the increasing use of this technology to survey numerous mobile platforms is poised to propel mobile mapping industry share.
U.S. Mobile Mapping Market Revenue, By Component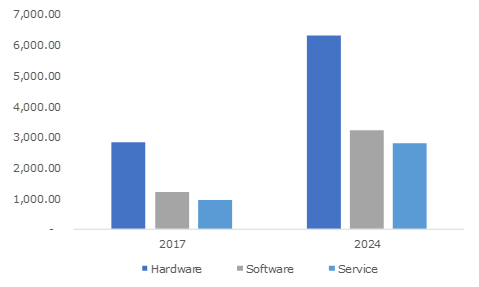 The involvement of companies in novel product development activities for high efficiency and productivity will have a notable impact on the business over the years ahead. In the last few years, companies have come up with a diverse set of products that can deliver remarkable benefits to users and asset owners. Validating the aforementioned fact, in February 2018, the California based software development company, Trimble developed a next-generation mobile mapping system, which has been designed with multi-camera imaging, mobile lidar system, and field software. This newly launched Trimble MX-9 mobile mapping technology has the capability to capture 360-degree immersive geo-referenced imagery with the help of already installed laser scanning sensors, GNSS technology, and spherical camera. The improved accessibility of such newly developed mobile mapping devices via smartphones and tablets will augment the growth of mobile mapping market.
Speaking more about the recent advancements, it is prudent to mention that 3D mobile mapping is also one of the latest developments in geospatial technologies that helps users to record, measure, visualize, and understand environments. The advent of 3D mobile mapping has overcome the limitations of conventional mobile mapping systems and helps to carry out a detailed visualization of climatic conditions. In 2018, a German company which develops software and hardware to navigate, map, and digitize the indoors, NavVis made it to the headlines for generating a fully integrated product for indoor mapping aided with six cameras. NavVis has developed this product in accordance with customers' request to have sophisticated and more versatile systems. This product is likely to prove beneficial for the end-users like construction product manufacturers, construction companies, and AEC (architecture-engineering-construction) professionals to generate high-quality data owing to its capability to capture immersive imagery.
Get a Sample Copy of this Report:@ https://www.gminsights.com/request-sample/detail/2652
The increasing importance for geospatial technologies has also been encouraging the players in the mobile mapping market to carry out vigorous research and development activities for capturing more business space. For instance, the Italy based SITECO Infomatia SRL has been proactive in developing varieties of products from road-scanners to pave-scanners. In 2018, it has launched software assisted mobile mapping devices. The integration of software and LiDAR system has helped the company to enhance the performance of mobile mapping platform. The widespread availability of multi-scanners and high-performance mobile mapping platforms is slated to propel the industry growth over the years ahead.
In addition to higher performance, cost-effectiveness is also one of the major factors promoting mobile mapping market size. As of now, Google is one of the leading contributors of navigation applications, but due to rise in subscription amounts for accessing its Google Maps, other contributors in mobile mapping market have been able to race ahead with the launch of low-cost navigation features. For instance, a few days before, a digital mapping company, TomTom has started offering free software development kits to Android and iOS users to access maps and traffic information for free. Such initiatives will help IoT companies and autonomous vehicle manufacturers to load the traffic and routing data free of cost.
The advancement in consumer electronics and shifting trends toward the deployment of autonomous vehicles for the betterment of the environment will have a positive influence on the mobile mapping industry share. As of now, most of the automotive companies have been involved in the development of highly modernized infotainment systems for improving the driving experience that is likely to enhance the product demand. In accordance with the expanding end-use sectors, the strategies adopted by the key player will help them to strengthen their business position over the years ahead. Reportedly, driven by new product launches, mobile mapping market will generate a revenue more than USD 40 billion by the end of 2024.
Author Name : Sunil Hebbalkar
Growing emphasis on consumer satisfaction and safety has proliferated testing, inspection, and certification (TIC) services market size as governments worldwide have implemented stringent quality regulations on almost every industry vertical. Whether it is construction, automobile, energy, healthcare or other segments, continuous advancement in products and components have necessitated upgraded testing and certification requirements.
What are the factors that will drive TIC services market trends over the forecast period?
Improvements in management, product quality, manufacturing processes, supply chains and service value have become imperative for the growth of any business, imposing the need for TIC services, which would eventually augment the industry outlook. Existence of recognized certifications such as ISO:9001 or ISO/TS 16949 make it easier for customers to search for companies that provide excellent product quality, better customer service and new, innovative solutions.
The global TIC services market share is anticipated to exceed USD 260 billion by 2025, driven by the obligation of companies towards meeting specific product requirements and to comply with international quality standards.
How will transportation application segment help propel the TIC services industry share?
Besides helping to control the quality, effective testing and inspection processes aid in minimizing rejections, reduce manufacturing costs and identify reasons for a defective output. The transportation segment, in general, constitutes a major part of the global manufacturing industry where thousands of components or auto parts go through daily quality checks.
Get a Sample Copy of this Report:@ https://www.gminsights.com/request-sample/detail/2318
As governments and international agencies are constantly raising the weight, material and other standards of automobile components to enhance the safety and efficiency of vehicles, the TIC services industry is subsequently gaining massive popularity. OEMs as well as small auto component vendors are striving to achieve high level of quality and get certified, to get documented and provide validity to their proficiencies and expertise.
Frequent inspection and evaluation of manufacturing processes by in-house or third party services to maintain a grip on the quality level will continually boost the TIC services market.
Will the life sciences segment help drive TIC services market outlook?
The TIC services market is rapidly witnessing demand from the healthcare and life sciences segment, with test and inspection reports of pharmaceutical equipment being critical in assessing whether the international standards are met. TIC companies are trying their best to evolve with technological developments and remain up-to-date with new regulations pertaining to safety and quality.
Products, apparatus and supply chains are subject to quality testing activities regularly, as pharmaceutical companies are responsible for providing vital therapeutic solutions. Even other parties involved in the supply chain must go through intense inspection by assigned representatives to be eligible to acquire critical certifications.
Author Name : Pankaj Singh