MINING
The profitability landscape of borehole equipment market has been witnessing a massive turnaround of sorts in the recent years, on account of the rising number of mining operations, heavy infrastructural development, and the increased demand for water in drought-ridden areas. In this regard, companies partaking in borehole equipment industry share have been striving to brainstorm rather innovative products and techniques for borehole drilling. For instance, merely a couple of years earlier, Boart Longyear, a rather prominent player in borehole equipment market, was involved in a project that included installing a ventilation shaft for a longwall coal mine in Wyoming. The company deployed a dual-tube flooded reverse-circulation drilling technique that was far advanced than the ones used for a traditional raised bore rig, as it pumped air via the outer tube, forcing mud upward through the inner tube, thereby preventing porous rock from being plugged for the borehole. The same year witnessed Boart launching the game-changing TruProbe drilling system that enables the deployment of gamma, geophysical, survey sensors inside drill strings for identifying any traces of previous metals and minerals at an affordable cost, majorly impacting the product landscape of borehole equipment industry. In retrospect, it would be apt to state that Boart Longyear has indeed established itself as one of leading participants in borehole equipment market, setting ambitious standards for its fellow rivals and new entrants.
U.S. Borehole Equipment Market, By Product, 2016 & 2024 (USD Million)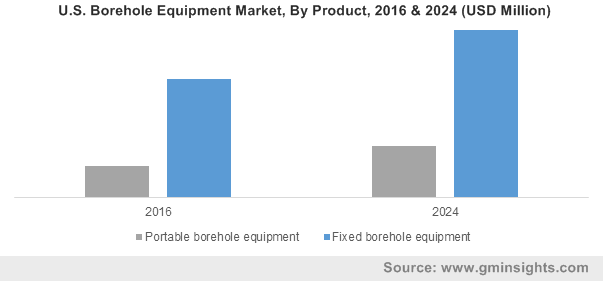 The emerging economies of Africa: The upcoming hotbeds for borehole equipment market
While the developed and developing economies across the globe have been rather proactive in global borehole equipment industry, in recent times, companies have been tapping the unexplored suburbs of the African continent, that seem to have depicted quite a perceptible potential as far as drilling operations and deploying the apt equipment for the same are concerned. Countries such as Zambia, South Africa, and the Republic of The Gambia, have lately emerged as profitable avenues for borehole equipment market, subject to the stream of favorable initiatives that are being undertaken by regional and international governmental agencies in order to combat the water shortage in these areas. A succinct gist of a couple of these productive initiatives that have transformed borehole equipment market outlook has been enumerated below:
The CEO of the Vision Development Foundation recently approved a borehole project in Kerr Demba Holley, Upper Niumi, Gambia, for GMD 500,000, that would be powered with solar and storage tanks to deal with the water supply shortage in the district.
Get a Sample Copy of this Report:@ https://www.gminsights.com/request-sample/detail/2266
In a bid to deal with the severe impact of the droughts in KwaZulu-Natal, a funding of nearly ZAR 500,000 has been provided to drill boreholes in communities such as Verulam, Wyebank, Umbumbulu, and Ladysmith. To combat the water scarcity in the region and aid the expansive regional mining industry, companies and governmental organizations plan to make sufficiently huge investments in South Africa, that would eventually impel the regional borehole equipment market share.
The National Savings and Credit Bank (NatSave) and the Musika Development Initiative struck a deal in the second quarter of 2017 for implementing a 12-month-long project in the Kalomo district of Zambia, worth ZMW 2 million. The program would apparently entail the sinking of 20 solar-powered boreholes for increasing the productivity of small-scale farmers and improving their access to irrigation solutions in the area. The memorandum of understanding (MoU) for this pilot project is certain to gain ground in the regional borehole equipment market, encouraging other players to follow suit.
With extensive developments prevalent in the construction and infrastructure development verticals, it goes without saying that the humongous demand for advanced infrastructural facilities, massive requirement for residential and commercial spaces, in tandem with the regulations enforced with respect to strong building foundations and soil quality would have a profound impact on borehole equipment market size. Furthermore, these products find colossal applications in various grades of mining operations, thus opening up a plethora of new vistas for borehole equipment industry, given the vast expanse of mining exploration activities and the regulations that mandate mine operators to deploy highly advanced machinery for drilling. By and large, it would be apt to state that borehole equipment market trends would undergo dynamic transformations in the ensuing years, contingent on the changing demands of the expansive construction and mining sectors.
Author Name : Saipriya Iyer
Tesla's latest Class 8 marvel is indeed a classic phenomenon that has posed several challenges for heavy-duty trucks market players. The automotive giant has unveiled the 'Tesla Semi' – its all-electric semi-truck that boasts of superior charging capacity and has been designed to travel from 0 to 60 mph in merely a 5-second span. In fact, towing a load of close to 80,000 lbs alongside, this truck can travel from 0 to 60 mph in just 20 seconds, setting quite a remarkable precedence for companies partaking in heavy-duty trucks industry share.
U.S. Heavy-Duty Trucks Market, By Class, 2018 & 2025, (USD Million)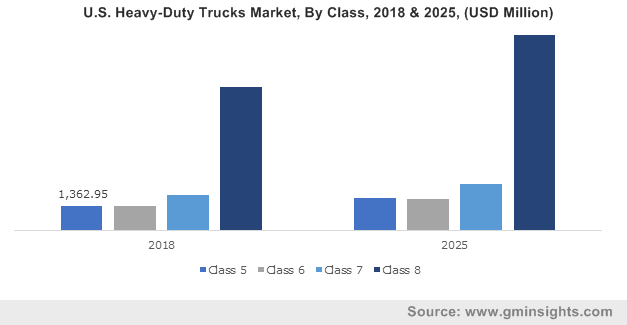 What's precisely noteworthy though, is not the Semi's speed range or its aesthetic appearance, but the fact that it offers a transmission which requires no gear shifting with regenerative braking – essentially, a provision that delivers infinitesimal brake life for the vehicle. Endowed with such an amazing intrinsic design such as this, the Tesla Semi is certain to cause a stir in heavy-duty trucks market.
It is prudent to state that the Tesla Semi being a Class 8 wonder is an indicator of the fact that class 8 vehicles are indeed being pursued with renewed gusto by heavy-duty trucks industry players. In fact, a report by Global Market Insights, Inc., claims class 8 vehicles to accumulate a considerable portion of the global revenue in heavy-duty trucks market over 2019-2025, pertaining to their enviable ability to sustain heavy loads. Generally deployed for high-power applications such as construction and mining, class 8 vehicles are diesel-powered and have a gross weight vehicle rating of more than 33,000 lbs. Subject to the extensive demand for these beauties, companies have been sparing no expense in R&D activities, to bring forth newer class 8 vehicles endowed with superior features, that would ultimately help augment the sales graph of the overall heavy-duty trucks industry.
Get a Sample Copy of this Report:@ https://www.gminsights.com/request-sample/detail/2015
Not so long ago, Daimler, one of the most prominent players of heavy-duty trucks market, had unveiled a prototype of its much-awaited vehicle at the Tokyo Motor Show. Daimler's truck unit, Mitsubishi FUSO, claimed that its heavy-duty truck, called the E-FUSO Vision One, weighs more than 51,000 lbs and is capable of driving up to 220 miles on a single charge. The product was viewed as a cutthroat competition to Tesla's Semi, leading to some level of consolidation in heavy-duty trucks industry. In consequence, it is undeniable that products endowed with superior properties and high-caliber innovations would prevail in this business space, thereby increasing the sales figures and the overall revenue of heavy-duty trucks market, which is anticipated to surpass USD 160 billion by 2025.
Unquestionably, renowned biggies have not been programmed to remain the underdog in heavy-duty trucks industry. In this regard, Volvo Trucks, the Sweden-based truck manufacturer, recently launched LNG and biogas powered, Euro 6-compliant heavy duty trucks, that apparently possess the same driving ability, fuel consumption, and performance level as that of Volvo's diesel-powered vehicles. However, the proportion of carbon emissions from the all-new Volvo FM LNG and Volvo FH LNG is 20% to 100% lower than the diesel vehicles, based on which fuel is specifically chosen. Furthermore, these trucks are also available for heavy long-haul operations, with 420 hp to 460 hp, that may make them one of most sought-after vehicles in heavy-duty trucks market.
Most companies spanning across the competitive spectrum of heavy-duty trucks industry have lately been concentrating on cost-reduction methodologies. This paradigm shift, it has been observed, is being carried out through the introduction of novel remanufacturing business models that ultimately help to reduce the production expense. One of the pivotal factors responsible for the expansion of heavy-duty trucks market is the robust growth of the automotive domain, especially across the emerging economies.
In fact, heavy-duty trucks market players such as Toyota, Daimler, Ford Motor Company, Tata Motors, Volvo, and General Motors have strongly established bases across the developing geographies, owing to the convenient availability of resources coupled with a supportive regulatory frame of reference, which has proved to be rather lucrative for the overall business sphere.
It is imperative to mention that in the last half a decade or so, the prevalence of high-grade technological advancements, say for instance, such as telematics services and self-driving has increased to a rather commendable extent. As on today, these technologies are considered to be some of the key drivers that help expand the consumer pool for heavy-duty trucks industry players.
With tech-savvy clients willing to wield the convenience and flexibility of contemporary technologies, companies have been rapidly exploiting the latest tech-oriented mechanisms in product manufacturing, leading to increased vehicle sales and by extension, an escalated revenue collection for heavy-duty trucks market. With state-of-the-art technologies in action, in conjunction with the widespread penetration of truck fleets in several end-use domains, heavy-duty trucks market size is likely to depict a massive surge by the year 2025.
Author Name : Saipriya Iyer
Prominent mining equipment market players have lately been looking forward to developing multi-tasking, durable, fuel-efficient mining machinery for lowering operating costs, reducing service time, and improving mine quality. Currently, various underground specialist mining equipment including diggers, loaders, and trucks are used extensively to excavate metals. However, mining activities across the globe, in the last few years, have increased remarkably owing to the surging involvement of companies in advanced exploration programs.
France mining equipment market, by product, 2017 & 2024 (USD Million)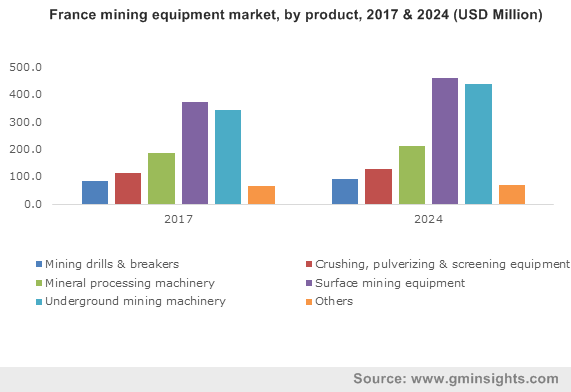 The excavation of a large amount of underground materials has led to a rise in air pollution which has become one of the major causes of the upsurge in the prevalence of respiratory diseases. Taking into account the surging need to curb the air pollution, mining equipment manufacturers have been thus investing in the development of cleaner and safer mining machinery, which has led to most of the companies establishing partnerships to come up with advanced versions of mining equipment.
Recently, the International Council on Mining and Metals revealed a plan to make mining vehicles safer and cleaner at the International Mining and Resources Conference held in Melbourne. At the conference, numerous renowned truck and mining equipment suppliers came together to accelerate the invention of next-gen mining equipment. In addition, the Innovation for Cleaner Safer Vehicles (ICSV) is also planning to launch GHG emission-free surface mining vehicles by the end of 2040. The increasing concerns about the depleting fossil fuel resources along with growing importance of emission-free vehicles are thus poised to observe a positive impact on the mining equipment market share.
In line with the ambitious clean vehicle development programs, in October 2018, Hitachi Construction Machinery signed an agreement with KTEG Kiesel Technologie Entwicklung GmbH to develop electric construction machinery. With this strategic agreement, it also looking forward to expanding its business across European countries owing to the deployment of strict regulatory norms for curbing GHG emission across Europe. KTEG will help Hitachi to commercialize electric construction equipment in the Europe mining equipment market.
Get a Sample Copy of this Report:@ https://www.gminsights.com/request-sample/detail/793
Aided by years of intense experience in the development of electric machinery, Hitachi is aiming to decrease life cycle costs of equipment and the burden they pose on the environment. The shifting focus of equipment manufacturers toward the development of highly innovative and fuel-efficient products is likely to proliferate the mining equipment industry size over the years ahead.
Over the last few years, in order to deal with the increasing number of mining activities, most of the countries have been planning to procure advanced mining equipment. The initiatives taken by the regulatory bodies have opened up new business opportunities for mining equipment industry players. Validating the aforementioned fact, in July 2018, Coal India Ltd has unveiled its plan to procure mining equipment of worth USD 2 billion over the coming three years. With the procurement of numerous mining equipment, it is looking forward to meeting the growing demand for coal in India. Coal India has also set an aim to produce 630 million tons of coal in 2018-19 and one billion tones in the coming years.
Similar to Coal India, the Zimbabwe Consolidated Diamond Company also has invested USD 100 million in the design and installation of complementary mining equipment. With the deployment of advanced equipment, the Zimbabwean diamond company aims to produce the best quality diamonds across the globe. In order to increase FDIs and contribute to strengthen the country's economy, most of the diamond-producing companies have been investing heavily in the mining sector. The surging participation of the regional governments in the development of the mining industry for the betterment of economy will have a positive influence on mining equipment market size from metal mining applications.
The collaborative approach of mining companies and regulatory bodies to accelerate the number of mining activities will have a significant influence on the mining equipment industry growth. With the deployment of ambitious product development programs, global mining equipment industry is likely to traverse alongside a positive growth path. Driven by the growing investments in the mining and metal exploration activities, mining equipment market size will surpass USD 95 billion by the end of 2024.
Author Name :Sunil Hebbalkar