Mobile POS Terminals
The unprecedented growth pace of the global restaurant POS terminals market is rather evident from the recent instance of Jamba Juice joining hands with Paytronix Systems, Inc. The popular smoothie and juice brand inspiring healthy living worldwide, through this partnership, aims to deploy Paytronix's POS platform and increase sales and gift card redemptions within all touch points. A highly reputed restaurant POS terminals industry contender, Paytronix, with this agreement, plans to enable Jamba's gift card sales across numerous distribution channels and POS platforms, inclusive of online ordering, third-party channel sales, Jamba Juice mobile apps, website sales, and stand-alone terminals, not only improving productivity for Jamba but also substantially strengthening its stance across the global industry.
China restaurant POS terminals market, by application, 2017 & 2024 (USD Million)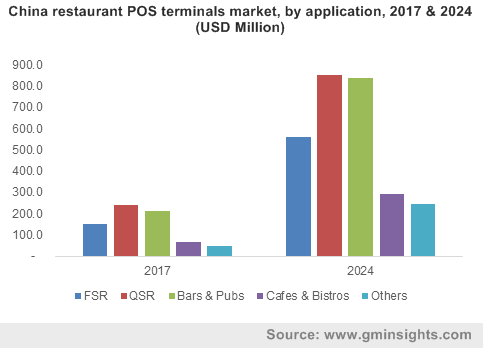 A business vertical of commendable repute, thriving extensively on shifting consumer preferences, restaurant POS terminals market as on today stands as one of the most fast-paced, lucrative industry spheres there is. Aided by the global shift toward digitalization and the accelerated adoption of advanced payment systems worldwide, driven by massive technological propagation, the commercialization potential of restaurant POS terminals market has only surged in the last few years. The robust proliferation of next-generation technologies has created an innovation-centric scenario in the competitive spectrum of restaurant POS terminals market, leading to prominent industry magnates tapping high-grade software to develop solutions to be incorporated in payment terminals. Endorsed by fierce competition and powered by the widespread requirement of specific, task-centric systems, restaurant POS terminals market participants have been going the whole hog to come up with a portfolio of innovative, proprietary solutions. A gist of some of the major companies that have been grabbing attention in this regards has been elucidated below:
TouchBistro
A highly reputed firm partaking in restaurant POS terminals market share, TouchBistro boasts of an enviable product portfolio and is frequently involved in M&As and product development strategies to consolidate its standing in the industry. Last year in March, the company launched TouchBistro Payments, powered by a Chase company – WePay. Through a highly strategic partnership, both these companies plan to offer two major time-efficient innovations demanded by most restaurant owners – an integrated mobile payment device and instant payment processing.
Get a Sample Copy of this Report @ https://www.gminsights.com/request-sample/detail/3073
TouchBistro's efforts to maintain its standing in restaurant POS terminals industry is also quite vivid from the firm's plan to diversify its offering and reach in the UK in 2017. The year saw the company extended its integration with Square to the restaurants in UK. Post the extension, all the restaurants in the UK using the TouchBistro iPad mPOS solution had been able to process payments seamlessly using Square.
Verifone
In the first quarter of 2018, Verifone forged a partnership with Paysafe, a global provider of payment solutions, in a bid to deliver quick services for restaurants across the United States. Reportedly, through this contract, Paysafe became the first firm to adopt the Verifone Connect to be used on its Carbon and Engage devices deployed by restaurants. The partnership was touted to pave the way for the easy acceptance of digital wallets, loyalty programs with smartphones, and near field communication payments in restaurants so that customers would be able to pay online or outside of businesses and even at the table, and drastically transform restaurant POS terminals market trends.
Shifting a tad bit away from its usual strategy and product offering, Verifone, in October last year, declared the launch of Navigator – the first-of-a-kind payment feature equipped with a fully integrated touchscreen, for earning certification for usability and accessibility by the Royal National Institute of Blind People. The goal behind the said launch was to ease payment transactions for the visually impaired, employed in restaurants or someplace else, in an era where payment devices continue to navigate toward touchscreens.
Toast
One of the most popular magnates of the global restaurant POS terminals market, Toast boasts of highly commendable public profile as far as payment solutions are concerned and has been touted to be one of fastest-growing restaurant management platforms in the U.S. A couple of years back, the company joined hands with SpeedETab, the leading company in mobile payments, analytics solutions, and native mobile ordering for merchants, to empower restaurant owners with an enterprise-level order ahead technology which works seamlessly with Toast.
2018 was an exceptionally profitable year for the restaurant POS terminals market contender, as Toast, in the second quarter, made it to the headlines with the launch of the Toast Go™ – a fully integrated POS handheld system custom-built for restaurants. The solution combined software, hardware, and payments together to exclusively cater to restaurants that can use Toast Go in conjunction with Toast KDS to improve table turn time and deliver exceptional guest experience. Merely a few months ahead, the restaurant POS terminals industry firm announced GoParrot, Rooam, and Avero as the key application partners in the Toast Partner Ecosystem to provide restaurants seamless access to technology partners in order to enhance operations, increase their revenue, and improve customer interaction. Equipped with a vision to empower the restaurant community, Toast, in the years to come, will emerge as one of the strongest contenders of the restaurant POS terminals industry.
The highly appreciable efforts of prominent companies to bring advanced solutions to the mainstream has quite irrefutably, expedited the commercialization potential of the overall restaurant POS terminals market. Not to mention, the industry trends have also undergone a major transformation with the exceedingly rising number of food outlets across the globe. Say for instance, the National Restaurant Association claims that the U.S. houses more than 1 million restaurant locations. Majorly driven by the robust proliferation of technology in payment solutions and the escalating proportion of restaurants across the globe, the overall restaurant POS terminals industry size has been estimated to be pegged at a commendable USD 25 billion by 2024.
Author Name : Saipriya Iyer