Mobile
Over the past few years, the overall self-checkout system market has grown by leaps and bounds courtesy the proliferation of retail outlets worldwide and the rising demand for a hassle-free checkout process. Numerous companies operating in the retail sector have been proactive in embracing cutting-edge technologies to alter the conventional norms of shopping. Citing an instance to highlight the rising influence of these systems, one of the most well-known apparel retailers Zara has recently implemented a self-service kiosk in its stores that let the buyer pick up orders that were placed online. Apparently, this would provide a personalized shopping experience to all consumers both in-store and online and aid them in making the right purchase decisions based on their personal preferences.
UK self-checkout system market size, by application, 2016 & 2024 (USD Million)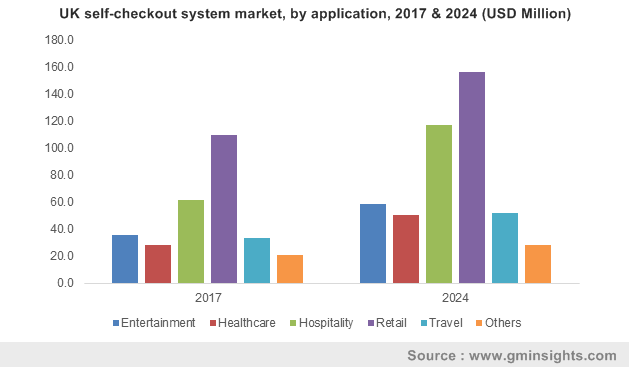 A concise overview of how the rapid emergence of smart self-service devices has impacted the self-checkout system market progression
In this regard, the prominent self-checkout system industry players have been manufacturing stationary self-service kiosks and scanners that assist in lowering the wait time at the check-out counter. Moreover, the rising trend of automation has proved to be rather financially beneficial to various business verticals. Enlisted below are a few instances which go on to reveal the increasing dominance of self-checkout system industry in the overall retail sector:
Get a Sample Copy of this Report @ https://www.gminsights.com/request-sample/detail/2433
It has been observed that multinational retail corporations along the likes of Walmart and Kroger have been optimistic in installing self-checkout systems across their grocery stores. Reportedly, Walmart plans to set up its self-checkout platform, 'Scan and Go', at around 200 stores by the end of 2018. On the other hand, Kroger has recently announced to roll out its self-checkout "Scan, Bag, Go" systems across close to 400 grocery stores. Apparently, these self-service kiosks would await consumers at the end of their shopping, where valid coupons would be tallied, and a final total would be calculated instantly. Needless to say, the development of such unique products by self-checkout system industry participants would assist a large number of retailers to cut costs and make the shopping experience more enjoyable for customers.
One of the foremost firm operating in self-checkout system market, Fujitsu Frontech North America Inc., showcased a new cash handling and cashless self-checkout platform at the National Retail Federation's 2018 Big Show and Expo. Apparently, the latest self-service kiosk is a smaller sized hybrid device that enables easier deployment and reduces remodel costs significantly. With the commercial launch of Fujitsu's self-service kiosk, retailers would be able to provide better customer service by freeing the staff now devoted to checkout procedure. Subsequently, the launch of such innovative products the overall commercialization potential of self-checkout system market appears promising.
In yet another instance that demonstrates the ingenuity of self-checkout system industry players, the Japanese conglomerate Toshiba has recently unveiled the next-gen self-checkout solution. The latest self-service device comes with sleek design complemented with complete modularity. Industry experts claim that the device would enable retailers to respond more swiftly to their business and customer requirements. The conceptualization of the device aims to challenge the prevailing norms by bringing about a drastic change in the retail sector, something which is likely to vigorously impel the growth prospects of self-checkout system market.
While elaborating upon the self-checkout system industry trends, it is quite imperative to mention that there has been a marked increase in the apprehensions regarding jobs being lost over the inclusion of such technology. However, it has been observed that retailers redeploy employees to fulfill immediate requirements within the store and assign complicated tasks that demand human intervention. Hence, numerous businesses have been adopting these systems to reduce costs, boost productivity, and add value to their brand.
Moreover, the escalating requirement of automated solutions across emerging economies and the growing trend of infrastructure development would expand the self-checkout system market share in the ensuing years. In fact, as per a report collated by Global Market Insights, Inc. the worldwide self-checkout system industry size is estimated to surpass an impressive USD 4 billion by 2024.
Author Name :Saif Ali Bepari
With evolving emphasis on location-based marketing in retail space, geofencing market has indeed gained a widespread recognition in the mainstream tech cosmos. Over the recent years, it has been observed that the share battle between online and offline business platforms is intensifying. As a result, bricks and mortar giants have been increasingly looking for ways to implement e-commerce alternatives, the fundamental factor that has impelled geofencing industry share. Quite comprehensible from the terminology, geofencing is a service that, via an app utilizes RFID or GPS technology to increase the virtual boundary around a particular geographic location. Apparently, the technology is being extensively deployed in retail stores nowadays in an attempt to enhance in-store consumer experience.  In fact, on grounds of its far-reaching acclaim, numerous tech behemoths have been trying their hands with the technology in recent years, attempting to bring forth a slew of innovative applications in geofencing market.
Geofencing Market Size, By Application, 2016 & 2024 (USD Million)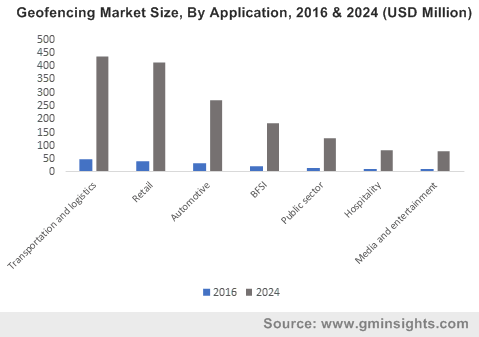 Unveiling geofencing market trends with reference to its application landscape:
American Eagle, one of the renowned clothing and accessories retailers, in the year before last, launched a groundbreaking reward scheme for its customers to encourage purchase. Reportedly, the U.S. headquartered company has utilized geofencing technology to create this app, which in a way is pushing consumers to add more items in their shopping carts to see what they can receive in return. Since the strategy compels the users to at least consider the items that might be otherwise left on the rail, the probability of more purchases undoubtedly increases. This absolutely innovative strategy applied by the American retail giant grabbed the headlines back then and has been stamped as a benchmark in geofencing market growth.
Get a Sample Copy of this Report:@ https://www.gminsights.com/request-sample/detail/222
2016 has indeed been a breakthrough year for geofencing market, with leading food giants striving hard to exploit the potentialities of this technology in their business model. McDonalds, for instance, had started incorporating geofencing service in its mobile app for optimizing the food preparation time. Sources claim, the fast food giant's decision of implementing this app comes in the wake up of long wait queues in front of McDonalds outlet and amidst the chances of receiving cold food. The geofencing based app designed by the company aptly detects when the customer gets closer to the counter and simultaneously alerts the staff to start preparing the order. Needless to mention, growing deployment of these kinds of innovative technologies have enhanced instore consumer experience, which by extension has stimulated geofencing market expansion.
The application matrix of geofencing industry is not just replete with retail domain, though it is undeniable this sector is a lucrative growth avenue for the entire business space.  Besides, retail space, geofencing market share stands to gain much from security and defense applications. Numerous companies participating in the business space have been creating a whole hog to bring about significant advancements in the capabilities of this solution with enhanced integration and accuracy functionalities. In this regard, China has recently made it to the headlines with the announcement of its decision of integrating geo-fencing based facial recognition system for security and surveillance in Xinjiang. Reportedly, these geofencing tools alert authorities when targeted people venture 300 meters beyond the designated safe area zone. These kinds of appreciable efforts undertaken by tech giants and governmental bodies toward promoting geofencing technology is certain to bring forth a plethora of opportunities for geofencing industry participants in the coming years. Validating the declaration is the estimate by Global Market Insights, Inc. that forecasts the global geofencing market to surpass a valuation of USD 1.7 billion by 2024.
Author Name : Satarupa De
ReWalk Robotics' soft exoskeleton launch a while back apparently took exoskeleton market by storm. The product has been exclusively designed by the USA-based exoskeleton industry player to help in the rehabilitation of patients suffering from lower leg limb disability due to strokes. The device would also help patients diagnosed with Parkinson's and multiple sclerosis to heal faster and regain their balance.
U.S. Exoskeleton Market, By Technology, 2018 & 2026 (USD Million)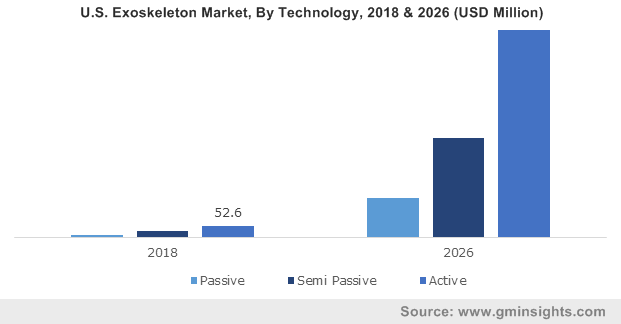 Characterized by technological innovations, exoskeleton market strives to bring about a transformation in rehabilitation devices for consumer comfort. In yet another breakthrough, Lowe's companies Incorporation, a key player across the retail industry, and Virginia Tech, an educational institute & university based in the U.S., have built a soft & light exosuit to help the employees working in Lowe's retail stores to easily lift and move heavy products across the store.
In the first quarter of 2017, exoskeleton market witnessed one of the most potentially lucrative deals, with Parker Hannifin Corporation, a key manufacturer of motion & control technologies, introducing a therapy software suite for its Indego exoskeleton across Europe. The new suite has made Indego a unique exoskeleton for non-trajectory based gait training & treatment. Furthermore, Lockheed Martin, a U.S. based aerospace, defense, and security firm, has also launched a computer-regulated exoskeleton device referred as FORTIS Knee Stress Release gear that helps soldiers counter stress on their legs & lower backs. It also improves their load carrying capacity and movement, preventing injuries and exhaustion. The advent of consecutive innovations will encourage other business players to follow suit, thereby contributing toward augmenting the overall exoskeleton industry size.
Get a Sample Copy of this Report@ https://www.gminsights.com/request-sample/detail/1946
Recently, scientists have unveiled a robotic exoskeleton that helps in restoring balance through accurate gait correction, thus avoid dangerous falls. The new device is also expected to help the elderly, amputees, and disabled people to maintain balance and steadiness. The WHO claims that potential falls resulting in fatal injuries are one of major causes of death. This is evident from the estimates – falls result in the death of over 640,000 people per year, with nearly 37.3 million severe falls requiring medical treatment.
Exoskeletons find wide applications across healthcare, industrial, and military sectors. The introduction of new technologies across the healthcare sector to ensure the safety coupled with the allocation of funds for healthcare will spur the product penetration. Healthcare applications are expected to emerge as the dominant application segment by 2026, owing to the rising demand for rehabilitation spurred by disorders such as Parkinson's disease, spinal cord injuries, and other gait disorders. Not to mention, exoskeletons offer numerous benefits to healthcare providers, reducing the burden that therapists endure during training and therapy.
Exoskeletons are rapidly gaining momentum across myriad geographies. The huge presence of exosuit manufacturers and escalated product demand across military & healthcare sectors are anticipated to stimulate APAC exoskeleton industry outlook. This regional market, as per estimates, is expected to record the highest CAGR over 2019-2026. Mounting awareness about the beneficial use of industrial robotics in manufacturing activities and the rise in the production of wearable robots across the defense sector are predicted to be the key factors driving APAC exoskeleton industry, with China and South Korea forecast to be the major revenue pockets. Additionally, countries such as Japan, and China have also been undertaking extensive R&D initiatives that would help impel exoskeleton industry. For example, in the year 2018, Norinco, a state-owned manufacturer in China, brought forth military exosuits in order to aid the weight carrying capacity of armed forces.
Major corporations such as ReWalk Robotics, Lockheed Martin, REX Bionics, Panasonic Corporation, and Cyberdyne Incorporation have made remarkable contributions toward augmenting exoskeleton market size in recent years. The recent breakthroughs witnessed across the business landscape indeed validate the claims put forward by market analysts, who state that exoskeleton industry size would be worth more than USD 3.5 billion by 2026.
Author Name : Saipriya Iyer
In recent times, barcode printers market has been witnessing rapid expansion owing to the cutting-edge products being unveiled by prominent industry players and their consistent adoption of strategic growth tactics. Citing an instance of the latest product innovation, Printronix Auto ID Inc., one of the global leaders partaking in industrial barcode printing industry, has launched a high-performance thermal barcode printer, the T6000. Equipped with advanced features such as an enhanced print speed of 14 inches per second, an interactive screen which lowers downtime, postscript and pdf support for complex labelling requirements, and improved RFID capabilities, this product is indeed revolutionary.
It would also be imperative to state that this latest thermal barcode printer seamlessly integrates with any network infrastructure with plug and play facility and comes with unique online data validation process which assists in producing barcodes that eliminate exorbitant compliance fees. Such dynamic and encouraging technological advancements in product development are set to favorably influence the growth prospects of barcode printers market in the upcoming years. According to research analysts, the global barcode printers industry size stood at USD 2.4 billion in 2017.
UK barcode printers market, by application, 2017 & 2024 (USD Million)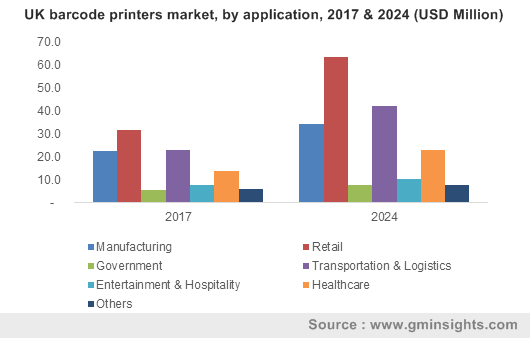 Thermal barcode printers have indeed found commendable traction over the years in various industry domains due to their outstanding thermal transfer technology. Embedded in thermal barcode printers, this technology offers long-lasting labeling applications, which have in turn found extensive usage in printing cards, magazines, posters, picking and shipping labels, receipts, and books. Evidently, the adoption of these printers has had a major impact on barcode printers market outlook. Indeed, thermal-based printers account for more than 65% of the overall industry share and are likely to gain commendable returns in the ensuing years owing to their excellent durability and low operational costs.
Concurrently, the diverse applications of barcode printers are increasingly being deployed in the healthcare industry. Noteworthy applications such as desktop barcode printers in particular, are contemplated as an ideal product for the healthcare industry, as they have helped boost the efficiency and productivity of medical care operations. The product has emerged to be of immense use in hospitals as it offers accurate patient information, enhanced medicine administration, parcel post, specimen collection and identification, shipping/receiving labels and patient identification. The growing demand for products such as barcode-based wristbands for patient identification will thus drive desktop barcode printers market trends over 2018-2024.
Get a Sample Copy of this Report:@ https://www.gminsights.com/request-sample/detail/147
Meanwhile, it would be well advised to enumerate the challenges that would impede the growth potential of barcode printers industry in the longer run. The vertical apparently, has been marred by the low printing quality of labels, add to it the rising prominence of Radio Frequency Identification (RFID) tags. In the years to come however, these restraints are likely to take on a turn for the better, as companies continue to conduct R&D activities to develop innovative solutions with a high level of reliability.
Speaking of the regional expansion outlook, Europe barcode printers market is likely to garner appreciable return in the coming years. This growth can be primarily attributed to the rising deployment of these products to improve customer experience and visibility. The ability of these systems to enhance efficiency and lower costs incurred through errors in shipping, packing, and manual input enables companies to achieve high Return on Investment (ROI), thereby impelling the regional barcode printers industry share.
This business fraternity is anticipated to witness intense competition among the major industry players such as Printonix Auto Id Inc., Epson America Inc., Toshiba Tec Corporation, Zebra Technologies, Honeywell Scanning and Mobility, Dascom, Printek, Seiko Epson Corporation and Godex International Co. Ltd., etc. In a bid to strengthen their positions across the vertical, companies have been highly vigilant as far as conducting robust collaborations and alliances is concerned, as enumerated by the partnership between the leading barcode printers' producer, Epson America Inc. and the barcode labeling software manufacturer TEKLYNX International. The alliance features the seamless integration of TEKLYNX barcode label design software and Epson's inkjet color label printer that would provide GHS-compliant chemical barcode labeling for all the sizes in the manufacturing industry.
As the adoption of lucrative growth tactics among market participants surges in the years ahead, barcode printers industry trends are likely to undergo a major transformation. Having been pegged at a valuation of 3 million units in terms of shipments in 2017, barcode printers market size has been forecast to register a CAGR of 5% over 2018-2024.
Author Name : Saif Ali Bepari
The advent of smartphones & next-gen connected technologies enabling safe, easy, & rapid cash access has considerably revolutionized ATM market in the recent years. With the concept of the Internet of Things gaining traction and the deployment of mobiles becoming more prominent across the globe, consumers are expecting banks to provide effective, accessible, connected, and user-friendly applications for dispensing cash. In a bid to remain competitive in the ATM industry, financial institutions have been making numerous efforts to provide cardless services to their customers through new software installations in automated teller machines that can be accessed via mobiles. This move is slated to bring about a paradigm shift in the ATM market over the years ahead.
China ATM market size, by deployment, 2016 & 2024 (Thousand Units)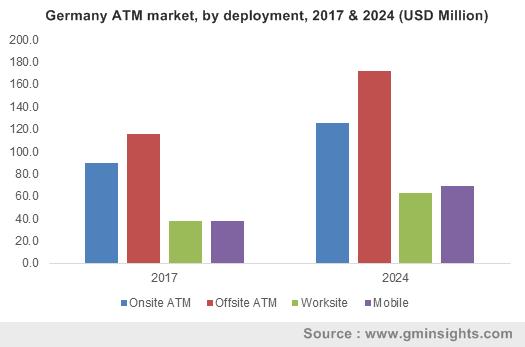 As end-users come across numerous payment alternatives – from cash payments to paying out with the help of ATM cards and mobile wallets to P2P (person-to-person) apps, the evolution of a new payment norm has been observed, with customers adopting an integrated mix of payment choices in the current fragmented payment landscape. Today, banking applications have been witnessing a drastic change as compared to the yesteryears, with consumers requiring 24X7 accessibility to the bank services.  In consequence, ATMs, being the byproduct of banking activities, have emerged as the tangible instruments of the digital banking business enhancing the cash-transaction efficiency and adding toward proficiency in the banking sector. Experts have claimed that the ATM market is going to grow further into a low-cost and high-value physical infrastructure that will empower banking systems to focus more on their other online service channels.
The global ATM industry however, is being plagued by frauds such as ATM skimming, that have emerged as a critical issue concern for banking institutions, having caused heavy financial losses in recent times. As per reliable sources, ATM skimming losses in Europe were reported to have risen by 16% in 2015 and are anticipated to increase further over the coming years, which may prove to be a major restraint for the regional ATM market. However, banks have been proactive in combating the same, and are expected to introduce new wireless communication instruments such as smart watches and smart phones & contactless technologies to counter the growing menace of skimming activities.
Get a Sample Copy of this Report:@  https://www.gminsights.com/request-sample/detail/409
Analysts claim ATM industry to have a considerably strong presence across major geographies. The necessity to set up effective cash cycle management processes has led to the business sphere observing immense growth across the globe. The rapidly rising population and the popularity of self-serving machines in countries such as Indonesia, China, Vietnam, and India have contributed toward generating high growth potential for APAC ATM market. India in fact, has been forecast to be an attractive business destination for the ATM industry in Asia Pacific with the launch of schemes such as Pradhan Mantri Jan Dhan Yojana by the Indian government.
With rapid innovations witnessed in the EMV and NFC card technologies, North America ATM market is forecast to observe a profitable expansion. Most of the banks in the region have made large-scale investments in paperless transactions. Companies partaking in North America ATM industry share, in particular, have been involved in product differentiation, which has significantly aided the transformation of the regional ATM market outlook. For instance, in 2015, NCR introduced a new ATM, referred as SelfServ 23, in the region to enhance the end-user experience along with cost-reduction related to ATM network operations. The new product offers protection to its consumers against cash trapping, dispenser manipulations, and card skimming activities. Given the technological advancements prevalent in the region, North America ATM industry is likely to chart out a lucrative growth curve ahead.
Companies today aim to develop ATM technologies that would conveniently process end-user cash transactions effectively & securely. ATM market players such as GRG Banking, NCR Corporation, and Triton Systems have apparently inculcated new features such as automatic cash checking, mobile bill payments, and automated cash deposits at ATMs, which would most certainly augment ATM industry share. The rising percentage of consumers utilizing these systems would also contribute substantially toward the business expansion. The prevalence of contemporary trends witnessed across this business sphere validate the growth potential of ATM market, anticipated to cross a revenue of over USD 25 billion by 2024.
Author Name : Dhananjay Punekar