Monitoring Services
Pertaining to rapid technological advancements in IT & telecom sectors and the shift towards cloud infrastructure, hyperscale data center market has garnered commendable mainstream appreciation recently. Companies are nowadays relying more on cloud computing services as they offer several advantages such as enhanced application performance, efficiency, scalability & flexibility. However, this shift has led to high demand for computational power owing to which enterprises are increasingly outsourcing their data to third-party data centers in a bid to avoid investing on expensive hardware and thereby enhance business profitability.
UK hyperscale data center market, by solution, 2018 & 2025 (USD Million)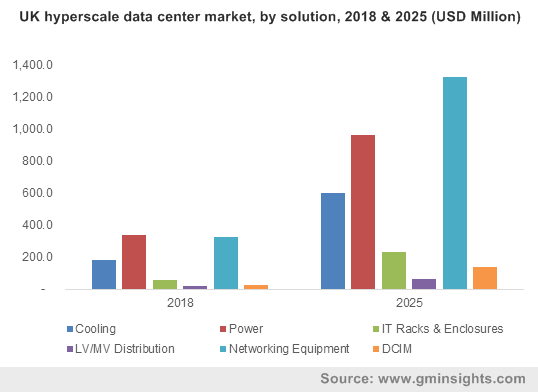 In addition, with more data distribution and greater demand for IT consumerization, organizations are constantly demanding enhanced resources and data center bandwidth, leading to growing pressure on data centers to expand their storage offerings. For instance, the Cisco Global Cloud Index 2015-2020 reports estimate that, by 2020, hyperscale data centers will house around 47% of all the data center servers and 57% of all stored data in these centers. Moreover, increasing demands for online streaming services like Netflix, Amazon Prime and more will proliferate data traffic trends, further supplementing the growth of hyperscale data center industry.
How has cloud adoption helped augment hyperscale data center industry trends?
As cloud-based services and collocated IT models continue to gain traction, companies are constantly demanding for more storage capabilities, leading to the construction of new hyperscale data centers. For instance, in 2019, T5 Data Centers and QuadReal Property Group announced plans to deploy $2.5 billion to develop, acquire and operate flexible and secure data centers to focus on escalating demands of enterprises and hyperscale users. The escalating number of online users and the resultant demand for internet-based services has also led to massive amount of data generation recently.
Additionally, there has also been an increasing demand for colocation services due to the need for affordable and fast data center capacities from the hyperscale cloud and internet providers. These factors have undeniably played a vital role in augmenting hyperscale data center market from cloud providers.
Get a Sample Copy of this Report @ https://www.gminsights.com/request-sample/detail/2594
Owing to the presence of global tech giants, the U.S. hyperscale data center market will witness substantial proceeds over the coming years. Endowed with the presence of some of the largest international cloud platforms such as Amazon, Google, and Microsoft, the country has an overwhelming number of data centers. Of these major players, Amazon's AWS (Amazon Web Service) has claimed primary dominance in recent years followed by IBM SoftLayer, Google Platform and Microsoft Azure.
The sheer scale of these organizations effectively signifies that businesses are increasingly speculating shifting their infrastructure to the cloud. Moreover, with surging investments in the development of new data scale infrastructure and the robust increase in cloud penetration, the U.S. hyperscale data center industry is likely to accrue hefty returns by 2025.
Hyperscale data center market | Impact on the IT & telecom sectors
The global hyperscale data center market stands to gain much from the IT & telecom sector, given that the industry is witnessing growing adoption of the large-scale infrastructure facilities due to the increase in data generation and storage requirement. Nowadays telecom operators are offering flexible and affordable internet plans to users to gain a competitive lead over rivals, which in turn has led to an increase in data traffic.
Thus, this rapid increase in data generation has encouraged businesses to introduce a highly efficient and scalable IT environment with high computing power, which in consequence, would have a major impact on hyperscale data center industry size from the IT & telecom sector. The emergence of commercial 5G technology is expected to add further momentum to the global hyperscale data center market.
The rapid upsurge in data-centric applications and cloud-based services coupled with the continued growth in data traffic, are certain to result in robust demand for hyperscale data centers. Traffic congestion on aging network infrastructure is also resulting in downtimes, reduced capacity, service interruptions and degradation of delivery quality – further signifying a spate of growth opportunities for hyperscale data center industry contenders.
Author Name : Mateen Dalal