MRO
Over the recent years, the global aerospace landing gear market share has observed an exponential growth owing to a significant uptick in air passenger traffic and the consequent increase in the demand for lightweight aircrafts. Owing to the criticality of these subsystems, which support aircraft weight during landing and ground operations, the commercial airlines have focused on incorporating high-grade landing gears in the recent times. Moreover, the swift escalation in the number of commercial aircraft production across the world has emerged as one of the foremost factors to have contributed toward rapid growth of the aerospace landing gear industry.
U.S. Aerospace Landing Gear Market, By Position, 2013-2024, (Units)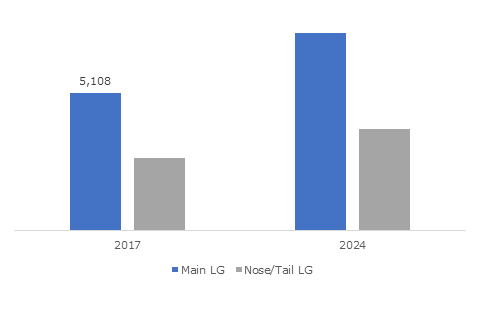 Elaborating further, the U.S. based Boeing for instance, delivered an astonishing 763 commercial airplanes in the year 2017. Reportedly, the aerospace behemoth surpassed its previous delivery record set in 2015. In this context, it would be prudent to mention that 2017 was the seventh consecutive year that registered a decent increase in the delivery of commercial aircrafts by foremost manufacturers.
Apparently, the number of commercial aircraft deliveries stood at 1740 in 2017. This remarkable surge in the total fleet of the commercial airplanes, which was estimated to be around 31,000 worldwide in the same year, has been instrumental in establishing the prominence of commercial aircrafts in the aerospace landing gear market. In fact, the commercial aircraft space is projected to be the major growth segment in the overall aerospace landing gear industry in the upcoming years. Incidentally, commercial aviation held over 58% of the aerospace landing gear market share in 2017 and will emerge as a dominant segment by 2024.
Get a Sample Copy of this Report:@ https://www.gminsights.com/request-sample/detail/2343
Concurrently, it has been observed that there has been a gradual uptick in the number of collaborations being formed between firms operating in MRO (maintenance, repair and operations) industry and various commercial microsatellites & orbital transportation service providers. Needless to mention, these collaborations have invariably boosted the commercialization scale of the overall aerospace landing gear market in the recent times. The U.S. headquartered Triumph Group for instance, has recently teamed up with a systems integrator specializing in microsatellite services, Sierra Nevada Corporation (SNC), to provide landing gear system for the Dream Chaser spacecraft.
In this regard, the agreement mentions that Triumph Group's Washington based Integrated Systems business unit will work together with SNC to supply the main and nose landing gear to a lifting-body vehicle, the Dream Chaser. Reportedly, this spacecraft would be utilized to support NASA's Commercial Resupply Services 2 project that is slated to resupply the International Space Station. The partnership is being increasingly termed as quite remarkable in the aerospace landing gear industry given that the contract further includes the supply of integrated actuation solutions for the landing gear and door systems which would be developed by both the firms.
Speaking in the similar context, numerous dominant commercial and defense aircraft manufacturers around the globe have continued assisting airline operators to leverage exchange offerings of landing gears and overhaul of performing equipment as well. Powered with a robust global network of repair service centers, these aircraft manufacturers are well-positioned to lower maintenance time and provide reliable landing gear repair services to major airlines. To cite an instance of the same, Boeing had declared the launch of its new landing gear exchange programs in 2014 for Air Canada's 777-200LE (Longer Range) and 777-300ER (Extended Range) airframes.
As per the contract, the American aerospace behemoth had agreed to provide certified and fully overhauled landing gear shipsets for a total of 23 aircrafts belonging to the largest domestic and international airline in Canada. Apparently, such cost-effective offerings by prominent aircraft manufacturers have optimistically influenced and proliferated the aerospace landing gear industry space over the past few years.
The prominent aerospace regulating authorities such as Federal Aviation Authority and Civil Aviation Safety Authority have laid out strict guidelines to deploy advanced technologies including Radio-Frequency Identification and wireless sensor network to enhance operational safety of airplanes. Furthermore, the increasing adoption of advanced landing gear systems across major airlines would impel product penetration, cite analysts. Driven by a rapid increase in commercial aircraft deliveries coupled with the burgeoning air passenger traffic, the aerospace landing gear market is slated to grow at an exceptional pace in the years ahead. In fact, as per a research report collated by Global Market Insights, Inc., the revenue portfolio of aerospace landing gear industry is estimated to surpass USD 21 billion by 2024.
Author Name : Saif Ali Bepari
One of most profound factors driving the growth of India aerospace & defense market is the extensive number of initiatives undertaken by the Indian government. The government's decision taken a few years before, for instance, to increase the FDI limit from 26% to 49% in the defense sector, is remnant of the fact that India aerospace & defense market represents a vital sector in the national landscape. The raise in the FDI limit had apparently permitted foreign institutional investors, venture capital organizations, and foreign portfolio investors to make maximum capital investments up to 24% in defense firms thereon. With the ample availability of a highly-skilled workforce and the 'Make in India' initiative gaining greater prominence across the country, Indian firms are expected to play a vital role in the aerospace & defense value chain comprising research & development, training, production, quality control, and maintenance, which would further transform India aerospace & defense industry outlook.
India aerospace & defense market size, by air solution, 2016 & 2024 (USD Million)

India procures nearly 70% of its defense supplies via imports, through which the country has earned the tag of being one of the largest importers of aerospace & defense equipment across the globe. The remainder of the 30% of defense equipment is supplied by the private sector, the Ordnance Factory Board (OFB), and the Defense Public Sector Undertakings (DPSU). A substantial number of components for the defense materials are also procured from the overseas. The Indian government has been undertaking tremendous efforts to overcome this drawback through its 'Make in India' Program, which may certainly have a remarkable impact on India aerospace & defense market trends in the ensuing years.
Get a Sample Copy of this Report@ https://www.gminsights.com/request-sample/detail/2113
In a recent move that has been anticipated to spur India aerospace & defense industry share, Sika Interplant Systems Limited, a Bangalore-based engineering firm providing services to marine, aerospace, and automotive sectors, has formed a joint venture with a UK-based aviation & aerospace giant, Aerotek Aviation Engineering Limited, in India. The strategic partnership is a part of 'Make in India' initiative and will offer services such as production and MRO (maintenance, repair, and overhaul) of landing gears for airplanes and helicopters.  A recent unveiling of new aerospace & defense component manufacturing facility by Nucon Aerospace, a key participant across marine, ground & aerospace sector, in Hyderabad is also expected to provide a boost to the 'Make in India' program, which would ultimately stimulate India aerospace & defense market size.
Aerospace & defense equipment are extensively used by the Indian military, navy, and the air force.  Thus, the large -scale production of aircrafts, communication equipment, helicopters, and missiles in the country have contributed significantly toward augmenting India aerospace & defense market revenue. In addition, the escalating need for increasing the aircraft fleet size with the inclusion of supporting aircrafts such as rescue, emergency & repair, and medic aircrafts have been forecast to impel the business landscape.
Major firms such as Bharat Dynamics Limited, Tata Advanced Systems Limited, Hindustan Aeronautics Limited, Lockheed Martin, BAE Systems AB, and Tata Power Strategic Engineering Division have been attempting to innovate numerous equipment, in a bid to substantially augment India aerospace & defense market share. Aided by substantial government support, India aerospace & defense industry size has been forecast to surpass USD 23 billion by 2024.
Author Name : Dhananjay Punekar