Multi Pad Drilling Market Trends
Multi Pad Drilling Market has witnessed an impressive growth, owing to development of new techniques that have led to higher efficiencies in natural gas production.  Multi pad drilling is the method that involves drilling of multiple wellbores from only one drill site. These advancements in drilling techniques has resulted into reducing overall drilling time and enhancing shale wells economics. Global multi pad drilling industry is gaining traction as this technique can save operators time as well as a large capital. According to Global Market Insights Inc., "Multi Pad Drilling Market size worth USD 90 billion in 2015, is set to register an annual growth rate of 15% over the period of 2016-2024."
Based on applications, onshore and offshore are the two types of drilling activities carried across the globe. The onshore multi pad drilling industry is anticipated to grow at an annual rate of 15% over 2016-2024. Obtainable conventional and unconventional resources are likely to offer huge untapped opportunities for projects development, which will favor the industrial expansion. Offshore multi pad drilling market will also observe high growth prospects, owing to intensive spending and resource abundance in these locations.
     U.S. Multi Pad Drilling Market size, By Pad Size, 2014 to 2024 (USD Billion)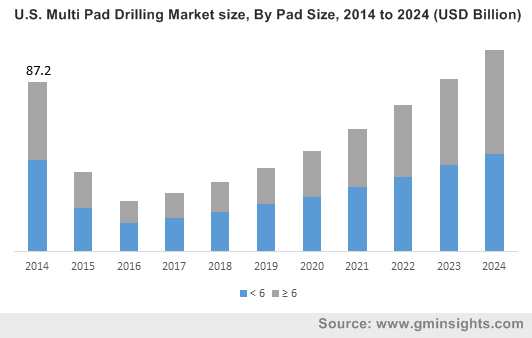 The global multi pad drilling industry comprises two pad sizes (<6 and ≥ 6 pad) based on lateral length and operability. The <6 pad size is foreseen to grow at a rate of 13% over the period of 2016-2024, while the ≥ 6 pad size is set to generate revenue over USD 90 billion by 2024. The easy operability and less supervision property will stimulate the <6 pad size market.
Get a Sample Copy of this Report @ https://www.gminsights.com/request-sample/detail/1199
Strict government regulations to reduce air toxin discharge from oil & gas production facility will augment the multi pad drilling market. The multi pad drilling technique will reduce the negative environmental impact and improve drilling efficiency. For example, 10 wells/pad walking rig is likely to save near 35.8% of the drilling cost per well, while a conventional 4 wells/pad walking rig can save about 26.4% drilling cost.
Geographically, Argentina multi pad drilling industry share is estimated to surpass USD 2 billion by 2024. The country is also emphasizing on providing subsidies to the production of natural gas at new wells by 2020.
China market is projected to record a significant growth subject to abundant access to shale gas resources.
Rising shale gas E&P activities in U.S. and heavy spending in oil & gas projects will favor the regional growth of multi pad drilling industry.
High capital expenditure on oil infrastructure in the Middle East will stimulate the industry growth in the coming years. Middle East multi pad drilling industry is set to record a CAGR of over 7% over the period of 2016-2024.
Russia multi pad drilling industry share is also witnessing a noticeable surge due to increasing offshore drilling actions. Growing undertaking of gas field development projects by Rosneft and DEA will complement the industry growth.
Companies accumulating significant share in the multi pad drilling industry include Earthstone Energy, Trinidad Drilling, Hess Corporation, ExxonMobil, Encana, Pioneer Natural Resources, Marathon Oil Corporation, Consol Energy, Cairn India, Nostra terra, ExxonMobil, Nabors, Chesapeake Energy, Devon Energy, Chevron, and Continental Resources.
Author Name :Ojaswita Kutepatil