NDT Service Market Overview
The commercialization potential of non-destructive testing (NDT) service market is set to witness renewed momentum owing to the evolving demands of the global industrial sector and the effect of digital transformation. These services are anticipated to reach a wider range of business verticals due to the rising number of disruptive innovations and the emergence of pathbreaking technologies such as AI and IoT.
U.S. Non-Destructive Testing (NDT) Service Market Revenue, By Method, 2018 & 2025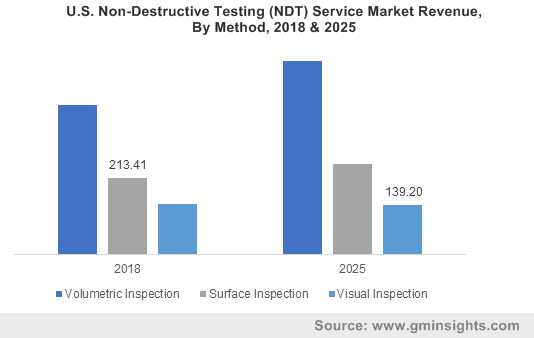 Enhancements in the ultrasonic inspection technology to boost the remuneration scale of NDT service industry
Worldwide, assets of various business verticals are aging and the number of inspection regimes has witnessed an unprecedented uptick as safeguarding these assets is turning out to be a tough task. Invariably, the demand for agile inspection equipment has been intensifying lately. In this context, it is quite imperative to state that ultrasonic inspection testing is being regarded as one of the most prominent technology types among all the NDT services. Some recent developments associated with the improvement of the NDT services – utilizing high-end technologies and research – are set to not only enhance the productivity levels but also add stealth to the ultrasonic inspection testing. Enumerated below are a few major instances that are a testimony to the significant research activities and increasing product ingenuity:
Material testing services provider Element has recently launched a new testing lab spread across 20,700 square foot in Sheffield, United Kingdom. The new lab, which would be a prominent part of the undergoing industrial revolution in the region, will be situated close to Advanced Manufacturing Innovation District of Sheffield. It would be a center for excellence for NDT and inspection research and would prove advantageous to the consumers from the oil and gas and aviation sectors. Additionally, its location would ensure that it receives access to latest technical expertise and support, essentially propelling the growth prospects of NDT services market in the region.
Manufactured for a wide range of applications spanning from a flat plate to a tiny 50 mm diameter surface, Silverwing R-Scan is a new handheld portable B-Scan inspection system which aims to improve the probability of detection and data quality of ultrasonic inspections. Introduced by Eddyfi Technologies, the new NDT solution can be used to complete tank inspections where an automated and remote crawler such as the scropion2 system cannot be deployed. The registered information sets are displayed in a cross-sectional B-scan view that assists in improving in-service flaws, reveal corrosion, increasing speed, and the inspection quality. Remarkably, the addition of such agile, advanced, and portable inspection systems to the product range of ultrasonic inspection testing providers would boost the overall geographical reach of NDT service market.
Get a Sample Copy of this Report @ https://www.gminsights.com/request-sample/detail/3201
Europe to contribute massively toward strengthening the revenue profile of the global NDT service industry
Speaking of the growth of the NDT service industry in geographical terms, Europe held more than 30 percent of the revenue share of this business vertical in the year 2018. Presence of numerous well-known companies such as Bureau Veritas, SGS, and Intertek in the region has been a crucial factor in reaching out to a large customer base. In addition to this, stringent regulatory guidelines – rolled out by European Union along with various local governments – mandating the usage of NDT services to ensure product and employee safety has assisted the industry players to reach high potential growth areas.
Elaborating further on the leading position of Europe, it has also helped that the region's aviation sector is on a roll with a clearance of a massive backlog of aircraft orders being concluded recently. To put things in perspective, prominent aircraft manufacturers such as Airbus and Boeing have a record backlog of more than 12,000 new aircraft that are to be manufactured by the year 2025, creating humongous growth opportunities for the Europe NDT service market in the forthcoming years.
Considering the humble beginnings of the NDT service industry, it is prudent to mention that drastic enhancements over the years have increased the usage of these services across numerous applications. This growth trajectory of the NDT service market is certain to continue in the coming years, as has been highlighted in the research report compiled by Global Market Insights, Inc. which claims that this business vertical would surpass a decent remuneration scale of about USD 4.5 billion by 2025.
Author Name : Saif Ali Bepari