Networking Equipment
Pertaining to rapid technological advancements in IT & telecom sectors and the shift towards cloud infrastructure, hyperscale data center market has garnered commendable mainstream appreciation recently. Companies are nowadays relying more on cloud computing services as they offer several advantages such as enhanced application performance, efficiency, scalability & flexibility. However, this shift has led to high demand for computational power owing to which enterprises are increasingly outsourcing their data to third-party data centers in a bid to avoid investing on expensive hardware and thereby enhance business profitability.
UK hyperscale data center market, by solution, 2018 & 2025 (USD Million)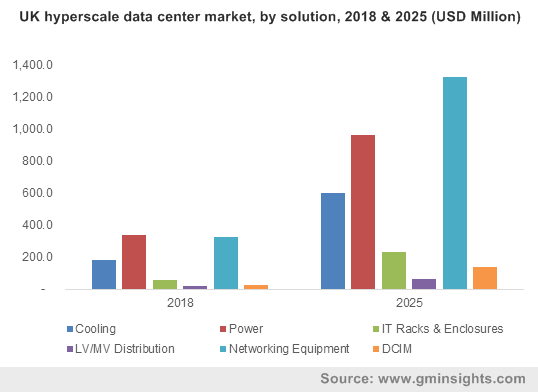 In addition, with more data distribution and greater demand for IT consumerization, organizations are constantly demanding enhanced resources and data center bandwidth, leading to growing pressure on data centers to expand their storage offerings. For instance, the Cisco Global Cloud Index 2015-2020 reports estimate that, by 2020, hyperscale data centers will house around 47% of all the data center servers and 57% of all stored data in these centers. Moreover, increasing demands for online streaming services like Netflix, Amazon Prime and more will proliferate data traffic trends, further supplementing the growth of hyperscale data center industry.
How has cloud adoption helped augment hyperscale data center industry trends?
As cloud-based services and collocated IT models continue to gain traction, companies are constantly demanding for more storage capabilities, leading to the construction of new hyperscale data centers. For instance, in 2019, T5 Data Centers and QuadReal Property Group announced plans to deploy $2.5 billion to develop, acquire and operate flexible and secure data centers to focus on escalating demands of enterprises and hyperscale users. The escalating number of online users and the resultant demand for internet-based services has also led to massive amount of data generation recently.
Additionally, there has also been an increasing demand for colocation services due to the need for affordable and fast data center capacities from the hyperscale cloud and internet providers. These factors have undeniably played a vital role in augmenting hyperscale data center market from cloud providers.
Get a Sample Copy of this Report @ https://www.gminsights.com/request-sample/detail/2594
Owing to the presence of global tech giants, the U.S. hyperscale data center market will witness substantial proceeds over the coming years. Endowed with the presence of some of the largest international cloud platforms such as Amazon, Google, and Microsoft, the country has an overwhelming number of data centers. Of these major players, Amazon's AWS (Amazon Web Service) has claimed primary dominance in recent years followed by IBM SoftLayer, Google Platform and Microsoft Azure.
The sheer scale of these organizations effectively signifies that businesses are increasingly speculating shifting their infrastructure to the cloud. Moreover, with surging investments in the development of new data scale infrastructure and the robust increase in cloud penetration, the U.S. hyperscale data center industry is likely to accrue hefty returns by 2025.
Hyperscale data center market | Impact on the IT & telecom sectors
The global hyperscale data center market stands to gain much from the IT & telecom sector, given that the industry is witnessing growing adoption of the large-scale infrastructure facilities due to the increase in data generation and storage requirement. Nowadays telecom operators are offering flexible and affordable internet plans to users to gain a competitive lead over rivals, which in turn has led to an increase in data traffic.
Thus, this rapid increase in data generation has encouraged businesses to introduce a highly efficient and scalable IT environment with high computing power, which in consequence, would have a major impact on hyperscale data center industry size from the IT & telecom sector. The emergence of commercial 5G technology is expected to add further momentum to the global hyperscale data center market.
The rapid upsurge in data-centric applications and cloud-based services coupled with the continued growth in data traffic, are certain to result in robust demand for hyperscale data centers. Traffic congestion on aging network infrastructure is also resulting in downtimes, reduced capacity, service interruptions and degradation of delivery quality – further signifying a spate of growth opportunities for hyperscale data center industry contenders.
Author Name : Mateen Dalal
The massive penetration of 5G technology and IoT worldwide has led the global edge data center market to observe phenomenal gains during the span of seven years starting from 2019-2025. As is proclaimed, the expansive commercialization of 5G technology has provided a positive outlook to edge data center industry.
Apparently, the edge data centers enable processing of humongous volumes of data in juxtaposition to the base stations in 5G infrastructure. This has prompted the service providers to translocate the facilities to manage and bring about an ease in the on-premises edge infrastructure.
The robust proliferation of myriad applications spanning, autonomous vehicles, precision agriculture, immersive entertainment, and augmented reality, is likely to compel the industry giants to indulge in the development of edge facilities leading to high growth prospects for the edge data center industry over the forecast period. A testament to this can be provided by EdgeConneX, Inc., which developed MicroEdge data centers across 1,000 locations worldwide in order to support the future generation 5G-dependent applications.
It has been apprehended that the edge data centers overcome irregular connections, minimize the inactivity, and compute data close to the users. Moreover, these benefits are leading to a hefty construction of the centers in remote locations.
According to the market speculations put forward by Global Market Insights, Inc., the worldwide edge data center market size is likely to cross a mammoth of USD 16 billion by the end of 2025.
Get a Sample Copy of this Report:@ https://www.gminsights.com/request-sample/detail/2421
Encompassing a huge component spectrum, the cooling solutions segment is expected to hold a substantial revenue share in the overall edge data center market. This can be ascribed to the ongoing demands for reduced operational costs and augmented data center performance. Estimates claim that the edge data center solutions help in combating the damages to the systems and processors by restricting excessive heat from the infrastructure. Along with heat management, the cooling solutions also maintain a balanced temperature and control the humidity levels across the facilities.
The product manufacturers across the world are offering novel cooling techniques to promote highly efficient and economic power and energy consumption whilst reducing the environmental impacts.
Having procured a commendable share in the global edge data center market, the BSFI sector is witnessing robust demand for edge facilities ascribing to the necessity of compactly managing a massive amount of consumer data.
Reliable sources claim that the financial industry contenders are, on a large scale, deploying the data center facilities to accomplish several advancements and modifications in the proximity of their operational centers. This would help the organization to reduce the risk of data breaches and speed up the disaster detection and prevention in the near future.
Considering the geographical aspects, mounting penetration of OTT providers and telecom operators across the Asia Pacific region would boost the regional industry dynamics over the projected time frame.
The enterprises are exceedingly investing in the upgradation of the data center infrastructures across the emerging economies in the APAC region including India, China, and Japan. This is predicted to establish tremendous growth opportunities for the industry expansion and lead to the development of advanced data center facilities.
Furthermore, favorable initiatives undertaken by the various governments to support the development of all industrial sectors and support their respective nations would also apparently spur the market growth by the end of 2025.
The prominent market players across the edge data center industry include EdgeConneX, Inc., Hewlett-Packard Enterprise Company, IBM Corporation, Schneider Electric SA, and multiple others.
Author Name : Vinisha Joshi
Nlyte's partnership with the IBM Watson IoT group is an exemplar precedent underlining rapid expansion of data center infrastructure market. Recently inked, through this deal, the companies intend to leverage maximum potential of advanced analytics and AI in its data centers.  Speaking of the strategic agreement, one of the spokesperson of Nlyte has been quoted saying that the complexity, scalability, and optimization of modern data centers demand the requirement of advanced analytic solution integration. Reportedly, Nlyte is amalgamating its patent NEO (Nlyte Energy Optimizer) with IBM Watson's advanced AI abilities in a quest to provide data centers with new heights of operational comprehensiveness. This alliance, as per experts' opinion, has surely strengthened Nlyte's stance in data center infrastructure market that pegged a valuation of USD 40 billion in 2017.
Europe data center infrastructure market, by product, 2017 & 2024 (USD Million)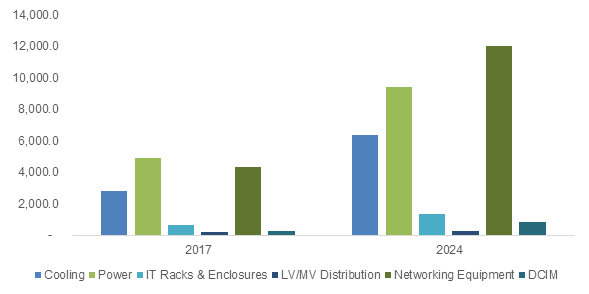 A stringent regulatory framework speaks volume and has much to contribute in data center infrastructure industry augmentation. With cyber-attacks becoming a global concern, various regulatory bodies have mandated guidelines to identify and continuously monitor potential vulnerabilities in digital infrastructure. Companies partaking in data center infrastructure market therefore, now are extremely particular to develop solutions that are completely in compliance with regulatory standards. In this regard, recently Nlyte Software made its way to headlines, for receiving the much awaited approval for its DCIM solution from the Department of Homeland Security.
Allegedly, the latest approval makes the America data center infrastructure industry giant to become the first DCIM solution provider in the United States that has strictly adhered to all the conditions mentioned in the Phase 1 of CDM program (Continuous Diagnostics and Mitigation) of the federal government. For the records, the U.S. federal government rolled out this aforementioned CDM Program few years back, in a bid to ensure integrity and security of hardware as well software assets of the nation. Not to mention, with increasing adoption of these regulations, U.S. data center infrastructure industry is certain to carve a profitable roadmap over the ensuing years.
Get a Sample Copy of this Report@ https://www.gminsights.com/request-sample/detail/2580
Citing yet another instance where governmental initiative has given a substantial boost to regional data center infrastructure market, the Northern Territory of Australia that has released its Budget for the year 2018-2019, has allocated a sum of AU$18.38 million to support initiatives that are under the Department of Corporate and Information Services. Reportedly, as a part of the scheme, the government has a plan to increase its number of physical servers and number of fully managed servers by 16 and 100 respectively in this financial year. With such enormous project in the pipeline, regional data center infrastructure market players are sure to gain monetary benefits in securing Australia's data center network.
Speaking of the regional aspect, it is prudent to mention that Asia Pacific is at the vanguard of data center infrastructure industry. In fact, Asia Pacific market is forecast to witness nearly 14% CAGR over 2018-2024. The growth can be primarily attributed to the increased penetration of digital technologies among consumers as well as businesses across this belt. Rapid industrialization along with robust growth in outsourcing activities especially in countries like India and China have led to a subsequent increase in organizational data traffic. In a bid to accommodate this huge traffic, companies are increasingly investing in new facilities, thereby proliferating APAC data center infrastructure industry.
Despite these growth opportunities, data center infrastructure market is still facing a challenge of bridging complex web of interconnections with a data center network. Nonetheless, with the advent of optimized workflow procedures, adoption of real-time monitoring system, and enhanced tools, the aforementioned stumbling block is likely to get overcome within a short span. Furthermore, the lure of big data analytics and extensive proliferation of cloud technologies would leave a complementary influence on data center infrastructure industry space. In terms of commercialization, the business space is forecast to exceed a massive valuation of USD 90 billion by 2024.
Author Name : Satarupa De