New Installation
Having taken the conventional global lighting marketplace by storm, Europe LED lighting industry, in the recent years has emerged to a fertile investment ground for potential investors. The LED (light-emitting diode) technology, of late, has been gaining traction form variety of reasons, but most notably because of its extended lifespan, lower maintenance, and low energy consumption abilities. In addition, given the strict regulations and energy norms in Europe toward energy efficient solutions, it wouldn't be wrong to quote that Europe LED lighting market share would soar several notches up in the years to come.
Germany Europe LED Lighting Market Size, by End-Use, 2017 & 2024 (USD Million)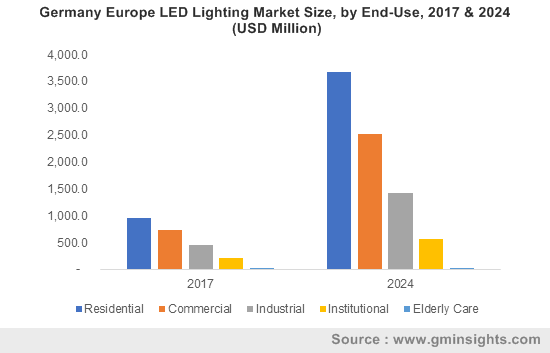 The impact of banning halogen lightbulbs on Europe LED lighting market  
According to reports, the EU announced a ban on the halogen light bulbs in Europe on September 1, 2018 and since then has been encouraging the consumers to switch to more energy-efficient LED technology.  The ban and the switch – forming a part of Europe's massive efforts in limiting environmental damage – have undeniably taken over the traditional lighting sales. According to experts, the move however, has also majorly impacted the masses financially as halogen bulbs are much more cost effective than LED lights. Nonetheless, over the years, many research reports have proved that a halogen bulb may be cheaper to buy, but the fact that the electricity cost will be much more expensive will ultimately nullify the price factor. In addition, halogen bulbs have an average life span of two years, while LEDs last for 15-20 years, in extension promoting the sales of LED lightings.
Another factor that further prompted the ban is the fact that LEDs consume only 1/5th of the total energy consumed by halogen bulbs, and phasing out of these traditional lightings will prevent over 15.2 million tons of carbon emission by 2025. According to EU officials for climate action & energy, this is a significant contribution toward fighting greenhouse gas emissions. Thus, the industry analysts report that the EU's measures to phase out halogen bulbs will provide a strong ground for the growth of the overall Europe LED lighting industry in the coming years.
Get a Sample Copy of this Report:@ https://www.gminsights.com/request-sample/detail/3035
The smart cities drive to favor Europe LED lighting industry expansion over 2018-2024
According to recent reports, the global urban population has escalated from 751 million in 1950 to over 4.2 billion in 2018, and is further projected to hit 7.7 billion by 2050. With the demographic changes, smart city projects have been identified as effective and promising way, many of the most emerging in Europe. In fact, the IDC (International Data Corporation) estimates the European spending on smart cities to surpass USD 19 billion in 2018.
Quite overtly, the increasing rate of smart city projects are indirectly expected to favor the growth of LED lightings, given the demand for smart and sustainable lighting products. It is prudent to mention that this trend has also been majorly fueling the smart lighting market, which is recently traversing on a lucrative roadmap, given the crucial role these components play in smart city infrastructure. The regional government has furthermore launched several smart city programs for deploying smart lighting solutions in the outdoor and indoor spaces. The need for sustainable as well as energy efficient lighting systems will further draw lucrative growth avenues for the Europe LED lighting market in the ensuing years.
Europe LED lighting industry magnates to play a major role in altering the business dynamics
With the advent of LED lightings, it comes as no surprise that there have been significant strides amongst the industry leaders to strengthen their regional foothold. Product breakthroughs and innovation remained the most adopted growth strategies for leading the way. A substantiation validating the fact is of Philips Lighting, that has recently introduced smart outdoor LED light bulbs which automatically turns on at night and turns off in the morning. Reportedly, these Philips' LED Dusk-to-Dawn A19 Frosted Light Bulbs are gaining immense momentum with the smart city drives in the region.
Industry analysts further point out that the government-imposed energy efficiency norms have also been majorly contributing to the overall growth of Europe LED lighting market contenders. An instance bearing testimony to the same is of Future Designs, that has recently announced the development of custom-made LED luminaries to be deployed across many of the stations for the Crossrail transportation system in London, UK. It has been reported that such use of LED lightings in rail settings and subways will be fostering Europe LED lighting market share. Cree is another renowned name, that has recently announced an LED lights retrofit project for the street lights in the quaint New England community.
Clearly, all the above trends are playing a crucial role in the development of Europe LED lighting market size, which is certain to proliferate the profitability quotient of this business sphere. A presumption validating the same is of Global Market Insights, Inc., that claims the Europe LED lighting to surpass a remuneration portfolio of USD 30 billion by 2024.
Author Name : Ojaswita Kutepatil
Owing to the rapid adoption of smart technologies such as IoT and Big Data, wireless fire detection system market share has witnessed a remarkable uptick of late. The convergence of integrated solutions coupled with a marked increase in the deployment of advanced fire detection systems would further augment product demand. Apparently, the new-age systems offer enhanced aesthetics by eliminating the need for drilling holes and cabling requirements, prevent the utilization of asbestos, and provide ease-of-installation. Subject to this, technology providers have focused on developing advanced fire detection technologies so as to ensure security and safety in new construction projects, that would consequentially aid wireless fire detection system industry.
U.S. Wireless Fire Detection Systems Market size, by commercial applications, 2017 & 2024 (USD Million)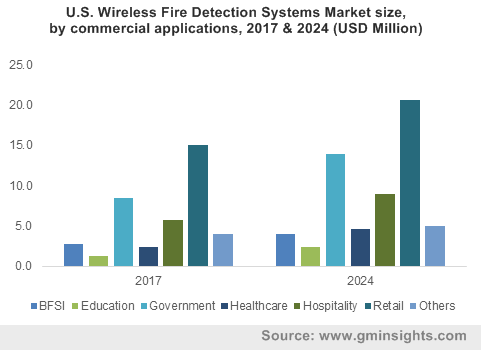 Elaborating further, it has been observed that periodic revision and streamlining of fire safety standards is a crucial factor to have influenced the overall wireless fire detection system market trends. Moreover, numerous developing nations have been concentrating on constructing smart cities to sustain and reenergize their economies. Apparently, the seamless functioning of these smart cities would require stringent enforcement of enhanced fire safety codes.
In accordance with the same, it is rather imperative to state that regulatory agencies have a vital role to play in such a scenario. Enumerated below are a few major instances of government agencies which have prescribed forward looking and advanced guidelines that are quite significant for the global wireless fire detection system industry:
One of the major organizations that has contributed immensely toward drafting improved safety standards in wireless detection system market is the Occupational Safety and Health Administration (OSHA). Being one of the foremost agencies of United States Department of Labor, OSHA has time and again laid out stringent regulatory guidelines with regards to fire safety that has been mandated to be complied to, especially in the construction sector. In the US, OSHA's regulatory directives such as 29 CFR 1910.160 and 29 CFR 1910.164 have acquired increased prominence given that they are strictly required to be complied with while installing wireless fire detection systems.
European Union's popular directive, named as EN54 Part 25, is predominantly known for outlining the precise safety requirements and laboratory tests for components utilizing radio links across wireless fire detection system industry. Apparently, these directives consist of detailed guidelines pertaining to heat detectors, smoke detectors, voice alarm control and indicating equipment, alarm transmission and fault warning routing equipment, point fire detectors which use carbon monoxide sensors, etc.
Get a Sample Copy of this Report @ https://www.gminsights.com/request-sample/detail/2493
Concurrently, the swift advancements being observed in networking infrastructure coupled with the aforementioned robust regulatory structures is certain to impel the wireless fire detection system market over the ensuing years.
Meanwhile, it would be prudent to mention that the wireless fire detection industry share, which can be termed as being in the nascent stage, has been marred with a few obstacles in the recent times. Subject to various vulnerabilities of wireless infrastructure and the high cost of fire detection systems, the end user segment appears rather apprehensive with regards to adopting these systems on a wide scale.
However, owing to the incorporation of cutting-edge technologies in these systems, numerous household safety device manufacturers have been unveiling convenient and smarter consumer products in wireless fire detection market. For instance, Samsung has recently teamed up with Vodafone to provide a range of smart home products with a special focus on security devices including multipurpose sensors, home alarm assistant, and security cameras. Reportedly, the users would receive alerts on their mobile phones in the event of fire at their home. Needless to mention, the launch of such innovative solutions would undeniably propel the wireless fire detection system market size.
With the development of smart cities across numerous countries complemented with a robust regulatory framework in place, the commercialization prospects of wireless fire detection system industry appear to soar new heights in the near future. In fact, as per a research report by Global Market Insights, Inc., the overall remuneration portfolio of wireless fire detection system market is estimated to exceed USD 500 million by the year 2024.
Author Name : Saif Ali Bepari