NFC
The worldwide mobile wallet market has positioned itself to be an extremely lucrative consumer-driven vertical, propelled by the attractive discount & cashback offers facilitated by service providers. Indeed, mobile wallet providers across the world have been impressively successful in attracting and retaining customers, growing their respective user-base at an exponential rate in the process, by simply offering their consumers frequent & appealing cashback offers and discounts. The entire cycle of discounts and cashbacks has proven to be extremely beneficial for both customers, who can obtain a plethora of products & services at a reduced rate, and mobile wallet service providers, who are able to be the recipients of profitable business from their patrons.
U.S. Mobile Wallet Market Revenue, By Type, 2017 & 2024

While these frequent cashback offers may seem to be counterproductive for the growth of the mobile wallet industry, it actually reduces the cost of customer acquisitions by allowing companies to lower the amount they spend on marketing their respective products & services to the customers.
Unveiling APAC mobile wallet industry trends
Across the Asia Pacific, where the penetration of smartphones is supposedly the highest, consistent efforts taken by the regional governments towards realizing the goal of being cashless have benefited the mobile wallet market in a profound manner. The dense concentration of smartphone users and the government efforts toward establishing a cashless economy is so extensive that in 2017, APAC was known to have captured a sizable proportion of the global mobile wallet industry share.
According to a report by Disruptive Asia, the most common denominator behind the market's unprecedented growth in APAC is the sheer penetration the smartphone industry in the region is witnessing. Mobile wallet service providers have been able to capitalize on this lucrative opportunity by developing cost-effective & ubiquitous smartphone application-based as well as online solutions for customers across the region. In fact, according to a 2018 report by Merchant Machine, Asia's home-grown mobile payment platforms, WeChat Pay & Alipay were able to effectively grow their user base to 600 million & 400 million respectively, significantly outperforming industry veteran PayPal which had over 210 million users that year.
While the region's mobile payments market is being led by the countries such as South Korea, Japan, Singapore, Australia and China, the country with the largest mobile wallet user base is China, with more than 45% of the nation having used this payment service in 2018 for their daily transactions. Augmented by the extensive popularity of this payment method, APAC mobile wallet market is set to depict an unprecedented growth rate over 2018-2024.
Unveiling Europe mobile wallet market trends
The mobile banking sector in Europe has been evolving at a commendable pace over the previous five years. This trend could be attributed to the increasing prominence of a plethora of international as well as domestic entities competing with each other through their mobile wallet services in an attempt to capture a profitable chunk of the global industry. Moreover, the collaborative efforts of the region's technology-oriented enterprises and the banking establishments have also been acknowledged as a factor that is responsible for expediting the Europe mobile wallet market growth.
Meanwhile, the European Commission has been working diligently to develop an integrated & efficient payment services market across the European Union. The EU has adopted a new payment services directive in January 2018 to make internet payment services safer & easier to use and also to promote innovative internet & mobile payment services that would prove extremely beneficial for the Europe mobile wallet industry. Owing to these conducive factors, the Europe mobile wallet market is slated to grow at an impressive CAGR of more than 15% over 2018-2024.
These regional trends quite clearly indicate that the global mobile wallet market is anticipated to attract numerous investors in the upcoming years. In fact, a research report from Global Market Insights, Inc., projects that the overall mobile wallet market size will be surpassing the renumeration mark of $250 billion by 2024.
Author Name : Akshay Kedari
Increasing availability of automation solutions for the commercial sector has boosted the electronic shelf label (ESL) market revenue, which surpassed USD 450 million globally in 2017 in conjunction with the growing number of retail outlets. Products such as groceries or seasonal fruits can witness price fluctuations while the stacking of new products also raises difficulties for retail staff to manage and update the pricing tags. The necessity to save time and energy spent for inventory management at stores with a large number of items has directed businesses towards the electronic shelf label industry. ESLs not only allow for prices of various goods to be set quickly and simultaneously, but also offer accuracy and flexibility. The ever increasing customer base, the rising penchant for spending on consumables worldwide and the need for improving the bottom line of businesses will generate massive gains for the electronic shelf label market from the commercial segment over the coming years.
Germany ESL market size, by product, 2017 & 2024 (USD Million)

According to a key ESL manufacturer, replacing paper labels with the electronic ones could experience cost savings of up to 60%, while adopting a more responsive pricing method and creating a modern brand image. The electronic shelf label market will see tremendous demand from big supermarket and hypermarket companies for eliminating manual errors in updating prices, freeing up the staff's time to increase productivity and to implement strategic pricing decisions. Groceries from a major part of everyday spending by billions of people around the globe, and supermarket chains undergo daily shelf rotation of essential items. In 2017, it was found that there were a total of 38,581 supermarkets in the U.S., indicating the growth potential for the electronic shelf label industry.
The International Grocery Research Organization has projected that the global grocery retail market will be adding sales of nearly USD 2.7 trillion by 2022, driven by growing population and higher spending on grocery products. Subsequently, multinational hypermarket chains have targeted global expansion for catering to the incessant demand for groceries as well as non-food retail items. SPAR, for instance, has been able to build lean practices and supply chain networks, and has over 12,500 stores in 44 countries throughout 4 continents. The company has been known to use ESLs for guaranteeing efficient pricing integrity and reducing costs, while letting consumers take advantage of visible prices for all kinds of products. SPAR has demonstrated the immense benefits to be accrued from switching to ESLs for product display, inventory management and warehousing, propagating the scope of the electronic shelf label market for the commercial segment.
Get a Sample Copy of this Report:@https://www.gminsights.com/request-sample/detail/1136
Companies have increasingly found it easy and affordable to integrate smart technologies into their retail businesses, where IT teams can deploy relevant systems to enhance the future of the business. Electronic retail brand have particularly found ESLs useful in enhancing store experience and executing pricing promotions or rolling out offers to customers. New York's B&H Photo and Video is one such company which took advantage of the booming electronic shelf label industry, by installing three-color fully graphic ESLs to align pricing and promotions in a fast and accurate way. Managing ESLs centrally and securely through an enterprise platform wirelessly, B&H could program computers such that products can be scanned and mapped accordingly, making sure the right labels are updated at the right time.
Further innovations in the electronic shelf label industry will initiate the product penetration into less modernized commercial businesses, where people will realize the need for speedy product identification and pricing. To elaborate, the Findbox solution being offered by ESL specialist French company SES-imagotag represents a new take on making shopping easier and more convenient for consumers. When a used product is placed in Findbox, the system recognizes the right product and locates it on the store shelves, where LED on the digital price tags start flashing. As a result, customers can save precious time in searching several shelves and aisles and find the product they want to buy or replace, while displaying the correct and updated prices. The company has claimed its Findbox can automatically recognize products within 3 seconds and updates can be made in less than 1 second.
With the rising frequency of innovations in connectivity, IoT and smart technologies, the electronic shelf label market can be expected to transform significantly, supported by better accessibility to AI and cloud-based services. SES-imagotag, LG Innotek, M2Communication, CEST, Displaydata, Price AB and Teraoka Seiko Co. Ltd. are come key participants in the global electronic shelf label market, which is projected to exhibit a 13% CAGR from 2018 to 2024.
Author Name : Pankaj Singh
The growing adoption of electronic payments and integrated ticketing system across the globe will stimulate automated fare collection (AFC) system market trends. According to Global Market Insights, Inc., "Global Automated Fare Collection (AFC) System market worth USD 4.51 billion in 2015, will exhibit an annual growth rate of 10.4% over the period of 2016 to 2023." Transportation infrastructure will drive AFC system industry extensively, as it is used for maintaining customers log, estimating best fare calculation and to check relevant discounts. The implementation of AFC system across the various sectors such as transportation will offer benefits like improved revenue management and fraud prevention.
UK automated fare collection system market size, by technology, 2012 – 2023 (USD Million)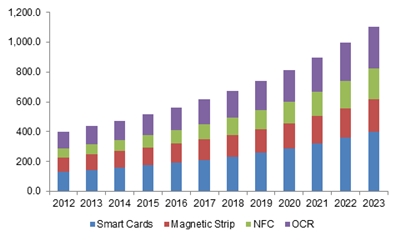 Automated fare collection system industry comprises technologies such as optical character recognition (OCR), magnetic strip, near field communication (NFC), and smart cards. OCR technology is extensively used to generate receipts and tickets. The near field communication technology is projected to record a CAGR of 12.3% over the coming six years, owing to the high demand for this technology owing to its high degree of compatibility. In addition, NFC is a user-friendly technology, which will add benefit over other alternatives such as QR codes and BLE (Bluetooth low-energy). Smart card accounted for 30% of the worldwide automated fare collection system market revenue in 2015 and will display eye-catching growth opportunities over the coming timeline. The smart cards offer favorable features such as portability, low complexity, and reliability, which influence the industry trends considerably.
Get a Sample Copy of this Report:@ https://www.gminsights.com/request-sample/detail/406
Based on the component, AFC industry is mainly segmented into hardware and software. The hardware segment worth more than USD 2.2 billion in 2015, is expected to witness a CAGR of 10.4% over the period of 2016 to 2023. To reduce the complexity as well as to improve the efficiency of the AFC system, software-based technical support has deployed by the software developers and firms which will provide software development kits, database management systems, middleware, mobile platforms, server solutions. Many of the transportation agencies are increasingly looking for software based AFC system, which will stimulate software automated fare collection system industry size lucratively.
Geographically, Asia Pacific automated fare collection system market will collect a revenue of more than USD 2.5 billion by 2023, owing to the escalating transit projects across this region. China and India will be the major revenue contributor.
North America automated fare collection system market was predominantly driven  by U.S in 2015 and is anticipated to continue its dominance over the coming years. U.S. AFC system industry size will grow significantly by registering a CAGR of 9% over the coming six years. The growth can be attributed to the mounting intelligent transportation system market (ITS), which is anticipated to surpass a revenue of USD 45 billion by 2023.
The market players will invest heavily in the R&D activities to meet customer needs as well as to improve product range over the coming years. The collaboration and joint venture are some of the key strategies adopted by the industry participants to gain enhanced business share. Cubic Systems, Thales Group, Samsung, LG, Omron Corporation, Advance Card Systems, NXP Semiconductors, and Atos are some of the leading companies in the AFC market.
Author Name : Sunil Hebbalkar