Nitrate
Increased product demand from pharmaceutical and textile industries will drive bleached linter cellulose market growth in the forecast years. Bleach linter cellulose is a high viscosity substance made primarily from cotton linters. Compared to wood cellulose, cotton linters offer significant advantages like higher purity, higher brightness, and a lower content of hemi-celluloses. These characteristics make purified linters cellulose an ideal raw material for manufacturing high-quality products like tissue, gazes, high-quality paper for bank notes, nitrocellulose and cellulose ethers.
U.S. Bleach Linter Cellulose Market size, By Application, 2014-2025 (USD Million)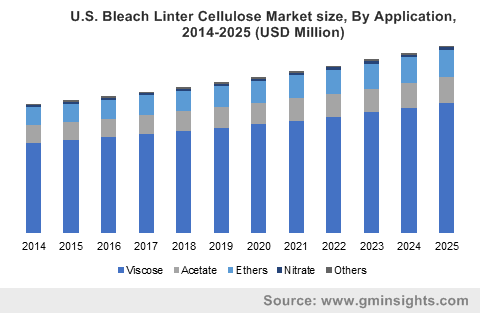 Increasing investments and rapid technological advancements are likely to expand bleached linter cellulose market size over the forecast period. For instance, in 2019, the GRETE project that aims to improve the existing wood-to-textile value chains by developing breakthroughs and increase production of man-made cellulose fibers in Europe was granted EUR 2.6 million by the Bio-based Industries Joint Undertaking (BBI JU). Swiftly growing food industry across developing nations is also anticipated to foster industry trends.
Based on application, it would be apt to state that cellulose ether will accrue a significant proportion od bleached linter cellulose market share over the coming years. Cellulose ethers are often used as viscosifiers, suspending agents, thickeners, binders, protective colloids, film formers, and stabilizers in industries like food, drilling, textile, building, ceramics, detergent, and cosmetics.
Increasing use of cellulose ethers like carboxymethylcellulose (CMC) and methylcellulose (MC) will drive industry outlook. For example, in the construction industry, CMC is used in cement and other building material compositions owing to its hydrophilic and stabilizing properties.
Get a Sample Copy of this Report:@ https://www.gminsights.com/request-sample/detail/3858
Supportive government strategies and investments in the construction sector will positively supplement cellulose ether segment in the coming years. For instance, according to European Construction Sector Observatory (ECSO) 2018, the UK government plans to deliver 400,000 affordable housing units by 2020-2021, financed through a new EUR 2.7 billion Housing Infrastructure Fund.
Growing demand for personal care and pharmaceutical products is likely to drive bleached linter cellulose market growth by 2025. In personal care industry, bleached linter cellulose is used to thicken and stabilize cosmetics and improve their moisturizing effects. Cellulose ether, pertaining to its characteristics like high glass transition temperatures, limited crystallinity, high chemical & photochemical stability, solubility, hydrogen bonding capability, and low toxicity is used widely in the pharmaceutical sector. Colored cellulose ether products can also be decolorized or bleached to attain an increased whiteness.
Growing use of cellulose ether in various medicinal drug formulations will accelerate product demand. For instance, methyl cellulose (MC) can be used for thickening, suspending, and achieving emulsion stability of liquid pharmaceuticals, and for film coating materials of low viscosity aqueous solution.
Ethyl cellulose (EC) can be used as the binder of tablets, as film coating material, or as the matrix material for developing various types of matrix sustained-release tablets. With growing application of cellulose ether and ethyl cellulose, bleached linter cellulose market will witness commendable proceeds from the personal care and pharmaceutical sector over the coming years.
Asia-Pacific bleached linter cellulose market is anticipated to record gains of over 3.5% in the forecast period. Availability of low cost raw materials in countries like India and China will supplement industry growth. In addition, surging demand from end-user industries like textile, food, pharmaceutical and personal care due to improving socio-economic trends will expand market size.
According to IBEF, India's pharmaceutical industry is expected to reach US $55 billion by 2020. Whereas the country's textiles industry is estimated to reach US$ 250 billion in 2019. With rapid proliferation in such key sectors, the Asia-Pacific bleached linter cellulose market is estimated to witness new growth opportunities over the forecast period.
Bleach linter cellulose is high viscosity cellulose made from cotton linters. Being non-toxic, odorless in nature and easy-absorbent, bleach linter cellulose can effectively be used in industries like food, ceramics, detergent, and cosmetics. Rising product penetration in the textile, personal care and pharmaceutical industries will majorly drive global bleached linter cellulose market growth. Global Market Insights, Inc., estimates bleached linter cellulose market size to reach US $1.3 billion by 2025.
Author Name : Mateen Dalal