Non-Asbestos Organic
As per the latest research report by Global Market Insights, Inc., automotive brake pads market is projected to be worth more than 10 billion by 2025. The surging production of automobiles across the world is the major driving force for automotive brake pads market. Burgeoning demand for passenger vehicles, due to convenience offered by them, will further raise product demand.
U.S. Automotive Brake Pads Market, By Material, 2018 & 2025, (USD Million)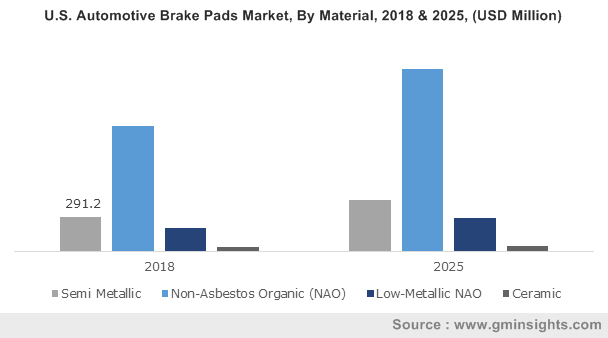 The increasing demand for clean and green energy and elevating global air pollution levels have pushed several automakers to launch their own electric vehicles. Japanese automaker Toyota is currently working on six new EVs with plans to roll out the new range by 2025, across the U.S, China, and Europe. Besides the passenger vehicles, the carmaker is also planning to introduce microcars and a smart-car like hatchback. General Motors is also planning to launch a clean version of Hummer. Production of newly launched models will boost the demand for compatible brake systems, thereby fueling automotive brake pads market size.
The demand for brake pads and demand for automobiles go hand in hand. Hence, the factors which boost automotive production will also favor the expansion of automotive brake pads market share. The numerous developments in battery electric vehicles market are also projected to fuel automotive brake pads industry size over the coming years.
The presence of stringent regulatory backdrop regarding brake pad raw materials would limit growth prospects for brake pads manufacturers. For instance, the usage of asbestos is regulated under the Clean Air Act and federal laws like the Toxic Substances Control Act. Since this material is a significant component of several auto parts including brake pads and linings, restrictions on its use are likely to hinder automotive brake pads industry growth.
Get a Sample Copy of this Report:@ https://www.gminsights.com/request-sample/detail/1367
The introduction of strict government regulations to promote advanced braking technologies among drivers will benefit the market. For instance, the Indian Ministry of Road Transport & Highways has decided to make advanced brake system mandatory for heavy vehicles with nine seats and above. Favorable government mandates aimed to enhance road safety and reduce accidents will surge the demand for brake pads thereby boosting automotive brake pads market share in the coming years.
Increasing adoption of disk brakes will further accelerate automotive brake pads market growth, owing to a series of advantages including enhanced stopping power. Therefore, increasing installations of disk brakes will accelerate the demand for brake pads, thereby augmenting automotive brake pads industry share.
The increasing pressure from government bodies to reduce emission and promote greener transport offers new growth prospects to brake pads manufacturers in the industry. Companies are now manufacturing eco-friendly brakes free from harmful materials like asbestos, ceramic fibers, lead or nickel. The use of greener materials will result in a significant reduction in fine particle emissions, that would promote product demand among environmentally conscious buyers.
The features of brake pads like optimum performance results, noise suppression, and enhanced safety, would promote its acceptance among renowned car brands, thereby favoring automotive brake pads market outlook.
EV revolution may encourage industry trends. Although sales of passenger vehicles are experiencing a slight slowdown across the world, heavy-duty vehicles seem to be doing well. Recently, General Motors announced a $150 million investment to enhance production of heavy-duty trucks by 40,000 vehicles a year. Owing to the electric revolution heavy-duty vehicles are set to switch from diesel to electric, which could persuade the production of more electric heavy-duty vehicles in the upcoming period. This development could accelerate the demand for front brake pads, which are common in heavy-duty vehicles.
Brake pads impact the overall braking performance, and hence are a vital safety component in automobiles. They deal with challenges such as braking noises, high wear tear, and heat dissipation. Due to the frequent friction applied against metal disk or drum, brake pads wear down over a period of time, generating the need for replacement. Hence, replacement of brake pads will continue to foster automotive brake pads market trends in the coming years.
Author Name : Krithika Krishnan
This entry was posted in Automotive & Transportation and tagged Aftermarket, Automotive Brake Pads Market, Automotive Brake Pads Market Size, Ceramic, Front, Front & Rear, HCV, LCV, Low-Metallic NAO, Non-Asbestos Organic, OEM, PCV, Semi-Metallic, Two-Wheelers.