OEM
The aircraft refueling hose market is registering significant growth in recent times owing to exponential rise in deployment of aircraft fleets worldwide. Increased tourism and spending on business travel has also propelled the aviation sector in the past couple of years.
U.S. Aircraft Refueling Hose Market, By Application, 2018 & 2025, (USD Million)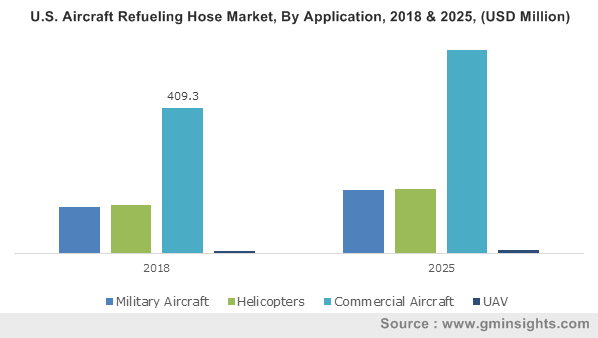 The International Air Transport Association (IATA) claims that the number of trips per person is forecast to increase by 4% – 8% annually for many emerging countries, and is projected to be as high as 10% – 11% per year in India and China. These growing trends necessitate radical infrastructural developments and the need for efficient refueling equipment like aircraft hose.
Aircraft hoses are made with utmost precision whilst keeping in mind the critical nature of their application. They can easily conduct refueling operations on land as well as in air – features that have considerably enhanced its significance in recent years.
Investment in defense infrastructure has offered immense impetus to aircraft refueling hose market. For instance, the U.S. Air Force 2020 budget anticipates an approximate US$165.6 billion investment, a 6% increase from the FY 2019 request, which involves continuing the procurement of F-35As and KC-46As, and initiating the refresh of the F-15 fleet with a new variant. These investments will most likely drive the global aircraft refueling hose industry share.
Get a Sample Copy of this Report:@ https://www.gminsights.com/request-sample/detail/3344
Expansion in commercial airline fleets along with a high-rise demand for lighter airplanes will boost aircraft refueling hose market share. Exponential increase air passenger traffic will positively influence product demand. For instance, IATA claims that, with present trends in air transport, it is likely that passenger numbers will double to 8.2 billion by 2037.
Aircraft major Boeing recently projected that the worldwide need for new airplanes will grow rapidly between 2018 and 2037, during which about 42,730 new airplanes deliveries are expected with a market value of $6.3 trillion. This growth will be increasingly witnessed across Asian countries like China and India and will drive the regional industry. In fact, Boeing claims that China alone is expected to order 6,810 new airplanes worth over $1.025 trillion over the aforementioned period.
Rising efforts by domestic airlines to increase their flight network by adding new, advanced aircrafts will drive the industry share. Expanding aircraft fleets helps to increase the size of the airline's network and will eventually help to boost aircraft refueling hose market trends.
North America aircraft refueling hose market will generate substantial proceeds by 2025 on account of rising demand for military aircrafts along with a considerable increase in defense budget. In a bid to attain improved system performance and efficiency, eminent industry players are developing lightweight and technologically advanced refueling hoses. Global Market Insights, Inc., claims that North America aircraft fueling hose industry size will depict a CAGR of 3% over 2019-2025.
In recent times, new highly advanced aerial refueling tankers are being deployed to conduct refueling operations in air, further contributing toward enhancing operational efficiency and reducing flight downtime. For instance, in 2019, the U.S. Air Force started accepting the first few production copies of Boeing's military aerial refueling aircraft, KC-46. Official reports claim that the Air Force will accept 19 additional KC-46s by the end of August 2019 that would help drive the regional industry share.
The U.S. Navy plans to finalize its MQ-25 drone program by 2019 with an aim to craft drones that could fly off an aircraft carrier and refuel other aircraft mid-flight. Proliferating trends pertaining to drone development and deployment will propel North America aircraft refueling hose market size.
Helicopters are gaining traction in aircraft refueling hose market owing to increasing use of helicopter in-flight refueling (HIFR) systems. In the past decade, the worldwide fleet of civil helicopters has grown by 37.38% to reach 30,895 aircraft, claims the General Aviation Manufacturers Association (GAMA). Increased helicopter usage in O&G industry for getting to offshore oil rigs and conducting rescue operations in remote locations will drive aircraft fueling hose industry size from helicopters .
The global aircraft refueling hose market is driven by rapid deployment of commercial and military aircraft fleets in the aviation sector. Increasing number of air passengers and rising defense budget will augment business growth. Reports from Global Market Insights, Inc., estimate aircraft refueling hose market size to reach USD 2.5 billion by 2025.
Author Name : Mateen Dalal
The global automotive EVAP systems market is estimated to register a commendable growth rate over the ensuing years, on account of the growing air pollution levels worldwide. Air quality is deteriorating day by day posing a huge risk to the environment, human health, and food security. Fuel evaporative emissions undeniably, are a significant contributor to global air pollution levels. The gasoline in the fuel tank gradually evaporates over time, contaminating the air with VOCs (Volatile Organic Compounds).
U.S. Automotive Evaporative Emission Control System Market, By Vehicle, 2018 & 2025, (USD Million)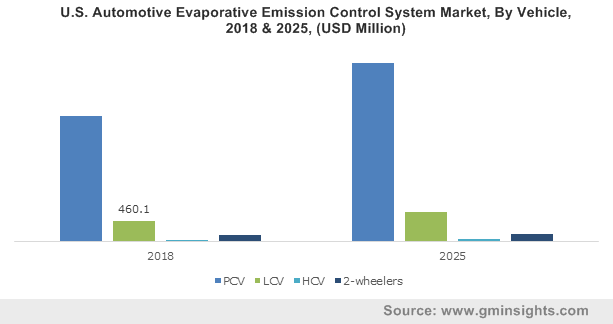 According to the Environmental Protection Agency, there are enough cases of such emissions to contribute to air pollution and pose a risk to environmental and human life. The fuel injected in a car consists of over 150 chemicals including toluene, benzenes and even lead, which can cause headaches, breathing issues, and in worst cases result in death. Hence, it is vital for carmakers to install EVAP systems in their models to control fuel evaporation, which would help expand the global automotive EVAP systems market size.
The need for manufacturers to equip their cars with EVAP systems is further encouraged by the imposition of stringent emission control mandates by governments throughout the world. For instance, Euro 5/6 regulations continue the Euro 4 limit of two grams of evaporative emissions each day. Regulation in the United States limits evaporative emissions to 0.5 grams each day over a three-day diurnal temperature profile.
Even though state regulations don't usually exceed federal regulations, the California Air Resources Board (CARB) permits the imposition of more stringent emission standards. Meanwhile, Japan has jointly developed emission standard by two ministries – The Ministry of Environment and The Ministry of Land, Infrastructure, and Transport. Emission limits in the country are almost similar to Euro 4 standards of two grams of emissions daily.
Get a Sample Copy of this Report @ https://www.gminsights.com/request-sample/detail/3222
It comes as no surprise therefore, that the global automotive EVAP systems industry is heavily governed by regulations. Indeed, according to Global Market Insights, Inc., OEMs presently dominate the global automotive EVAP systems market due to the rising product installations in an effort to conform to government regulations like CARB and Test Procedures to monitor vehicle performance.
One of the most significant reasons for driving the demand for EVAP systems around the world is the increasing rate of passenger vehicle production. In the year 2017, over 80 million passenger cars were produced worldwide, out of which Europe accounted for an appreciable share. Developing nations like India witnessed a significant rise in production from over 3.95 million units in 2017 to nearly 4 million units in 2018.
Recently, Mercedes-Benz Cars announced an investment of over $250 million euros in a passenger car plant in the Moscow region. Through the new plant, Daimler aims to meet the high demand for Mercedes-Benz E-Class SUVs and Sedans in the region. Owing to rising production, automotive EVAP systems market size is expected to witness an upsurge from passenger cars. Rising installation of EVAP systems in passenger cars to enhance fuel economy and reduce fuel losses will drive product demand.
In terms of regional growth, the Latin America market held considerable revenue share owing to rising concerns pertaining to fuel evaporation paired with the imposition of supportive international policies to control air pollution. According to an assessment released by UN Environment and the Climate and Clean Air Coalition, poor air quality and climate change are taking a toll on vulnerable population and environment within the Americas, leading to premature deaths, ecosystem damage, and crop yield losses.
Brazil, which is the fourth largest vehicle market in the world differs from larger economies in terms of policies to promote vehicle-efficiencies. However, the government in these nations and other key vehicle markets in Latin America are working to adopt international best practices regarding emission control to the local economic and policy context. Successful implementation of regulatory practices would further augment the Latin America automotive EVAP systems market share in the coming years.
Key factors such as increasing vehicular emissions, rising awareness regarding poor air quality along with a rise in vehicle manufacturing and supportive government regulations will continue to induce considerable possibilities for industry expansion in the coming years. For the record, the global market is also estimated to surpass a valuation of $65 billion by 2025, according to a research report by Global Market Insights, Inc.
Author Name : Krithika Krishnan
With augmented safety protocols in the aviation industry and rising technological advancements, aircraft evacuation market is expected to depict remarkable growth trends in the coming years. The aviation industry being highly vital to today's economic growth, this business sphere is gaining immense traction to eliminate or minimize costly and tragic consequences. If reports are to be believed, the year 2018 recorded over deaths of more than 534 passengers due to commercial aircraft accidents. The death toll has been much worse the previous years.
U.S. Aircraft Evacuation Market, By Product, 2018 & 2025, (USD Million)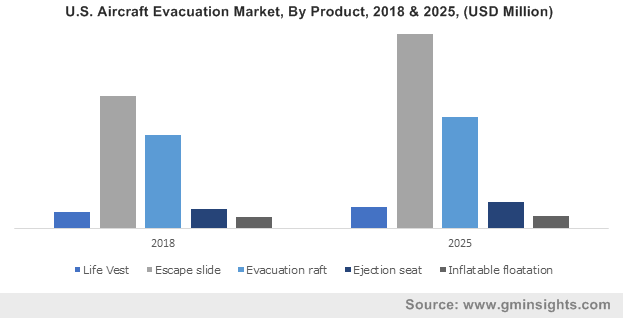 As per a report by the European Transport Safety Council, more than 90% of the commercial airplane accidents are technically survivable. Pertaining to same, stringent government regulations toward implementing advanced safety systems while emergency landing. A report by Global Market Insights, Inc., claims that the aircraft evacuation market is expected to become a billion-dollar business by 2025.
The report further claims that in terms of the product landscape, ejection seat is anticipated to witness remarkable investment trends over the coming years. Ejection seats are witnessing robust demand from the military and defense forces. Strict safety standards and inspection systems have provided a positive outlook for the product demand. An instance bearing testimony to the same is of the U.S. Air force's contract with the leading aircraft evacuation industry players Martin Baker and United Technologies Aerospace Systems for the development and production of evacuation ejection seats.
Get a Sample Copy of this Report @ https://www.gminsights.com/request-sample/detail/3092
Moreover, the UK-based safety equipment and ejection seats manufacturer Martin Baker has also secured a new contract for delivering Mk18 ejection seat for its KAI's (Korea Aerospace Industries) aircraft development program. The company will also be supplying escape systems for the KF-X, Republic of Korea Air Force's new fighter.
It is prudent to mention that besides ejection seats, escape slides segment is also to set to propel the product landscape of aircraft evacuation market. Technological advancements in slide materials, operation techniques, and durability have significantly enhanced the product demand in the recent years. In order to cater to the rising demand of advanced evacuation systems, several airline & carrier companies are deploying or replacing old structures with new systems for enhanced safety features.  With the rising demand for air carriers across the globe, OEMs are turning out as lucrative growth avenues depicting phenomenal commercialization trends for aircraft evacuation industry expansion. The segment growth is attributable to its ability to provide replacement, maintenance, and technical services for aircraft systems.
In 2016, an Estonia based aircraft maintenance company Magnetic MRO entered into a contract with Kazakhstan's domestic flag carrier Air Astana to provide escape slide repair and overhaul requirements. The company added an escape slide evacuation workshop to its repair & maintenance services in 2014, as a part of a strategy to cater to the growing consumer base. The firm now boasts capabilities for Air Cruisers and Goodrich escape slides for Boeing aircraft types such as 757, 767,737 CL, and 717-200, as well as Airbus A320 Family aircraft. The OEM player also recently announced that it raised USD 9 million for acquiring one of its competitor and aims to expand rapidly in the competitive aircraft evacuation industry.
Taking into account the geographical landscape, Europe aircraft evacuation market accounted for significant share, given the robust expansion in the defense and commercial sectors of the regional aviation industry. Asia Pacific is also another lucrative region witnessing growing investment trends from aircraft evacuation industry players, given the increasing regional air travel rate. According to a report by IATA, APAC regions is witnessing an annual expansion rate of over 5.5% in passenger traffic, and is thus attracting investors to set up facilities and provide aircraft services.
The progressive growth of aircraft evacuation market is further set to witness advancement in systems such as introduction of RFID-based life vests. Additionally, with the rising penetration of top techs such as AI, blockchain, Internet of Things, and big data analysis, the global aircraft evacuation market is certain to traverse along a profitable growth graph in the ensuing years.
Author Name : Ojaswita Kutepatil
Owing to a drastic rise in the demand for state-of-the-art and highly-efficient automotive spare parts, the Asia Pacific (APAC) automotive aftermarket share has been registering commendable progress in the last few years. The eventual wear and tear of existing vehicles is invariably leading car owners to replace the car's internal components and old spare parts for improved safety and enhancement of the vehicle's appearance. Moreover, the transformational shifts in global mobility policies across various emerging economies in the region is positively favoring the APAC automotive aftermarket, which is slated to garner more than USD 165 billion in terms of remuneration by the year 2024.
China LCV Aftermarket Market, By Sales Outlet, 2017 & 2024, (USD Million)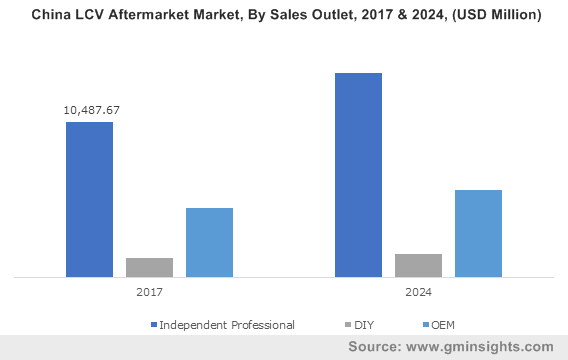 Amidst a gradual slowdown in the global economic activity in the recent times, the developing countries in the Asia Pacific terrain are experiencing unprecedented growth. This has facilitated the expansion of the automotive aftermarket across major Asian nations such as China, India, Japan, Singapore, along with smaller economies like Vietnam and Thailand catching up fast enough.
India
The most prominent factor that has been favoring the India automotive aftermarket is the rapidly growing trend of vehicle ownership in rural and semi-urban regions of the country. The statistics published by the Society of Indian Automobile Manufacturers (SIAM) – is the premier organization representing the nation's automotive industry – are testament to the humongous rise in the sales of passenger and commercial vehicles over the last few years. Recording a y-o-y growth rate of 14.78 percent, the increase in automotive sales has boosted the demand for auto spare parts and other ancillary components across the country, which has, in turn, proved highly-beneficial for the India automotive aftermarket.
Get a Sample Copy of this Report @ https://www.gminsights.com/request-sample/detail/3076
Speaking along similar lines, the growing adoption of vehicle insurance policies in the nation would further propel the India automotive aftermarket expansion. It is quite prudent to mention that the third-party insurance cover for new cars has been made mandatory for period of three years following a Supreme Court order effective from September 2018.
Vietnam
Following the footsteps of major developing economies of the region like India and China, Vietnam is making ground-breaking progress in the APAC automotive aftermarket in the recent years owing to marked uptick in automobile sales and rise in the disposable income of its residents. As per the Industrial Policies Strategies Institute (IPSI) under the Ministry of Trade and Industry, the automobiles production in the nation is expected to increase at an average of 18.5 percent each year over 2018 to 2025, essentially boosting the APAC automotive aftermarket.
In line with Vietnam's ambitious strategy to carve out a profitable growth path for the nation's automobile industry, the formation of an auto manufacturing center in the vital central economic region is being visualized presently. The proposed Kim Long Motors Hue complex is slated to be set up in the Chan May-Lang Co Economic Zone to not only utilize the port and logistical advantage of the province but also to attract more investors to the local mechanical and spare parts industries in the times to come.
Industry analysts believe that the new auto manufacturing complex and the increasing automobile sales would open up unprecedented opportunities for the major firms operating in the APAC automotive aftermarket and position Vietnam as a significant contributor toward the burgeoning automotive industry in the region. In fact, according to a research report put together by Global Market Insights, Inc., Vietnam automotive aftermarket is forecast to expand at an annual growth rate of more than 9 percent over the estimated time frame.
With the dynamically surging demand for advanced modifications in cars in economies such as India, China, and Japan, the commercialization potential of the Asia Pacific automotive aftermarket industry is anticipated to surge majorly over 2018-2024. Powered by the ever-increasing requirement of advanced replacement parts and the dynamic expansion of the regional automotive market, the APAC automotive aftermarket industry is slated to traverse alongside a highly profitable growth path in the years ahead.
Author Name : Saif Ali Bepari
The proliferating tourism industry along with the surging consumer spending on air travel have indeed pushed aircraft door market trends lately. Doors, being one of the most critical components of aircraft, are quite overtly designed with utmost precision to offer easy access control and management of various aircraft compartments as well as ensure passenger safety by maintaining required air pressure within the aircraft. With the global expansion of the aviation industry, aircraft door designers and manufacturers are now focusing on reducing the overall door weight to enhance the aircraft's fuel efficiency and profitability. The rising focus on weight reduction solutions in air carriers will thus drive the aircraft door market size over the forthcoming years.
U.S. Aircraft Door Market, By Door, 2018 & 2025, (Units)
Given the escalating air traffic across the globe, the fact that the frequency of aircraft production has surged comes as no surprise. According to the International Air Transport Association (IATA), by 2036, the number of passengers using air transit services is expected to reach over 7.8 billion – nearly twice of the 4-billion-mark recorded in 2017. With rising disposable incomes along with the escalating annual spending in emerging nations, the demand new, advanced and luxury airliners will also increase, scaling up air carrier deliveries and subsequently impacting the global aircraft door industry share.
It has been observed that of all different types, cargo doors are significant more popular, perhaps on account of the rise in cargo transport. According to the IATA, the air freight transportation in the year 2018, surpassed 60 million tons with an increase of close to 4.5% as opposed to 2017. Indeed, air cargo transportation is known to be potentially significant and accounts for about 35% of the worldwide trade by volume. With the expansion of the e-commerce industry, online retail carriers and integrators are enhancing their package sorting and automation capabilities, in addition to extending networks in a bid to gain a larger fraction of the growing trade. Powered by the robust expansion of air cargo transportation and the massive requirement of efficient doors in aircraft to ease loading and unloading, cargo aircraft door market share will experience a commendable incline in the years ahead.
Latin America is anticipated to be tagged as one of the profitable regional grounds for the expansion of the global aircraft door market. Quite discernibly, the growth of the LATAM industry can be attributed to the fact that domestic airliners are consistently expanding their commercial and regional jet fleets in order to accommodate more passengers. Citing an instance of the aforementioned, in Q3 2018, Embraer had received an order of more than 20 regional jets from the reputed Azul Linhas Aereas Brasileiras.
Get a Sample Copy of this Report @ https://www.gminsights.com/request-sample/detail/2434
Driven by the expansion of the regional aviation industry and the efforts undertaken by prominent domestic players to consolidate their position in the global space, LATAM aircraft door market size is forecast to register a CAGR of 6.5% over 2019-2025.
The Indian air transport sector has also depicted strong growth in the recent years, a fact that would serve to proliferate the regional aircraft door industry. Reports from IATA forecast that in the next 20 years the number of annual air passenger journeys will increase by over 350 million, hitting almost 520 million journeys in 2037.
The regional civil aviation industry has also emerged as one of the fastest growing verticals in the recent years, and is expected to soon overtake the stalwarts in the domain in the global race. The strong performance of India's aviation industry and the subsequently escalating demand for the production of technologically advanced aircraft, have thus served to expedite the growth map of India aircraft door market.
Aircraft doors in essence, play a vital role to maintain specific air pressure in an aircraft cabin, offering enhanced security and assurance to traveling passengers. With a rising proportion of the global populace opting for air travel owing to surplus disposable incomes and the growing trade initiated by e-commerce giants, worldwide aircraft door market size is poised to hit a remuneration mark of USD 9.5 billion by 2025.
Author Name :Mateen Dalal