Off-road Motorcycles
The U.S. off-road vehicles (ORVs) market size, in recent times, has been the recipient of sizable gains, owing to the proliferation of outdoor activities in conjunction with the improving economic condition. ORVs are becoming increasingly popular especially among the youth across the U.S., as is obvious from the rising sales of SUVs, off-road dirt bikes & motorcycles, all-terrain vehicles (ATVs) and snowmobiles.
Arizona Off-Road Vehicles Market, By Vehicle, 2017 & 2024, (USD Million)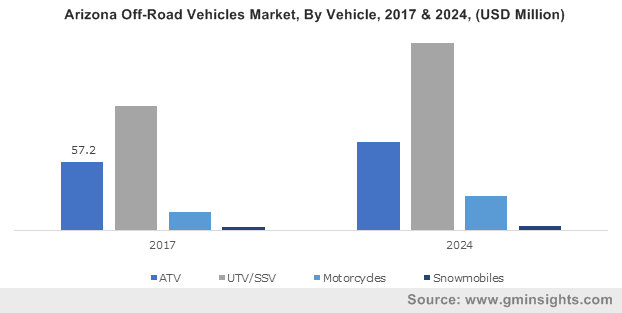 The mounting interest in off-road adventure activities is rather overt from the progress that the ATV industry has registered in the last few years. In 2017, the ATV Safety Institute (ASI) claimed that close to 35 million Americans use ATVs in the U.S., which would prove to majorly impel the U.S. off-road vehicles market size. ATV are bound to be used extensively in the agricultural sector for several tasks performed on farms and ranches such as general transportation, animal handling, weed control and fence mending.
The agricultural sector even now, remains one of the largest occupational arenas in the U.S. As per reliable estimates, 78% of ATVs are used for recreational purposes while 22% are used in occupational settings. In addition, the versatility of ATVs has also resulted in their use in small scale construction, manufacturing, search and rescue operations, police, utilities, mining and land management. The utility, affordability and ease of use associated with these vehicles has led to their massive adoption by the agricultural community, in turn facilitating the growth of U.S. off-road vehicles industry from ATVs.
It is vital to mention that the U.S. off-road vehicles industry has received massive support from the regional regulatory landscape. Organizations like the ATV Safety Institute have been training the youth and providing education regarding safety gears. The surging adoption of safety gears will also lead to the U.S. off-road vehicles market gaining substantial momentum in the years ahead. Even the Texas legal framework permits under-14s to drive ATVs under supervision. The enforcement of norms to enhance driver and passenger safety will boost the demand for ATVs, majorly propelling U.S. off-road vehicles market size from ATVs.
Get a Sample Copy of this Report @ https://www.gminsights.com/request-sample/detail/3074
Regionally speaking, California, Texas, and Arizona stand as the chief revenue pockets for the U.S. off-road vehicles industry. According to Global Market Insights, Inc., in 2017, California held around 10% of the U.S. off-road vehicles market share owing to the presence of several state parks and recreational areas for driving. Organizations such as California Department of Parks and Recreation's Off-Highway Motor Vehicle Recreation Division (OHMVR) are also introducing Grants & Cooperative Agreements Program to encourage OHV adoption.
Arizona is also anticipated to witness steady growth in the ensuing years, essentially on account of the favorable regulations enforced in the region that now permits the usage of California-registered vehicles in its state parks. Indeed, Arizona, boasting of 365 riding days per year, is likely to emerge as one of hotspots for the expansion of the U.S. off-road vehicles market. The state is home to some of most iconic road trails that attract tourists across the globe, namely, the Harquahala Mountain Byway, Backway to Crown King, Broken Arrow Trail, and Cinder Hills OHV Area, every one of which boasts of being a popular off-roading community. As the popularity of these trails in addition to the many hundreds of trails that the state houses, increases by the day, U.S. off-road vehicles market players are likely to target Arizona as their potential investment hub.
Capable of driving effectively on paved or gravel surfaces, off-road vehicles have increasingly become popular owing to their versatility. The use of such high traction, higher clearance vehicles enables users to access trails and forest roads that define a rough terrain. Aided by a supportive regulatory framework and the robust demand across a slew of end-use domains, U.S. off-road vehicles market will depict a commendable growth graph ahead.
Author Name : Mateen Dalal
Boasting of a remuneration of over USD 19.5 billion in 2017, the global off-road vehicles (ORVs) market has gained massive traction over the past decade from sports events, recreational activities and crucial utility applications. The increase in the use of UTVs and SSVs for agricultural and hauling use owing to their size has promoted their advantages throughout the world, while growing attraction of extreme sports and motorsports among the youth has boosted the sales of ATVs and off-road motorbikes.
U.S. Off-Road Vehicles Market, By Vehicle, 2017 & 2024, (USD Million)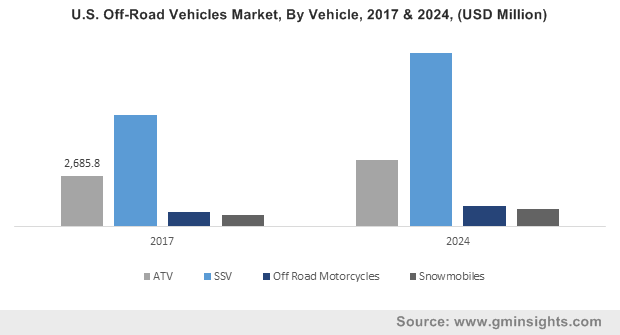 The utilization of ATVs for recreational and tourist activities has majorly outlined the off-road vehicles industry dynamics, garnering support from governments and the general public alike. Rising economic status of the working class population and the advent of successful entrepreneurs have created an emerging customer base for recreational events and the off-road vehicles market.
Although the introduction of ORVs arose out of particular needs in different conditions, the extensive benefits in other areas helped the popularity of ATVs to grow in applications like racing, beach use, military use and touring through national parks. Countries like Canada, U.S., South Africa and Australia have enormous state parks and natural reserves that are open to visitors and tourists, deploying a fleet of ORVs for traversing along predetermined as well as off-beat tracks. Subsequently, the off-road vehicles industry has been able to supply need-based products to the state agencies and private touring firms for catering to increasing recreational enthusiasts. The state of Wisconsin in the U.S. had announced plans in October of 2017 that it intends to add over 200 miles of access for ORVs in the Northern Highland-American Legion State Forest.
Get a Sample Copy of this Report:@ https://www.gminsights.com/request-sample/detail/2321
Reportedly, the state government there has already spent millions of dollars for ATV trail development, though the Northern Highland-American Legion State Forest was yet to have ATV access, indicating a positive step towards growth of the off-road vehicles market in the region. The Wisconsin ATV-UTV Association had disclosed numbers showing that at the start of 2015, there were around 92,654 ATVS and 8,789 UTVs registered in the state. The region has been experiencing increased popularity of recreational family trips and tourist attraction, even during the winter season, which in many parts of the world represents tremendous earning potential for the off-road vehicles market, from the demand of snowmobiles.
The Yellowstone National Park in Wyoming, U.S., is an example of a such national park where the use of over-snow vehicles has been propagated for decades and consistent improvement in the vehicles has helped to overcome several issues regarding noise and pollution. Snowmobiles not only offer a convenient way for visitors to enjoy the park in winter conditions, but also allow the park personnel to do their challenging jobs and maintain the park utilities. In many places along the northern region of the earth, parks and forest trails where ATVs are used during rest of the year can still provide recreational activities in winter using snowmobiles. As such, the off-road vehicles market for recreational purposes can benefit from vast application scope in most of the northern countries.
According to statistics, about 46 million square kilometers of Earth's surface is covered with snow every year, with 98% of the planet's snow cover situated in the Northern Hemisphere. The Europe and North America has therefore, significantly contributed to the development and adoption of snowmobiles for short distance travelling, remote area goods transportation and for enabling recreational uses of lakes, parks and specially built trails. The sale of snowmobiles in the U.S., records indicate, had almost 58,300 units in 2015, which was a 20% rise over a two year period and demonstrated the existing prospects for the off-road vehicles industry.
Canada-based Bombardier Recreational Products (BRP) had also informed in 2017 that the company had profited from a robust demand for its recreational vehicles, with revenues from its season products, including snowmobiles, climbing 37.2% for the quarter ending January 31. BRP, operating in 100 plus countries, has proven that huge opportunities exist for recreational snowmobiles in the North America off-road vehicles market. Concerns regarding emissions and fuel efficiency have inspired many innovations in the manufacturing of ORVs. For instance, Taiga Motors in Montreal are developing an all-electric snowmobile that would help to counter stringent regulations at many national parks and forest in Europe and North America arising from environmental issues.
Owing to such efforts aimed at providing enhanced recreational vehicles and the escalated requirement for ATVs and snowmobiles across the Northern region, the recreation segment is estimated to hold approx. 25% of the off-road vehicles market share till 2024. Polaris Industries Inc., Wildcat, Bombardier Recreational Products, Caterpillar, Yamaha Motor Co., Ltd., KTM and Kawasaki Motors Corp, are major players spearheading the global off-road vehicles market share.
Author Name : Pankaj Singh