Oil-Free Air Compressor Market
Surging demand for cooling systems in residential and commercial spaces along with rising global population will propel rotary scroll air compressor market growth over the coming years. Air conditioners (A/C) have certainly become an essential consumer appliance in both residential and commercial sectors. In fact, according to the U.S Department of Energy (DoE) report, A/C represent to about a $100 billion, 100 million-unit/year global market, accounting for 4.5 exajoules of site energy consumption each year.
U.S. Rotary Scroll Air Compressor Market Size, by Lubrication, 2013 – 2024 (USD Million)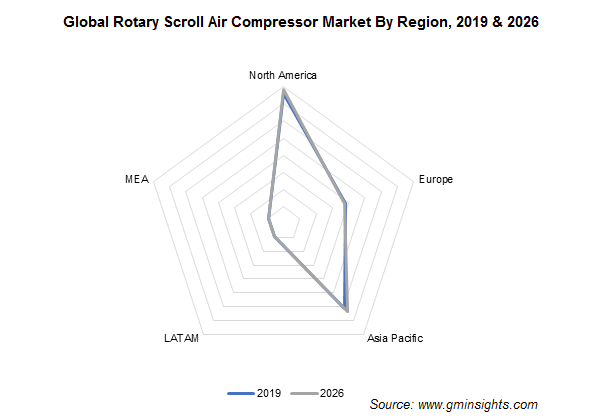 Needless to mention, with such high product and energy demands, the adoption of rotary scroll air compressor has become vital in the recent years. The product offers low noise, reliable, smoother, and more energy efficient outputs compared to some compressors. Further, due to fewer parts, scroll air compressors are less prone to mechanical failure. Attributed to these features, the product adoption in industries like pharmaceutical, healthcare, food & beverage, etc.is expected to soar high in the coming years. .
Application of rotary scroll air compressor in the home appliances
With rapid urbanization and an increase in people's standard of living, the use of rotary scroll air compressors has, of late, grown significantly in certain home appliances. The component allows products to provide low noise, energy efficient operations whilst offering cleaner compressed air across the system, benefits that bring about significant aids to human health, comfort and productivity.
Furthermore, with rising population, urban climatic conditions and disposable income in emerging economies, the use of efficient air cooling appliances is likely to surge over the coming years, in turn supplementing market growth. Citing one such instance, IEA's 2018 report claim that the global stock of air conditioners in buildings will reach 5.6 billion by 2050, up from current 1.6 billion trends.
Get a Sample Copy of this Report:@ https://www.gminsights.com/request-sample/detail/2128
Oil-free air compressors to propel the pharmaceutical and healthcare sectors
Based on lubrication, oil-free rotary scroll air compressor offers key features like high reliability, low vibration and sound levels, continuous operation, 100% duty cycle, energy efficient, compact design, low maintenance and cleaner air outputs, essential features required in medical, research and biotechnology sector.
Some oil-free compressors are also designed specifically for industrial and laboratory applications to offer the highest level of air purity and eliminating the risk of product contamination due to oil carryover. In addition, the technology also helps in avoiding expensive filter replacements, cutting the cost of oil condensate treatment, and reducing energy loss from pressure drop in filters – benefits that will significantly propel the product adoption in the aforementioned sectors. In fact, the oil-free rotary scroll air compressor market is expected to register a CAGR of 3% over 2019-2024.
APAC rotary scroll air compressor market to amass commendable growth proceeds
Rising urbanization, per capita income and climatic conditions across countries like China and India are driving the Asia Pacific rotary scroll air compressor market growth. The product has gained immense demand from the region's food and beverage sector, owing to its ability to provide cleaner and dry air to ensure high product quality. Moreover, increasing investment to set up or upgrade existing cold storage infrastructures is likely to supplement market growth.
For instance, as per recent news reports, around Rs 21,000 crore is slated to be invested in India in the next 4-5 years for setting up or upgrading cold storages plant, machinery, and technology in a bid to address issues of stockpiling of perishable commodities in the country. Besides, increasing population, changing lifestyles and time constraints for meal preparation in urban families have further led to a surge in demand for ready-to-eat products, thus exhibiting promising growth prospects for the thriving market.
All in all, with a vast expanse of applications including home appliances, medical & pharmaceutical, food & beverage, automotive & transportation, and biotechnology industries, the growth prospects for rotary scroll air compressor market are anticipated to remain high. The key features associated with the product like low sound and vibration, high reliability and efficiency and low cost for maintenance is slated to attract added market growth in the ensuing years. In terms of commercialization, global rotary scroll air compressor market size is estimated to exceed a valuation of USD 5.5 billion by 2024.
Author Name : Mateen Dalal
The exponential growth graph of oil-free air compressor market can be aptly demonstrated by the recent launch of the ZR 90-160 VSD+ oil free air compressor. Introduced by one of the leaders in air compressor industry, Atlas Copco, this latest oil-free rotary screw air compressor is being touted for its excellent energy efficiency which reportedly facilitates faster return on investment with 35% energy savings. As users of air compressors are growing increasingly intolerant of contaminations in their system, the ZR 90-160 VSD+ has been declared to be ideal for the automotive, food and beverage, textile, electronics and pharmaceutical industries.
U.S. Oil-free Air Compressor Market Size, By Application, 2013 – 2024 (USD Billion)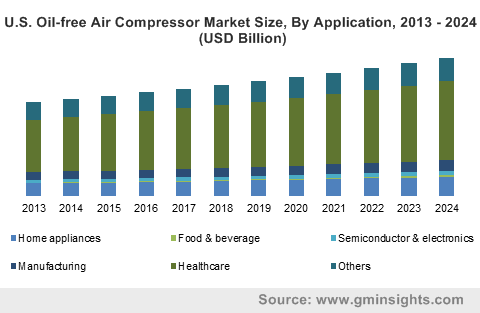 Incidentally, the ZR 90-160 VSD+ is equipped with Atlas Copco's advanced variable speed drive technology and is housed in a compact sound proof enclosure. But the truly commendable feature of the ZR 90-160 VSD+ lies in its design and sealing that ensures physical separation between the oil and air circuits and keeps the compressed air chamber completely oil free. Atlas Copco has thus set a pivotal benchmark in oil-free air compressor industry with this launch, claim experts.
Most companies prefer not to have oil contaminate products and procedures. A 100 hp oil filled air compressor with 2 ppm carryover, will introduce over 4 gallons of lubricant into a compressed air system if it runs for 8000 hours or approximately one year. The lubricant will eventually start to show in the product and no business can afford to lose money on product recalls and lost reputation. In this regard, oil-free air compressor industry has registered a significant rise in shares as many food and beverage producers have shifted toward using these air compressors to streamline manufacturing processes while ensuring product quality.
Get a Sample Copy of this Report @ https://www.gminsights.com/request-sample/detail/460
Compressed air finds a wide variety of usage in the food and beverages industry such as cleaning containers prior to product filling, automated product sorting, blow molding of containers, washing packaging machines to maintain sanitary conditions and vacuum sealing of products. However, air quality is of supreme significance and in this respect oil-free air compressors help to ensure that oil contamination is the last thing food manufacturers have to bother about.
Most oil-free air compressor market leaders bring products to the market that are compliant with industry standards and meet customer quality expectations. Food manufacturers look for oil free air compressors with Class 0 certification to adhere to guidelines such as the ones outlined in the UK Code. Indeed, there have been many instances where food factory owners have used oil filled air compressors and have had to replace contaminated piping, filtration, dryers, receivers and compressors all the while, paying a tremendous price in terms of production interruption and product recall. On these grounds, it would be fair to state that oil-free air compressor market has much to gain from the food and beverages industry.
Another sector that prioritizes air quality is the pharmaceutical and healthcare industry. For instance, in the dental profession and processes, compressed air is quite widely used, the quality of which is supposed to be devoid of any kind of contamination in order to ensure utmost patient and equipment safety. The British Dental Association (BDA) states that oil-free air compressors are relatively cleaner, more effective and provide better quality of air to patients. Apart from the lower risk of contamination presented by oil free air compressors, these are also much lighter than the oil filled variants and can be placed in a wider variety of areas while being equally efficient in creating air flow and pressure as their oil filled counterparts. While the maintenance of oil free air compressors is greater, the air quality they ensure for patients and the staff is commendable and outweighs the advantages of using oil filled compressors. This has consequently lent an edge to oil-free air compressor market size from dentistry applications.
The pace of oil-free air compressor industry will be somewhat slow, as the equipment are much more expensive than more commonly used oil lubricated air compressors. Owing to the environmental benefits, compact design and superior mechanism – factors contributing to the higher cost, oil free air compressors will eventually register wider demand. As per estimates, oil-free air compressor market size is anticipated to surpass $14 billion by 2024.
Author Name :Paroma Bhattacharya