Oil & Gas
Geospatial imagery analytics market trends will witness increasing traction, owing to rapidly advancing technologies that have allowed companies to adopt spatial tracking and imaging tools including remote sensors and wireless devices. The technology offers different ways in which maps could be produced and used by several public and private enterprises as well as communities. Researchers and GIS professionals using cloud computing to access any resourceful information related to geospatial data will expand the scope of geospatial imagery analytics industry.
APAC Geospatial Imagery Analytics Market Size, By Region, 2018 & 2025 (USD Million)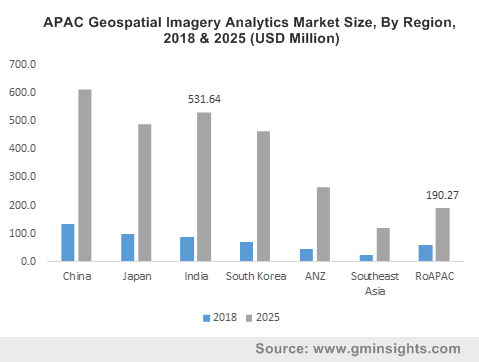 Governments seem have their own geospatial requirements – government agencies face critical challenges like providing information during emergencies or undertake initiatives towards building a smart community. Procuring geospatial data through different image capturing sources provides them access to detailed information to take decisions, such as those related to agricultural lands, which cover the complete jurisdiction and are updated regularly. These agencies have increasingly been adopting the services of satellite imaging firms, contributing significantly towards geospatial imagery analytics industry share.
There has been a surging demand for geospatial tools based on the cloud, to keep an organization's infrastructure regularly updated and making it easier to map the records and manage them, at lower costs. In fact, the cloud-based deployment model in geospatial imagery analytics market will witness a decent growth rate of more than 25% between 2019-2025. Companies are now offering cloud GIS services through pay-per-use pricing models to enable more agencies gain access to geospatial data. This will eventually help consumers who do not have skills and resources required to achieve GIS implementations.
Get a Sample Copy of this Report:@ https://www.gminsights.com/request-sample/detail/2841
The Geospatial Intelligence Center (GIC) in U.S. introduced a new tool in July 2019 for GSI users, called Virtual Inspection Studio (VIS), that enables users to enhance remote property assessment by using ultra-high resolution in aerial imagery. It can give assess to a 360 degree property view and accurate measurement of area and distance calculations. The United States Automobile Association (USAA) has demonstrated their use of VIS in quickly assessing damage and helping to settle claims. Similar use cases will boost the application of imaging solutions and reinforce geospatial imagery analytics industry outlook.
The defense and intelligence community utilizes geospatial imagery that is heavily dependent on image processing software, providing the benefits of multispectral imaging features. Hawkeye, a commercial satellite constellation operator, recently launched RFGeo that uses satellite generated data to introduce new geospatial analysis of data which the satellite delivers, in a standard format for a common tracking software. The company has also reached military market and has demonstrated the remarkable potential for geospatial imagery analytics industry in partnership with the intelligence community.
The construction, marine, defense and agriculture sectors use several aerial imaging platforms like surveillance cameras and drones in order to gather land related information that GIS professionals can use to solidify their decision making process. Government initiatives in Asia Pacific countries to develop the space industry will help enhance navigations systems to capture geospatial images which can be used to support numerous industrial applications. Reportedly, Asia Pacific geospatial imagery analytics market is anticipated to witness a more than 25% CAGR over the forecast timespan.
The Union Mine Ministry in India is exploring the use of drones that could work for mine related functions like surveillance, operation of mines, reclamation of land after mining and managing waste dumps. Large public sector units have been involved in the exploitation of these drones like National Mineral Development Corporation, Hindustan Copper Limited as well government organizations like Geological Survey of India and Indian Bureau of Mines. Substantial research and investment activities promoted by public enterprises will help drive APAC geospatial imagery analytics industry size.
Several companies are involved in the development and advancement of geospatial products that are experiencing high demand, with the fast-paced advancement of smart technologies, including Bentley Systems, AeroVironment Inc., Harris Corporation, PrecisionHawk, Inc. and Satellite Imaging Corporation. Strategic partnerships with other companies, governments and intelligence agencies will help bolster geospatial imagery analytics market size, which is estimated to surpass annual revenues of USD 8 billion by 2025.
Author Name : Riya Yadav
The global PoE solutions market share is on the rise, a trend that is expected to continue over 2019-2025. PoE solutions industry outlook will be augmented by widespread adoption of VoIP solutions, IP cameras, smart office buildings, access control systems etc. PoE solutions are estimated to make huge strides in various sectors owing to the new wave of technology and digital advancements that are transforming security operations.
APAC Power over Ethernet (PoE) Solutions Market Share, By Region, 2018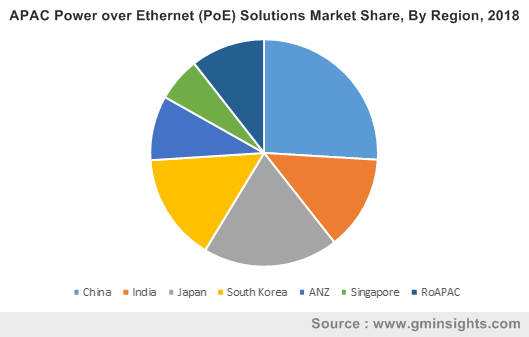 The healthcare ecosystem is increasingly coming to include smart technologies that will significantly contribute to Power over Ethernet solutions market growth in the forecast years. For instance, use of IP cameras in the hospitals and healthcare facilities is anticipated to become ubiquitous in the times to come. Hospitals have started deploying IP cameras to monitor when a patient sits up in bed, gets out of bed, or is tossing and turning in a restless effort to get to sleep. These cameras have enhanced patient care to a greater extent. Use of IP cameras has been growing in hospitals to observe high risk patients efficiently. Adoption of IP cameras will in turn augment PoE solutions market outlook in the coming years.
Another utilitarian device which will supplement growth of PoE solutions industry is increasing use of VoIP phones. By deploying VoIP phones, enterprises have been incessantly improving communication and collaborations among employees and remote users to increase business productivity. Leveraging the benefits of converged voice and data services, companies have enhanced their performance and communication. The convergence of unified communication services and enterprise VoIP to enable video-conferencing, live-chat, and other calling capabilities is expected to fuel VoIP market size and invariably expand PoE solutions industry trends.
Get a Sample Copy of this Report:@ https://www.gminsights.com/request-sample/detail/3346
Several technology companies have been toiling to develop PoE solutions and devices to support innovation. For instance, IP-COM has reportedly rolled out the G3210P, an 8-Port gigabit PoE switch with 2-Port SFP. The G3210P has been designed independently to satisfy the need of building a high-performance Gigabit Ethernet network. It can source electricity to high-power PDs and also can transmit data and supply electricity at the same time to IP Phone or IP Camera, AP via Cat.5e twisted-pair cables. Companies launching such devices in the market will remarkably contribute to foster PoE industry share by 2025.
Proliferation of Internet of Things (IoT) is among major drivers that will lead to PoE solutions market size expansion in the coming years. Adoption of IoT among enterprises has increased rapidly to support advancements in business infrastructure. Around 85 percent of organizations who acquire deep expertise with IoT have succeeded in propelling revenue share faster than rivals.
Nearly 68% of enterprises are using IoT to track security of physical assets, making this use case the most common across enterprises today. Approximately, 34% of global businesses are using IoT in daily operations, up from 29% in 2018, with 95% of IoT adopters already recording appreciable benefits. Rapid deployment of IoT among organizations is going to considerably increase PoE solutions market share as PoE has the potential to power the network ecosystem of the future that will enable global digital transformation.
Businesses have also increased focus on infrastructure security to protect sensitive data. Office spaces these days are being equipped with various security systems that require considerable investments. For instance, Euromicron AG has reportedly secured the contract for a major building technology project worth €3.6 million. The building will be completely equipped with access control. Transponder readers will be installed at all entrances and doors on floors, at the entrances to stairways, in the underground car park and basement, and at the doors to the IT technical rooms. PoE solutions industry outlook will be positively influenced by the rising deployment of security and access control systems throughout technologically advanced office spaces.
Smart lighting is yet another feature that is being widely integrated into the smart buildings of tomorrow. Typically, lighting is responsible for 40 percent of a building's electricity use. To develop smart office spaces with minimal electricity use, smart lighting industry players have been striving to adopt various strategies.
For instance, in the year 2015, Philips and Cisco had announced a global strategic alliance to create new value in energy savings, building efficiency and employee productivity by promoting connected lighting system. Both the companies had intended to deliver a consistent PoE-powered LED lighting solution utilizing a highly secure IT network. Close to 80% in energy savings and decreased building maintenance expenses can be achieved by operating, integrating and regulating a Philips LED connected lighting system via a network with Cisco. Instances of such efforts are in plenty and are anticipated to propel Power over Ethernet solutions market share.
Significantly, commercial sector has contributed to a market share of nearly 30% to PoE solutions industry in 2018 and the trend of integrating smart solution will help to maintain similar growth patterns over 2019-2025.
With growing adoption of smart solutions in office and commercial space, PoE solutions will be much in demand for enabling these smart solutions. Global Market Insights, Inc., has estimated that global PoE solutions market share is anticipated to exceed $2 billion by 2025.
Author Name : Anchal Solanki
The global industrial communication market has thrived successfully in the recent decade as growing adoption of these components in Industry 4.0 has effectively helped increased productivity in major industries. Labor reduction, waste reduction, repeatability, enhanced quality control, and integration with existing business systems have given companies an added advantage by lowering long-term costs, which could indirectly increase product output and revenue.
U.S. Industrial Communication Market Revenue, By Component, 2018 & 2025, (USD Million)

An industrial communication network is the backbone for any automation system architecture as it can offer powerful means of data exchange, controllability and flexibility to connect to various devices. The use of digital communication networks in industries can also lead to improved end-to-end digital signal accuracy and integrity.
Communication networks like LAN (Local Area Network) or WAN (Wide Area Network) can communicate large amounts of data via limited number of channels. Whereas industrial networking enable implementing various communication protocols between field devices, digital controllers and several automation related software tools and external systems. Therefore modern industries have demonstrated increased adoption of industrial communication networks over traditional LAN and WAN. This has led to industrial communication market size depicting a substantial increase lately.
For instance, according to renowned automation conglomerate ABB, and one of the notable players in industrial communication market, the firm's revenue increased by 5% to $7,395 million in 2018. This has been credited to the strong growth in robotics & motion, robust performance achieved from electrification products and a steady result owing to industrial automation.
Some of the trends that industrial communication market is being defined by are mentioned below:
Long-term application of industrial communication in the industrial automation sector
Growing demand for increased data processing speed will foster industrial communication market size in the automation sector. As industrial operations are becoming more complex and variable, the market has registered immense growth over recent years. Indeed, a greater number of network-based programmable controllers and mechanisms are required within modern industries to attain faster decisions and increased productivity and efficiency.
With network-based automation, companies can also attain increased saving in work force, energy, raw material, better control on product quality and enhanced plant availability and operational safety. In fact, the technology can help in raising the levels of process control & continuity with improved efficiency, eventually bringing potential production figures to the nominal plant capacity by cutting downtime, corrective maintenance and the lack of raw material supply to minimum.
With efficient real-time communication system like PROFIBUS-DP or PA, Fieldbus and more, distributed peripherals such as Input/output (I/O) modules, transducers, drives, valves and operational panels can also communicate with automation systems more accurately.
Thus, with the advent of the automated systems that are based on advanced industrial communication and technology, the automation sector will attain enhanced benefits in terms of maintenance, and increase plant productivity, further augmenting industrial communication market size.
Get a Sample Copy of this Report:@ https://www.gminsights.com/request-sample/detail/3367
S. to emerge as a pivotal revenue pocket for industrial communication market in the forthcoming years
Being a major producer of automation equipment, U.S. is anticipated to drive massive growth in industrial communication market. Citing International Trade Association (ITA) reports, the country is the leading producer of hardware components that are used in automated systems as well as a major supplier to manufacturing or production industries across the globe.
In fact, in 2015, U.S. exported nearly $10.5 billion worth of automation equipment to foreign markets, claims ITA. Sources suggest that supportive government policies and the presence of global automation players like General Electric, Honeywell, Rockwell, Emerson Electric and more will pave the way for industrialization in the region. Additionally, the increasing adoption of Industry 4.0 will boost the demand for the industrial communication technologies in the coming years, successfully proliferating U.S. industrial communication industry size.
Wireless communication technologies to enhance industrial operations
Advancements in wireless communication along with growing adoption of advanced tech-based devices will drive the industrial communication industry. The key advantage of wireless systems is that they can be installed in remote locations in an efficient and cost-effective manner. As battery-powered transmitters don't require wired infrastructure or power supply, they can be installed across areas that are far away from power wiring and wired fieldbus.
They can also be installed in sites where setting up power and cabling systems would be dangerous or too expensive. This flexibility allows use of wireless in both Greenfield projects and ongoing Brownfield projects.
Owing to the low-power nature of Wireless HART devices, users can also operate such equipment for several years without replacing the battery. Moreover, engineering, procurement, and construction contractors and plant owners can increasingly shift to wireless communication technology as it is beneficial in terms of reducing physical fixed infrastructure, managing schedule risk and cost escalation, and reducing space requirements and weight.
According to reports, adopting wireless solutions have reduced commissioning time by 50% for some contractors. The technology further helped in streamlining the design and engineering process, maintaining project schedule and improving user's ability to manage change on their project. The prominence of this technology is rather overt from the estimate that wireless charging market size is slated to cross $14 billion by 2024.
Moreover, with industry-leading process plants installing wireless infrastructure, industrial communication market size from the wireless communication protocol is estimated to grow at a CAGR of over 22% over 2019-2025.
In a nutshell, it would not be incorrect to quote that industrial communication industry is likely to come up as a highly profitable vertical of the overall electronics cosmos. As per estimates, global industrial communication market size is anticipated to exceed USD 160 billion by 2025.
Author Name :Mateen Dalal
The revenue graph of operator training simulator market is projected to foresee exponential growth owing to the continuous improvement in these products and rising emphasis on recruiting skilled workforce. Skill development helps to enhance productivity, safety, profitability, controllability, and stability of the enterprise operations. The increasing focus to reduce injuries and fatalities to maintain safe operations across various business verticals is expected to aid the market growth.
Brazil operator training simulator market, by application, 2018 & 2025 (USD Million)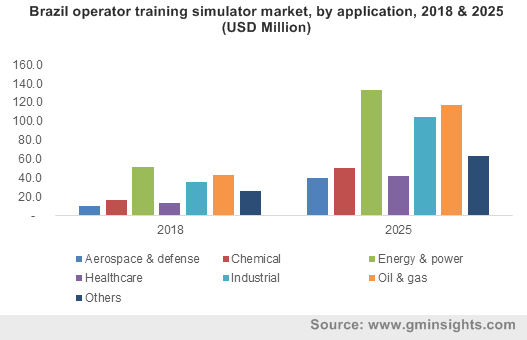 Industry professionals are training their operators to tackle life-threatening situations which has led to increased emphasis on safety of workers, optimization and efficiency of simulators – a factor that is likely to impel the operator training simulator market share in the times to come.
Operator training simulators improve decision making of the operators at critical times while increasing familiarity with the operations. Pilots are required to develop skills like decisiveness, quick thinking, confidence and situational awareness which can be enhanced by simulator trainings. Operator training simulators strengthen confidence to tackle the unfavorable situations. To underscore the significance of simulators, the recent instance of fatal aircraft crash of Ethiopian Airlines can be considered. The crash killed all 157 on board just five months after a similar crash on a Lion Air flight which killed all 189 passengers and crew.
After the accident, the Allied Pilot Association has demanded training on simulators which includes scenarios like those experienced by the pilots of Ethiopian Airlines and Lion Air and additional computer training for 737 MAX to cement the lessons of failure modes in the minds of pilots. Apparently, the deployment of advanced simulators would be crucial in building confidence among pilots, essentially boosting the growth of operator training simulator market.
Get a Sample Copy of this Report:@ https://www.gminsights.com/request-sample/detail/1285
Apart from aviation industry, the railway sector has also emerged as a major end-user to deploy operator training simulator for realistic and robust training to avoid fatalities. For instance, in the year 2018, Indian railways had announced to invest INR 350 crore in operator training simulators to train 1.5 lakh loco pilots and assistant loco pilots to bridge the gap between theoretical and practical learning. The investment is meant to make drivers learn how to navigate rail tracks, curves, signals, bridges and any other situation as if they are driving a real train.
Over 12,000 diesel and electric locomotives daily run on a 66,000-km network across the country. There are about 86,000 train drivers and the simulator training with real feel experiences will assist these drivers to run locomotives efficiently. Apparently, the Indian government's program is a testimony to the increasing prominence of governmental support to high-end simulator training across various geographies – a vital factor that will enhance the growth prospects of the operator training simulator industry.
Notably, defense academies have also been proactive in adopting operator training simulators for public safety and enhancing the overall skill-set of cops. As the police department is responsible for the safety of citizens and maintenance of peace across any country, cops face highly stressful situations on a regular basis which requires high level of patience and panic control. In this regard, simulator training has proved to be of immense help and numerous police academies are deploying these simulators on their premises.
For instance, the New Britain Police Academy has recently adopted simulator trainings to train police to manage stressful responses and make decisions under pressure. The Milo Simulator – chosen by the academy – is an advanced simulator in the state which combines driving an emergency vehicle in highly unfavorable situations such as armed encounters. The human reaction under pressure is unpredictable but this training simulator can help police officers to calmly handle stressful situations.
Operator training simulators have found usage in aviation, railways, police trainings and have applications in several other industries, including healthcare, energy, and chemicals. Operator training simulators play a vital role in training operators in manufacturing and industrial plants. The simulators enhance familiarity with the operations by creating a visual and real-time experience to cement the learnings by experiencing high-risk situations.
Retiring experienced workforce and the increasing demand for quality training of young staff will also contribute in proliferating the operator training simulator industry trends. According to a research report by Global Market Insights, Inc., the operator training simulator market is expected to surpass a remuneration portfolio of USD 20 billion by 2025.
Author Name : Anchal Solanki
Increasing consumption of various consumer and industrial products has led to a steady expansion of the global benzalkonium chloride market, in conjunction with the surge in disposable incomes of the working class population. The compound is effective as a disinfectant and preservative across food & beverage, pharmaceutical and chemical applications, being extensively found in nasal and ophthalmic medicines. Benzalkonium chloride is usually deployed as an antibacterial agent and surfactant in several household products like hand wash and hand wipes, along with personal care products and ointments. An augmented demand for such everyday products worldwide owing to rising population and higher consumer spending will reinforce the position of the benzalkonium chloride industry over the next few years.
U.S. Benzalkonium Chloride Market Size, By Application, 2018 & 2025, (Kilo Tons)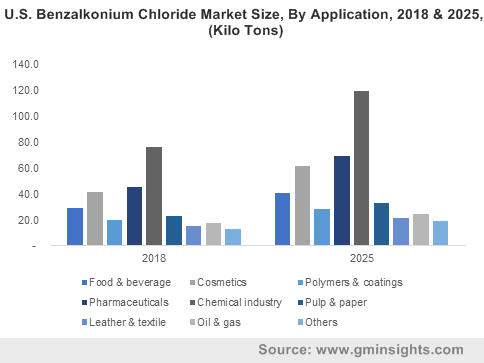 Essentially, the pharmaceutical and cosmetic segments represent two key business verticals where the compound has made a significant impact. It helps preserve the efficacy of medicines while the antimicrobial activities help protect make-up products from disintegrating and increase their quality. Subsequently, consistent consumption of cosmetics and pharmaceuticals will offer considerable momentum to the benzalkonium chloride market throughout various regions. The size of the global pharmaceutical sector is projected to reach US$1.43 trillion by 2020 itself, suggesting vast opportunities for the industry. Narrowing the market potential in terms of using benzalkonium chloride as preservative in eye drops, Bayer and Regeneron's ophthalmic drug Eylea alone had recorded sales of around US$6 billion in 2017.
Expounding the scope of the benzalkonium chloride industry in the food and beverage sector
In essence, the food and beverages industry require suitable disinfecting and sanitizing chemicals for food contact surfaces, to ensure bacteria and other microorganisms are eliminated and the product is not spoilt while in transit or before consumption. Quaternary ammonium compounds such as benzalkonium chloride can counter a wide range of microbes and are applied in appropriate quantities by food producers. The constantly growing demand for packaged food and bottled drinks has made it necessary to tackle all possible threats to health safety and food shelf life, bringing in substantial proceeds for the benzalkonium chloride market. Several reported cases of food-related diseases has notably spurred businesses, government agencies and research organizations to address likely health risks posed by various food-grade chemicals.
Get a Sample Copy of this Report:@ https://www.gminsights.com/request-sample/detail/3233
Referring to a study undertaken by the University of Veterinary Medicine, Vienna, certain strains of gram-positive Listeria seem to be resistant to quaternary ammonium compounds, including benzalkonium chloride disinfectants, and display quite low sensitivity to them. An estimated 47.8 million cases of foodborne illnesses care recorded in the U.S. every year, indicating the enormous need for enhancing food safety. Europe also witnesses nearly 23 million people suffering due to the intake of unsafe food annually, according to WHO. The benzalkonium chloride market is slated to accrue remarkable gains over the forecast timespan from accelerated efforts by food manufacturers to adopt effective sanitizing and disinfecting practices.
Within the beverage industry, compounds can be used for cleaning milking equipment, bulk tanks and other surfaces that come in contact with organic milk or similar products. Milk and other dairy offerings are witnessing consistent rise in demand and producers are required to clean and sanitize any equipment, storage tanks and packaging before utilization. Benzalkonium chloride products are also available as sanitizers for PET as well as glass bottles in which numerous beverages are sold. As evident, the beverages segment is bound to provide significant revenue prospects to the benzalkonium chloride industry.
In a nutshell, a number of critical applications in the food and beverages segment will fuel the development of the global benzalkonium chloride market, which is anticipated to surpass billion dollar valuation by 2025. Prominent companies outlining the competitive dynamics of the industry include  Dishman group, Jinshan Jingwei Chemical, Manav Aktteva Biopharma LLP, Merck Millipore and Novo Nordisk.
Author Name : Pankaj Singh
The revenue graph of blockchain in energy market is poised to depict exponential growth as the need to develop & deploy new efficient ways of generating & delivering electricity, under the Paris Agreement, intensifies. According to the International Finance Corporation, the Paris Agreement aimed to tackle climate change by generating energy through reliable, clean energy sources. However, countering climate change by completely overhauling the way energy is generated would require emerging markets to mobilize trillions of dollars through different sources.
Germany Blockchain in Energy Market Size, By Power Application, 2018 & 2025 (USD Million)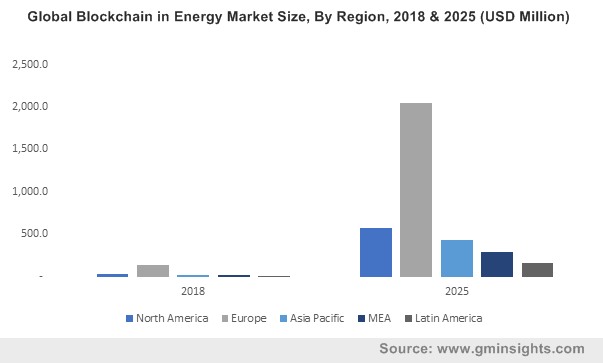 Moreover, the agreement also requires power generation to be more flexible, distributed and through resources that could be managed through bi-directional communication, allowing investors to easily evaluate & track the impact of their investments. To achieve this mammoth task, investors, policy makers & regulators are likely to utilize blockchain technology, combining it with the Internet of Things (IoT), smart devices and big data. In a nutshell, this requirement would majorly help augment the deployment of blockchain in energy industry.
The advancements in blockchain technology have made it a critical 'trustless' component in big data and smart IoT-based devices, making it capable of unlocking the new business models that are extremely necessary for the proposed transformation of the energy sector.
According to the World Energy Council, in 2017 a sum ranging between $100-300 million was invested in more than 100 blockchain applications related to the energy sector. Considering its key role in shaping an energy-efficient future, the implementation of blockchain in energy market is expected to increase extensively in the forthcoming years.
Get a Sample Copy of this Report @ https://www.gminsights.com/request-sample/detail/3223
Impact of blockchain technology on the renewable energy sector
The Challenge: One of the key demands put forward by the Paris Agreement was decentralization of the energy generation system. However, increasing installation of small renewable energy systems, such as rooftop solar, could exert a lot of stress on traditional electricity grids, which were specifically designed with large, centralized energy generation facilities in mind.
The Solution: The blockchain technology's ability to enable peer-to-peer energy transactions is expected to be a viable solution to this problem as it could effectively stabilize the grid by enabling peer-to-peer energy trading and by incentivizing local consumption during the time of production.
The Potential: According to the United Nations, several nations across the globe are rapidly boosting their share of wind power & solar photovoltaics. Indeed, renewable energy is slated to account for 40% of the world's energy production by 2040.
The blockchain in energy market is thus projected to accrue substantial gains in the years to come, propelled by the explosive growth of renewables sector.
Impact of blockchain technology on the conventional energy sector
While clean energy is gearing up to represent a majority of the world's energy production in the coming years, the sector would still require the support of the conventional energy industry to be able to meet consumer demands. Although it would be playing a supportive role, the conventional energy sector would still need to keep its carbon emissions in check. To adhere to the carbon emission rules, natural gas is becoming the fuel of choice.
The Drivers: According to the Union of Concerned Scientists, this paradigm shift to natural gas can be credited to the fact that it emits approximately 50% to 60% less CO2, when it is burned in a new & efficient natural gas power facility, compared to the emissions from a typical coal-fired plant.
The Numbers: According to the International Energy Agency, natural gas accounts for 22% of the energy utilized across the world and also makes up approximately a quarter of electricity generation. Moreover, natural gas is also projected to overtake coal as the world's second largest energy source by 2030.
The Potential: The oil & gas sector, in recent times, is transforming into a data-intensive industry. According to the Society of Petroleum Engineers, the industry is increasingly incorporating machine learning, artificial intelligence & IoT into its operations.
With such depicted levels of growth, the industry is also scaling up the adoption of blockchain technology, carrying its transformation a notch further. Not to mention, lesser overhead costs, lowered cash cycle times, and fewer cost intermediaries will also help propel the blockchain in energy industry from O&G applications.
Propelled by the expanding renewable and natural gas sectors, the blockchain in energy market is slated to record substantial growth in upcoming years. According to Global Market Insights, Inc., blockchain in energy market size is estimated to cross the $3 billion renumeration mark by 2025.
Author Name : Akshay Kedari
The commercialization potential of non-destructive testing (NDT) service market is set to witness renewed momentum owing to the evolving demands of the global industrial sector and the effect of digital transformation. These services are anticipated to reach a wider range of business verticals due to the rising number of disruptive innovations and the emergence of pathbreaking technologies such as AI and IoT.
U.S. Non-Destructive Testing (NDT) Service Market Revenue, By Method, 2018 & 2025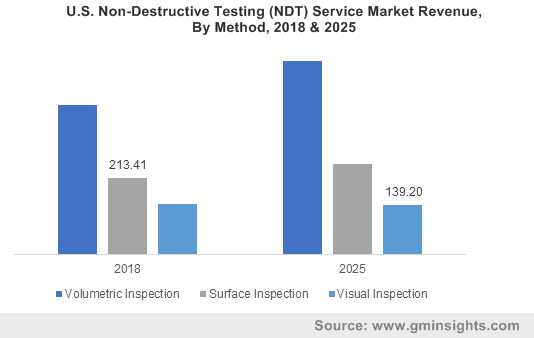 Enhancements in the ultrasonic inspection technology to boost the remuneration scale of NDT service industry
Worldwide, assets of various business verticals are aging and the number of inspection regimes has witnessed an unprecedented uptick as safeguarding these assets is turning out to be a tough task. Invariably, the demand for agile inspection equipment has been intensifying lately. In this context, it is quite imperative to state that ultrasonic inspection testing is being regarded as one of the most prominent technology types among all the NDT services. Some recent developments associated with the improvement of the NDT services – utilizing high-end technologies and research – are set to not only enhance the productivity levels but also add stealth to the ultrasonic inspection testing. Enumerated below are a few major instances that are a testimony to the significant research activities and increasing product ingenuity:
Material testing services provider Element has recently launched a new testing lab spread across 20,700 square foot in Sheffield, United Kingdom. The new lab, which would be a prominent part of the undergoing industrial revolution in the region, will be situated close to Advanced Manufacturing Innovation District of Sheffield. It would be a center for excellence for NDT and inspection research and would prove advantageous to the consumers from the oil and gas and aviation sectors. Additionally, its location would ensure that it receives access to latest technical expertise and support, essentially propelling the growth prospects of NDT services market in the region.
Manufactured for a wide range of applications spanning from a flat plate to a tiny 50 mm diameter surface, Silverwing R-Scan is a new handheld portable B-Scan inspection system which aims to improve the probability of detection and data quality of ultrasonic inspections. Introduced by Eddyfi Technologies, the new NDT solution can be used to complete tank inspections where an automated and remote crawler such as the scropion2 system cannot be deployed. The registered information sets are displayed in a cross-sectional B-scan view that assists in improving in-service flaws, reveal corrosion, increasing speed, and the inspection quality. Remarkably, the addition of such agile, advanced, and portable inspection systems to the product range of ultrasonic inspection testing providers would boost the overall geographical reach of NDT service market.
Get a Sample Copy of this Report @ https://www.gminsights.com/request-sample/detail/3201
Europe to contribute massively toward strengthening the revenue profile of the global NDT service industry
Speaking of the growth of the NDT service industry in geographical terms, Europe held more than 30 percent of the revenue share of this business vertical in the year 2018. Presence of numerous well-known companies such as Bureau Veritas, SGS, and Intertek in the region has been a crucial factor in reaching out to a large customer base. In addition to this, stringent regulatory guidelines – rolled out by European Union along with various local governments – mandating the usage of NDT services to ensure product and employee safety has assisted the industry players to reach high potential growth areas.
Elaborating further on the leading position of Europe, it has also helped that the region's aviation sector is on a roll with a clearance of a massive backlog of aircraft orders being concluded recently. To put things in perspective, prominent aircraft manufacturers such as Airbus and Boeing have a record backlog of more than 12,000 new aircraft that are to be manufactured by the year 2025, creating humongous growth opportunities for the Europe NDT service market in the forthcoming years.
Considering the humble beginnings of the NDT service industry, it is prudent to mention that drastic enhancements over the years have increased the usage of these services across numerous applications. This growth trajectory of the NDT service market is certain to continue in the coming years, as has been highlighted in the research report compiled by Global Market Insights, Inc. which claims that this business vertical would surpass a decent remuneration scale of about USD 4.5 billion by 2025.
Author Name : Saif Ali Bepari