OLED
The fast-paced growth of the automotive sector across the globe has emerged as one of the major factors that have driven the automotive display market trends over the recent years. Although ride sharing is increasingly gaining popularity as a viable mobility option, the demand for conventional vehicles has not only remained consistent but has grown exponentially. In fact, as per reliable estimates, the global sales of passenger cars and trucks surpassed the figure of an overwhelming 90 million units for the very first time in the year 2017. These numbers apparently explain the rapidly expanding automotive display market share, which is projected to surpass a remuneration portfolio of USD 30 billion by 2025.
Germany automotive display market size, by product, 2018 & 2025 (USD Million)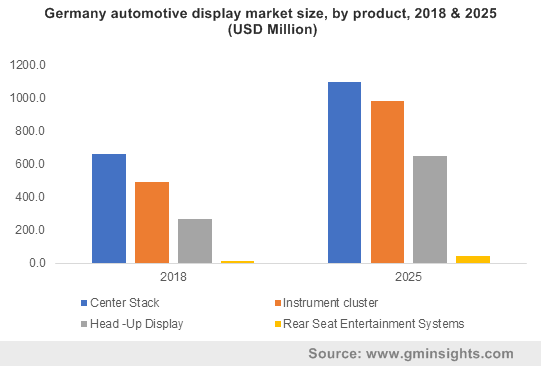 A brief overview of how enhancements in OLED display technology are shaping up the automotive display market trends
Primarily, the usage of various display technologies in the automobiles is experiencing evolutionary changes as new functionalities and designs are being created and integrated within the car systems by major automakers. The need to have high-performance interactive displays – equipped with seamless response to touch and visual stimulus – has become a crucial characteristic for all the automakers operating at an international scale. Apparently, buttons are gradually disappearing in favor of multi-functional touchscreens. Notably, the incorporation of OLED display technology has helped automakers to develop virtual dashboards with curved screens.
Elaborating further on the evolution of OLED display technology and its current form, it would be prudent to mention the fact that OLED displays are now termed as the most preferred display panels among prominent automotive firms such as Mercedes-Benz, Volkswagen, Toyota, Audi, and General Motors. Following are a few instances which underscore the growing prominence of the OLED displays in the auto industry and the way it is affecting the overall automotive display technology landscape:
Audi, in 2018, introduced its new passenger car model the E-Tron Quattro that has its rear-view cameras connected with 7-inch OLED screens. This technology offers different views and angles which are displayed on the OLED screens in the car. Interestingly, it is being said that these new cameras would replace the conventional side mirrors in other Audi vehicles.
Get a Sample Copy of this Report:@ https://www.gminsights.com/request-sample/detail/3192
Although vehicles with OLED displays are being introduced at various exhibition events, it has only been recently that Mercedes Benz became the very first automotive major to incorporate OLEDs into its consumer models. Reportedly, Mercedes Benz would launch its new cars with OLED panels of LG Displays in dashboards and rear-seat screens from the year 2020.
China-based BOE Display recently rolled out a new flexible automotive OLED at SID 2019. The new OLED has a 12.3-inch display for the main instrument panel and deploys a new pixel compensation circuit technology which improves the brightness uniformity of the display.
The consistent improvement in OLED display technology is quite evident from the aforementioned product launches and offers a glimpse into the rapidly expanding automotive display market share. Additionally, better picture quality, visibility, and sharpness than the TFT LCD monitors have been the USPs of OLED display panels owing to which the automotive display market is rapidly expanding its consumer base across various business verticals.
Owing to the presence of numerous luxury automobile manufacturers along the likes of Jaguar Land Rover, BMW, Porsche, Audi, and Mercedes-Benz, the Europe automotive display industry has been a significant hub for developing and refining the existing automotive display technology. Most of these luxury automotive brands are offering large rear seat entertainment systems and integrated displays to enhance the driving experience. Moreover, the increasing demand for expensive ADAS systems to ensure more comfort, safety, and convenience has been instrumental in uptake of automotive displays in the European countries.
Considering the progress being made in developing advanced OLED display technology and the incorporation of newer technologies in the automotive display market, it can certainly be stated that the cars of the future would be equipped with highly-customized display systems which would fulfill the requirements of efficient navigation, entertainment, and safety.
Author Name : Saif Ali Bepari
Owing to the global drift toward energy efficiency and improved energy consumption practices, the solid state lighting market has emerged as one of the most profitable niche verticals of the sustainable and smart technologies industry. Solid state lighting (SSL) technology is ten times more efficient than incandescent lighting and twice as efficient as fluorescent lighting. Moreover, the SSL technology has witnessed drastic enhancements in the recent times which has resulted in the SSL-based lighting sources such as LED and OLED become a vital component in the affordable high-performance buildings. Additionally, the increasing usage of SSL technology in automotive sector has impelled the solid state lighting industry share.
U.S. Solid State Lighting Market Size, By Technology, 2017 & 2024, (Million Units)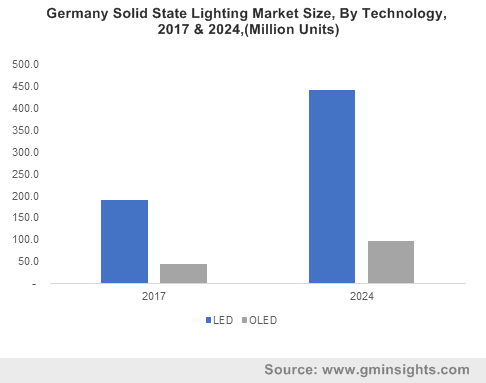 The solid state lighting has been increasingly described as a high-potential technology which is currently in its nascent stage and is yet to reach its fullest potential. Despite rapid enhancements in semiconductor materials and smart control systems, the application benefits and the possibility of this technology lowering energy costs substantially is yet to be extensively researched upon. Taking concrete steps in this direction, the U.S. Department of Energy (DOE) announced a research fund to the tune of USD 15 million in April 2018 to accelerate further breakthroughs in solid state technology across the nation. The funding apparently intends to support innovative research by technology leaders in four prominent areas viz., advanced fabrication R&D, core technology research for LEDs, OLEDs, and Cross-Cutting lighting, novel lighting in a limited Mock Field Application, and proof-of-concept and prototype development for LEDs and OLEDs.
In this context, it is quite imperative to mention that the research grant by DOE is in line with the strategic goals set by the Office of Energy Efficiency and Renewable Energy (EERE) to achieve higher energy-efficiency in residential and industrial sectors of the U.S. Needless to mention, the unveiling of such encouraging research initiatives by government bodies is certain to impel the growth prospects of solid state lighting industry in the forthcoming years.
Get a Sample Copy of this Report:@ https://www.gminsights.com/request-sample/detail/2775
The rising deployment of LEDs in cities, combined with new smart technologies, has been instrumental in creating new opportunities for urban lighting professionals. In addition to this, numerous countries have mandated various policies and laws regarding the implementation of import tariffs for LED components and product utility that is bound to propel LED-based solid state lighting market. As per reliable estimates, the global LED-based solid state lighting industry is slated to garner more than USD 80 billion in revenue by 2024.
Speaking of the regional growth potential, European nations are likely to be one of the most profitable terrains for solid state lighting market in the upcoming years. A favorable regulatory structure coupled with a robust support for new research to effectively implement smart urban lighting systems has caused rapid product penetration across European Union. With an aim to develop advanced tools that would provide cities with a range of competencies in dealing with complex procurement procedures, the European Union had rolled out a project named as FP7 SSL-erate. The project further intends to fast-track the uptake of high-quality SSL technology across the continent by bringing validated information to relevant stakeholders and encouraging open innovation programs. Europe solid state lighting market, as per Global Market Insights, Inc. holds a revenue target of USD 20 billion by 2024.
Elaborating further, the project explored the advantages that smart human-centric lighting can have for urban dwellers and how these systems can align with the goals of a city to become more sustainable in the long run. Needless to mention, the implementation of such pioneering initiatives would have an optimistic influence on the Europe solid state lighting industry share.
Owing to enhanced levels of performance compared to traditional lighting products along with lower cost of ownership, the solid state lighting market has been garnering commendable popularity across sustainable and smart technologies industry in the recent years. With the involvement of multiple stakeholders including national laboratories, academic institutions, and industry researchers who would pour in their expertise in improving the technology, the solid state lighting market is bound to proliferate at an impressive pace in the times to come. In fact, according to a research study compiled by Global Market Insights, Inc., the commercialization potential of solid state lighting industry is estimated to exceed USD 85 billion by 2024.
Author Name : Saif Ali Bepari
The consumer electronics sector is soaring with the growing popularity of UHD TVs. The UHD/4K panel market has already generated a heavy momentum in this space with the development of next generation TVs. Ultra HDTV has gradually emerged from a techie's dream to consumer reality in the recent past. This UHD technology is unlocking transformative, awe-inspiring, and enhanced viewing experience with a minimum resolution of 3840 x 2160 pixels. 4K resolution provides around 8 million pixels and is called so as a result of the images being about 4,000 pixels wide.
The increasing number of platforms offering higher resolution of HD content will further expand UHD panel industry growth.  Moreover, government initiatives to minimize custom duties particularly in India and China and the dropping prices of 4K panels will stimulate UHD market over the coming years. UHD/4K Panel Industry is estimated to grow at a rate of 11% over the period of 2016-2024.
North America UHD/4K panel market size by application, 2013-2024 (USD Million)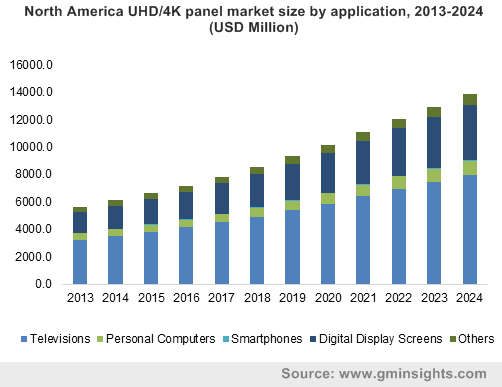 In 2015, the television application accounted for over 55% of revenue share and is set to register a CAGR of 11% over the period of 2016-2024. Demand for better customer viewing due to improved picture quality will propel 4k panel industry growth.
Retail is another booming sector which has been penetrated by the UHD technology. This is undoubtedly helping retailers to display their products with minute details and supreme clarity. A memorable shopping experience with UHD displays owing to its superior quality is attracting larger consumer base, thus driving ultra-high definition panel market. Digital display screens market worth USD 4 billion in 2015 is set to witness a significant growth curve, owing to rising demand from the advertising and publishing sectors. The growth of digital signage market due to rising commercial application in advertising is also worth noticing.
Get a Sample Copy of this Report @ https://www.gminsights.com/request-sample/detail/724
Devices equipped with UHD panel are highly energy efficient and durable. LG, Toshiba, Sony Electronics, Panasonic, Philips, Sharp, BOE Technology Group, Hisense Group, and Samsung Electronics are the major players accumulating maximum share of ultra-high definition panel industry. These players are highly emphasizing on product development and customer service to keep up with growing competition for providing better image quality. The demand for 60-inch and above screen size is projected to record a substantial growth in UHD/4k panel market.
For achieving better displays of mobile and tablet screens, LED technology is used which accounted for more than 45% in 2015 and is estimated to grow at an annual rate of 8.8% over the period of 2016-2024. LCD segment is another booming technology, projected to record USD 18 billion by 2024, owing to its lower power consumption feature. LCD uses the light modulating properties of liquid crystals which is gaining high preference in global UHD panel industry.
In terms of regional split, Asia Pacific ultra-high definition panel market share catered for over 20% of the overall industry in 2015 and is set to hit a CAGR of 11.6% over 2016-2024.  North America 4K panel market, led by the U.S., is estimated to generate a revenue share of over USD 19 billion by 2024. The regional growth is subject to huge tech-savvy consumer base and intensive adoption of HD technologies.
Early deployment of this technology is likely to show tremendous growth prospects for future trends in 4K panel industry. Heavy investments in research and development will send strong undercurrents for the future of consumer electronics. Developments in this area are really going to be interesting to watch over, in the next couple of years.
Author Name : Ojaswita Kutepatil