On Grid
Pertaining to the growing adoption of renewable energy in tandem with stringent regulations to curb CO2 emissions, the global power optimizer market is likely to traverse alongside a highly remunerative growth graph in the years ahead. Essentially a module-level power electronic (MLPE) device that can efficiently increase a PV solar panel system's energy output and adjust DC characteristics to maximize energy yield, the product has become a technologically essential component in many residential, commercial and utility-scale solar system designs.
Europe Power Optimizer Market Size, By End Use, 2018 & 2025 (USD Million)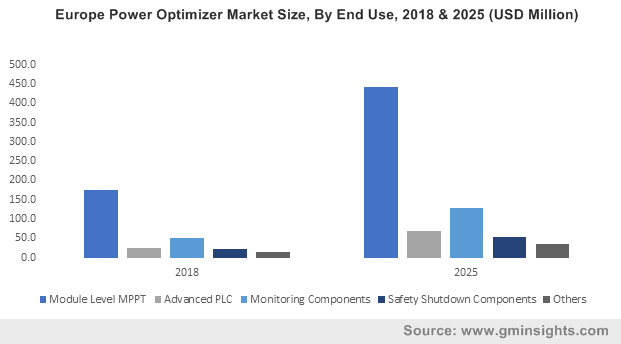 By utilizing modules that are integrated with power optimizers, system designers can now reduce the overall power loss from interrupting shade obstructions, thus protecting the systems from long-term module mismatch owing to uneven soiling or debris. Several PV module OEMs are also incorporating this next generation DC performance optimization technique to gain an edge in the power optimizer industry, further pushing the market trends.
Power optimizers are increasingly emerging as an ideal substitute for module level power monitoring & management, enhancing the benefits of MPPT with higher operational efficiencies of string inverters. Furthermore, the product's ability to offer constant, uninterrupted output in a partially shaded environment is anticipated to facilitate its adoption sooner than ever. Indeed, shade on any part of a PV solar panel affects a system's total output performance. However, with the capability of power optimizers to mitigate the shading losses, users are benefitted with stable output power, irrespective of changing sun exposure. This would serve to majorly expedite the demand for the product across countries such as China, Russia and Iceland, impelling the global power optimizer industry trends.
The residential construction sector has been touted to emerge as an invaluable growth hub for power optimizer market. This can aptly be credited to the escalating number of schemes mandated by regional governments – such as incremental energy efficiency grants to support residential roof-top installations. The product has also gained traction in power optimizer industry on account of the rising influx of new, flexible module designs. Say for example in 2018, GreenBrilliance USA, a solar solution provider launched an AI-based solar power optimizer for residential homes called Neurobotz. As per reports, the system's predictive analytics algorithm generated an optimal load curve and could effectively control the incoming power flow to significantly reduce the amount of electricity consumed in residential zones.
Get a Sample Copy of this Report @ https://www.gminsights.com/request-sample/detail/3075
Advancements such as the aforementioned are anticipated to pave the way for next-gen solar energy systems, thereby impelling power optimizer market growth. Driven by the robust technological advancements in product design and development and the advantages provided by government subsidies, power optimizer market size from residential applications has been estimated to cross annual installations of more than 10 million units by 2025.
Apart from GreenBrilliance, some of the other pivotal players in power optimizer market include SolarEdge, SMA Solar, Altenergy, Ampt, Tigo, Huawei, Kuby Renewable Energy, igrenEnergi, Maxim Integrated, Darfon Electronics, Texas Instruments, Alencon, ABB, Mornsun, Xandex, Ferroamp and Fronious. Companies have been consistently investing in R&D programs and have been looking out to tap the latest technologies to gain an edge in the industry. Last year in September for example, Panasonic Eco Solutions and SolarEdge Technologies launched the HIT S Series Module – an all-new premium smart module, optimized by SolarEdge, for the U.S. residential market. Reportedly, the  module is indicative of the integration of the leading solar technology from both Panasonic and SolarEdge in order to accelerate solar module installation and ensure more power delivery to homeowners.
Power optimizers are irrefutably essential in almost all PV panel systems to attain ensure stable performance, particularly in partially shaded environments. Powered by the product's robust deployment across the residential, commercial and utility-scale solar designs and escalating technological advancements, power optimizer market size is likely to cross 30 million units in terms of annual installations by 2025.
Author Name :Mateen Dalal
The world is heavily treading toward the adoption of renewable energy sources, which will lucratively impel solar PV module market. There has been an increase in public awareness levels regarding the effects of GHG, released into environment after the burning of fossil fuels, which has prompted manufacturers to come up with suitable sustainable alternatives. This initiative will provide a push to solar PV module market growth. Several technological developments and the increasing number of manufacturing facilities has also resulted in reduced product cost, which will fuel the industry trends. According to Global Market Insights, Inc., "Worldwide Solar PV Module Market was valued USD 20 billion in 2016 and will surpass a revenue collection of USD 30 billion by 2024."
North America Solar PV Module Market Size, By Product, 2016 (MW)

Many of the market players are engaged in collaborations with research institutes to bring about innovative technologies that will enhance the industry expansion. Growing investments in R&D activities, flexible integration, and better efficiency will boost the demand for thin film technology integrated products. In 2016, thin film covered more than 20% of the revenue share of technology segment in solar PV module market. The noteworthy participants in solar PV module market are First Solar, Canadian Solar, Trina Solar, JA Solar, Hanwha Q CELLS Co., Jinko Solar, SunPower, Yingli, ReneSola, Moser Baer, SFCE, Shine Solar, and Lanco.
Growing industrialization across the globe will fuel the need of renewable energy. Favorable government initiations in terms of financial support will prompt industry giants to adopt solar PV modules to enhance the growth of Solar Energy Market. Ground mounted systems are being deployed increasingly across the utility and commercial sectors subject to their numerous benefits. The ground mounted segment will exhibit an annual growth rate of more than 7% over the period of 2017 to 2024.
Get a Sample Copy of this Report @ https://www.gminsights.com/request-sample/detail/1563
The governments of various countries have lately been making huge efforts to enhance the grid connectivity of their nations. Speaking of which, the on-grid segment dominated the connectivity landscape of solar PV module industry by accounting for more than 55% of the revenue share in 2016. It is expected to record substantial growth rate over the coming timeframe.
Rural areas have witnessed a heavy deployment of micro-grids to fulfill the escalating need of off grid electricity, subject to which solar PV module market from off grid connectivity segment will generate a significant revenue over the coming seven years. To accomplish the need of sustainable energy, the U.S. has been installing micro grids on a large scale. U.S. solar PV module industry will register a CAGR of more than 6% over the coming years of 2017 to 2024. The attributing factor toward the market growth is deployment of stringent rules and regulations to control GHG emissions along with huge investments in power plants to increase the grid capacity.
To reduce carbon emissions in the environment, the government has been promoting the usage of roof top mounting system. Government support and favorable subsidies will propel solar PV module market from roof top mounting systems. The Asia Development Bank recently granted a subsidy of US 500 million for the development of roof top systems. Escalating installation of these systems across the residential sector will also influence the product demand.
Solar PV module industry from the residential sector collected a revenue of USD 4 billion in 2016 and is predicted grow lucratively over the years ahead. Monocrystalline products are also deployed across this sector, subject to which monocrystalline solar PV module market will grow at an annual growth rate of more than 6% over the period of 2017 to 2024. Additionally, the surging need to maintain energy efficiency will augment the product demand.
China covered more than 60% of Asia Pacific solar PV module market share in 2016 and will generate considerable revenue over the coming seven years. Shifting preference toward the adoption of renewable technology is likely to impel China solar PV module market.
Market players are focusing toward strategies such as product innovation and differentiation to gain more profit. The efforts of these companies coupled with government norms to promote clean energy will suitably impel global solar PV module market.
Author Name :Sunil Hebbalkar
With a great deal of interest to improve the quality of solar power system due to fossil fuels rigorously getting drained, thin film solar cells market is speedily evolving with every passing year. Strong concerns regarding global environmental issues has brought a dramatic growth in the clean energy market, with solar energy at the pinnacle. Furthermore, the surging demand for electricity specially from off grid areas along with reducing renewable energy tariff subjected to the increase in competitive bidding will heighten the market demand in the coming timeframe. As per a report by Global Market Insights, Inc., "Global thin film solar cells market is expected to increase its revenue fourfold by surpassing USD 30 billion by 2024, having had a worth of USD 8 billion in 2015."Technological progressions along with a large number of promising energy conservation programs that have been initiated worldwide have resulted in a decline in overall component cost. These adopted initiations will act as a catalyzer for the overall growth of the market. In this regard, India is already a step ahead. In 2016, the country has launched a target of deploying 20 GW grid connected solar power projects in half a decade, which will finally result in cost reduction of solar power generation of the country.
U.S. Thin Film Solar Cell Market size, by component 2013-2024 (MW)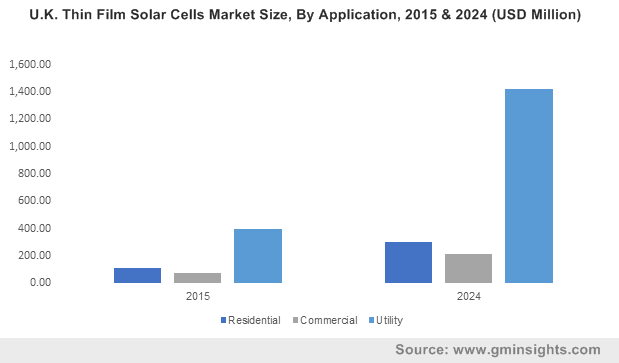 The solar technology is witnessing a continuous evolution with technological progression. Three types of thin film cells that are predominant in the market are cadmium telluride thin film cells, amorphous silicon cells, and copper indium gallium diselenide (CIGD)solar cells. Amorphous silicon thin film solar cells market accounted for more than 13% of the total volume in 2015, and is expected to observe a surge due to increasing demand for solar wristwatches, garden lights, and electronic calculators. Cadmium telluride solar cells are largely adopted for generating terrestrial solar power in residential sector owing to the product's cost effectiveness and high-level conversion efficiency. This second-generation thin film solar cells industry is estimated to grow stupendously at a CAGR of 17% over the period of 2016-2024.  Copper indium gallium diselenide based film solar cells are the top performing cells till date, with an upper hand due to absorption of more sunlight than the other products. CIGD thin film solar cells market is anticipated to generate a revenue of USD 8 billion by 2024.
Get a Sample Copy of this Report @ https://www.gminsights.com/request-sample/detail/1092
Low toxicity, high efficiency, and comparatively affordable manufacturing cost are the leading factors driving thin film solar cells industry to penetrate a wide array of sectors. Thin film solar cells market is gaining a huge popularity across residential, utility and commercial sectors owing to its flexibility and light weight. Thin film solar cells industry from commercial application have collected a huge revenue of USD 1 billion in 2015, and is anticipated to be one of the prominent sectors driving the application landscape in the coming timeframe. Growing consumer claim for uninterrupted power supply is redirecting the focus toward sustainable and reliable energy sources, which in turn is influencing the market outlook. Driven by the handsome number of government solar projects that are continuously being launched, thin film solar cells market share from utility sector is slated to exceed a power capacity of 60 GW over the coming seven years.
Geographies that are anticipated to influence thin film solar cells market over 2016-2024 are listed below:
US is one of the prominent regions which is actively involved in the market. Positive outlook toward relying more on renewable energy sources along with increasing installation of photo voltaic models is fueling U.S. thin film solar cells industry.
Asia Pacific is expected to hold a considerable industry share in terms of revenue with China prominently driving the regional demand. China thin film solar cells industry accounted for more than 40% of the regional market in 2015 and will register a massive double digit growth rate of 15% over the forecast span. The growth can be attributed to the huge investment in the PV projects in China.
UK thin film solar cells market covered more than 25% of the market share in 2015 and will cross 4GW power generation capacity by 2024, owing to the favorable government initiatives pertaining to sustainable energy production.
Market players are concentrating more on research activities to enhance the product quality along with improving the energy efficiency. However, lack of proper knowhow of the ongoing financial incentives related to non-conventional energy sources may act as a deterrent in the growth path of the industry. Prominent participants of thin film solar cells market include Hankey Asia Ltd., Ascent Technologies Inc., Hankey Asia Ltd., Global Solar, Inc., and First Solar.
Author Name :Satarupa De