On-Premise
The rapidly growing demand for connected devices across the globe is one of the pivotal factors driving enterprise networking market, given that these devices help facilitate real-time communication. In an effort to cope with and overcome the rapidly rising bandwidth bottleneck & network traffic issues, organizations worldwide are embracing network management solutions that keep the traffic flowing while also ensuring network security. The exponential surge in the number of IoT-enabled devices has drastically increased security risks, on the grounds of which organizations are rolling out enterprise network security solutions to obtain visibility of endpoints and unsecured applications & devices.
Europe Enterprise Networking Market Size, By Product, 2017 & 2024 (USD Million)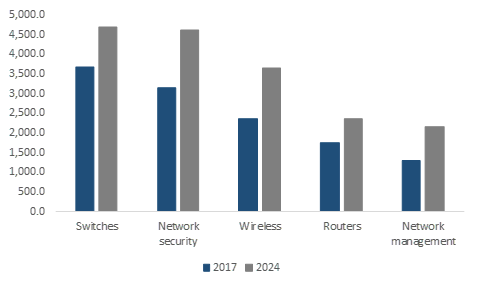 According to a 2018 Enterprise Networking Trends report by Cisco, the company in 2017 had redefined networking with the launch of the first intent-based networking system in the world. The company anticipates that going further, intent-based networking would be the future of networking and would also be responsible for fundamentally changing the way companies think about networks & empowering IT and help the firms with disruptions caused by IoT & cloud.
Enterprise networking market trends are also expected to witness a transformation on account of changing customer preferences toward converged network architecture as well as the network virtualization technology to strengthen the network functions. Shifting user inclination has further enabled organizations to enhance network efficiency at reduced operational costs, which would provide renewed growth prospects for enterprise networking market.
Get a Sample Copy of this Report:@ https://www.gminsights.com/request-sample/detail/2978
Unveiling Asia Pacific enterprise networking market trends:
APAC enterprise networking market is primarily driven by the large-scale adoption of cloud-based infrastructure in the region as the organizations are actively transferring their workloads onto the public cloud. According to a report by the not-for-profit organization, Cloud Security Alliance (CSA), in APAC, Japan, South Korea, Singapore & China are some of the primary nations that have witnessed the highest cloud adoption rate in 2017. The rising prominence of the cloud computing environment has further enabled network architectures that are disparate in nature to contribute to the increasing operational burden. These circumstances have led to a significant rise in demand for virtualization technology which makes the computing environment more agile, effectively addressing the growing network demands.
According to a research report by IT security company, Barracuda Networks, approximately a third of enterprises in the APAC region have already rolled out SD-WAN on a majority of their sites, while more than 55% organizations in the region are in the process of adopting SD-WAN. Propelled by the robust deployment of advanced networking solutions, APAC enterprise networking market is expected to depict the fastest growth rate of 8% over 2018-2024.
Analyzing enterprise networking market trends in terms of switch sales:
In an effort to keep up with the rising need for organizations to facilitate secure & real-time communications while effectively managing network traffic & bandwidth bottleneck issues, enterprises heavily rely upon high-speed ethernet switches. Switching is a crucial networking technology that is used across several organizations' premises to construct their local area networks (LANs) and also across vast distances to facilitate wide area networks (WANs) making switches one of the most widely used networking equipment across the world. According to a 2017 annual report by Cisco Systems, the company witnessed a 5% increase in revenue (approximately $452 million) from the sales of LAN fixed-configuration switches. The increase in the revenue was primarily due to the boost in sales of the company's Nexus & Catalyst series of switches.
According to a 2017 report by Forbes, in 2016 Cisco System's network switches division was responsible for approximately 40% of the product sales, representing more than 30% of the company's net revenue. Switches, having accounted for more than 25% of the enterprise networking market share in 2017, are expected to continue adding momentum to the industry growth, given the surging demand for high-speed data services that has fueled the adoption of network switching technology.
Attributing to the increasing network capacity needs across several global enterprises, the growth graph of enterprise networking market is projected to witness an exponential incline in the years ahead. According to Global Market Insights Inc., enterprise networking market size is expected to be pegged at a mammoth $90 billion by 2024.
Author Name : Akshay Kedari
Owing to the increasing availability of advanced connectivity solutions, the video conferencing market has been able to witness a rapid development in conjunction with the growing demand for communications infrastructure. Governments and various industry verticals are gradually realizing the benefits of long-distance video communication to leverage the expertise and skills of people from around the world. The video conferencing industry has enabled corporates, local authorities, academic institutes and healthcare services to expand beyond physical connections and into the virtual era. Continuous developments in technology and reducing implementation costs will propel the global video conferencing market trends in the years to come.
U.S. Video Conferencing Market Revenue, By Component, 2017 & 2024, (USD Million)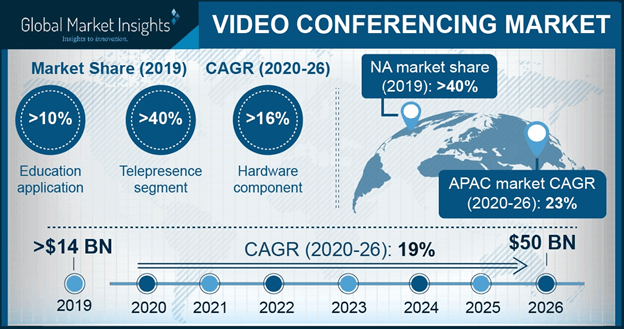 Essentially, teleconferencing helps to establish a productive line of communication between two parties to minimize time and cost spent on traveling and to provide quicker assistance at the time of any emergency. A critical application of the video conferencing industry is in the healthcare segment, where patients residing in one part of the world can avail the services of medical professionals practicing in another section of the globe. Add to that, it also helps to connect hospital staff with doctors, suppliers, vendors of any other entity which is involved in the functioning of a facility but is located elsewhere, expanding the scope of the video conferencing market.
A proof of the utility of video conferencing was recently demonstrated in Canada by the Western Hospital in Alberton, Prince Edward Island. The hospital has been conducting a six month long pilot project in which admitted patients, who do not have a family doctor, are consulted by a doctor using tele-rounding technology. Basically, hospital staff takes a cart equipped with a display monitor from patient to patient for video conferencing and the doctor would be having access to the concerned patient's files and testing results. About half-way into the pilot, there have been nearly 1,200 consultations for about 60 patients and the hospital has records considerable reduction in duration of stay and re-admittance rate.
The results of the Western Hospital pilot suggest the extensive possibilities offered by the video conferencing industry to enhance the efficiency of healthcare professionals and services as a whole. Increasing number of healthcare facilities in Canada and also in the U.S. are deploying video-call and teleconferencing systems to keep pace with the rapidly growing industry. North America, which procured a substantial proportion of the worldwide video conferencing market in 2017, has some of the most advanced healthcare systems and facilities. Initiatives taken by governments in region will further boost the adoption of video conferencing across a slew of patient care services.
Get a Sample Copy of this Report:@ https://www.gminsights.com/request-sample/detail/3003
Expounding the focus of governments on the video conferencing industry, the U.S. Department of Agriculture will be providing up to USD 39.6 million to support the Distance Learning and Telemedicine (DLT) Grant Program. Slated to benefit over 4.5 million people in 40 states, the program will involve developing rural health care and education networks, including purchase and installation of video conferencing equipment. Citing another example to describe the significance of remote consultation to medical services, Frazer Health in British Columbia has started using video conferencing to connect cardiac patients at Abbotsford Regional Hospital and Surrey Memorial Hospital to electrophysiologists working at Royal Columbian Hospital.
Speaking further, the move has helped eliminate the need for transporting a patient to another hospital for only receiving diagnosis, besides enabling faster access to treatments for irregular heartbeats or probable life threatening heart conditions. Royal Columbian is also using the technology to connect mental health patients with community teams before discharging them. Bringing healthcare and education together, the North America video conferencing market has found a novel application area in student counseling. In early November this year, Athol Hospital in Massachusetts, was granted USD 1.05 million to provide teleconferencing to students of the Ralph C. Mahar and Athol high schools via two-way video conferencing.
Effectively, with an aim to bring a suitable tele-behavioral health service, the project will entail improving the performance of students in school, help them with social or emotional problems and record enhanced trials. The interminable possibilities of two-way video communication are visibly highlighted by these examples. Swift adoption of the technology across the globe will accelerate the video conferencing market expansion in the coming years, the size of which is projected to cross USD 20 billion by 2024.
Author Name : Pankaj Singh
Owing to the increased focus on customer service and digitization of processes across numerous industry sectors, the contact center software market registered revenue worth USD 14 billion in 2017, driven by the demand for efficient customer handling solutions. Massive investments have been made by companies to upgrade contact centers to more productive and cost-effective software-based facilities for coordinating services among different channels. This has eventually allowed many emerging technology companies to tap into the services sector. Increasing adoption of online services by BFSI, telecom and hospitality consumers has transformed the contact center software industry with the need for ensuring quick and accurate responses.
Europe Contact Center Software Market Share, By Software, 2017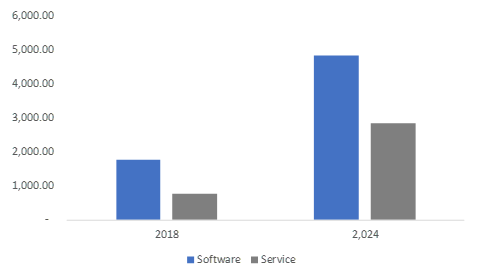 Rising consumer spending on electronics, clothing and other product categories has tremendously bolstered the retail segment worldwide, propelling the contact center software market revenue globally. Reports show that consumers rate customer service in retail sector higher than low prices and product quality, making it the most important part of the businesses retailers should be focusing on. Good customer service leads to more recommendation from consumers, which directly boosts product sales. Subsequently, retail is an ideal application base for the contact center software market, helping companies provide timely and dedicated service for taking care of any problems the customers communicate.
Major retail brands have employed contact centers to handle hundreds to thousands of queries, frequently asked questions and complaints they receive throughout their worldwide businesses. As these centers start to provide services like billing and telemarketing in addition to customer service, the contact center software industry will experience challenges from coping with enormous amounts for customer requests and data analysis. The advent of ecommerce retail has further given a remarkable boost to digital services, connecting more consumers with businesses and creating a demand for higher number of customer contact executives.
In 2017, the global ecommerce retail sales amounted to about USD 2.3 trillion, out of which world's top three e-retailers contributed nearly USD 100 billion. This includes Amazon.com, which operates 13 country-specific websites and services at least 16 countries in all, including the U.S., U.K., India, Germany, Spain, France, among others. The vast ecommerce operations of Amazon indicate the probability of customer service requests from millions of people from diverse cultures, as it sells thousands of products in each country every day. Various other local and international e-retail platforms face similar concerns, offering outstanding growth prospects for the contact center software market from hundreds of online businesses.
Get a Sample Copy of this Report:@ https://www.gminsights.com/request-sample/detail/2972
According to statistics, there were approx. 1.66 billion digital buyers around the world in 2016, representing the extensive customer service difficulties and opportunities e-retailers have to deal with. These businesses have to cater to several requests via tele calling, email, mobile text messages as well as social media, since it is impossible for all customers to communicate with them on the same platform. Receiving requests, identifying problem areas and providing solutions to consumers across these distinct channels has defined the contact center software industry's evolution over the years, further intensified by the growing utilization of online payment options.
Over the years, technological advances have enabled wider implementation of virtual assistants and interactive voice features by retailers, allowing software makers to provide innovative solutions. The contact center software market has further benefited from the growing awareness among retailers about the role of analytics and reporting in guaranteeing improved customer experience. Managing customer-employee interaction, behavior, customer requirements have critical impact on business revenues. Speaking further on the analytics and reporting component of the contact center software industry, retailers can reduce potential loss of sales and negative consumer responses by analyzing how they are being serviced.
As the time taken to handle a request, origin of the request, behavior on the call and other factors are recorded by the software, companies can use the information to train their staff better. The success or failure of email and telemarketing campaigns can also be analyzed to enhance or modify their processes, as consumer trend is key for retailers to achieve profits. Essentially the retail segment, with expanding popularity of ecommerce, is expected to contribute significant revenues towards the global contact center software market. Global Market Insights, Inc., forecasts the overall contact center software industry to surpass a valuation of USD 40 billion by 2024.
Author Name :Pankaj Singh 
Over the last few years, the revenue graph of OSS/BSS market has been depicting an exponential growth, on account of the surging digitization across the telecommunication, BFSI, and IT industries which have been deploying new communication technologies to accelerate the organizational workflow. The lure for inexpensive, safe, and time-saving operations has been encouraging companies to implement OSS and BSS solutions at the workspace. In addition, for empowering intelligent network management and automation, most of the industries have been giving preference for operational support services on a large scale.
The noteworthy transformation across the IT, transportation, telecom, and BFSI sectors with the emergence of next-generation technologies such as blockchain, IoT (Internet of Things), and AI (artificial intelligence) will thus have a considerable impact on the OSS/BSS industry share over the years ahead.
Europe BSS Market Share, 2017 & 2024 (USD Million)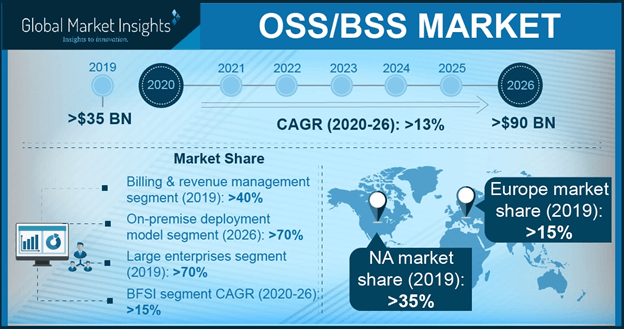 In line with the implementation of 5G networks across the telecom sector, players in the OSS/BSS market have been observing lucrative business opportunities. In fact, some telecom industries have been looking forward to strengthening their networking portfolio by automating working processes with regards to the use of 5G networks. For instance, recently, the Swedish multinational and telecommunication company, Ericsson acquired CENX to enhance its Operations Support Systems facilities. The acquisition will improve Ericsson's service assurance and closed-loop automation capabilities which will help it to leverage network visualization and automate the telecom network to serve enterprise customers effectively. The surging use of 5G networks with the assistance of OSS for improving the connectivity in service assurance, resource-inventory management, order management, product management, customer management, network management, and revenue management will strongly fuel the OSS/BSS market size.
Over the last few years, the increasing popularity of blockchain for decentralizing Network-as-a-Service (NaaS) for securing web wallets and wallet servers has also contributed toward the expansion of OSS/BSS industry. Leading technology companies have been deploying public blockchains to monetize their network resources that allow companies to analyze their operational and financial data. Considering the capability of OSS/BSS systems to secure financial data, BSFI companies have been shifting their focus toward the automation and digitization of financial processes, consequently demanding OSS/BSS technologies on a large scale. Powered by the surging adoption of modernized network security services, OSS/BSS market size from the BFSI sector will grow at an annual growth rate of more than 11% over 2018-2024.
Get a Sample Copy of this Report:@ https://www.gminsights.com/request-sample/detail/2911
Taking into account the vast expanse of OSS/BSS market, most of the software companies have been acquiring firms involved in the development of the operational support systems environments. For instance, recently, the U.S. based leading supplier of telecommunication equipment, software, and services, Ciena acquired DonRiver which provides service inventory management software for OSS environments. This acquisition has helped Ciena improve its business process through network resource planning and utilization of closed-loop automation. The software control and programmable infrastructure of DonRiver will further optimize the Ciena's inventory control solutions.
The shifting focus of end-use sectors toward the adoption of Software as a service (SaaS) and Cloud-based digitized deployment platform for fueling the use of automation and the effective network management has been augmenting the OSS/BSS industry outlook remarkably. The integration of Machine Learning and Artificial Intelligence technologies in the network services will transform the future of OSS/BSS market with its capability to manage complex network issues and improve the customers' experience.
The transition of companies towards automated operations from traditional manual processes to improve the working efficiency and accuracy is likely to stimulate the product demand over the years ahead. Indeed, the rising concerns among financial institutions, IT and telecom companies about data security and operational breaches are poised to increase the valuation of OSS/BSS market, slated to accumulate more than USD 50 billion by the end of 2024.
Author Name : Sunil Hebbalkar
With the tremendous growth in the industrial, retail, and e-commerce sectors, inventory management software market has gained massive impetus over the past years. Quite undeniably, managing and tracking inventory has become an essential part of conducting business and inventory management software in this regard are efficiently solving the challenges related to vendors, inventory, orders, sale, stocks-outs and much more. This has significantly led to rapid adoption of these software programs, in turn driving inventory management software market growth which was pegged at USD 2 billion in 2017.
North America Inventory Management Software Market Share, By Type, 2017 & 2024 (USD Million)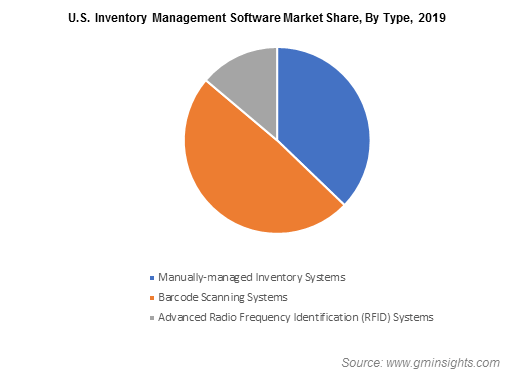 The vast expanse of omnichannel retailing and increasing penetration of smartphones have also been identified as the inherent factors impacting the revenue graph of the global inventory management software industry. If reports are to be believed, given the increasing rate of paperwork errors, supplier fraud, employee theft, and shoplifting activities SMEs, SMBs, and the retail sector are the prominent end-use segments that are rapidly adopting inventory management software systems. These activities have also been deemed as the major sources of inventory shrinkage and are therefore favoring effective implementation of IMS programs in the retail sector, which is expected to dominate the overall inventory management software industry by accounting for a 40% share over 2018-2024. It is important to mention that according to the National Retail Federation's NRSS (National Retail Security Survey) on retail theft, the retailers globally incurred inventory shrinkage losses of over USD 49 billion in 2016.
Driven by these subsequent threats leading to inefficient inventory management, the demand for robust inventory management software for optimization is expected to increase consistently in the ensuing years.  In fact, as per estimates, the global inventory management software market from inventory optimization application is expected to grow at a lucrative rate of 9% over 2018-2024.
Get a Sample Copy of this Report:@ https://www.gminsights.com/request-sample/detail/2364
The contribution of the industry participants in developing optimal inventory management systems is vast and these players are constantly looking for adopting new technologies that can improve the overall productivity. Recently for instance, HighJump, a global provider of supply chain solutions and renowned inventory management software market player has introduced HighJump Warehouse Control System integrated with the HighJump Warehouse Management System. This inventory management solution provides supply chain professionals with a comprehensive suite that can fully capitalize on the automated and connected warehouse operations the modern-day chain professionals are adapting to handle shorter delivery windows, e-commerce, and enhanced consumer expectations.
With such globally reputed players working toward introducing more technologically upgraded and value added solutions, inventory management software industry share is expected to nothing but proliferate in the ensuing years. Further endowed with the integration of recent technologies such as automation, big data analytics, RFID, cloud, Artificial Intelligence, and IoT this business sphere has become a lucrative hub for investments. Leveraging these technologies for more insightful solutions in inventory management, several industry participants are providing real-time analytics solutions and improved connectivity to supply chain and inventory management professionals. For instance, using connected networks such as computers, sensors, and smartphones, IoT can transfer the product information with the help of RFID tags/barcodes and transmit the data to the cloud-based inventory management software.
Such technological integration techniques are typically used by the large-scale organizations that move thousands of orders daily. Reports state that the barcode scanning system held more than one half of the inventory management software market share in 2017, while the RFID segment is projected to register an impressive CAGR of over 11% over 2018-2024.
Quite undeniably, these technologies have empowered the small and large-scale enterprises to grow and streamline their business models by harnessing the power of the advanced inventory solutions, in turn propelling the global inventory management software industry outlook. Lastly, it wouldn't be wrong to say that along with shrinking workforce and increasing rate of stressed logistics systems, inventory management software programs will witness massive adoption in the ensuing years. A presumption shedding light on the same is of Global Market Insights, Inc., that forecasts the overall inventory management software market share to register a CAGR of 6% over 2018-2024.
Author Name : Ojaswita Kutepatil
Disrupting the conventional ways of building digital infrastructure, the network automation market has emerged as one of the most enterprising niche verticals of the sustainable and smart industry. Prominent tech giants and multinational corporations around the globe have increasingly focused on implementing new methodologies to reduce manual configuration errors which are believed to cause the majority of network outages.
China Network Automation Market Share, By Application, 2017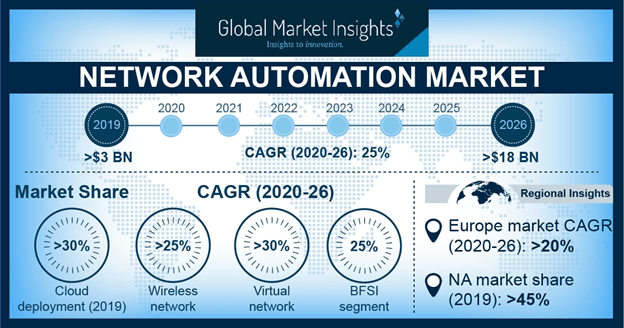 In this context, network automation has evolved into one of the crucial technologies that have enabled businesses to decrease manual configuration errors and risk through effective compliance reporting, improved network service availability, enhanced performance and staff efficiency, and augmented data security infrastructure. As per reliable estimates, the overall network automation market size had been pegged at an appreciable USD 1.7 billion in the year 2017.
Besides providing a wide range of connectivity applications, the SD-WAN technology has assisted numerous business verticals to reduce complexities in physical network infrastructure. The advent of advanced computing technologies such as machine learning and artificial intelligence has disrupted the digital business models – a factor that can be attributed for large scale adoption of SD-WAN technology in the last few years. In fact, as per a research study compiled by Global Market Insights, Inc., the SD-WAN technology apportioned more than 67% of the total revenue share of network automation market in 2017 and is anticipated to hold a prominent spot in the overall software segment in the upcoming years.
Get a Sample Copy of this Report:@ https://www.gminsights.com/request-sample/detail/2805
Concurrently, traditional networks are increasingly being replaced by virtual and cloud-based applications which has fundamentally transformed the growth strategies of major firms partaking in network automation market in the recent times. Numerous startups have been developing automation solutions that can configure manually-managed network devices, improve security capabilities, and supervise service offerings more efficiently. In this context, it would be prudent to mention that prominent tech giants have focused on acquiring these startups as it would assist them in augmenting their resources to deliver next-generation solutions that would serve all size and scale of customer needs. Enlisted below are a few instances that underscore how these acquisitions are shaping the network automation industry trends:
To strengthen its service management portfolio and optimize its digital assets, IBM acquired the California-based network automation software provider Intelliden in 2017. Reportedly, Intelliden assists telecom firms to manage, configure, and scale their networks and automate an array of other services. Apparently, the technology of Intelliden would be integrated into IBM's Tivoli Software which is known to enable various businesses to combine service delivery and significantly accelerate the automation of networks.
With an aim to offer its customers an SD-WAN solution that is easy to deploy across enterprise branch offices and other WAN installations, Cisco has recently acquired an emerging WAN solutions provider Viptela for USD 610 million. Even though Cisco has a robust WAN product portfolio consisting of Intelligent WAN and Meraki SD-WAN, the addition of Viptela's unique technology would reportedly expand and improve the overall functionality of the company's WAN solutions in the times to come.
Implementing network automation solutions through cloud-based services has lowered capital expenditure and operational costs, enabling enterprises to scale their technological capabilities at a faster pace. Primarily driven by growing opportunities to offer enterprises with additional services like monitoring, security, and application optimization beyond basic automation tasks, the network automation industry share is anticipated to expand vigorously over the estimated timeframe. With rising investments by major tech firms coupled with innovative products being launched by startups, the network automation market size is forecast to register an excellent y-o-y growth rate of 22% over 2018-2024.
Author Name : Saif Ali Bepari