On-Premise
Having been typecast as one of jeopardous business spheres for potential investments until a few years back, Americas container technology market has today evolved as a full-fledged niche vertical, the growth of which knows no visible boundaries ahead. How the technology has successfully penetrated the most essentially pivotal end-use domains within an oblivious matter of time has been a subject matter of intense pursuit and debate for tech sharks since a while now. Thriving in an extensively tech-driven era, Americas container technology industry has received substantial mass momentum, notwithstanding the tumultuous competition from similar technologies. The principal reason for this widespread popularity is the convenience that containers offer for various application deliveries. In an era where data is passkey to major operations, convenient, safe, and reliable data storage, access, security, and portability hold the numero uno position as far as end-user demands are concerned, especially across the Americas, that house some of the most advanced nations across the globe. This has consequently necessitated the launch of rather innovative technologies such as containers across this highly tech-obsessed topography, which has substantially propelled Americas container technology market share.
Canada Container Technology Market size in Canada, By Application, 2016 & 2024 (USD Million)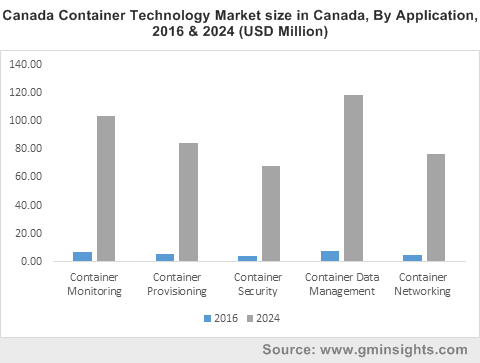 Making headway toward discovering the cryptic reason for the popularity of this technology, it would be imperative to commence the justification by enumerating the know-how of this mechanism. Essentially, this high-grade technology works by means of compartmentalizing the program libraries, configuration files, dependencies, and the application in one highly convenient and portable medium – a concrete fact that has been the core driving force of Americas container technology market growth. This technique conveniently reduces the files sizes – a rather pivotal factor in the IT cosmos that contributes to excellent efficacy in data operations and inherently, is responsible for the growth of Americas container technology industry. In fact, most containers measure merely a few megabytes, which is in sharp contrast to their arch antagonist, the virtual machines, that often scale up to gigabytes. As opposed to VMs, that require an operating system, containers are much more efficient, lightweight, and portable. On these grounds, they have emerged as the obvious choice for organizations that can now indomitably conduct a plethora of tasks such as freeing up more resources, lower capital expenses and overhead costs, and work on fitting many more applications on servers. These changing dynamics of organizational IT models are certain to fuel Americas container technology industry size. In tech-driven regions such as the United States, Brazil, Canada, and Colombia, subject to the massive development of the IT sector, the vast deployment of the cloud and other technologies in myriad end-use domains, and the intense number of R&D activities of novel IT solutions, the modus operandi of containers hold vastly significance, owing to which Americas container technology market outlook would continue to witness lucrative transformations in the ensuing years.
Get a Sample Copy of this Report:@ https://www.gminsights.com/request-sample/detail/2247
How the banking sector has been stimulating Americas container technology market trends
One of the most vulnerable business spaces of today's tech-oriented era, the banking arena is likely to heavily stimulate Americas container technology industry size. The intensely rising demand for virtualization in order to host heavily resourced functionalities on the cloud will prompt banking organizations to harness the container technology as much as possible, given that they are one of the many key proprietors of huge data volumes and storage.
Recently, Capital One, a reputed American bank, unveiled the beta version of Critical Stack, a Kubernetes-compatible, container orchestration platform, that has been designed to help BFSI enterprises orchestrate app deployment and configuration at scale in the cloud and effectively automate compliance & security controls. Even the Bank of America has been under intense pressure to adopt containers – thus validating the vast expanse of Americas container technology industry from banking.
Americas container technology market outlook: Focusing on LATAM and the BFSI sphere
As per statistics, the BFSI sector would account for the maximum share of Americas container technology market from Latin America. This astounding estimate can be essentially credited to the expansion of the regional cloud computing market and the robust growth in the insurance and financial verticals in the LATAM economies. Furthermore, it would be prudent to state that the meteoric popularity that Kubernetes – an orchestration engine for container technology, has experienced so far in 2017, is an apt indicator of the fact that containers would be the next groundbreaking technologies that the IT space would witness, which would subsequently drive Americas container technology market share.
The commercialization graph of Americas container technology market, as is projected by leading analysts, would continue to witness an exponential curve in the forthcoming years, driven by the massive transformation that containers have brought about in the traditional IT framework and the extensive deployment of the technology by various organizations in order to accomplish flexibility and simplicity in the entire IT infrastructure. By and large, the increasing replacement of VMs by containers and the efforts undertaken by the federal and state governments to further commercialize the utilization of containers in the mainstream IT devices business space, would have profound impact on the revenue graph of Americas container technology market.
Author Name : Saipriya Iyer
Endorsed by a barrage of tech benefactors, EMEA container technology market stands to gain substantial remuneration from myriad end-use domains in the coming years. As container technology has emerged to be a preferred alternative to virtual machines among the regional infrastructure providers, the growth prospect of EMEA container technology industry is forecast to be exponential over the coming years. A recent report put forth by Global Market Insights, Inc., claims overall market to cross a valuation of USD 2.4 billion by 2024. Substantially being driven by a plethora of factors such as expanding IT sector, subsequent increase in data volume and their storage demand, and increasing penetration of cloud computing technology, the regional industry is disrupting the traditional operation model across myriad end-user sectors. Perpetually acclaimed companies harnessing smart technologies are readily investing in EMEA container technology market, given the fact that Europe and MEA are considered to be two of the potential tech hubs.
Europe Container Technology Market Size, By Application, 2016 & 2024 (USD Million)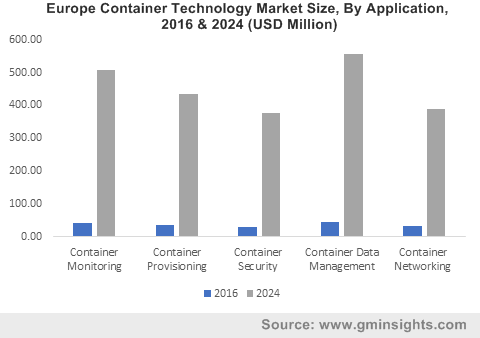 For instance, as per a latest news snippet, BISON, one of the most acclaimed container technology giants, has chosen Europe to showcase its new portable container lift system. Reportedly, this absolutely innovative state-of-the-art lifting system would be unveiled at Intermodal Europe spanning between 28th to 30th November 2017. Considering the fact that traditional container handling equipment are comparatively much bigger, heavier, and more expensive, BISON's portable compact system would prove to be a viable economic alternative for the regional logistic operators, contractors, and equip importers for lifting heavy containers in any location, cite experts. In fact, as per analysts – BISON's C-Lift system that got launched back in August will bring a disruptive trend in the entire EMEA container technology industry.
Get a Sample Copy of this Report:@ https://www.gminsights.com/request-sample/detail/2243
The appreciable popularity of container technology since the last few years can be majorly attributed to the increasing demand for improving scalability, developer efficiency, resource utilization, and supporting microservice architectures. Since for a decade now, this ground-breaking technology has been increasingly utilized as a software development approach in which pieces of codes are packaged in a standardized way so that they can be integrated seamlessly in any operating system.  As a matter of fact, the extensive utilization of cloud-based and on-premise deployment models is leaving an unparalleled impact on the overall EMEA container technology industry share. In this regard, it has been observed that Europe based organizations are relying more on on-premise deployment model, while some of the startups in EMEA container technology market are also looking forward to switching to cloud-based models, subject to its scalability and cost-effectiveness.
Speaking of the commercialization potential of EMEA container technology industry, it is imperative to mention that docker technology is taking the overall business space by storm, unveiling its unique ability to create self-sufficient lightweight containers from any kind of applications. With the increasing focus on containerizing enterprise applications by emerging startups in Europe and MEA, Docker technology is claimed to be one of the remunerative avenues for the entire EMEA container technology market share, with a procurement of 75% and 70% in Europe and MEA respectively. Rkt based container technology market is also forecast to gain appreciable momentum with a projected CAGR of almost 38% in Europe market, subject to its enhanced ability to ensure container security.
EMEA container technology industry has achieved quite some reputation over the recent years, primarily on account of extensive deployment of this technology by the regional infrastructure and technology providers. In this regard, experts claim that the competitive scenario in the business space is likely to get intense in the years ahead with renowned giants' incessant effort to come up with viable alternatives to Docker containers, which presently encompass the majority of EMEA container technology marketplace. With more number of pivotal giants such as Microsoft, Mesosphere, AWS, ClusterHQ, IBM, and Joyent focusing toward deploying cloud-based data center services in their enterprise applications, the profitability quotient of EMEA container technology market is bound to escalate commendably in the ensuing years.
Author Name : Satarupa De
One of the latest trends proliferating retail analytics market is that of multiple operational channels. Or, as the experts say so – omni-channels. The technique has brought about a modest amount of consolidation in retail analytics industry, surreptitiously eliminating supply chain chaos and location glitches. While global markets have been attempting to emulate high-grade technology and big data analytics, the retail sector has quietly been engaging with omni-channels to entice more customers, keep them continually engaged, draw data from a stream of sources, and bring about extensive social engagement to trigger a better understanding among consumers regarding the distribution chain. This initiative fosters the deployment of efficient analytics, which will ultimately usher in a new dawn for retail analytics market. The extensive reach of the retail business, in conjunction with the steadfastly developing e-commerce sector, is also certain to act as a catalyst to Retail Analytics Market, which, as per experts, is forecast to cross a valuation of USD 13 billion by 2024.
U.S. Retail Analytics Market Size, By Function, 2016 & 2024 ($Mn)

Retail analytics is essentially the process of delivering critical insights about a myriad range of retail verticals such as supply chain models, distribution chain, inventory levels, sales, and consumer demand, that form the crux of making crucial decisions, In a nutshell, retail analytics industry encompasses an enormous scope, given the fact that the deployment of data analytics in the retail market gives companies an inherent overview of business, processes, and customer insights, thereby opening up the channels for improvement and progress.  IBM's recent partnership with SAP for jointly developing data solutions for the retail sphere is an instance of how companies have been forging partnerships to lead retail analytics market on the path of progress.
Top trends underlining retail analytics market:
Cross-platform analytics
With the retail space spread across numerous distribution channels, the onus is on big data analytics solutions to track data as minutely as possible. Consumers may use one or more channels to view a product and make an informed choice. Analytic solutions need to able to penetrate this barrier and unearth the audiences through all these platforms in order that retail giants are able to provide a seamless shopping experience.
The extensive demand for real-time data to be communicated across the value chain – sales staff, consumers, distributors, and the like will thus, prompt retail analytics market players to come up with a range of effective solutions. Lately, the proliferation of technology has led to the massive deployment of both on-premise and cloud-based solutions, which will eventually result in the development of retail analytics market.
Get a Sample Copy of this Report@ https://www.gminsights.com/request-sample/detail/319
The proliferation of IoT
IoT is the latest incantation being followed by major giants partaking in retail analytics industry share. With the retail sector, consumer is king, and high-grade consumer experience can only be obtained via the deployment of IoT and augmented reality. The former in fact, is nearly on the verge of encapsulating retail analytics market. If estimates are to be believed, retailers may spend more than USD 2 billion on IoT-enabled devices by 2020. Furthermore, more than 65% retailers will depict an earnestness to integrate connected devices in their business models – a fact which may transform the face of retail analytics market.
The deployment of IoT has a plethora of benefits to offer, right from efficient data collection, consumer movement monitoring, real-time supply and demand analysis, and so on. Considering the vast expanse of the retail sector and the intense competitive aura that permeates this space, it is certain that the adoption of connected technology will augment retail analytics market.
An inherent shift of dynamics has been observed in the deployment of predictive analytics lately. This type of analytics basically entails guesswork regarding consumer behavior and choices and has proved to be fairly successful in retail analytics industry, in the initial years of inception. With the passage of time however, the need for a more efficient, practiced methodology arose in retail analytics market, which resulted in the genesis of an explanatory business model. This type of analytics gives an extended explanation of data – inventory requirement, store requirements, consumer demand, and product trends -in other words, this type of analytics identifies trends that may have a sizable impact, which is a godsend in retail analytics market.
What can be deduced from this transformative trend is that the retail sector has been on the lookout for novel technologies to forge a connection with consumers. In order to be a part of this ever-changing spectrum, it is essential for retailers to bring about a change in their outlook to create value. This modified school of thought is certain to usher in a unique speculation of sorts for retail analytics market giants, who have been bending over backwards to codify a new set of advanced solutions for the retail sector. Inadvertently, it is expected that their efforts will bear fruit, and retail analytics market will establish new frontiers of growth in the years ahead.
Author Name : Saipriya Iyer
The medical sector is undergoing a series of interminable changes over the last few years. In consequence, healthcare revenue cycle management industry is set to witness a marked ascent pertaining to the rising need for timely bill reimbursements and insurance claims. Increased complexity in the medical coding process has led to the necessity of revenue cycle management solutions that help reduce billing errors.
Healthcare spending is projected to grow rapidly over the span of the next few years, which will lead to the government implementing cost-cutting measures such as reduction in bill reimbursements, which would have a positive impact on healthcare revenue cycle management market. The rise in the number of medical care providers adopting revenue cycle management practices will further augment the revenue scale of this industry.
U.S. Healthcare Revenue Cycle Management Market, By Product, 2017 & 2024 (USD Million)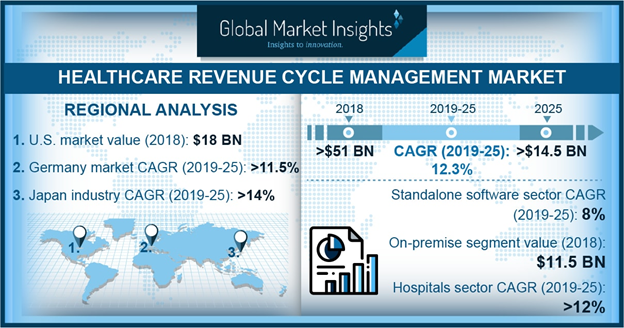 The healthcare sector has been on a continually expanding spree across the globe, which has led to a surge in the implementation of revenue cycle management services across myriad geographies, particularly advanced economies such as Germany and the U.S. Indeed, a report by Global Market Insights, Inc., claims that Germany healthcare revenue cycle management market is anticipated to witness a CAGR of 11.3% over 2018-2024. The region is a vastly developed zone with extensive healthcare expenditure that has helped augment the regional industry.
Currently, as per estimates, Germany also plays host to an expanding geriatric population that is highly susceptible to chronic infections. This would help upsurge the number of hospital admissions, consequently leading to an expansion of the regional healthcare revenue cycle management market. That said, the nation is also remnant of technological advancements – the development of upgraded software in order to processing huge patient databases and their hefty adoption in Germany will also propel the regional healthcare revenue cycle management market over 2018-2024.
Get a Sample Copy of this Report @ https://www.gminsights.com/request-sample/detail/1170
The United States is also touted to be one of chief regional growth avenues for the global healthcare revenue cycle management market. The U.S. Patient Protection and Affordable Care Act signed in 2010 has enabled several changes in the medical sector, which has ensured compulsory medical insurance and increased Medicaid coverage in the U.S. This statute is expected to significantly propel U.S. healthcare revenue cycle management industry in the years to come. Not to mention, the region is also governed by a stringent regulatory landscape, coupled with the existence of strong market players that will help augment the regional industry trends.
The surging development in cloud computing industry has increased the necessity of cloud services in practically every industry, the healthcare sector bearing no exception. In fact, as per a reliable estimate, cloud based deployment held close to 76.4% of the overall industry valuation in the year 2017. The deployment model is claimed to accrue substantial popularity, given the surging usage of cloud-based software to ensure efficient data processing. Cloud based software, in the medical industry, are essentially deployed for analyzing revenue cycle data such as charges, accounts, and transaction receivables. In addition to such software being able to resolve problems and reduce errors, they also help deliver data security, that further helps expand the commercialization potential of the cloud-based healthcare revenue cycle management market.
Most of the prominent players in healthcare revenue cycle management market have been striving to bring forth an array of novel products to the mainstream to sustain their position. Say for example, last year, MedTek, one of the leading providers of coding, transcription, and billing services, brought to light, the Revenue Cycle Edge, a highly comprehensive solution for revenue cycle optimization. With this HRCM solution, the company generated a seamless workflow for the overall revenue cycle process for medical care leaders working toward greater efficiency at clinics, hospitals, specialty practices, and ambulatory surgery centers. Speaking of which, some of the other players accumulating a major share in healthcare revenue cycle management market include Athenahealth, CareCloud, Allscripts Healthcare Solutions, Experian, Cerner, Siemens Healthcare, GE Healthcare, Quest Diagnostics, and McKesson.
Author Name :Saipriya Iyer
With the increased emphasis on customer satisfaction and operational efficiency, dental practice management software (DPMS) market stands as one of the most pivotal verticals of the healthcare industry. The business crossed a billion-dollar benchmark in 2017, with a large-scale adoption of the revolutionary tool by individual professionals as well as multi-purpose clinics. The fraternity is extensively characterized by swift innovations in technology focused on balancing the customer service aspect of dental practices and developing optimum treatment mix have.
Booking appointments and scheduling, cancellation, reminders, billing and insurance management are some fundamental patient-centric elements of DPMS, with added features like easy access to patient records and dental images that make client servicing simpler for dentists. Further, the worldwide trend towards digitization and availability of cost-effective cloud based solutions have propelled dental practice management software market share worldwide.
U.S. Dental Practice Management Software Market, By Component, 2018 & 2025 (USD Million)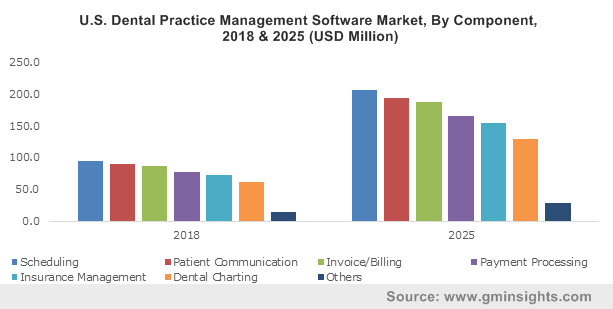 Evolving lifestyles around the world have affected the general health of people and escalated the dental problems across varied demographics. Subsequently, the growing awareness regarding oral hygiene has boosted the dental industry and immensely enhanced dental practice management software market share. A striking factor influencing the industry is the rising geriatric population which is experiencing oral disorders like gum disease, cavities, tooth decay and tooth loss more frequently.
Statistics released by the World Health Organization indicate that the global population of people with aged 60 and above will virtually double from 900 million in 2015 to nearly 2 billion in 2050. As older people are more susceptible to dental problems, the projected increase of elderly population indicates a lucrative future for the dental practice management software industry.
The development of DPMS industry is continuously being supported by huge venture capital investments and technology-friendly initiatives by governments. Recently, a prominent dental practice management platform, iDentalSoft received considerable investment through a new round of funding led by FCA Venture Partners. iDentalSoft, formed in California, is a secure cloud-based DPMS platform that assists in improving clinical efficiency, streamline workflow and optimize production. It allows fast access to patient schedules, details, treatment plans, x-rays, billing and credit card payments among other tools, displaying the tremendous utility of DPMS in reducing the administrative workload of dentists.
Get a Sample Copy of this Report:@ https://www.gminsights.com/request-sample/detail/463
Investment activities of such nature have enabled the influx of innovations in the industry fueled by the government mandates, like the Health Information Technology for Economic and Clinical Health Act (HITECH Act) introduced by the U.S. The act encourages expansion of healthcare IT infrastructure and has subsequently helped augment the dental practice management software market share in the U.S.
Being one of the most technologically advanced countries, the U.S. has been a vital base for startup companies that want to design DPMS products. Owing to the cutting-edge healthcare services provided in the country and increasing geriatric populace with dental ailments, the U.S. dominated the dental practice management software market with a share of 39%. As the software adoption rates continue to soar and the healthcare IT industry expands, U.S. dental practice management software market will showcase its dominance over 2019-2025.
Speaking of enhanced DPMS, it is necessary to consider its assistance in bearing the security aspect of a dental practice, as numerous government health agencies have specific legislations for data protection. For instance, Ontario's Personal Health Information Protection Act requires data storage facilities to be locked with limited and authorized access using ID cards. As such, the latest services in the dental practice management software industry are generally cloud-based, where a physical server is not required to be present at the practice. A cloud server enables automatic data backup and protection, and its lifetime cost is considerably lower than a complete desktop system that requires timely maintenance with essential features to be added separately.
With the mounting pressure on businesses all over to adopt secure modes of information storage due to risk of data corruption and loss, integration of cloud services in DPMS reduces the legal obligations of dental practices and the high cost that comes with it. Not to mention the incredible upsurge in the use of smartphones has permitted patients a faster and easy mode to select their choice of clinic and browse treatments, book appointments and even review the practice post-treatment. The affluence of customers on the reputation of dental practices and the speed at which they expect the services has magnified the industry's competitiveness, bolstering the cloud-based dental practice management software market share.
All in all, the rapid progression in cloud technology, convenience of smart devices in the hands of patients and the shifting customer preference towards better service quality has endlessly changed the dentistry landscape. Key market contributors like Patterson Dental, Henry Schein, Carestream Dental, Bestosys, Open Dental Supply amongst others have established their presence with prolific DPMS products. Constant evolution of software capabilities combined with the awareness pertaining to their benefits in patient-care and servicing are expected to catapult the dental practice management software market share in the years to come.
Author Name : Pankaj Singh
A robust increase in the adoption of advanced technologies such as cloud computing and IoT will drive the identity and access management market in the upcoming years. IAM apparently makes businesses more agile, efficient and scalable, and also offers them considerable benefits such as reduced risk of data breaches, centralized access control, ensured regulatory compliance, improved user experience, and a significant reduction in IT costs. This has quite overtly led to a spurt in investments in IAM market from venture capitalists and enterprise organizations.
Japan Identity and Access Management (IAM) Market Size, By Solution, 2017 & 2024 (USD Million)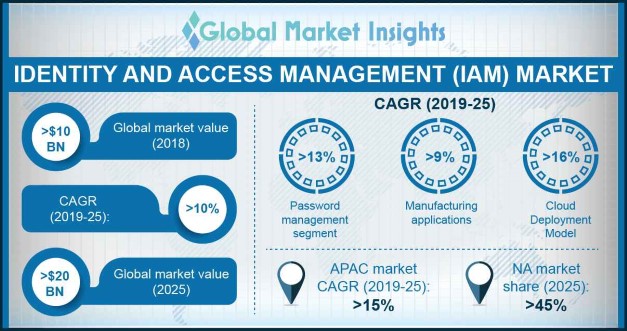 IAM industry has also received a considerable boost from robust investments in new artificial intelligence and machine learning solutions that are being undertaken for managing the rapid proliferation of identities and achieving least privileged access. For instance, recently Google established a collaboration with Facebook to develop their artificial intelligence to offer users a much better work experience.
Proliferation of workplace mobility is a major factor that would propel identity and access management market. Global acceptance of workplace mobility by businesses has empowered employees to work from anywhere, at any time and from any device. As per sources, by 2020, mobile workforce will reach to about 105.4 million people, that translates to roughly 72.3% of the total workforce in the U.S. On a global scale, the number is set to reach 1.87 billion by 2020, or 42.5% of the worldwide workforce. These statistics provide vital evidence to the fact that identity and access management market share is likely to soar in the years to come.
The Internet of Things has already redefined the concept of identity management. As IoT moves beyond consumer mainstream wearables and into massive enterprise deployments, IT teams are paying more attention towards securing access to the networks that connect to valuable products, including smart grid hardware, factory equipment, and more. IAM and privileged access management (PAM) demands are expected to become more complicated, with tougher obstacles and exponentially more endpoints. In consequence, the requirement of a strong IAM solution would become more commonplace, thereby augmenting the overall IAM industry.
Get a Sample Copy of this Report:@ https://www.gminsights.com/request-sample/detail/176
IT & telecom applications to drive the IAM market trends:
The rapidly escalating growth in the telecom & IT sector is certain to impel identity and access management market. As the IT & telecom industry works with a large user base, it is essential for the service providers to maintain the security of the sensitive user data. According to a survey by The Communications Fraud Control Association (CFCA), the telecommunications industry experienced $38.1 billion in fraudulent charges in 2016. As per CFCA, cyber fraudsters are seemingly working to develop new ways to siphon money from renowned, well-established organizations of various sectors.
The aforementioned survey results are a strong indicator of the fact that the IT sector will serve to be one of the most profitable growth avenues for IAM market. By implementing IAM solution business could be shielded by fraudsters and hackers, eventually saving billions in remuneration for organizations. According to Global Market Insights, Inc., identity and access management market size from IT and telecom applications was worth USD 1,420 million in 2017 and is expected to register a commendable growth rate over the ensuing years.
Unveiling North America IAM industry outlook:
North America is undoubtedly one of the most crucial regional generators for identity and access management market. In 2017, North America accounted for a mammoth 46% of the overall industry share, primarily on account of the changing workforce requirements and the surging adoption of cloud applications and BYOD. The U.S. the most dominant regional ground for North America IAM market, given that security is the foremost crucial parameter for the plethora of companies in the country.
North America IAM market has also received a considerable boost owing to the presence of a stringent regulatory landscape in the region. The continent is known to face periodic cybersecurity thefts – in 2017 alone, the average cost of a data breach was around USD 117,000 for SMEs and USD 1.3 million for large enterprises. On these grounds, the regional governments have undertaken stringent initiatives and invested extensively to come up with highly secure systems to protect user data, thereby propelling North America IAM industry share.
Some of the most prominent contenders in the global identity and access management market include IBM Corporation, SailPoint Technologies Holdings, Inc., Okta, Inc., Symantec, Gemalto, Crossmatch, Oracle, HID Global Corporation, CA Technologies, OneLogin, Inc., OpenText Corp., Ping Identity, ForgeRock, Net IQ, and Dell, Inc. These companies are often found conducting mergers and acquisitions to increase their business reach and expand their customer base. For instance, Marsh, a global leader in insurance broking and innovative risk management solutions, recently announced a collaboration with IBM Corp. to provide clients with a wider access to blockchain solution for ensuring proof of insurance.
IAM solutions have proven to be effective in reducing challenges faced by organizations with regard to security and privacy such as data loss, data leakage, insecure usage, and insider attacks. IAM also decreases burden on the IT departments due to its self-service functionality. Driven by the fact that IAM delivers secure ways for authentication, authorization, and management of users without compromising on convenience and usability, the global IAM market share is anticipated to grow at a CAGR of 10.4% over 2018-2024.
Author Name : Mateen Dalal