Oncology
Gene editing market is slated to register a massive double-digit growth rate over the coming seven years. The rising number of biotechnology and pharmaceutical firms will provide heavy revenue generating opportunities for the gene editing industry players over the coming years. Moreover, increasing prevalence of cancer and genetic disorders will further enhance the scope of the gene editing market. According to Global Market Insights, Inc. "Global gene editing market size worth USD 2.17 billion in 2015, is estimated to witness a CAGR of 14% over the period of 2016-2024."
The rapid technological advancements in healthcare industry will also build a profitable roadmap for the gene-editing industry. Precision medicine market, which is estimated to surpass a revenue of USD 85 billion by 2023, will also promote the gene-industry market trends. The government support and increasing investments in R&D to enhance the technological outlook will also boost the gene editing industry share notably over the coming timeframe. The pharmaceutical industry is also actively collaborating with the gene editing firms to implement the technology use in clinical development. In addition to this, the industry will gain wide acceptance on account of its benefits in the wellbeing of humans, animals, and plant ecosystems.
U.S. Gene Editing Market Size, by Application, 2013- 2024 (USD Million)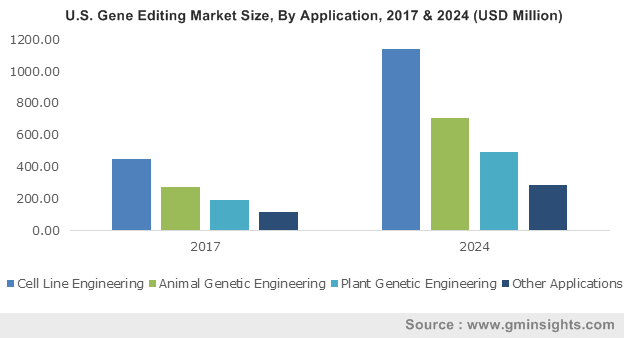 Gene editing industry finds a varied set of applications across areas such as oncology, muscular disorders, infectious disease, and hematology. Hematology led the application landscape with a revenue of USD 807 million in 2015. Rising prevalence of infectious diseases such as HIV will promote the gene editing industry size in infectious disease applications, with a revenue estimation of USD 2.5 billion by 2024. Moreover, oncology applications will also exhibit a decent growth rate over the coming seven years, with an annual CAGR of 16% over 2016-2024. The increasing number and types of cancer will primarily contribute towards the application growth.
Get a Sample Copy of this Report:@ https://www.gminsights.com/request-sample/detail/810
CRISPR/Cas9 is the most prominent technology implemented in the gene editing applications and has been the most buzzed topic among the researchers worldwide. The ability of CRISPR/Cas9 technology to enable multiple edits at once has made it a breakthrough in the gene editing technology landscape. Moreover, its simplicity, specificity, and speed will further promote the technology demand over the coming years. CRISPR technology based gene editing market is estimated to exceed a revenue of USD 3 billion by 2024. Other notable technologies deployed in the gene editing industry include TALENS, Mega nucleases, and Zinc Finger Nucleases (ZFNs).
The major end-users participating in the gene editing market include CROs (Contract Research Organizations), Biotech & Pharma companies, and Research Institutes. Biotech and Pharma dominated the end user landscape accounting for 58% of the overall market share in 2015. The growth can be attributed to increasing applications of gene editing in therapeutics and drug discovery. Moreover, enhancements in the field of genetic engineering will further expand the scope of gene editing market in biotech and pharma sector. CROs will also emerge as a prominent revenue generating sector due to increased outsourcing by the pharmaceutical companies for complex drug discovery.
Considering the global trends, US gene editing industry led the global landscape, with a revenue of USD 518 million in 2015. The trend is likely to continue with the rapid expansion of biotech and pharma industry coupled with the rising prevalence of diseases such as Alzheimer, cancer, and other infectious ailments. UK gene editing market is anticipated to surpass USD 744 million by 2024, driven by the growing geriatric population base and frequent occurrence of chronic ailments across Europe. Asia Pacific will also exhibit substantial growth over the coming years. Improving healthcare infrastructure, technological developments in the medical space, rising geriatric population base, and favorable government norms will stimulate the APAC market growth.
Lack of awareness about gene-editing may prove to be a roadblock for the market growth. However, the government support towards spreading awareness will undoubtedly improve the future business scenario. The emerging economies will gain a major traction of the industry players to expand the regional base. Key market participants include Agilent Technologies, AstraZeneca, Allele Biotech, Cellectis, Bio Rad, Editas Medicine, CRISPR Therapeutics, Lonza, GE Healthcare Dharmacon, Recombinetics, Inc., Qiagen, Thermo Fisher Scientific, and Sigma-Aldrich.
Author Name : Shikha Sinha
Industry Trends
Global Precision Medicine Market size was more than $39.1 billion for 2015 and is predicted to register 10.51% of CAGR during forecast timeframe. It is innovative procedure for treating and preventing chronic ailments depending upon changes in individual genes and other lifestyle features. New approach helps doctors properly assess ailment risk and predict optimal treatment. Growing occurrence of cancer and increase in cancer prone geriatric population all across the globe is predicted to boost industry expansion.
Threats related with sharing of patients genetic information can hinder industry growth. Insurance firms can use patient data and raise their premium for people who are at a risk of acquiring inherited diseases. Further, decline in rate of FDA (U.S. Food and Drug Administration) drug approval has minimized the rate of production of new medicines in spite of heavy investments. This aspect can hinder global precision medicine market expansion.
View a summary of the "Precision Medicine Market Size, Industry Analysis Report" @ https://www.gminsights.com/industry-analysis/precision-medicine-market
Technology Trends
The industry is segmented into different technologies like gene sequencing, companion diagnostics, big data analytics, bioinformatics and drug discovery.
Gene sequencing segment size was more than $8.1 billion for 2015. Current FDA guidelines on next -generation sequencing dependent tests takes into consideration individual differences in genes of various persons, environments and life patterns while creating new type of healthcare.
Companion diagnostics segment has acquired importance owing to rising concerns about rates of drug failures. Further, the segment is expanding at rapid pace owing to rise in financial support and approvals by government.
Heavy throughput omics techniques applied in biological and basic research are predicted to propel bioinformatics segment growth. Out of all omics techniques next-generation technique is predicted to create key impact on the segment growth.
Drug discovery technique contributed more than $9 billion for 2015 and is predicted to register CAGR of 8.31% during forecast timeframe. Further, biomarker directed treatments with medicine targeting epidermal growth factor receptor (EGFR),c-ros oncogene 1 receptor tyrosine kinase (ROS1) and anaplastic lymphoma kinase (ALK) have speeded up the production of new medicines.
Application Trends
Global industry is segmented into various applications like respiratory application, oncology application, Immunology application and central nervous system (CNS) application.
Oncology application contributed more than 30.1% of precision medicine market share for 2015 and is predicted to record CAGR of 10.91% during forecast timeframe.
CNS application contributed more than $9.1 billion for 2015. Neuroscience therapeutics has been utilizing the approach for long duration.
Regional Trends
Global industry was segmented into key geographical regions like North America, MEA, Europe, APAC and Latin America.
U.S. precision medicine market share was about 65.1% of revenue of North America. Factors like large allocation of budget by U.S. president to agencies like FDA( U.S. food and drug administration) , NIH (National Institute of Health) and NCI (National Cancer Institute) along with favorable government rules have contributed to the regional industry growth.
Germany precision medicine market share was more than $2.5 billion for 2015 and is predicted to contribute significantly to the growth of European industry. Reason for industry growth in the region can be credited to the fact that many institutions have acquired biomarker analysis certification required for colorectal cancer detection tests.
Further, medicine producing and diagnostic firms are making tremendous efforts for enhancing industry growth in Europe. Favorable compensation policies are predicted to promote industry growth in France.
China contributed more than 25.1% to APAC precision medicine market share for 2015 and is predicted to remain key region in future. Favorable government initiatives and high contributions from academic labs has assisted in the regional industry growth.
Get a Sample Copy of this Report @ https://www.gminsights.com/request-sample/detail/671
Competitive Trends
Key industry players profiled in the report include Roche Holdings AG, Qiagen, Pfizer, Medtronic, Source Precision Medicine Incorporation, Silicon Biosystems, Tepnel Pharma Services, Covance, Biocrates Life Sciences AG, Novartis, Nanostring Technologies, Laboratory Corporation of America Holdings, Quest Diagnostics, Teva Pharmaceuticals, Intomics, Ferrer InCode, Eagle Genomics Limited and Quest Diagnostics.