Operator Training Simulator Market
The revenue graph of operator training simulator market is projected to foresee exponential growth owing to the continuous improvement in these products and rising emphasis on recruiting skilled workforce. Skill development helps to enhance productivity, safety, profitability, controllability, and stability of the enterprise operations. The increasing focus to reduce injuries and fatalities to maintain safe operations across various business verticals is expected to aid the market growth.
Brazil operator training simulator market, by application, 2018 & 2025 (USD Million)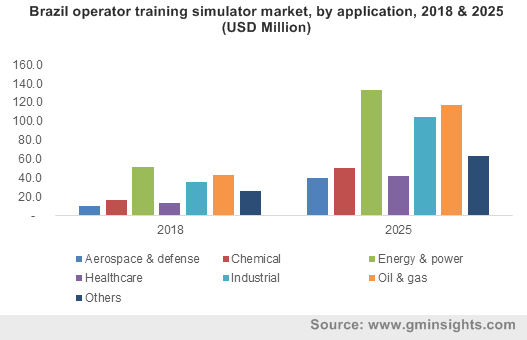 Industry professionals are training their operators to tackle life-threatening situations which has led to increased emphasis on safety of workers, optimization and efficiency of simulators – a factor that is likely to impel the operator training simulator market share in the times to come.
Operator training simulators improve decision making of the operators at critical times while increasing familiarity with the operations. Pilots are required to develop skills like decisiveness, quick thinking, confidence and situational awareness which can be enhanced by simulator trainings. Operator training simulators strengthen confidence to tackle the unfavorable situations. To underscore the significance of simulators, the recent instance of fatal aircraft crash of Ethiopian Airlines can be considered. The crash killed all 157 on board just five months after a similar crash on a Lion Air flight which killed all 189 passengers and crew.
After the accident, the Allied Pilot Association has demanded training on simulators which includes scenarios like those experienced by the pilots of Ethiopian Airlines and Lion Air and additional computer training for 737 MAX to cement the lessons of failure modes in the minds of pilots. Apparently, the deployment of advanced simulators would be crucial in building confidence among pilots, essentially boosting the growth of operator training simulator market.
Get a Sample Copy of this Report:@ https://www.gminsights.com/request-sample/detail/1285
Apart from aviation industry, the railway sector has also emerged as a major end-user to deploy operator training simulator for realistic and robust training to avoid fatalities. For instance, in the year 2018, Indian railways had announced to invest INR 350 crore in operator training simulators to train 1.5 lakh loco pilots and assistant loco pilots to bridge the gap between theoretical and practical learning. The investment is meant to make drivers learn how to navigate rail tracks, curves, signals, bridges and any other situation as if they are driving a real train.
Over 12,000 diesel and electric locomotives daily run on a 66,000-km network across the country. There are about 86,000 train drivers and the simulator training with real feel experiences will assist these drivers to run locomotives efficiently. Apparently, the Indian government's program is a testimony to the increasing prominence of governmental support to high-end simulator training across various geographies – a vital factor that will enhance the growth prospects of the operator training simulator industry.
Notably, defense academies have also been proactive in adopting operator training simulators for public safety and enhancing the overall skill-set of cops. As the police department is responsible for the safety of citizens and maintenance of peace across any country, cops face highly stressful situations on a regular basis which requires high level of patience and panic control. In this regard, simulator training has proved to be of immense help and numerous police academies are deploying these simulators on their premises.
For instance, the New Britain Police Academy has recently adopted simulator trainings to train police to manage stressful responses and make decisions under pressure. The Milo Simulator – chosen by the academy – is an advanced simulator in the state which combines driving an emergency vehicle in highly unfavorable situations such as armed encounters. The human reaction under pressure is unpredictable but this training simulator can help police officers to calmly handle stressful situations.
Operator training simulators have found usage in aviation, railways, police trainings and have applications in several other industries, including healthcare, energy, and chemicals. Operator training simulators play a vital role in training operators in manufacturing and industrial plants. The simulators enhance familiarity with the operations by creating a visual and real-time experience to cement the learnings by experiencing high-risk situations.
Retiring experienced workforce and the increasing demand for quality training of young staff will also contribute in proliferating the operator training simulator industry trends. According to a research report by Global Market Insights, Inc., the operator training simulator market is expected to surpass a remuneration portfolio of USD 20 billion by 2025.
Author Name : Anchal Solanki