Organic
​Innovations in food packaging sector has been proved to be a great driving force for oxygen scavenger masterbatch market for food packaging. To ensure food safety and edibility of perishable products, several new technological advancements have been made in oxygen scavenger masterbatch industry for food packaging. New packaging materials and techniques preserving quality of food products are also offering impetus to the industry.
Some of the key trends and factors which are expected to propel oxygen scavenger masterbatch market for food packaging by 2025 are as follows:
Increasing consumption of dairy products will foster oxygen scavenger masterbatch market size for food packaging:
Growing concerns over the deterioration of dairy items due to reaction with oxygen has generated the need for the specialty masterbatches in the food packaging sector. Rising demand and consumption of fresh dairy products is likely to offer a push to the oxygen scavenger masterbatch market for food packaging.
Between 2019 and 2030, the global demand growth for milk and milk products is anticipated to be three times the level of current U.S. milk production. Currently, about 876 million tons of milk are produced globally with EU, India, and Oceania among the top producers. Cheese consumption in the U.S. is expected to continue to increase between 2017 and 2022. By 2030, milk production and demand is forecasted to increase in total by 35%, simultaneously expanding oxygen scavenger masterbatch market size for food packaging.
Growing inclination towards meat consumption to lift the share of oxygen scavenger masterbatch market for food packaging:
Besides increasing demand of dairy items, meat consumption and demand is also rising and offering driving impetus to the growth of oxygen scavenger masterbatch industry for food packaging. Global meat consumption increased by 58% over the past 20 years to reach 360 million tons in 2018. Population expansion has been accredited for 54% of this increase.
In the 20 years leading up to 2018, developing countries are credited for approximately 85% of the rise in global meat consumption. Between 1998 and 2018, Chinese consumption of meat increased by almost 72%. In the United States and Australia, meat consumption increased over the same time period because of higher poultry consumption.
Get a Sample Copy of this Report:@ https://www.gminsights.com/request-sample/detail/4288
When meat is exposed to oxygen, the meat appears bright red which is identified to be fresh by consumers. However exposure to too much oxygen leads to meat turning brown which is not readily bought by consumers. Therefore oxygen scavenger masterbatch has become an essential part of meat packaging.
Rising adoption of intelligent packaging to expand oxygen scavenger masterbatch market landscape for food packaging:
Due to changes in lifestyle trends and consumer demands in commercialization, packaging has played a key role in preserving fast moving consumer goods. Globally active and intelligent packaging was assessed to amount to more than $4.5 billion in 2018 and is likely to grow at a considerable rate in the times to come. Escalating adoption of active and intelligent packaging will set the oxygen scavenger masterbatch market growth for food packaging in greater motion.
For instance, packaging that can transmit real-time information about the ripeness of fruits packed inside was lately launched at Italian trade fair Macfrut held in Rimini. The latest technology called Smart Ripe has been fostered by Italian company Ilip in collaboration with the University of Turin's Department of Agricultural, Forest and Food Sciences, a spin-off of the University of Rome Tor Vergata, and Radio6ense.
Ilip has stated that the system leverages a highly sensitive radio-frequency identification (RFID) tag implanted inside the packaging. The tag can sense certain dielectric variations in the fruit pulp related to ripeness, such as acidity, water and sugar content, and turgidity. The technology has the potential to bring new value to fresh produce by ensuring that the consumers get desired shelf-life and product quality.
Flexible packaging to influence revenue share of oxygen scavenger masterbatch market for food packaging:
The key user segments of flexible packaging are beverages, snacks and confectionaries, fresh and frozen foods, dairy products etc. The growth of flexible packaging sector will directly influence the expansion of oxygen scavenger masterbatch market for food packaging. The size of the Indian flexible food packaging sector has been estimated to be $900 million, growing at around 20 percent annually. Replacement of conventional packaging materials like glass, tin, paper, jute etc. with flexible materials in several applications added impetus to the flexible packaging segment. The segment is growing at around 104 percent annually in India and is expected to grow to $482 billion by 2020.
Various packaging needs varying with the type of food item and packaging requirements are going to contribute in the growth of oxygen scavenger masterbatch industry for food packaging. Several technological advancements and innovations are being made by the companies like Ilip that are setting examples for the market players like Clariant, Albis Plastic, Gabriel Chemie etc. to put extra efforts in the direction of development. Increasing demand of meat and dairy products is also a key factor contributing to value of oxygen scavenger masterbatch market for food packaging which is estimated to be over $25 million by 2025.
Author Name : Anchal Solanki
​
The robust expansion across global aviation sector can be aptly credited for the growth of aerospace maintenance chemical market. Given the extensive requirement of rigorous maintenance in commercial, military, and business aircrafts, companies have been going the whole hog to brainstorm unique chemicals that would ease the aircraft maintenance process. As the aviation sector witnesses extensive growth and the demand for maintenance, repair and overhauling of aircrafts increases with the rising volume of airline traffic, aerospace maintenance chemical industry outlook is likely to observe a dynamic transformation in the years ahead.
U.S. Aerospace Maintenance Chemicals Market, By Aircraft, 2016 & 2024, (USD Million)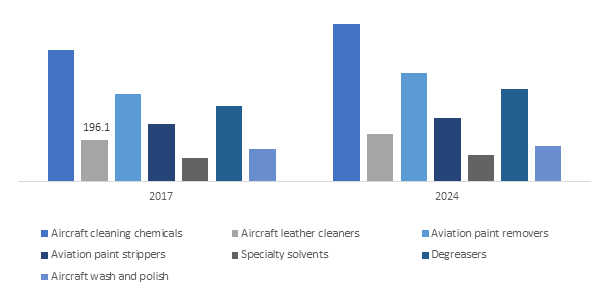 As per estimates, aerospace maintenance chemical market size stood at a modest USD 7 billion in 2017. However, increased global connectivity through airlines has raised the frequency of air travel – a trend has provided an impetus to the travel and tourism sector. Thus, with the growth of the aerospace domain, aircraft maintenance has emerged as a niche vertical, essentially propelling aerospace maintenance chemicals market.
This business space encompasses numerous products along the likes of aircraft leather cleaners, specialty solvents, aircraft cleaning chemicals, degreasers, aviation paint strippers, etc. Aircraft cleaning chemicals among these is estimated to be a major contributor toward aerospace maintenance chemical market share, given their massive demand for thoroughly disinfecting and cleaning aircrafts. Aircraft cleaning service providers are required to deal with problems like limited service time due to enhanced flight frequencies, strictly abiding by ground time schedules and errant weather conditions. In consequence, these cleaning service providers prefer aerospace maintenance chemicals that are highly efficient and can perform better in lesser amount of time, which would undeniably propel aerospace maintenance chemicals industry outlook.
Aviation paint removers also have a considerable role to play in the growth of the aerospace maintenance chemical market. It is prudent to mention that aircraft paint is removed and repainted every 5 to 6 years for elongating the shelf life of aircrafts as well as to make them more appealing. Indeed, this is certain to massively propel aerospace maintenance chemical industry size from aviation paint removers, slated to register a 3.7% CAGR over 2018-2024. The advancement of laser coating remover technology, in which an essentially gigantic robot is used to remove paint from aircrafts, will also contribute substantially to the progress of the aerospace maintenance chemicals industry.
Theoretically, aerospace maintenance chemicals can either be organic or inorganic in nature. The former is slated to account for 60% of the overall aerospace maintenance chemical market share by 2024, given that they are rather labor friendly and suitably viscous in nature. However, price competitiveness of inorganic aerospace maintenance chemical along with their easy product compatibility and availability as per customization will also make consumers lean toward these products propelling inorganic aerospace maintenance chemical industry outlook.
Get a Sample Copy of this Report:@ https://www.gminsights.com/request-sample/detail/2105
The more an aircraft is used, the more maintenance it requires. Commercial flights, the most commonly deployed flights, would thus demand the maximum utilization of maintenance products, thereby, directly stimulating the growth of the aerospace maintenance chemical market. Statistics in fact, claim that commercial flights account for 45% of the overall aerospace maintenance chemicals market share and would grow rapidly over 2018-2024. This growth can be credited to the fact that these flights make the highest number of trips and are faced with not only the largest amount of wear and tear but also necessitate robust interior cleaning and maintenance, degreasing, paint removal and application.
Commercial aviation is also one of those industries that has been depicting an irregular demand-supply graph. Commercial aircraft manufacturers such as Boeing and Airbus have also been working to enhance their manufacturing capacity, fueling the need for highly efficient commercial planes. Boeing in fact, recently in 2018, planned to increase the production of Boeing-747 by 52 aircrafts per month to cover up for the recorded backlog of 4,656 aircrafts.
The vast expanse of the aerospace industry in North America, especially in the U.S. and the formidable fleet of aircrafts that the U.S. military and defense sector encompasses, will provide a major push to North America aerospace maintenance chemical market. In fact, as per estimates, North America industry size stood at USD 2 billion in 2017, and is expected to register a CAGR of 2.5% over 2018-2024.
Reduced air travel costs, better air connectivity, greater affordability among the populace of the emerging economies and the rising popularity of the tourism sector have been the driving forces behind the growth of aerospace maintenance chemical industry in the last few decades. With greater demand for air travel, stringent governmental regulations have been placed on the importance of aircraft maintenance. For instance, the Federal Aviation Administration (FAA) and European Aviation Safety Agency (EASA) are now making extensive modifications in maintenance procedures. Driven by government-led initiatives and increasing air travel popularity, the revenue graph of aerospace maintenance chemical market would traverse a highly profitable growth path over 2018-2024.
Author Name : Paroma Bhattacharya
One of the key factors that has had a pronounced impact on the growth of clinical nutrition market in recent times is the ever-growing geriatric population. Given that most of this population is susceptible to chronic conditions such as diabetes and cancer, proper intake of nutrition & other healthy foods has engraved a rather imperative hold in the lives of patients. The increasing patient awareness pertaining to the health benefits of proper nutrition intake is thus set to transform clinical nutrition market outlook. The worldwide clinical nutrition industry size was pegged at USD 43.9 billion in 2016.
China Clinical Nutrition Market, By Product, 2013 – 2024(USD Billion)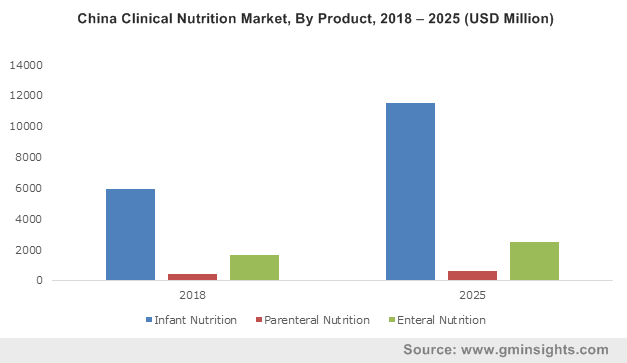 Powered by the growing number of regional governmental initiatives to introduce nutritional awareness programs and upgrade overall patient care fraternity however, clinical nutrition market is expected to traverse alongside a highly lucrative growth path in the forthcoming years. Untapped economies in this regard are likely to get much of attention compared to other geographies, given the vigorous steps taken by food & regulatory bodies in providing nutritional information.
An instance validating the authenticity of the above-mentioned fact is that of the Amref Health Africa that has partnered with Nutritional International to fight nutritional deficiencies across the region. Through their Nutritional Leverage for Transformation model, the organizations intended to provide nutritional benefits to people across the countries in Africa. Reportedly, the investment is anticipated to reach over 10 million of direct & indirect beneficiaries that will include children, adolescent girls, health workers & adult women in Kenya, Uganda, Zambia and other regions.
Get a Sample Copy of this Report @ https://www.gminsights.com/request-sample/detail/1324
If industry experts are to be believed, the partnership will ensure that the masses will have access to important nutritional education & inventions, in turn amplifying the chance to improve overall health status. On account of the strong presence of organizations, the regional sales of nutritional supplements are poised to witness a significant high in the years to come. The involvement of other organizations such as the South African Society for Enteral and Parenteral Nutrition for promoting clinical nutrition practices will support the growth of the regional clinical nutrition market.
Analyzing the current demographics of the clinical nutrition sector, malnourishment in a crucial glitch observed in infants & pre-maturated babies. A fact that further sheds light on the seriousness of the situation has been provided by WHO in 2017 that claims over 15 million babies to have a preterm birth every year on a global scale. In order to further counter balance the growing number to pre-matured births, several regulatory bogies & governmental agencies are focusing on spreading awareness as well as introducing new infant nutritional products in the market.
Nestlé, the food giant, has long since backed WHO's initiative of supporting exclusive breastfeeding of infants. Having been touted as the world's biggest infant formula marker, Nestlé is actively supporting & recommending breastfeeding exclusively for first six months and then following it up through adequate nutritional complementary foods. NESTUM® Infant Cereal, KLIM, and GERBER® are among some of the company's wide portfolio of infant nutritional formulas that it has introduced to encourage the right amount of essential nutritional intake for babies.
The supportive participation of regional players coupled with governmental efforts have further led to infant nutrition emerging as a prominent product segment in clinical nutrition industry. In fact, reliable reports state that the robust demand for infant nutritional products such as milk-based nutritional formula, has empowered this segment to hold the largest revenue share of the global clinical nutrition market in 2016. Infant nutrition segment is further forecast to follow similar growth pattern over 2017-2024.
Analysts deem that clinical nutrition market, thriving on the cusp of a growing elderly population and the incidences of chronic diseases, has registered its name in the billion-dollar fraternity since long and is emerging as one of the lucrative verticals of healthcare. Furthermore, the growing trend of incorporating nutritional foods & dietary supplements into modern lifestyles is likely to chart out a profitable roadmap for this business sphere down the years. According to a research report by Global Market Insights, Inc., the global clinical nutrition market is anticipated to surpass a valuation of over USD 80 billion by 2024.
Author Name :Ojaswita Kutepatil