Outlook
The high heat (heat stabilized) glass reinforced polyamide 66 market has emerged as one of the steadily growing niche verticals of the global polymers and advanced materials industry owing to continuous product development initiatives undertaken by major specialty chemical firms. The launch of a new series of high-heat glass reinforced polyamide 66 compounds by Teknor Apex is a testament to the extensive efforts being deployed to develop advanced polyamides that would cater to wide range of applications in the near future.
U.S. High Heat (Heat Stabilized) Glass Reinforced Polyamide 66 Market Size, By End-user, 2014 – 2025 (USD Million)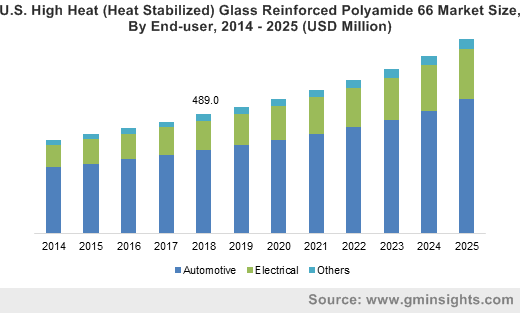 Named Creamid 240 H7.5, the new polyamides maintain high levels of critical mechanical features even after continuous service at temperatures of 240°C. It is also being said that the new product range offers the stiffness and strength of highly potent engineering polymers which is quite significant. Needless to mention, the launch of such compounds is favoring the commercial aspect of the high heat (heat stabilized) glass reinforced polyamide 66 industry. Moreover, the applications of the polyamide 66 are quite pronounced in the under-the-hood components of the automotive sector which has, in turn, fueled the product demand significantly.
Automotive sector to majorly drive the commercialization scale of high heat (heat stabilized) glass reinforced polyamide 66 industry
Amongst all the prominent application segments of high heat (heat stabilized) glass reinforced polyamide 66 market, the automotive sector has been majorly driving the demand for the polyamides in the last few years. It is being observed that almost all global automakers are undertaking metal replacement programs and are increasingly incorporating performance-boosting technologies along the likes of turbocharged engines, boosting the demand for glass reinforced polyamides.
In addition to the aforementioned factors, the demand for polyamides is gaining momentum owing to advanced transmission systems being recommended by regulators. In this context, it would be prudent to mention that these systems place stringent requirements for reduced water, chemical resistance, and heat resistance which necessitates the inclusion of glass reinforced polyamide 66 in a myriad of manufacturing processes.
Get a Sample Copy of this Report @ https://www.gminsights.com/request-sample/detail/3102
Speaking along similar lines, the product is used to manufacture several under the hood equipment such as oil filters, radiator tank parts, engines, and gears. Moreover, it has been observed that there is increasing trend of installing efficient combustion engines which subject plastic components under the hood to higher thermal loads.
Bearing this in mind, numerous high heat (heat stabilized) glass reinforced polyamide 66 market players are proactively upgrading their product lines and are focusing on development of new heat stabilization systems to increase the continuous operating temperatures of certain nylons. The Pittsburgh-based specialty chemical firm LANXESS, for instance, has recently launched its high-grade heat stabilization system's first glass-fiber-reinforced nylon 66 grade, named AKV35XTS2.
Elaborating further on the characteristics of the new product range, the new polyamides are being termed as ideal substitutes to heat-stabilized and costly specialty thermoplastics along the likes of fully and semi-aromatic PPS and nylons. In addition to this, AKV35XTS2 can be used to manufacture air intake modules with air ducts or an integrated intercooler near the turbocharger.
All in all, the launch of new heat stabilization systems and high-grade polyamides such as the aforementioned AKV35XTS2 is proving to be quite advantageous for the companies partaking in the high heat (heat stabilized) glass reinforced polyamide 66 industry. Furthermore, rising inclination of automakers to replace the conventional metal spare parts with new nylons has also benefited the growth prospects of this market sphere in the past few years. In fact, as per a research report prepared by Global Market Insights, Inc., the automotive sector is likely to register an annual growth rate of 8 percent by 2025, making it one of the fastest growing segments in the overall high heat (heat stabilized) glass reinforced polyamide 66 market.
Driven by the launch of new range of polyamides and heat stabilization systems along with increasing demand for the product from the ever-expanding global automotive sector, the remuneration portfolio of the high heat (heat stabilized) glass reinforced polyamide 66 industry is bound to exceed USD 4.6 billion by the year 2025.
Author Name : Saif Ali Bepari
Growing expenditure on infrastructure development has propagated the escalators and moving walkways market, in conjunction with the rapid urbanization of cities and changing demographics. Elevated income levels of the working class population in several regions has stimulated investments in constructing structures that have advanced and comfort-raising amenities. Lately, people moving equipment have become obligatory features in modern public buildings such as hotels, shopping malls and airports, triggering evolution of the escalators and moving walkways industry. While escalators allow for easy movement of people between floors of a building, moving sidewalks are essential in transporting people over short to medium distances, either along a level ground or at an inclined distance.
U.S. Escalators & Moving Walkways Market Size, By Application, 2014 – 2025 (USD Million)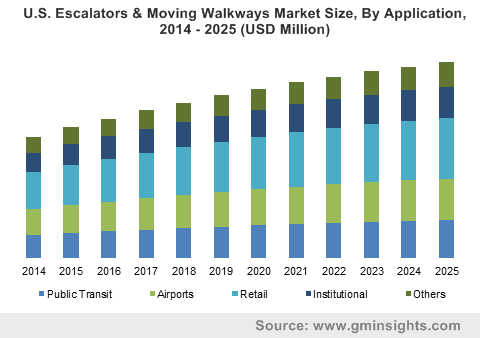 Ability to help in safe movement of people and their bags or luggage in communal settings has mainly driven the global escalators and moving walkways market, which is credited with accruing more than USD 15 billion remuneration in 2017. Due to the expansion of the transportation industry, bus and railway stations are developing and going beyond a single floor to accommodate operations or provide public resting areas. An emerging revenue source for the escalators and moving walkways industry is the installation of escalators in indoor and outdoor footbridges for encouraging commuters to utilize a safer way of crossing roads in busy areas. Budding tourism industry and expansion of international trade has instigated the development of bigger airports and along with it, established a key source of income for the escalators and moving walkways market.
To elaborate, Dubai International Airport's Terminal 3, opened in 2008, is the world's largest airport terminal and consists of two sections, Concourse A having 11 floors and Concourse B having 10 floors. The extensive facility has 97 escalators and 82 moving walkways to handle the entire terminal's capacity of handling 43 million people. With every airport around the world requiring passenger movement equipment and many more airports in the pipeline to be constructed, earnings for the escalators and moving walkways market from the airport segment is anticipated to grow at a 4% CAGR over 2018-2025.
Get a Sample Copy of this Report:@ https://www.gminsights.com/request-sample/detail/2790
The underground railway system in London, also termed as the Tube, is a vast network of interconnected subway system, with stations having multiple floors and the deepest station being about 58.5 meters below ground. As such, the Tube is another example pointing out the importance of the escalators and moving walkways industry in realizing safe commuting of millions of passengers that use public transport.
With efforts being undertaken worldwide to build taller and wider structures which incorporate commercial and retail businesses, the escalators and moving walkways market has achieved extraordinary progress not only in terms of revenue but also technological advancement. Office plazas, multistorey malls, industrial buildings and large residential complexes are presenting the need for energy-efficient infrastructure to reduce the overall cost of occupancy. The recently launched Link escalators from Otis, a leading manufacturer of people moving products, demonstrates the potential of energy optimization in escalators.
Speaking further, the Link escalator has upgraded safety, quality and reliability, while its innovative ReGen drivers deliver up to 60% less energy consumption in comparison with those without regenerative drives. Designed for easy maintenance and longest uptime, the Link escalators comprise of an extremely efficient lubrication system which use 98% less oil than manual lubricant system. A significant characteristic of the Link escalators is that 90% of the materials used in their manufacturing are recyclable at end of life. With the additional feature of being easily diagnosed for assessing escalator performance or sensing equipment deterioration using Otis' diagnostic tool, the Link escalators represent shifting trends in development of the escalators and the moving walkways industry.
The highly competitive dynamics of the escalators and moving walkways market has enforced major players such as KONE Corporation, Otis Elevator Company, Schindler, Fujitec, Thyssenkrupp AG, Hitachi Ltd and many others to come up with critical product features for promoting their services. A notable innovation in the escalators and moving walkways industry has been effected by KONE, which has displayed the opportunities created by connecting its products with the internet of things (IoT). For instance, in March 2018, KONE launched a cloud-connected escalator which, using the company's 24/7 connected services, provides vast quantity of data from sensors and allows for remote monitoring, analysis of real-time information.
However, the most interesting feature of the KONE's product is that it is the first ever Twitter-connected escalator and enables people to witness how it operates by sending timely tweets, while a 360-degree and virtual reality video is also available. The KONE escalator is invariably transforming the product landscape of escalators market. With a slew of such advanced products & innovations in pipeline, the escalators and moving walkways market is estimated to register a 4% CAGR from 2018 to 2025.
Author Name : Pankaj Singh
The global fuel cell market is expected to witness a significant growth trajectory attributed to the burgeoning need for space heating across commercial and residential sectors coupled with persistent efforts towards hydrogen fueling station development.
Many private and public establishments are stepping up their investment activities towards energy conservation. This proliferating financial support in tandem with advantageous government initiatives facilitating the advancements of sustainable energy technologies will be a tremendous driving factor in fuel cell market growth over the forecast period.
For example, in 2019, the Chinese government has proposed the construction of 20 hydrogen fueling stations and upwards of 3000 vehicles in the Hubei Province, expected to become functional by 2020.
A research report by Global Market Insights, Inc. estimates that the fuel cell market share is expected to exceed $7 billion over 2025.
Get a Sample Copy of this Report: @https://www.gminsights.com/request-sample/detail/621
The recent paradigm shift towards increasing financial interest in R&D and innovations coupled with the high efficacy and dependability of fuel cells as a substitute for traditional automobiles are likely to bolster fuel cell industry demand from the transport sector. As a matter of fact, in 2018, the Department of Energy or DOE announced their intention to spend $39 million for fuel cell and hydrogen fueling infrastructure development in North America.
Escalating demand for fuel cells across myriad automotive applications like trams, light vehicles, goods carrier vehicles, forklift trucks, two & three wheelers as well as small boats and ferries will contribute heavily to industry expansion. As per DOE reports in February 2019, fuel cell vehicles on road in the United States grew from 4000 in 2015 to an appreciable 6500.
Accelerating demand for fuel cell EVs and the subsequent rise in the installation of portable charging systems considering the proliferating number of recreational activities are set to add significant impetus to the fuel cell market outlook.
On the other hand, the need for stationary power stations, particularly in remote and off-grid locations is reinforced by several government-supported expenditures pertaining to infrastructure developments.
With respect to the product spectrum, the SOFC product segment is expected to exceed 30,000 units over 2025. Mounting fuel cell adoption across numerous small and large-scale stationary power generators, used to provide electricity access to remote locations is likely to present several lucrative growth opportunities to the market.
SOFC cells display commendable potential in high temperature applications, in the range of 800 degree Celsius to 1,000 degree Celsius and demonstrate efficiency levels of over 60% during their transition from fuel to energy.
Cost-effectiveness, high efficiency, reduced emissions, fuel flexibility and high stability are the key drivers propelling fuel cell market penetration over the projected timeframe.
Intensifying concerns regarding the security of energy and higher adoption of renewable energy sources is expected to foster South Korea fuel cell industry trends. Strong government support for R&D efforts towards development of innovative products alongside the steady expansion of hydrogen infrastructure will also enhance the business landscape in the region.
In fact, in 2018, the South Korean government revealed their plan of investing $2.33 billion towards the development of efficient hydrogen infrastructure nationwide, over the next five years.
Author Name :Saloni Walimbe