P2P
​Rising environmental concerns along with the implementation of government regulation will outline bike sharing market trends over the forecast period. Rapid modernization and urbanization has caused major traffic problems that has been associated with safety risks, air pollution, economic competitiveness, loss in relation with accessibility and sustainable growth.Bike sharing schemes offer transport flexibility, reduced congestion as well as fuel congestion and reduction in harmful emissions.
Increasing health consciousness among people owing to the rise in health conditions as a result of living a sedentary lifestyle will contribute towards expanding bike sharing industry share. Bikes play a major role in leading a healthy lifestyle and exhibit some key health benefits. The benefits of biking comprises flexible joints, stronger bones, lower body fat levels, improved cardiovascular fitness as well as reduced anxiety and stress levels.
Rapid advancements in technology has led service providers to install appropriate navigations systems in bicycles which helps people find their destination. The convenience delivered by the improving technology will foster bike sharing market size. Copenhagen had launched an efficient and innovative bike sharing program a few years ago that was offering GPS-enabled Android tablets with the bikes.
The new equipment was to help commuters schedule their travel by train or bike and ensure that they are aware of their new pick up connection.
Listed below are few trends that will likely fuel global bike sharing industry forecast:
Rising investments into startups
Key venture investments have been proliferating the growth of bike sharing market because of a large number of capitalists steadily investing in bike sharing start-ups in order to help them grow. Funding has recently taken off around the world and has been considered ideal for the first and the last mile transport. This has resulted in investors placing their bets on bike sharing companies. Companies in China that have already established their presence in the market have attracted significant investments.
Get a Sample Copy of this Report:@ https://www.gminsights.com/request-sample/detail/4302
Ofo, for instance, became the first bike sharing unicorn in China and scaled globally, showing clear potential to secure additional investments. The company was valued at $3 billion and has raised more than USD 2.15 billion in its series of funding by companies like Ant Financial and Alibaba. In the follow-on of Series E round, Ofo raised USD 586 million in March 2018 in order to fund its global expansion.
Hellobike, the third largest bike sharing platform in China had also raised an investment of USD 321 million from Ant Financial and has been trailing behind companies like Ofo and Mobike.
E-bike has been gaining a momentum due to an increase in the adoption of smart bikes. Key merits attached to this service is that it permits dockless operations which entails a light infrastructure at a much lower cost. Consumer preference towards E-bikes have been surging due to its cost effective features coupled with solutions that are eco-friendly, driving the expansion of bike-sharing market size.
PBSC Urban Solutions along with BIXI Montreal recently teamed up to offer next-gen E-FIT bikes that will seamlessly fit into the public bike systems. The bikes are lightweight and offer three-speeds for maximum rideability. After the combination with PBSC's E-station, the integrated batteries start charging right after the bikes are docked which has increased daily trips over 15%.
Affordability of free floating bikes
Free Floating bike sharing segment will witness a considerable growth over the analysis period owing to its affordability. Dockless bike share will reduce the cost of buildings or stations used for bike parking which in turn will help increase its deployment. Consumer inclination towards this segment will increase due to the convenience of parking bikes anywhere at their stop. The navigation system installed in these bikes help find their locations and can be unlocked through bike sharing apps.
The Ministry of Transport says that China has nearly 70 companies that have deployed over 23 million bicycles nationwide and have attracted more than 400 million users. With a revenue of $35 billion, this industry has helped create over 390,000 jobs. It has also been estimated that dockless bike sharing in China has helped reduce 400 million hours of time spent in the traffic. This has established a low-carbon network for transport and lessened the pressure for urban transport.
Major companies underscoring global bike sharing market forecast including Neutron Holdings Inc., Tembici, Divvy Bikes, Capital Bikeshare, Lime, Youon Bikes and Mobike. The players have consistently involved in gathering investments and collaborating with firms and governments for the expansion of their business.
Author Name : Riya Yadav
​
The appreciable growth of mobility on demand market is projected to be one of the most significant trends that the globe would witness in the next decade. The ongoing exponential popularity of ride hailing, car sharing and last-mile delivery services is just the beginning of a global shift away from personal vehicle ownership to a shared, on-demand model. Research shows that car sharing is capable of reducing car ownership with an estimation of 1 shared vehicle replacing 15 owned vehicles. The increasing cost of vehicle ownership, limitations on infrastructure expansion, increasing commute times, and the demand to curb GHG emissions have brought about a change in the millennial generation's relationship with automobiles, which is likely to significantly impact mobility on demand market trends.
UK car rental market size, by application, 2017 & 2024 (USD Million)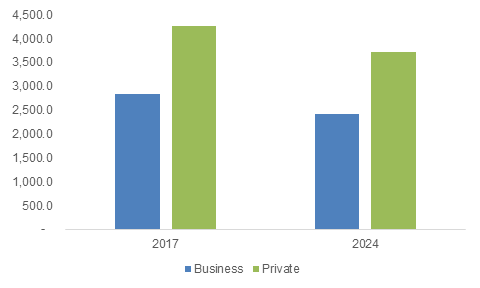 In the last century, private automobiles brought about a paradigm shift in urban mobility. But the dependency on oil, production of greenhouse gases, congestion and ever-increasing demands on urban land for parking spaces have created a combination of problems that has now led to an inclination toward on demand mobility. Statistics show that more than half the oil in the U.S. is consumed by urban vehicles that produce 20% of the total CO2 emissions. Additionally, the construction of new roads has not kept up with increasing transportation demand, complicating the situation further and causing soaring problem with congestion.
In 2011, studies exhibited that the urban American travel time has been increased by 5.5 million hours, a figure that is projected to increase by 50% by 2020. Parking compounds the congestion problem in an urban setting where land is already in short supply. Rapid increase in urban population, which is estimated to reach 5 billion by 2030 and rising trend of car ownership in developing countries will worsen the problems on a global scale. Inevitably, powered by the aforementioned factors, private automobiles have come to be widely recognized as unsustainable solution for the future of personal urban mobility, leading to the expansion of mobility on demand industry.
It is expected that globally, shared platforms will account for the most miles driven in urban settings by 2024. Given that car ownership is significantly high in Europe and North America, these regions might not register a game changing effect as far as the regional landscape of the mobility on demand market growth is concerned. However, in countries like India and China, where the government is battling to control conditions like traffic congestion and air pollution, mobility on demand market will gain commendable traction. Both the aforementioned nations for instance, have a low car ownership percentage, however, both are harbingers of emerging economies where the middle class is rapidly growing and is the recipient of increasing disposable incomes. With the hundreds of millions of newly affluent Chinese and Indians requiring more on-demand mobility, Asia Pacific mobility on demand market will witness robust growth in the ensuing years. Indeed, APAC mobility on demand industry size is expected to be pegged at $2 billion by 2024.
Get a Sample Copy of this Report@ https://www.gminsights.com/request-sample/detail/1229
Mobility on demand industry has seemingly brought about an upsurge in the development of autonomous vehicles. For instance, Uber is investing heavily in bringing driverless cars to the roads as estimates show that 60% to 80% of the revenues remain with the car owner. By eliminating the need of a driver, ride hailing services like Uber are persevering to keep most of the revenue with the service provider. The profit perspective is highly motivating the development of driverless and autonomous cars, that are in turn expected to profoundly change mobility on demand market trends within the next 5 to 15 years.
However, it is to be noted that autonomous vehicles may not entirely solve the problems of congestion in an urban setting, as a large number of vehicles will still be retained on the streets. Urban vehicles are often overengineered and underutilized, as an automobile is designed to attain speeds of 100 miles per hour but typically travels at 15 to 25 miles per hour. Statistics also point out that private automobiles are parked 90% of the time. In future, on demand mobility market is expected to march beyond the bounds of ride hailing and car sharing and present itself in the form of small electric cars which can be taken off a rack of such vehicles with the swipe of a user's card and can be dropped off in one such stack once the user has reached the destination. A development of this degree is certain to have a path-breaking impact on mobility on demand industry outlook.
The success of ride hailing services such as Lyft, Uber, and Ola has come to be highly dependent on new mobility on-demand market players, as they strive to build trust with key stakeholders such as regulators, consumers, insurers and investors. Using technologies to monitor and improve road safety is a vital part of this trust-building process that is certain to speed up the future of mobility on demand market. As public and regulatory confidence come to prevail, mobility on demand industry will witness commendable growth, with a CAGR estimation of 10% over 2018-2024.
Author Name : Sunil Hebbalkar
The rapidly rising popularity of shared mobility has had a commendable impact on car sharing market trends. This vertical has lately witnessed the penetration of numerous start-ups that have been following the example set by prominent automakers, who are presently experimenting with peer-to-peer car sharing plans for extensive generating more revenue. The strategy that seems to be on the radar is that of upgrading and utilizing the existing vehicles for shared mobility instead of launching altogether new vehicles. This tactic has primarily been conceived to minimize traffic congestion and emission issues. As the awareness among the masses regarding transportation convenience and flexibility increases, car sharing industry outlook is likely to observe a transformation of sorts. For the record, in 2017, car sharing market size had been pegged at USD 1.5 billion, and is anticipated to increase commendably in the ensuing years.
UK Car Sharing Market size, by model, 2017 & 2024 (USD Million)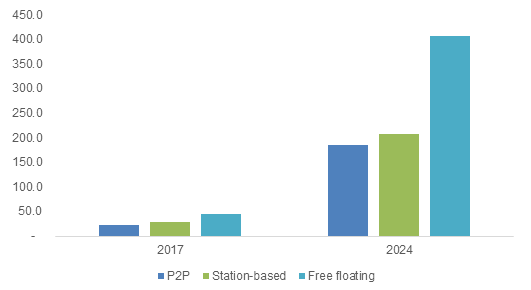 The advent of innovative technologies such as IoT, smartphones, and artificial intelligence have emerged to be rather lucrative for car sharing market players. Tech companies have been harnessing these applications to bring about advancements in cars in order to deem them convenient and user-friendly for shared mobility. The well-known ride hailing provider, Uber Technologies Inc., has recently developed a mobile supported software through which many users would be able to carpool via communication through the smartphone. Considering the ease of software-assisted ride-sharing services, the software is likely to be accepted and implemented by the masses. This further validates the fact that the increasing adoption rate of advanced technologies is slated to boost car sharing industry over the years ahead.
Presently, the competition among prominent participants in car sharing market is rather cutthroat. Companies have been vying against one another to consolidate their position in this business space, on the grounds of which they have been adopting tried-and-tested as well as novel growth strategies. A few days ago for example, renowned luxury car makers, BMW AG and Daimler AG collaborated to overtake ride haling services such as Uber Technologies, Inc. for which they conveniently have merged their car sharing services. The resultant team would comprise Car2Go of Daimler and DriveNow of BMW, thereby creating one of the strongest pooling service providers in car sharing market. In addition, they are also planning to launch smartphone apps for providing taxis, recharging electric autos, and locating parking spots. As other automobile behemoths would continue to follow suit, the revenue graph of car sharing industry is likely to witness an exponential rise.
Get a Sample Copy of this Report @ https://www.gminsights.com/request-sample/detail/719
Taking into account the increasing importance of ride-hailing across the globe, many players in car sharing market have also been planning to expand their geographical presence. One of the growth strategies they are likely to follow in this case is to offer reasonable and cheaper rates to consumers as compared to their rivals. For instance, the U.S. based car rental application operator, Turo is looking forward to expanding its reach across Asia by penetrating the Japan car sharing market by 2020. The company plans to collaborate with Sumitomo Corp. and other firms for the same and has even received a funding of USD 104 million. As of now, Turo has a wide range of customer base mainly across Germany, Canada, and U.S.
With new investors foraying in car sharing market lately, it is rather overt that the competitive scenario of this business space is doomed to be highly fierce in the ensuing years. Numerous service providers – the established ones as well as the new entrants, have been looking forward to implementing innovative technology features to their existing portfolio for attracting more consumers. In fact, it would seem as though the new stakeholders in car sharing market plan to offer cheaper services for establishing a strong user base across several geographies. This would, in turn, have a pivotal impact on the overall car sharing industry size, slated to register an appreciable CAGR of 20% over 2017-2024.
Author Name :Sunil Hebbalkar