Packaged
The liquid nitrogen market has been continually expanding over the last few years, ever since nitrogen was first liquified in 1883 and its usage in industrial processes surfaced. By 2025, the value of the liquid nitrogen market is estimated to be $17 billion, which does not come as a huge surprise, given the product's deployment in the food, healthcare, manufacturing, oil and gas and various other sectors. In regions such as Europe and North America, the liquid nitrogen industry has reached maturation as the application of LN2 in these regions is much more widespread than in regions like Asia Pacific or South America where the liquid nitrogen market is gaining ground.
U.S. liquid nitrogen market size, by transportation, 2014 – 2025 (USD Million)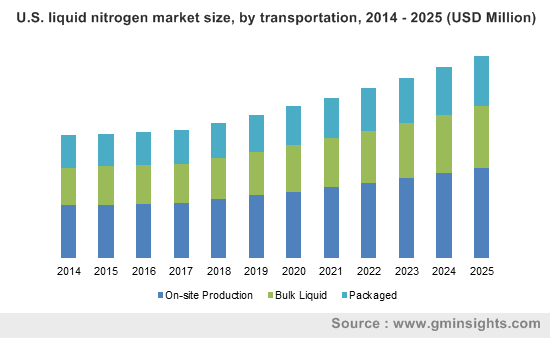 How is the F&B sector contributing to the growth of liquid nitrogen market?
The food industry is one of the major beneficiaries of the widespread usage of liquid nitrogen and the growth of food freezing over the past 30 years has in turn added to the growth of the overall liquid nitrogen market. The food industry utilizes two kinds of freezing namely cryogenic freezing where freezing is achieved with the use of liquid nitrogen and mechanical freezing, where foods are frozen using traditional freezing devices like spiral freezers, bed freezers etc. Cryogenic freezing has been garnering greater traction due to its lower capital costs and cheap production prices. Food companies have been able to lower their capital cost almost to zero while gaining large refrigeration capacity by renting cryogenic storage tanks from gas companies and buying liquid nitrogen as required.
Leaders in the food industry have been relying on the usage of liquid nitrogen for the freezing of poultry, dairy, meats and bakery products as well as of microwave meals, pasta, fruits and vegetables as the rapid freezing of food items with liquid nitrogen has various marketable benefits. Liquid nitrogen prevents the formation of crystals on foods besides preventing oxygen from reaching the food surface thus curbing bacteria growth which needs oxygen to grow and multiply. Where mechanical freezers can cause dehydration of products cryogenic freezers can avoid any dehydration, which in turn provides producers with a better yield. As the advantages of using Cryogenic freezing become more apparent, the liquid nitrogen market is expected to record a significant growth through the food industry over the next few years.
Get a Sample Copy of this Report:@ https://www.gminsights.com/request-sample/detail/2530
Unveiling liquid nitrogen market trends from the pharmaceutical sector:
In the pharma industry, liquid nitrogen application has gained major headway especially with the use of the product in cryoablation, a process that destroys cancer cells through freezing. Cryoablation has gained momentum over other procedures like radiofrequency ablation in the electrophysiology market mainly because of the simplicity of the procedure as well as due to successful clinical trial results which have sowed that patients are faced with fewer post-procedural complications in cryoablation.
Cryoablation is still a technology that can be said to be in its infancy with Medtronic being one of the only players in the cryoablation space of electrophysiology market. But recently Boston Scientific announced that it will be entering the cryoablation market as well which points that competition in the cryoablation as Boston Scientific has a much stronger portfolio. With other medical device and healthcare market players looking to expand their capabilities in early stage cancer treatment, it is predictable that liquid nitrogen market will register some major growth prospects through the increasing demand of the product in the medical space.
Oil and gas to come up as a profitable revenue ground for liquid nitrogen industry:
For the liquid nitrogen market, the oil & gas industry is one of the most prominent end-use spaces. With a commendable boost in shale oil and gas sectors in recent years and spike in hydraulic fracturing, enhanced oil recovery, which greatly involves the use of nitrogen, has witnessed revived interest adding traction to the liquid nitrogen market.
Powered by an increase in upstream activities include exploration and extraction, liquid nitrogen is among the industrial gas products used to enhance oil production rates and yields, while also lowering total costs. Many of the gas industry contenders are seen capitalizing on this demand for nitrogen products in oil and gas services in recent years as liquid nitrogen is extensively used in well stimulation, pressure testing, drill stem testing, coil tubing operations and cleaning and jetting.
Aided by its abundance of properties, the product finds scope across a plethora of expansive industries ranging from glass making to electronics manufacturing, as they all rely on nitrogen in some capacity or the other. As per Global Market Insights, Inc., the overall liquid nitrogen market is expected to collect a revenue of USD 17 billion by 2025.
Author Name : Paroma Bhattacharya
This entry was posted in Bulk & Specialty Chemicals and tagged Automotive, Bulk Liquid, Chemical, Food & Beverages, Global Liquid Nitrogen Market, Healthcare, Liquid Nitrogen Market, Liquid Nitrogen Market Size, Liquid Nitrogen Market Trends, Metal Fabrication, Oil & Gas, On-Site Production, Packaged, Pharmaceutical, plastic, Rubber, Transportation.