Packaging
​
Growing application across the construction and transportation industries is driving spray adhesives market size. The key benefit of spray adhesives is the convenience of application which speeds up the jobs and thereby improves the overall efficiency. Each type of spray adhesive has its own set of distinct characteristics which ensures high quality despite the task variations.The increasing demand from the furniture industry owing to the property of spray adhesives to bind a wide number of substrates will also propel market demand. Spray adhesives market outlook is currently driven by a number of significant trends, mainly pertaining to the robust application landscape that this industry boasts of.
Robust urbanization trends to augment spray adhesives market size from construction sector:
The rapid growth of construction industry is attributed to the improving standard of living and increased migrations from rural to urban areas. As the construction industry continues to expand, innovative technologies like heavy duty construction adhesives will come into play. Spray adhesives find several applications across the construction industry across insulation, flooring, walls, roofs, doors & windows, etc.
High strength spray adhesives can hold extreme temperatures and are used to replace nails and machinal fasteners spray which simplify the workflow with very little or no training required for the laborers. Newly developed spray adhesives not only improve the sustainability of the construction products but also optimize the processes by the faster curing times.
For instance, Sika has come up with a new innovative spray-applied insulation adhesive which reduces the installation times by up to 20 per cent.  The high foaming adhesive is suitable for both refurbishment and new build projects which strongly binds the insulation boards and the substrate, within a very less time enabling rapid project completion.
In this context, it is also pivotal to mention that the Asia Pacific region is expected to hold a substantial proportion of the market share due to rapid urbanization and industrial development. The growing construction activities across countries including China and India will also positively impact market growth.
Expansion of transportation sector to add impetus to spray adhesives industry outlook:
Considerable growth in global transportation sector will be a primary driver for spray adhesives industry size expansion. The transportation industry serves as the backbone for a country's economy – seamless transportation functioning can be credited majorly for a nation's rising economic growth. accounts for a majority of the transportation systems. For instance, the U.S transportation industry represents over 8% GDP in the country's economy.
Get a Sample Copy of this Report:@ https://www.gminsights.com/request-sample/detail/4311
Spray adhesives are majorly used for various manufacturing and maintenance activities of aircrafts, automobiles, rails, etc. Their characteristics like durable bond strength which resists vibrations and provides chemical & thermal resistance will foster the product demand.  Automotive adhesives are now widely used for replacing the conventional methods of joining parts, such as welding, riveting, or screwing, which speeds up the assembly line.
Besides the curing time, the bond strength is a central constraint for any robust adhesive. The ongoing R&Ds in line with the technological advancements in adhesive science will lead to the manufacturing of enhanced adhesive products in the years to come.
For instance, Delo, a manufacturer of industrial adhesives just broke the world record for the heaviest lift using an adhesive material. A crane lifted a 17.5-ton truck on a bonded aluminum cylinder creating world record, beating the previous of 16.3 tons. Such achievements by leading market contenders will augment the spray adhesives industry outlook.
The increase in number of car ownerships due to rise in per capita income is also expected to fuel product demand from the transportation end-user segment. As the transportation infrastructure undergoes a massive overhaul, global spray adhesives market will achieve significant gains in the years ahead.
Rising demand for aesthetic furniture to drive the industry trends over the forecast period:
The booming furniture industry is going through a transition currently owing to changing consumer preferences which creates a necessity of advanced adhesives. Polyurethane spray adhesives are highly preferred for manufacturing diverse furniture products. The improvement in consumer lifestyle has propelled intense demand for modular and attractive furniture which includes wide range of materials such as wood, laminates, iron, leather, and many other upholstery materials.
Appealing furniture designs enhance the aesthetics of an office or a house, and consequently, the rise in sales of commercial and residential properties will in turn fuel demand for new furniture. The furniture sector in UK specially witnessed an annual growth rate of +8% in 2018, which represents a positive future for the industry. According to the Furniture Industry Research Association, total consumer spending on furniture increased by +24% between 2012 and 2016.
Leveraging the widespread application spectrum, spray adhesives market size is driven by the growing product demand across the globe. A sudden surge in the construction and automotive industries will also positively impact the market share. According to a research report by Global Market Insights, Inc., spray adhesives market size is anticipated to exceed USD 9 billion by 2025.
Author Name : Amol Kothekar
​
Increased product demand from pharmaceutical and textile industries will drive bleached linter cellulose market growth in the forecast years. Bleach linter cellulose is a high viscosity substance made primarily from cotton linters. Compared to wood cellulose, cotton linters offer significant advantages like higher purity, higher brightness, and a lower content of hemi-celluloses. These characteristics make purified linters cellulose an ideal raw material for manufacturing high-quality products like tissue, gazes, high-quality paper for bank notes, nitrocellulose and cellulose ethers.
U.S. Bleach Linter Cellulose Market size, By Application, 2014-2025 (USD Million)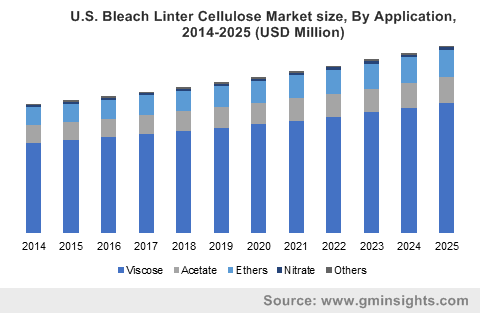 Increasing investments and rapid technological advancements are likely to expand bleached linter cellulose market size over the forecast period. For instance, in 2019, the GRETE project that aims to improve the existing wood-to-textile value chains by developing breakthroughs and increase production of man-made cellulose fibers in Europe was granted EUR 2.6 million by the Bio-based Industries Joint Undertaking (BBI JU). Swiftly growing food industry across developing nations is also anticipated to foster industry trends.
Based on application, it would be apt to state that cellulose ether will accrue a significant proportion od bleached linter cellulose market share over the coming years. Cellulose ethers are often used as viscosifiers, suspending agents, thickeners, binders, protective colloids, film formers, and stabilizers in industries like food, drilling, textile, building, ceramics, detergent, and cosmetics.
Increasing use of cellulose ethers like carboxymethylcellulose (CMC) and methylcellulose (MC) will drive industry outlook. For example, in the construction industry, CMC is used in cement and other building material compositions owing to its hydrophilic and stabilizing properties.
Get a Sample Copy of this Report:@ https://www.gminsights.com/request-sample/detail/3858
Supportive government strategies and investments in the construction sector will positively supplement cellulose ether segment in the coming years. For instance, according to European Construction Sector Observatory (ECSO) 2018, the UK government plans to deliver 400,000 affordable housing units by 2020-2021, financed through a new EUR 2.7 billion Housing Infrastructure Fund.
Growing demand for personal care and pharmaceutical products is likely to drive bleached linter cellulose market growth by 2025. In personal care industry, bleached linter cellulose is used to thicken and stabilize cosmetics and improve their moisturizing effects. Cellulose ether, pertaining to its characteristics like high glass transition temperatures, limited crystallinity, high chemical & photochemical stability, solubility, hydrogen bonding capability, and low toxicity is used widely in the pharmaceutical sector. Colored cellulose ether products can also be decolorized or bleached to attain an increased whiteness.
Growing use of cellulose ether in various medicinal drug formulations will accelerate product demand. For instance, methyl cellulose (MC) can be used for thickening, suspending, and achieving emulsion stability of liquid pharmaceuticals, and for film coating materials of low viscosity aqueous solution.
Ethyl cellulose (EC) can be used as the binder of tablets, as film coating material, or as the matrix material for developing various types of matrix sustained-release tablets. With growing application of cellulose ether and ethyl cellulose, bleached linter cellulose market will witness commendable proceeds from the personal care and pharmaceutical sector over the coming years.
Asia-Pacific bleached linter cellulose market is anticipated to record gains of over 3.5% in the forecast period. Availability of low cost raw materials in countries like India and China will supplement industry growth. In addition, surging demand from end-user industries like textile, food, pharmaceutical and personal care due to improving socio-economic trends will expand market size.
According to IBEF, India's pharmaceutical industry is expected to reach US $55 billion by 2020. Whereas the country's textiles industry is estimated to reach US$ 250 billion in 2019. With rapid proliferation in such key sectors, the Asia-Pacific bleached linter cellulose market is estimated to witness new growth opportunities over the forecast period.
Bleach linter cellulose is high viscosity cellulose made from cotton linters. Being non-toxic, odorless in nature and easy-absorbent, bleach linter cellulose can effectively be used in industries like food, ceramics, detergent, and cosmetics. Rising product penetration in the textile, personal care and pharmaceutical industries will majorly drive global bleached linter cellulose market growth. Global Market Insights, Inc., estimates bleached linter cellulose market size to reach US $1.3 billion by 2025.
Author Name : Mateen Dalal
Highlighting the rapid developments across the global flexible foam market, it would be pivotal to state the mention the Germany-based global leader in flexible foams, Armacell. Apparently, the firm has recently opened its new manufacturing facility in Bahrain. According to news reports, the facility has an annual operational capacity of 60,000-cu m of technical insulation foam, in turn providing a wide range of insulation solution for the domestic market including elastomeric insulation & high-density materials for HVAC (heating, ventilation, and air conditioning) systems. Industry analysts deem that Armacell's move to open flexible foam manufacturing facility will not only cater to the strong product demand in the Gulf region, but will also strengthen its foothold in the global flexible foam industry space.
Asia Pacific flexible foam market, By Type, 2018 & 2025, (Million Tons)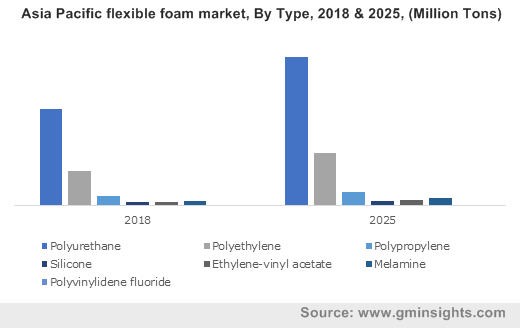 This German company, however, is not the only major flexible foam industry player that's seizing the growing product demand from myriad applications including packaging, construction, furniture & upholstery, bedding, pillows, carpet cushion, mattresses, consumer goods, and automotive interiors.  FRX Polymers Inc., recently for instance has introduced its Nofia non-halogenated polyphosphonates that will be used in UL 94 V-0 high-temp polyurethane flexible foams used in the transportation & electronic industries. For the record, Nofia phosphonate oligomers act as a flame retardant & heat stabilizer in polyurethane flexible foam products and retain mechanical performance.
A statement by FRX claims that the Nofia FR enabled the fire retardant polyurethane foam to conveniently handle higher temperatures – with respect to both, the continuous use temperature and peak temperature. FRX's launch of Nofia is an apt instance validating the significance of polyurethane as a vital type of flexible foam. The material apparently, is characterized by outstanding features such as light weight, lower installation time, enhanced resiliency, improved cushioning, lightweight, increased shelf life, and durability.
Get a Sample Copy of this Report @ https://www.gminsights.com/request-sample/detail/1735
Elaborating on the extensive deployment of polyurethane for introducing light weightiness in vehicles, it would be prudent to mention that high-density polyurethane foam components can be effectively coated to seem like the original product, and can be manufactured with a closed-cell structure that boasts of being water-tight. Ergo, the component is not susceptible to rotting, delaminating from water intrusion, or warping. PU foam is also equipped with exceptional self-skinning properties, making the product ready for painting or coating. This has consequently increased the deployment of PU foams in myriad automotive and aerospace applications, thereby driving the PU flexible foam market share.
Powered by its excellent characteristics, polyurethane foam is widely used across a spate of industry verticals. As a matter of fact, polyurethane dominated the overall flexible foam market in 2018, with a share of over 60% of the demand. Driven by its innumerable applications in lightweight automotive parts, as thermal insulation products in buildings, in automotive interior components, and as cushioning in beddings, upholstery, etc., polyurethane-based flexible foam industry is slated to traverse alongside a highly profitable growth path in the years ahead.
Speaking of the regional spectrum of flexible foam market, the APAC undeniably, has emerged as a forerunner, a feat that can be credited to the expanding automotive and consumer goods industries in the region. As a matter of fact, the continent boasts of increased expenditure on luxurious consumer goods coupled, thereby fueling the demand for memory foams in mattresses and beddings. The region's construction industry has also been undergoing a robust expansion of sorts, that has considerably increased the demand for flexible foams in the continent.
Powered by the expanding hospitality industry, specifically across the South-East Asian nations of Thailand, Singapore, Malaysia, Vietnam, and Indonesia, on account of supportive FDI policies, APAC flexible foam market share is anticipated to depict a commendable rise in the years ahead. Indeed, as per estimates, Asia Pacific led the overall flexible foam market share in 2018, accounting for more than 30% of the demand.
As the demand for flexible foams exhibit an incline across a slew of prominent industry verticals, the global flexible foam market is anticipated to gain quite some traction in the years ahead. The industry is also characterized by the launch of highly innovative products by numerous industry contenders. Say for instance, Deacom, Inc., the popular developer of a comprehensive ERP solution, recently concluded an implementation for an innovative PU foam chemical technology manufacturer, Foam Supplies, Inc., with Ecomate®, its patented blowing agent. The new system is expected to provide the technology foundation to manage Foam's production operations. Aided by a ferocious competitive spectrum and a widespread application landscape, the global flexible foam industry size is set to be pegged at USD 65 billion by 2025.
Author Name : Saipriya Iyer
Owing to the increased demand for high quality and low cost printing, the lithographic printing chemicals market has been steadily growing in conjunction with the development of the packaging, publication and promotion sectors. The ability of printing chemicals to be applied on numerous types of materials and surfaces has particularly cemented their place in global packaging space for producing large quantities of product packaging. The lithographic printing chemicals industry benefits from improved output and a quick turnaround time achieved in lithographic printing, supported with latest technologies for making minute adjustment in images. Rising need for efficient and outstanding packaging options, in addition to the consistent demand for regular publications and increased promotional spending worldwide has pushed the lithographic printing chemicals market revenue, that stood at USD 12.5 billion in 2017.
U.S. Lithographic Printing Chemicals Market Size, By Application, 2014 – 2025 (USD Million)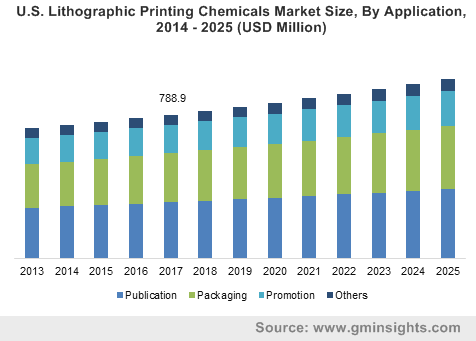 Essentially, packaging is one of most important aspect of a product development, though it might not be the first part a company works on. The lithographic printing chemicals industry has witnessed tremendous proliferation due to offset printing's dominance in the folding carton market globally, which serves a wide range of product applications. Manufacturing of folding cartons has always remained stable depending on the prevailing consumer trends and is a mature industry having a foothold in the food & beverages, cosmetics, consumer durables, among other segments. Valued at more than USD 75 billion per year, the global folding carton industry provides vital packaging options made from paper, cardboard, heavy solid board and light corrugated board. The need to apply quality and durable prints on such diverse packaging materials will give a significant boost to the lithographic printing chemicals market.
With the growth of emerging techniques like digital printing, offset printing has still been able to maintain its popularity, mainly attributed to the overall print quality and being more cost-efficient for large volumes. As such, most of the packaged food, perfumes, household product and beer companies use folding cartons that are offset printed, contributing heavily towards the earnings of the lithographic printing chemicals industry. Various packaging firms produce custom lithographic packaging for the beverage industry, for instance, Strong Haven offers custom designs to help brands increase their shelf exposure. It had recently designing a 12 bottle package for a brewing company, which had bold colors and graphics imprinted though lithography, after which the client reported a rise in the sales of its product lines.
Get a Sample Copy of this Report:@ https://www.gminsights.com/request-sample/detail/2938
The brewing company had credited the packaging as being the primary reason for the sales increase, further propagating the importance of offset printing and invariably, the lithographic printing chemicals market. Separately, Hop Kettle brewery had approached Saxon Packaging in May 2018 to help the company raise funds for the National Thames Path trail, for which Hop Kettle was to become the official beer. To support the brewery, Saxon developed litho printed beer gift packs and Hop Kettle expected to draw more customers through packaging which housed 3 beer bottles. Most major alcohol brands also use litho-printed folding cartons for packaging their products, indicating the massive growth potential of lithographic printing chemicals market.
Besides beverage, packaging companies catering to the food snacks sector also make extensive use of lithographic printing presses to make cartons and boxes for popular brands. They also invest in installing the newest machines which will help them in expanding production capacities and provide better packaging options to customers. Accurate Box, is a provider of high-quality graphics for corrugated packaging being used by major global brands like PepsiCo and Kellogg's, and is one of the largest litho-based packaging companies in the U.S. At the end of June 2018, the company added a new Koenig & Bauer Rapida 164 seven-color press for enhancing production capacity, speed and computerized quality systems. The machines is very effective in matching shades and images depending on the brands and has advanced color control capability along with quality measuring system.
All in all, with a worldwide surge in the consumption of food, beverages, fragrances and other products, the proportional increase in need for cost-efficient and aesthetically advanced packaging will propel the lithographic printing chemicals industry enormously. TCI Graphics, SICPA Holding SA, DIC Corporation, Flint Group, Siegwerk Druckfarben AG & Co., Huber Group and Tokyo Printing Ink Company are some key players in the global lithographic printing chemicals market, which is anticipated to reach more than USD 17.5 billion in remuneration by 2025.
Author Name : Pankaj Singh
Being one of the biggest beneficiaries of the developments in tissue bioengineering, polyglycolic acid market has garnered hefty proceeds in the medical sector. In fact, as per reliable estimates, the medical fraternity contributed to more than 60% of the overall polyglycolic acid market size in 2016. Widespread adoption of absorbable sutures has been a chief driver of the increasing demand for PGA from this sector. Reportedly, the global surgical suture market is already a billion-dollar space and is anticipated to witness remarkable growth in the ensuing years.
U.S. polyglycolic acid market size, by application, 2013 – 2024 (USD Billion)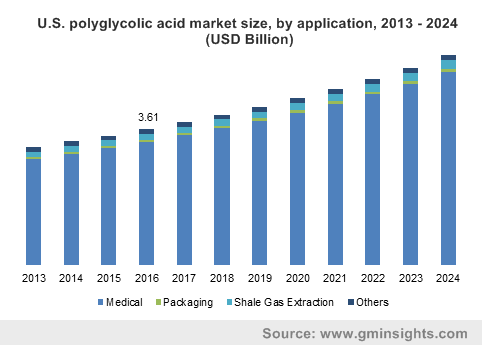 Elaborating further on the application arena of polyglycolic from medical space, tissue engineering, biodegradable bone graft polymers, transplantation procedures, cell culture, etc. are some of the renowned opportunistic areas generating a massive demand for PGA. Due to the biodegradable properties of PGA, it has been categorized as one of the most widely used biodegradable bone graft polymers. For the records, the global biodegradable bone graft polymers market is projected to witness a CAGR of 7.5% over 2017-2024.
Tissue engineering is also anticipated to provide a remarkable impetus to PGA market share, on grounds of the material being recognized as an outstanding support for tissue development. Speaking along similar lines, fiber form of PGA has been prominently used in the medical applications over the recent years, having held 40% of the overall polyglycolic market landscape in 2016.
Get a Sample Copy of this Report:@https://www.gminsights.com/request-sample/detail/2415
However, despite the medical applications holding a major chunk of polyglycolic industry size, the contributions of shale gas extraction and packaging domains has also been commendable. PGA has been widely adopted in shale gas extraction driven by its operational efficiency and cost reduction capabilities. In fact, as per a report by Global Market Insights, Inc. this sector is estimated to be catalogued as the fastest growing application of PGA market, with a target CAGR of 8% over 2017-2024.
In terms of geographical standards, North America stood as one of the biggest recipients of this application growth and led the overall PGA market in 2016. For the records, North America procured 60% of polyglycolic acid industry size in 2016, with U.S. as a chief revenue pocket. Allegedly, the United States, driven by its recorded shale gas production, has been classified as a prominent facilitator of the global energy change. As per the U.S. EIA, the country's natural gas consumption is estimated to reach 31.6 TcF by 2040. 56% of this growth is believed to be driven by upward development in shale gas production.
Europe is also forecast to stand tall in the regional hierarchy with an estimated annual growth rate of 8% over 2017-2024. The regional growth can be credited to the food packaging applications, which is predominantly focusing on recyclable and biodegradable solutions. Citing a relevant instance, RefuCoat, the EU-funded project, recently created quite a buzz in the regional polymer market landscape. Reportedly, the project aims at deploying high-performance coatings to develop completely recyclable food packaging endorsed with improved functionalities and gas barrier properties.  The move will provide a significant push to the Europe polyglycolic acid market trends, on grounds of the aforementioned hybrid coating comprising PGA and modified silica oxide as the key materials.
In this context, it is imperative to mention that the packaging applications have also been a prominent driver of global PGA industry trends, driven by the product's excellent biodegradability and flexural strength. PGA has seen a remarkable rise in its demand curve with its proven benefits over conventional plastics. As per estimates, 30% of the PGA industry application landscape was procured by packaging sector in 2016. Film form of PGA has been extensively used in packaging applications and is estimated to record a CAGR of 8.5% over 2017-2024.
All in all, the profitability matrix of PGA market is projected to remain high with the sustainability and biodegradability trends becoming mainstream. The competitive landscape is likely to be monopolistic, synonymous to that in 2016, with Kureha Corporation as the leading player. In terms of commercialization potential, global polyglycolic acid market is slated to surpass a revenue of USD 9 billion by 2024.
Author Name : Shikha Sinha
3M, one of the most acclaimed players in pressure sensitive labels and tapes market, has officially launched 3M™ FWBT (Fire and Water Barrier Tape), specially designed for firestopping in construction.  Reportedly, FWBT is integrated with pressure sensitive adhesives, that have the credibility to stick to a wide platter of construction substrates including damp surface both at low as well as high temperatures. Claimed as a revolutionary extension of the existing products encompassing the pressure sensitive tapes and labels industry, FWBT is reported to be the first of its kind that comprise self-adhered membranes to provide an elastomeric tough seal. In fact, the product range, as per experts' opinion, is deemed to garner a mass popularity in a wide range of site applications, subject to its flexibility in the size range spanning 51 mm-303 mm in width and 22.8 m in length. Reportedly, the newly launched ASTM and NFPA approved pressure sensitive tapes, that can be utilized for a diversified range of customized applications, as per experts' opinion, in all plausibility, would bring a disruption in the entire pressure sensitive tapes and labels industry.
U.S. Pressure Sensitive Tapes & Labels Market Size, By End-user, 2013 – 2024 (USD Billion)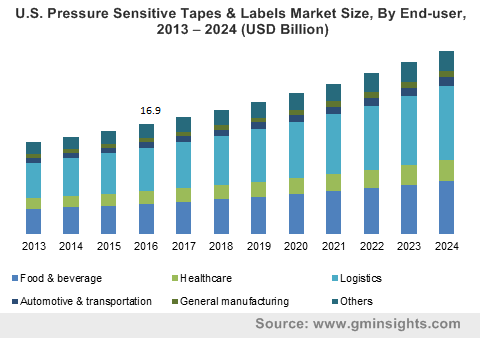 With technology making a strong footprint in packaging sector, it won't be irrefutable to declare that the development of pressure sensitive labels and tapes market is heavily influenced by the changing trends of flexible packaging industry. As per estimates, global flexible packaging industry is claimed to cross a humougous revenue of USD 250 billion by 2024, validating a slew of opportunities for pressure sensitive labels and tapes market players.  With global population treading toward sedentary lifestyle such as long working hours, packaged food consumption has not only upscaled in developed economies but also emerging countries. In consequence, this has led to an escalating demand for pressure sensitive labels and tapes market, given the fact PSA (pressure sensitive adhesives) is a one stop solution to many requirements including metalized PET or customized removable packaging.
Get a Sample Copy of this Report:@ https://www.gminsights.com/request-sample/detail/383
Regionally, Asia Pacific undoubtedly stands at the vanguard of pressure sensitive tapes and labels industry, amply evidenced from reliable statistics. According to some trusted reports- APAC flexible packaging market attained a valuation of USD 35 billion in 2015- a mammoth figure that parallelly sets the ground lucrative for the regional pressure sensitive labels and tapes market. Growing urban population level and subsequent improvements in consumer lifestyle, along with profound developments in retail infrastructure serve to support the increasing demand for packaged food across this belt, China, Indonesia, India, and Thailand in particular. In fact, statistics claim, globally, India is one of the rapidly emerging packaging markets, with a valuation of USD 40 billion in 2016. Needless to mention, with significant proliferation in food packaging sector, the demand for sealing materials with superior bonding properties has also witnessed a marked rise, which has undeniably stimulated pressure sensitive labels and tapes market. As per estimates, the regional pressure sensitive tapes and labels industry is slated to record a y-o-y growth of 7% over 2017-2024.
it is imperative to mention that one of the major restraining factors deterring pressure sensitive tapes and labels industry growth from packaging applications is the environmental concerns associated with plastic film based pressure-sensitive tapes.  Concerns related to life cycle analysis, emission level, recyclability, performance, and compatibility of these tapes are prompting the market players to come up with competitive alternatives like hot melt pressure sensitive tapes. However, in this regard, experts claim, when pressure sensitive tapes are utilized for the closure of corrugated containers, these tapes do not interfere in the recycling process, ensuring the environmental sustainability. With an escalating demand for corrugated box packaging in tandem with a strict regulatory frame of reference in place, pressure sensitive tapes and labels industry is forecast to cross a mammoth valuation of USD 150 billion by 2024.
Author Name : Satarupa De
The swift emergence of masterbatch market on the global business landscape can primarily be attributed to the ever-rising demand for masterbatches in a host of end-user sectors including automotive, agriculture, consumer goods, construction, and packaging among others. The rapid expansion of these end-user industries has, in turn, vigorously augmented the pace at which the masterbatch industry has been progressing in the recent times.
U.S. Masterbatch Market Size, By End-user, 2013 – 2024 (USD Million)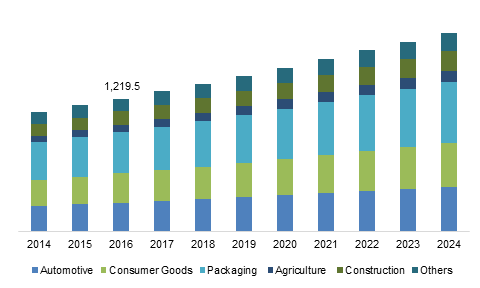 Moreover, in a bid to enhance the quality of the existing bio-degradable masterbatches, which are predominantly utilized to manufacture agricultural films, a range of prominent masterbatch industry participants have been initiating a sizeable number of research and development activities which has further embellished the growth potential of this business space. As a consequence of the aforementioned factors, the overall masterbatch market has, of late, been garnering considerable recognition as one of the most fledgling and promising verticals of the worldwide polymers and advanced materials industry.
The consistent research and development activities being undertaken to develop advanced tech has eventually improved the application of polymers as an alternative to traditional auto parts made of metal. This has necessitated the increased production of polymer auto parts in the automotive industry, given that they provide better durability and high strength. Moreover, the massive investments being made to develop electric vehicles would further drive the masterbatch market size expansion. Owing to the aforementioned factors, the automotive industry, out of all end-user industries, seized a commendable share of the masterbatch market revenue share in the year 2017. As per reliable reports, the masterbatch industry size from automotive sector is projected to record an appreciable y-o-y growth rate over 2018-2024.
Get a Sample Copy of this Report:@ https://www.gminsights.com/request-sample/detail/2362
Concurrently, it is rather imperative to take note of the fact that the leading industry participants appear to be optimistic pertaining to the prospective growth of the global masterbatch market size. Apparently, as a result of the increased optimism, it is being observed that a number of preeminent market players have been investing heavily to expand their current production capacities to cater the growing product demand from the diverse end-use industries arena. Following are a few instances which demonstrate the growing prominence of expansion strategies that are being undertaken across the globe:
The U.S. based plastics material and resin manufacturing firm A. Schulman, for instance, has recently made it to the headlines for expanding its current capacity for color masterbatch production in Europe. The firm, regarded as one of the major masterbatch industry players, has reportedly announced to add three additional extruders to its manufacturing plants in Italy, Hungary, and Poland. This expansion, according to industry analysts would complement the firm's existing manufacturing facilities and competence centers where customized color masterbatches are developed. Needless to say, this proactive move by A. Schulman would undoubtedly boost the masterbatch market size in Europe.
Switzerland headquartered specialty chemicals manufacturer, Clariant has recently inaugurated its new cutting-edge masterbatch production plant in Saudi Arabia. The facility, a joint venture between Clariant and the Kingdom's leading plastic products manufacturer Rowad, is being built in Yanbu Industrial Zone and would chiefly focus on white masterbatches production. The additional capability would allow the firm to accentuate its profitability quotient and extend its masterbatch market share in the Middle East and Africa region.
Owing to the vast expanse of end-user industries coupled with the efforts that are being employed by the foremost masterbatch industry giants to expand their reach across the globe, it is anticipated that this business space would undergo remarkable alterations in the immediate future. According to a report collated by Global Market Insights, Inc., masterbatch market size is anticipated to surpass a total remuneration portfolio of USD 13 billion by 2024.
Author Name : Saif Ali Bepari
Considering the remarkable contribution of paints & coatings across myriad industrial domains, painting tools market is gaining popularity across the construction, automotive, packaging, and wood coatings sectors to fulfil the requirement of aesthetics via paint application. The advent of automation and the numerous technological advancements coming to the fore by the day have led to the introduction of improved painting techniques. For instance, various automotive giants have of late, attempted to implement robot assisted paint shops, subject to the complications arising in the manual painting process. In addition, robotic painting also reduces the elements of excess labor and toxicity, owing to which companies have been trying to invest in and commercialize robots for industrial painting, thereby augmenting painting tools market share. Such advancements in the operational processes may lead to an increase in productivity and enable convenient utilization of painting techniques, thereby boosting painting tools industry outlook over the years ahead.
North America Painting Tools Market, By Product, 2018 & 2025, (USD Million)

Growing industrialization and urbanization across the various regions of the globe are likely to fuel the demand for painting tools. Brushes, rollers, gun sprays, etc., are some of the crucial and commonly used painting tools. Various regional governments and private organizations across the globe have been investing heavily in infrastructure developments, subject to the requirement for paints that will prevent chemical attacks, abrasion, and enable protection from UV rays. Nowadays, different types of coatings are available for different kinds of surfaces, which necessitates the requirement of various types of tools. Increasing usage of paints is thus, likely to favor global paints and coatings market, and by extension, will impel painting tools industry share noticeably.
Painting tools market share from construction applications is predicted to witness a CAGR of 6% over 2019-2025, owing to the increasing industrialization and escalating housing need of the rapidly growing population. As per Global Market Insights, Inc., "Worldwide painting tools market will generate a revenue of more than USD 15 billion by 2025."
Apart from the construction, the product finds applications in the automotive sector as well. Various automotive manufacturing companies such as Audi, Volkswagen, Opel, BMW, and Mercedes-Benz have been using painting tools to improve the appearance of the vehicle via painting. The products are prominently used across Europe, since the region has a strong base of automotive giants. Statistics claim Europe painting tools industry to have garnered a revenue of USD 2 billion in 2018.
Get a Sample Copy of this Report@ https://www.gminsights.com/request-sample/detail/1843
Industrial painting is a rather complex process and requires the usage of highly efficient tools. Painting tools industry giants have been focusing on development of eco-friendly and efficient spraying tools of late, to ease the process of painting. In fact, the electrostatic manual spray gun is one of the emergent technological advancements in spraying tools. With the introduction of new advanced materials such as the Graco designed FRP based spray gun, which is light, reliable, and low maintenance, the complications in the painting process for automobiles has considerably been reduced. Reportedly, spray guns held more than 20% of the painting tools product landscape in 2018, largely driven by their applications in automotive sector.
Industry giants are engaging in strategic collaborations and mergers & acquisitions to widen their customer base across numerous geographies. The key players in painting tools market are Braun Brush Co., Gordon Brush, Richard Tools, EPOS Egypt, Dura Paints, Purdy®, Milton Brushware, MAAN, Mill-Rose Company, Nespoli Group S.p.A, USA Tools, Anderson Products, Shawky Brush & Roller Factory, Harbor Freight Tools, Makinah, and Allway Tools, Inc.
Author Name : Sunil Hebbalkar