Paints & Coatings
The global methyl isobutyl ketone market is slated to amass huge gains over the coming years, owing to the substance's excessive use in insecticides and pesticides. These are essential for growing more food on less land by protecting crops from pests, weeds, and diseases. Whether from natural or synthetic sources, almost all commercial crop producers rely on pesticides, which include methyl isobutyl ketone.
U.S. Methyl Isobutyl Ketone (MIBK) Market Size, by End-use Industry, 2014 – 2025 (USD Million)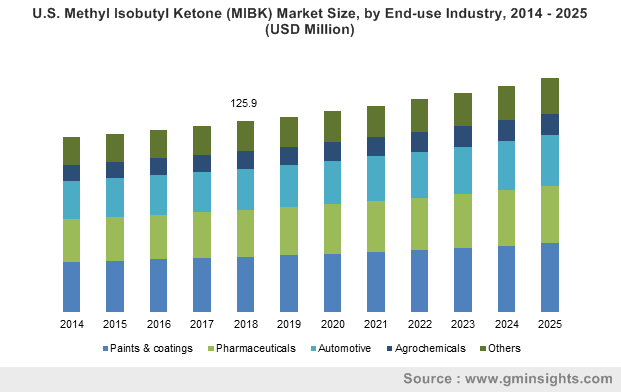 In this context, it would also make sense to state that the rapid expansion of crop protection insecticides market is a key indicator demonstrating the growth of methyl isobutyl ketone market in the upcoming years.
How is the availability of fertile land impacting the business arena?
The agriculture sector in today's day and age is under a stressful phase. The world needs more food, labor force, and fertile land to feed a rapidly growing population. The global population is anticipated to reach 9.8 billion by the year 2050. As a result, the demand for food will be 60 percent more than what it is today, but issues such as urbanization, climate change, and soil degradation will have reduced the availability of fertile land.
However, through pesticides, farmers can grow bigger crops on less land and increase productivity considerably. Since less area is used, it can also help reduce soil erosion, while controlling invasive pests and species. Hence, the declining availability of fertile land will pressurize farmers to focus on crop quality and quantity, which will in turn, boost the adoption of pesticides, thereby benefiting methyl isobutyl ketone industry share.
Are rising incidences of foodborne diseases driving product demand?
Crops are always susceptible to numerous kinds of species, weeds, and plant-eating pests that threaten the crop productivity. The threat doesn't stop there, once an infested crop leaves the field, it can spoil the produce during the storage and transportation process as well, impacting consumers via severe foodborne diseases.
Get a Sample Copy of this Report:@ https://www.gminsights.com/request-sample/detail/2561
According to a credible source, around 1 in 10 people globally fall ill from eating food that is contaminated. A huge example concerning the matter is the 2017 E coli outbreak in the US from Romaine lettuce, following which 200 people fell sick, 96 were hospitalized, and five succumbed to the disease. Pesticides can help prevent disease outbreaks by killing insect populations that carry deadly bacteria. The increasing prevalence of foodborne diseases, stringent norms, and rising awareness pertaining to food security will thus boost the demand for insecticides, thereby proliferating methyl isobutyl ketone industry share.
Is growing preference for organic farming a positive sign?
Speaking of food safety, synthetic pesticides have also taken a beating for their high toxicity. High exposure to pesticides is said to cause several serious illness and diseases in humans, including respiratory diseases and cancers. To enhance productivity without posing a threat to consumers, manufacturers are now experimenting with organic pesticides which is further supported by the increasing acceptance for organic farming. Incidentally, the rising preference for organic food is also driving biopesticides market, the expansion of which is impacting methyl isobutyl ketone industry outlook.
Along similar lines, biotech firm Bionema recently raised £180,000 to develop biopesticides that can substantially reduce the dependency on chemicals for crop pest control. The company already is already marketing some products and plans to launch new biopesticide products by 2021. Methyl isobutyl ketone manufacturers use this chemical in organic pesticides and agrochemicals, which makes organic farming and increasing use of organic agrochemicals a positive driving force for the methyl isobutyl ketone market.
The global methyl isobutyl ketone industry is slated to be fueled by the rising need to produce high-quality yields in tandem with increasing demand for food. In addition, increasing need to prevent wastage of potential produce due to bacteria and plant-eating insects will present methyl isobutyl ketone manufacturers with huge opportunities in the crop protection market.
Apart from this, increasing government efforts to boost agricultural development, particularly in rural regions, will further contribute to market growth. For example, the government of India is reportedly aiming to double farm incomes by 2022. Successful achievements of such targets will empower farmers and agricultural firms to adopt more effective practices that involve the use of expensive organic or synthetic agrochemicals, that will eventually favor the global methyl isobutyl ketone industry. Furthermore, a research report by Global Market Insights, Inc. estimates methyl isobutyl ketone market to be worth more than $800 million by 2025.
Author Name : Krithika Krishnan
With a major surge witnessed in the construction industry, the global silanes market is also expected to witness significant growth trends as silane finds wide application in the construction industry for its favorable adhesion and noise insulation properties. Apart from its use in construction, silane also acts as a good medium for improving performance of paints and coating by imparting crosslinking abilities for coatings to adhere to a wide variety of substrates.
U.S. silanes market size, by application, 2013 – 2024 (USD Million)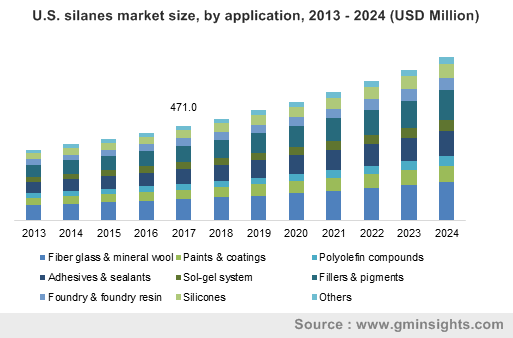 Such properties are desirable not only in the construction industry but also in automotive, paints and coatings, packaging etc. which has provided silanes industry with a wide expansion scope. Moreover, silanes are used as a precursor to elemental silicon which in turn has found widespread application in the electronics industry as the chief element in semiconductors. The myriad applications of silane in industries that are rapidly expanding have helped propel the silanes market, which is expected to surpass $3.9 billion by 2024 in terms of valuation.
According to a report compiled to predict the dominating trend for global construction by 2030, it was noted that U.S., China and India would be the leading countries that world impart a major boost to the global construction industry. It is anticipated that by 2030 the global construction output will grow almost by 85% and generate almost $15.5 trillion in terms of revenue with the three leading countries accounting for 57% of the total growth. The U.S. construction market is expected to expand faster than the China construction market with an annual growth rate of 5% and the former will overtake the latter within the next 15 years.
Get a Sample Copy of this Report @ https://www.gminsights.com/request-sample/detail/1266
Meanwhile construction rates in India will eventually overtake that of Japan and by 2021 become the third largest construction market in the world. In fact, the Indian construction market is anticipated to grow almost twice as fast as China with the urban Indian population estimated to reach 165 million by 2030, Delhi becoming the world's second largest city with 10.4 million people. By 2030, Indonesian construction industry is also expected to overtake that of Japan and in Latin America, Mexico will overtake Brazil.
With such positive growth statistics, predictable that silanes market will witness significant expansion over 2018-2024. Silane is extensively used in the promotion of fiberglass and mineral wool adhesion, materials that are widely used in the construction industry. Mineral wool is used to promote acoustic insulation in the residential and commercial buildings as well as for thermal insulation which helps in energy conservation. Therefore, the silane market is growing with the heavy demand created in the construction industry.
Speaking of energy conservation and increasing energy efficiency in buildings, various government initiatives have been launched that ensure that builders adhere to the strict rules of constructing buildings that are help in the conservation of energy and bringing down the carbon footprint of buildings. For instance, the Indian Ministry of Power recently launched the ECO Niwas Samhita that is essentially a code for energy conservation in construction of residential buildings. The move has been undertaken keeping in mind the significantly expanding building sector and the fact that in the coming 10 to 15 years, residential buildings will create the highest demand for energy. With the code being implemented with an intension of saving up to 125 billion units of electricity per annum by 2030, it is imperative that materials like silane will be used extensively to achieve such energy efficient construction ends, clearly adding a major boost to the silanes industry.
Silane also finds application in the manufacturing of solar cells and considering the booming solar energy industry in North America and Europe, it is anticipated that the silane market will register major growth trends through the deployment of increased solar power application in the two regions. Notably, the global solar photovoltaic capacity, which was 5 GW in 2005, has increased to 306.5 GW in 2016 with Germany alone having installed 41.3 GW of solar PV. In 2016, the solar PV market in the U.S. has been estimated to have worth $4.7 billion with solar technologies being heavily funded and the Solar Investment Tax Credit adding to the incentives of investing in solar power expansion.
With solar power being one of the most intensively used form of renewable energy, silanes market will garner momentum on account of the product being a constituent of solar PV and amass significant growth in terms of revenue over 2018-2024.
Author Name : Paroma Bhattacharya
Owing to a widespread application portfolio along with the increase in pyrotechnic activities, the global strontium market has been observing a remarkable growth over the last few years. Numerous research studies have revealed that strontium plays a crucial role in keeping bones healthy. It slows the rate of bone loss, assists in calcium absorption, prevents bone pain, helps in restoring alkaline state, enhances resistance to fracture, regulates bone breakdown, and boosts bone formation. Natural strontium has proved to be helpful in relieving the bone pain in patients with metastatic bone cancer, as per reliable sources.
U.S. Strontium Market Size, By Application, 2014 – 2025 (USD Million)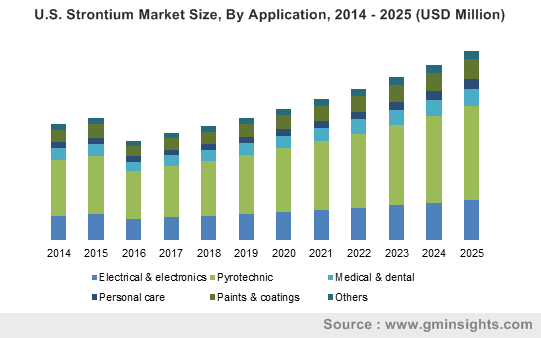 It has also been found that supplementation with strontium deposits the mineral in the bone lesions, essentially suggesting a possibility of utilizing the element to mineralize areas in which cancer-associated bone loss has occurred. Owing to all the superior properties and benefits mentioned above, strontium is being widely used in medical and dental applications in the recent times. In fact, as per the research report by Global Market Insights, Inc., the medical and dental application segment is slated to account for nearly a tenth of the overall revenue share of the global strontium industry by the end of 2025.
Speaking along similar lines, several biotech and pharmaceutical majors have focused on developing products fortified with strontium chloride to mitigate cancer bone pain in patients suffering from painful skeletal metastases. The biotechnology acceleration development firm Q BioMed Inc., for instance, recently filed a supplemental regulatory application with the U.S. FDA to receive the approval to construct its new production unit, which would develop non-opioid injectable named Strontium Chloride Sr89 Injection USP.
Get a Sample Copy of this Report @ https://www.gminsights.com/request-sample/detail/1291
For the record, FDA has already approved the drug which reduces bone pain in patients suffering from bone metastases. The survival rates of patients with prostate and breast cancers, which are at high risk of developing bone metastases, would witness an uptick owing to the development of superior drugs and injectables such as Strontium Chloride Sr89 Injection USP. This would, in turn, fortify the medical and dental applications segment of the strontium industry in the upcoming years.
Increasing usage of strontium in pyrotechnic across the APAC nations set to boost the valuation of global strontium industry
The increasing usage of firecrackers on festive occasions in Asian nations such as China and India have resulted in strong demand for pyrotechnic operations in this region. In this regard, it would be prudent to mention that the colors of most modern fireworks involve metal chlorides – one of the most prominent being strontium chloride. These pyrotechnic operations are majorly deployed in several entertainment activities along the likes of sports events, concerts, and various ceremonies, essentially boosting the Asia Pacific strontium industry share which is estimated to register an annual growth rate of 6.5 percent over the projected time frame.
While the growth in pyrotechnic activities is on the rise, the usage of synthetic strontium is likely to decrease as stringent government regulations are being implemented to curb pollution across several nations. Moreover, steps are being taken by prominent research organizations to develop eco-friendly firecrackers (devoid of strontium nitrate) to reduce air and noise pollution.
In this context, it would be imperative to take note of the less polluting firecrackers recently developed by CSIR, the premier national R&D organization of India. Needless to mention, the development of green crackers, e-crackers and less polluting firecrackers would diminish the demand for strontium for pyrotechnic activities, essentially limiting the growth prospects of strontium industry in the times to come.
Companies such as Chemalloy Co, NOAH Technologies Corporation, Shenzhou Jiaxin Chemical Co., Prochem Inc., Joyieng Chemical Limited, Canteras Industriales, Química del Estroncio, BassTech International, Solvay, and Sakai Chemical Industry Co., constitute the competitive landscape of strontium market. Driven by strong growth in medical and dental applications segment along with the increasing usage of strontium in pyrotechnic activities, the strontium industry is set to garner substantial proceeds in the years ahead.
Author Name : Saif Ali Bepari
The global industrial solvents market is anticipated to make promising gains in the forthcoming years, on account of burgeoning demand for printing inks, paints & coatings, and cosmetics products across the globe. In addition to this, industrial solvents are also widely used in the pharmaceutical sector, impelling the industry share. For instance, pet shampoos utilize solvents to dissolve a medicinal drug for topical treatment, provide moisture, and soften animal hair & skin.
U.S. Oxygenated Solvents Market Size, By Application, 2017 & 2024, (Kilo Tons)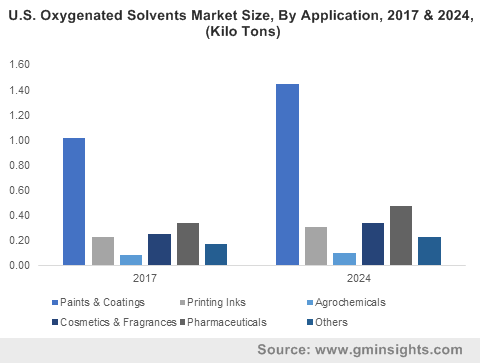 Industrial solvents are often used to dissolve ingredients and empower various solutions & manufacturing processes. They offer additional value in cosmetics, paints & coatings, adhesives, and lubricants because of their high solvency rate. For instance, Isopropyl alcohol is a multi-use solvent, which is often used as disinfectant in homes, and as an industrial solvent to dissolve substances, such as resins and oils, in production processes across various industries. The growth in manufacturing sector coupled with favorable regulatory outlook, especially in emerging economies, would positively favor industrial solvents market growth in the ensuing years.
The paragraphs below explore the growth prospects of the industrial solvents market with respect to the application landscape:
Paints & Coatings
The global paints & coatings market is anticipated to witness an upswing in terms of revenue in the approaching years, due to rising adoption across the building and construction sector. The paints & coatings industry is one of the biggest consumers of industrial solvents, attributable to the capability of solvents to disperse or dissolve the components in paint formation, to create paints of the desired consistency and eliminate globs or clumps. Apart from the construction sector, paints and coatings are widely used in the automobile industry. For instance, glycol ether esters are at times added to certain spray paints to avoid drying up in mid-air. The slow-paced evaporation of this powerful solvent group enables cars and other vehicles to get a smooth and flawless paint application for an appealing and durable finish.
Get a Sample Copy of this Report:@ https://www.gminsights.com/request-sample/detail/2706
In addition to the factors mentioned above, it is important to note that no single solvent has the capability of dissolving all of the film-forming ingredients employed in contemporary coatings. The application of optimal thinners and reducers is usually needed, which consists of blends of various solvents, wherein each can dissolve one or more ingredients within a given coating formula. This has been leading to increased product usage per application, thereby considerably contributing towards industrial solvents market growth.
Printing Inks
Numerous printing inks, used worldwide to print everything from books to food packs and labels, rely heavily on industrial solvents for accurate application to attain the vivid colors. In printing inks applications, solvents are implemented to regulate viscosity and permit flow without harming printing rollers. As with paints and coatings, solvents advance drying for contemporary fast-paced printing presses.
Printing inks applications have leveraged the potential of industrial solvents in a number of ways. For instance, the use of smudge-resistant ink in newspapers means no more finger staining and illegible print. Speaking of computer printer inks, they dry really very fast and are highly smudge resistant. Thus, the wide application spectrum of printing inks and brisk advancements in ink technology will create a powerful launch pad for industrial solvents market to reach new heights.
Cosmetic and Fragrances
The cosmetic industry relies heavily on industrial solvents to dissolve ingredients and increase the efficiency of products. Industrial solvents are widely used in lotions, shaving creams, face creams, and talcum powders to maintain the consistency of the product. For instance, Ethanol is hugely preferred by perfume companies as their solvent of choice due to its low odor. Indeed, the low boiling point of ethanol allows the solvent to evaporate rapidly and does not let it remain on the skin.
Likewise, acetone or Ethyl acetate is an important ingredient of nail paints and is especially looked upon for its fast-drying potential. Besides, it also finds applications in nail paint removal products, owing to its high solvency characteristic which enables the nail paint to be removed easily from the nail. Amidst this backdrop, it is prudent to mention that industrial solvents market share will soar high in the years to come, because of abundant product demand from cosmetic and fragrances applications.
Having realized the immense potential of the industrial solvents market, prominent companies such as Shell, Arkema, Honeywell, BASF, and Total have made considerable investments in R&D programs and product innovation to serve the evolving consumer demand better. Powered by the rapid expansion of the paints & coatings applications in tandem with growing infrastructure industry, the industrial solvents market is projected to attain commendable gains in the approaching years.
Author Name : Nikita Chaurasia
Pertaining to the surging importance of soybean pertaining to its many medicinal benefits, soy chemicals market has emerged as one of the most profitable spheres of the healthcare cosmos. Experts assert that the consumption of soy can lead to a reduction in cardiovascular diseases, breast cancer, as well as cosmetic and dermatological problems. In addition, soy injections help patients with diabetes mellitus to improve metabolism. Considering the nutritional benefits of soy, most of the nutritionists have been encouraging the consumption of soy and its food derivatives that has resulted in the demand upsurge for soy-based drugs and food products on a large scale. On these grounds, several medical companies have been developing soybean oil-based medicines, providing a push to soy chemicals market trends.
U.S. Soy Polyols Market Size, By Application, 2017 & 2024, (Kilo Tons)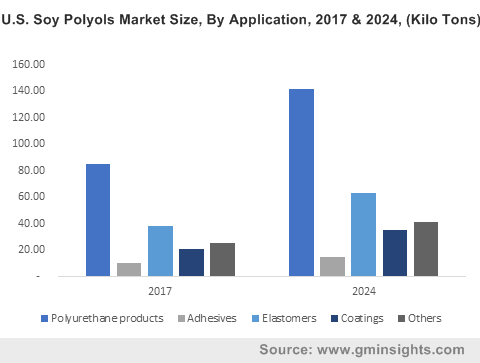 Nowadays, several restaurants and food companies have been making tall claims about having incorporated heart-healthy oils in their products such as dressings, bottled oils, baked goods, snacks, and dips to attract more consumers who have been trying to reduce the inclusion of saturated fat in their diet. The U.S. is one of the largest producers of soybean, accounting for more than 30 percent of worldwide production.  In America, soybean is one of the most used ingredients owing to its health potential. In this regard, the U.S. Food and Drug Administration (FDA) has been providing suitable support to pharmacies and biomedical companies that have been involved in the development of soybean oil-based medicines for reducing the risks associated with coronary heart disease and cancer.
Get a Sample Copy of this Report:@ https://www.gminsights.com/request-sample/detail/2973
Recently, the agribusiness and food ingredient company, Bunge North America received an approval from the U.S. FDA for its claim related to the consumption of soybean oil and its connection to coronary heart diseases. With its versatile portfolio, Bunge is continuously striving to disseminate the importance of soybean oil and its health benefits. Moreover, facilitated with in-depth scientific and clinical research, Bunge is looking forward to strengthening its business with strategic acquisitions and joint ventures. The growing North America soy chemicals industry is slated to generate such attractive business opportunities for players such as Bunge over the years ahead. Indeed, driven primarily by Canada, U.S., and Mexico, North America soy chemicals market, claim estimates, will register a CAGR of more than 5% over 2018-2024.
In order to target the leading consumers of soybean and its food products, globally renowned companies have been establishing suitable partnerships to commercialize their activities by reducing import costs. Validating the aforementioned fact, on February 2018, Cargill and Archer Daniels Midland company formed a JV to supply soybean meal and oil across Egypt. This JV has also acquired the crush plant of the Egypt based oil company located in Borg Al-Arab. In addition, Cargill also has been investing to expand its daily crush capacity from 3000 metric tons to 6000 metric tons with which it will decrease the soybean meal imports in Egypt. This strategy will help Cargill to expand its business across Egypt and North Africa to enhance its customer base by supplying affordable, safe, and healthy food. With the adoption of such business tactics, the players in the soy chemicals market are aiming to utilize their existing facilities and infrastructure in order to meet the growing regional product demand.
The increasing popularity of soybean oil and its byproducts among the manufacturers of consumer and industrial products over petroleum and other hazardous ingredients is slated to stimulate the industry trends over the years ahead. In addition to medicinal usage, the deployment of soybean products for manufacturing coatings, plastics, solvents, adhesives, rubber, and lubricants will also have a positive influence on business growth. Driven by the rising number of facility expansions, soy chemicals market size is anticipated to be pegged at USD 44.5 billion by the end of 2024.
Author Name : Sunil Hebbalkar
With the increased popularity of the attractive fragrance of citrus fruits, especially oranges in personal care products, dipentene market has registered considerable expansion lately. Dipentene or limonene is the colorless liquid hydrocarbon that adds the distinct citric flavor and fragrance in many processed foods, beverages and cosmetic formulations of hygiene and personal care products. Owing to the versatile characteristics of limonene, dipentene market is expected to cater to a widespread range of applications – indeed, the product even finds deployment as an alternative to mainstream pesticides.
U.S. Dipentene Market Size, By End-user, 2013 – 2024 (USD Million)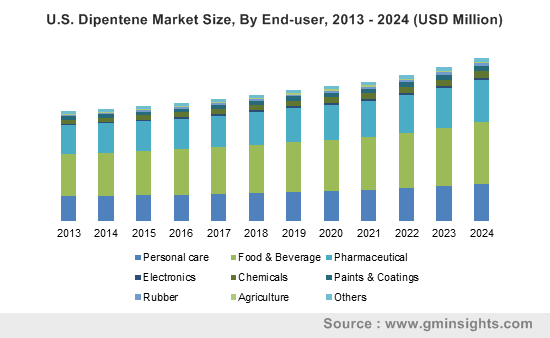 Limonene market has also been expanding rapidly on the grounds of the fact that the product is an alternate solvent to replace petroleum-based ones in several industrial applications such as paints and coatings where VOC emission and low biodegradability of solvents has become a major cause of concern for the wellbeing of the planet.
Global cosmetics and personal care industry statistics clearly point out that the said industry has been earning record revenue as beauty and self-care to preserve a youthful appearance is becoming one of the chief concerns for consumers all over the world. International beauty product companies that offer superior quality products as compared to local products have gained a commendable portion of the cosmetics and personal care industry in emerging nations as income levels of such nations continue to rise. Since limonene is expansively used in beauty products to add a freshening citrus odor, dipentene market is expected to garner major profits in Asia Pacific where the cosmetic market size is projected to surpass USD 126 billion by 2020 and where multinational companies are rapidly establishing a significant foothold. In fact, Asia Pacific has been forecast to be the fastest growing region in the limonene market over 2018-2024.
Get a Sample Copy of this Report:@ https://www.gminsights.com/request-sample/detail/2526
It will be prudent to mention here that dipentene, due to its colorless constitution and fresh, natural fragrance is used in various health care and cosmetic products like suntan products, bath products, cleansers, aftershave lotions, bubble baths, eye shadows, haircare products, lipsticks, perfumes, moisturizers and shampoos.
Rising levels of income is playing a subtler role in the growth of the limonene market as with more disposable income, consumers are opting for more effective ingredients in their products rather than cheaper ones. Manufacturers are therefore touting their products for greater efficiency rather than competitively pricing them which is adding to the enhanced inflow of revenue into the dipentene market. Diversification of distribution channels for cosmetic brands such as online shopping, vending machines, television infomercials, spas and home shopping are adding impetus to cosmetics market and consequently boosting growth of limonene industry.
Dipentene market will diversify its growth avenues beyond the cosmetic industry as research has found that chemicals obtained from orange peel could be utilized as a means of breaking the modern world's reliance on crude oil by being the building blocks in products ranging from plastics to paracetamol. Due to various adverse environmental effects, global industries had been trying to cut down on their dependence on the chemicals and materials that are obtained from fossil fuels, which are rapidly diminishing. As the world is increasing its focus on the development of renewable chemicals from an assortment of sustainable resources such as sugarcane and fatty acids in the production of biofuels, essential oils obtained from waste citrus peels have rapidly come to the forefront as a source that is being investigated with real zest as limonene shares many similarities with the chemicals obtained from fossil fuels.
Though limonene has been recognized as an important component of a bio-based chemical industry it will take the limonene industry considerable time to become a fully commercial means of plastics or polymer production. Issues hindering limonene market include the lack of reliable and greener supply of limonene. As research and development programs exert appreciable focus in bringing petroleum alternatives to the market, it is expected that dipentene industry will massively profit from such endeavors.
Author Name : Paroma Bhattacharya