panel Board
The growing demand for panel boards across the telecom & power generation sectors will act as a major driving force for Middle East distribution panel market. Being vital components of a power supply system, these boards provide a protective circuit breaker for every circuit enclosed in the service panel enclosure, from where the utility power is distributed to different branch circuits. Powered by the rising need to reduce electricity wastage and optimize power consumption, in conjunction with the enforcement of renewable energy norms, Middle East distribution panel market is likely to chart out a lucrative growth graph ahead.
Qatar Distribution Panel Market Size, by End Use, 2017 – 2024 (USD Million)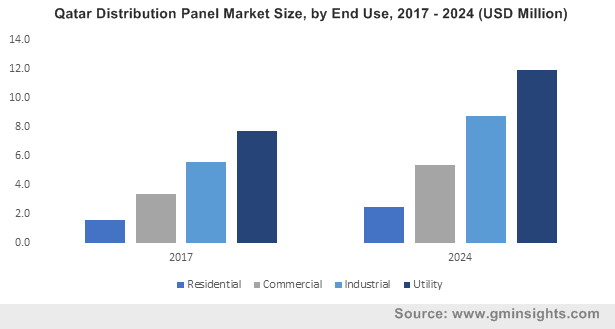 The recent trend of switching over to renewable energy sources such as solar and wind energy has also prompted companies to innovate a variety of distribution panels designed to be adaptable for myriad applications for electricity generation via sustainable resources. Prominent companies partaking in Middle East distribution panel industry share are also concentrating on developing unique technologies to be incorporated in distribution panels for them to be utilized in solar panels and eco-friendly electric devices, thus contributing to the revenue generation of this regional market. A report by Global Market Insights, Inc., claims the Middle East distribution panel market size to have registered a revenue of USD 250 million in 2017.
The dire need to fulfill the ever-growing demands of electricity across countries such as the United Arab Emirates, Oman, Saudi Arabia, Kuwait, and Qatar will positively influence Middle East distribution panel industry growth. It should be remembered however that this market is strictly defined by a regulatory framework. For instance, the Qatar General Electricity & Water Corporation (KAHRAMAA) has declared that any work pertaining to electrical installation needs to be carried out only by licensed contractors.
Get a Sample Copy of this Report @ https://www.gminsights.com/request-sample/detail/467
The United Arab Emirates has experienced an onslaught of construction projects in the recent years. Merely a few weeks ago, the UAE government held talks with China State Construction Engineering Corporation Middle East (CSCEC ME) in order to collaborate on infrastructure projects. That said, the region is also experiencing an increase in the per capita income of the population. Driven by increasing disposable incomes, added affordability, the shifting trends toward renewable sources coupled with the demand for uninterrupted power supply, Middle East distribution panel market is likely to accumulate commendable proceeds from the UAE. Indeed, as per estimates, Middle East distribution panel industry share from the UAE is anticipated to register a CAGR of 5% over 2018-2024, powered by the rising adoption of sustainable electric products and the development of an advanced grid network across the region.
Reduced dependency on fossil fuels coupled with the incorporation of advanced technologies in efficient energy generation will drive Middle East distribution panel market. The region has also been demanding clean energy on a large scale, which in tandem with improvised production efficiency will act as a major driver for the regional industry.
Developing new product types that can be used for numerous applications has become a key strategy of players in Middle East distribution panel market. For instance, recently, ABB Ltd. launched the SafeT™ panelboard that offers great flexibility and safety. Embedded with plug-in devices and a safe bus stack, this distribution panel uses Tmax molded case circuit breakers that are designed to hold 30% lesser mounting space. This apparently facilitates a reduction in the space occupied by the panel enclosure.
Aided by the efforts put in by regional companies toward augmenting the demand for distribution panels through the development of a range of varied boards suitable for many applications, Middle East distribution panel industry is likely to carve out a positive growth graph in the ensuing years. As per reliable estimates, Middle East distribution panel market size is forecast to cross USD 440 million by 2024.
Author Name :Saipriya Iyer