Paper
Sodium metasilicate pentahydrate market is gaining immense traction owing to proliferation in the global textile industry. Acknowledged for its fast dissolving capability, sodium metasilicate pentahydrate (SMP) is mainly used as a builder in soaps and detergents. SMP is preferred in liquid detergents due to its high-water solubility (36%). It is also a strong buffering agent which can avoid large changes in pH and can protect surfaces against corrosion. In addition, SMP can be used as hardening accelerator of cement slurry.
U.S. 29% Sodium Metasilicate Pentahydrate Market Size, 2018 & 2025, (Kilo Tons)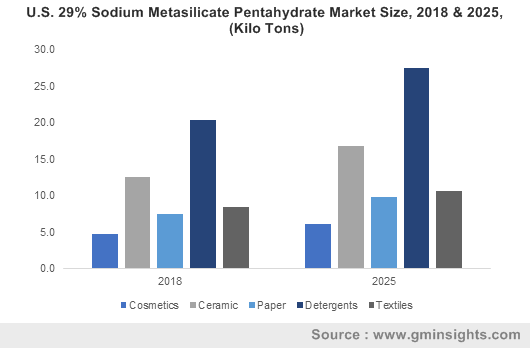 With rapid urbanization and increased standard of living, the demand for washing products, cosmetics, cleaning agents and construction materials has increased significantly in the past couple of years, supporting utilization of SMP. Significant technological advancements and developments of new cleaning products have enhanced the penetration of detergents in developing countries, boosting market share.
In the textile industry, SMP is used as a hydrogen peroxide (H2O2) stabilizer in cotton bleaching processes and jeans & stone washing. Being alkaline, the product used extensively to manufacture various types of detergents pertaining to its grease and oil removal and cleaning capability. It also has a detergent and buffering action which supports removal of oils, soil, and grease from cloth and works as a soil anti-re-deposition agent.
SMP finds growing application in laundry detergent which will stimulate market growth across the healthcare, hospitality and textile industries. Increasing disposable incomes and government regulations promoting hygiene in numerous manufacturing industries will further drive sodium metasilicate pentahydrate market share.
Get a Sample Copy of this Report:@ https://www.gminsights.com/request-sample/detail/3343
The U.S. Food and Drug Administration (FDA) has recognized SMP as safe for use in sanitizing solutions for food contact surfaces, denuding agent in boiler water, and as hog scald agent for hair removal. The product is also regulated by the Environmental Protection Agency (EPA) and Reregistration Eligibility Decision (RED) approved.
Proliferation in textile industry is anticipated to propel product demand in the coming years. For instance, the Indian textiles industry was estimated to reach US$ 250 billion by FY 2019. Whereas the country's overall textile exports, accounted at US$ 39.2 billion in 2018, was predicted to increase to US$ 82.00 billion by 2021, claims India Brand Equity Foundation (IBEF) reports.
Rapid surge in cement consumption will boost sodium metasilicate pentahydrate market size. SMP works as a connecting agent in the production of refractory cements and offers enhanced properties like hardness, mechanical and chemical resistance. It is used to protect components in high temperature manufacturing processes. SMP is also used as an additive to accelerate cement curing process and in the making of fire doors and wall partitions.
With growing application in the construction sector, sodium metasilicate pentahydrate market size will expand significantly over the years ahead. For instance, The ICE (Institution of Civil Engineers) claims that as per a new report 'Global Construction 2030', the volume of construction output is expected to grow by 85% to reach $15.5 trillion by 2030 worldwide, with countries including China, U.S. and India accounting for 57% of overall global growth. Shifting focus of government toward increasing infrastructure spending will accelerate market size.
Asia Pacific sodium metasilicate pentahydrate market size is expected to grow significantly owing to increased cement consumption in the residential & non-residential construction sector like development of metro projects across countries comprising India and China. The region's booming healthcare industry has also stimulated cement demand which is likely to accelerate market growth.
China's share in the global construction market is increasing marginally in recent years. Global Market Insights, Inc., claims that China 99% sodium metasilicate pentahydrate market share from flameproofing applications hit US$ 12.5 million in 2018. This will augment APAC industry size considerably.
India construction market is anticipated to grow almost twice as fast as China by 2030, providing new growth opportunities for APAC sodium metasilicate pentahydrate market players. Rapid growth in India's urban population will also escalate cement consumption in the coming years – the UN World Population Prospects 2019 claims India to have a population of 1.65 billion by 2059.
Sodium metasilicate pentahydrate is commonly used as a cleaning agent in dishwasher and laundry detergent. Rapidly growing textile and construction industries across economies like China and India have stimulated business outlook.
Reports from Global Market Insights, Inc, estimate sodium metasilicate pentahydrate market to exceed US$ 875 million by 2025.
Author Name : Mateen Dalal
This entry was posted in Bulk & Specialty Chemicals and tagged Cement, Ceramics, Chemical Production, Cosmetics, Detergents, Electroplating, Flameproofing, Metal Surface Treatment, Mineral Floatation, Oil & Drilling, Paper, Purity, Sodium Metasilicate Pentahydrate Market, Sodium Metasilicate Pentahydrate Market Size, Textiles, Washing Powder.
Rising disposable incomes and continuous development of the banking, healthcare and packaging sectors have proliferated global microprinting market size, as more businesses are finding it essential to safeguard their products against fraudulent activities. Whether is microprinting on money to prevent counterfeiting or on pharmaceutical labels to establish authenticity, the technology has enabled companies to save considerable losses that would otherwise result from misuse or illegal transfer of goods.
U.S. microprinting market, by end-use, 2018 & 2025 (USD Million)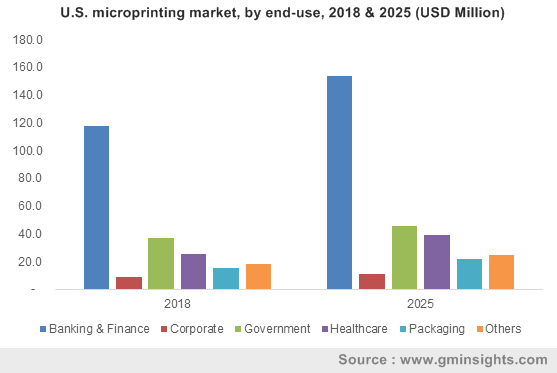 Currencies have become one of the prominent application areas for the microprinting industry, with countries like Australia, U.S. and the U.K. being some of the early adopters of the technique. Basically, microprints make it very difficult for counterfeiters to reproduce the extremely small text imprinted on modern currency notes, deterring them creating from circulating fake currency notes. Although the banking and finance sector has significantly helped to expand microprinting market size, evolving trends in the government, healthcare and packaging segments will further expand business prospects worldwide.
Security of National ID cards: Over the last decade, governments around the world have accelerated the promotion of digital transformation and have urged citizens to carry new and smart national identification cards. Generally, infusion of new technology brings with it several risks associated with illegal activities, in this case identity thefts and ultimate misuse of access cards. National IDs also face the similar risks and various players are providing microprinting printers that can help protect against counterfeiting risks.
Get a Sample Copy of this Report:@ https://www.gminsights.com/request-sample/detail/3307
Technically, reproduction of cards through simple scans or photocopying with standard resolutions using various consumer devices do not capture the microtext, making an ID extremely hard to forge. An eID card or a digitally accepted identification document has now become a norm in China, India, Malaysia as well as numerous developing nations in Africa. It is anticipated that by 2021, more than 3.6 billion people globally would be carrying a national eID card and securing these cards from theft and frauds would provide a remarkable growth platform for augmenting microprinting industry size.
Protection of Healthcare Products: While international regulations and standards make it mandatory to include composition and ingredients of medicines on the labels, and sometimes on the product, the problem of fake drugs has also prompted the adoption of microprinting technology. Manufacturers such as Xerox are now offering microprinting printers that can provide specialty imaging and fraud prevention technologies to healthcare firms. Metica, Videojet and other players are also enabling precise and compliant printing of relevant information on pharmaceutical labels or boxes.
Evidently, misspelled drugs and counterfeit medicines create considerable health risks to consumers, along with spelling large financial losses for producers. The World Health Organization has estimated that every year, almost US$82.29 billion worth counterfeit medicines are traded worldwide. In fact, the agency believes more than 30% medicines being circulated in some parts of South America, Asia and Africa are fake. Subsequently, microprinting market will amass substantial revenues from healthcare and pharmaceutical companies aiming to protect sensitive data with specialty imaging.
Avoiding Duplicity of Packaged Goods: As the technology moves beyond microprinting on money, the packaging sector has also realized its benefits in shielding products against duplicity, while simultaneously enjoying low cost and fast printing operations. The need for accelerating the efforts aimed at increasing product security has emerged due to gaining popularity of global e-commerce giants and local online retail businesses. The trend has further resulted in logistics challenges faced by sellers, and microprinting industry is pegged as a crucial solution to the existing problems with product tracking.
Growing preference of e-commerce can be gathered from the fact that just one online platform, Amazon.com, had accrued over US$141.92 billion in sales revenue in 2018, which was a 19.7% increase from the previous year. As e-commerce penetration among consumers expands and necessitates precise labeling and tracking of packages, the microprinting market size from packaging applications will catapult tremendously.
All in all, increasing need for securing identification cards, consumer products and pharmaceuticals will fuel the demand for reliable and accurate printing technologies that can be deployed across key substrate materials like plastic, metal and paper. Reports estimate that global microprinting market size will surpass US$800 million by 2025.
Author Name : Pankaj Singh
This entry was posted in Electronics and Media and tagged Banking & Finance, Color, Corporate, Double Sided, Global Microprinting Market, Government, Healthcare, Metal, Microprinting Market, Microprinting Market Share, Microprinting Market Size, Monochrome, Packaging, Paper, plastic, Print Type, Single-Sided, Substrate Type.
The remuneration graph of U.S. municipal solid waste management market has witnessed a phenomenal escalation in the past decade, owing to myriad economic & environmental advantages of effective waste management. The burgeoning challenges of solid waste due to tremendous surge in the population in the United States have further compelled the industry players to bring forth innovative, sustainable, and cost-effective approaches of MSW across the country. It has been reported that in general, the waste generation is higher during the strong economic growth of the country and therefore effective solid waste management network forms a significant factor driving the GDP.
Pennsylvania Municipal Solid Waste Management Market Size, By Service, 2017 & 2024 (Million Tons)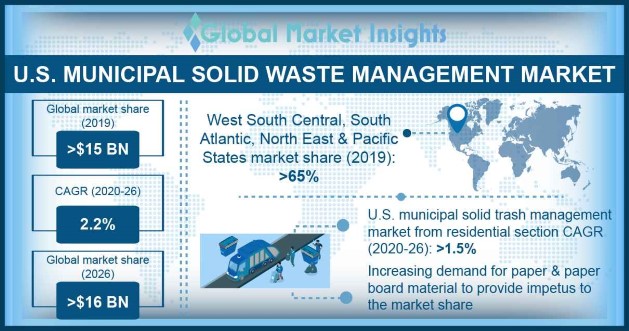 Reliable reports claim that the United States produced more than 250 million tons of municipal solid waste in 2014 – a significant high and approximately 4.4 million more than generated in the year earlier. It was further reported that the around 66.4 million tons of waste was recovered for recycling in 2014. Despite the tons of waste to handle, it was not until recently that the sanitation agencies took upon themselves to handle recycling and monitor third-party contractors. The U.S. Environmental Protection Agency in this regard has been encouraging the regional regulators and governmental agencies to make efforts in assisting the upcoming solid waste management scenarios, to ensure proper storage, disposal, segregation, and recycling processes.
Recently for instance, Atlanta regulation agencies has deployed smart phones with waste management application in over 89 sanitation trucks & other vehicles as part of a MSW management pilot program. The use of the application to track truck routes lead them to evenly distribute and take efficient routes to the appropriate landfills and recycling facilities. With further governmental norms encouraging sustainable trash management, New York recycling & composting municipal solid waste management market is another lucrative region garnering hefty proceeds. Estimates claim the U.S. MSW management industry from New York to exceed a valuation over USD 450 million by 2024, owing to the influence of region's rising population base residing in the urban areas and flourishing tourism industry leading to growing investment in waste management infrastructure.
Get a Sample Copy of this Report:@ https://www.gminsights.com/request-sample/detail/2953
Further speaking of the expanding governmental investment in waste management, the U.S. President Donald Trump, recently signed a legislation committing the country to expand its efforts to clean and manage around 8 million metric tons of litter such as plastic, paper, and electronic waste polluting the oceans.
Currently, recycling & composting solid waste has gained immense traction, given the advancement in waste reprocessing and trash conversing technologies. Recycling the waste to convert it into reusable material is significantly helping MSW management agencies in reduced consumption of raw materials and energy usage as well as lowered water & air pollution. The process is further gaining momentum and managed to accumulate over USD 6 billion in 2017, because of the introduction of strict & rigorous anti-dumping laws by both the state & federal regulators and development of recycling approaches for sustainable economic status. For instance, the University of Minnesota has initiated a recycling drive under which it will be recycling more than 3,800 tons of recyclable materials that constitutes more than 40% of the total waste generated in the campus.
In addition to expanding recycling & composting services in the U.S. municipal solid waste management market, it is noteworthy to mention that the paper and paperboard trash accounted for a considerable 26% market share in 2017. Rapid progress of the packaging industry coupled with rising application of recycled paper and paperboard are expected to drive demand.
These above-mentioned trends significantly shed light on the progressive outlook of the U.S. municipal solid waste management market in the recent years. However, it wouldn't be wrong to say that China's ban on import waste has rocked the global solid waste management and recycling industry to gear up for managing their own waste and recycling efforts. It remains to be seen that how the U.S. municipal solid waste management industry will cope with the sudden change in policies as these new accumulating waste loads incur increasingly high rates in managing and recycling waste. Nonetheless, experts believe that as the export market for waste product dries up, the U.S. municipal solid waste management industry will be seen desperately recovering, recycling, and reducing the waste, while surpassing the overall remuneration portfolio of over USD 25 billion market by 2024.
Author Name : Ojaswita Kutepatil
This entry was posted in Sustainable & Smart Technologies and tagged Combustion, Commercial, Composting, Food, Glass, Incineration, Landfill, Metal, Municipal Solid Waste Management Market Overview, Municipal Solid Waste Management Market Size, Paper, Paperboard, Plastics, Recovery, Recycling, Residential, U.S. Municipal Solid Waste Management Market, U.S. Municipal Solid Waste Management Market Industry, United States Municipal Solid Waste Management Market Statistics, Wood, Yard Trimmings.