Paperboard
The remuneration graph of U.S. municipal solid waste management market has witnessed a phenomenal escalation in the past decade, owing to myriad economic & environmental advantages of effective waste management. The burgeoning challenges of solid waste due to tremendous surge in the population in the United States have further compelled the industry players to bring forth innovative, sustainable, and cost-effective approaches of MSW across the country. It has been reported that in general, the waste generation is higher during the strong economic growth of the country and therefore effective solid waste management network forms a significant factor driving the GDP.
Pennsylvania Municipal Solid Waste Management Market Size, By Service, 2017 & 2024 (Million Tons)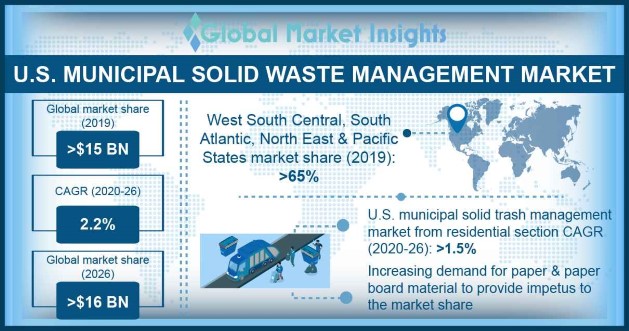 Reliable reports claim that the United States produced more than 250 million tons of municipal solid waste in 2014 – a significant high and approximately 4.4 million more than generated in the year earlier. It was further reported that the around 66.4 million tons of waste was recovered for recycling in 2014. Despite the tons of waste to handle, it was not until recently that the sanitation agencies took upon themselves to handle recycling and monitor third-party contractors. The U.S. Environmental Protection Agency in this regard has been encouraging the regional regulators and governmental agencies to make efforts in assisting the upcoming solid waste management scenarios, to ensure proper storage, disposal, segregation, and recycling processes.
Recently for instance, Atlanta regulation agencies has deployed smart phones with waste management application in over 89 sanitation trucks & other vehicles as part of a MSW management pilot program. The use of the application to track truck routes lead them to evenly distribute and take efficient routes to the appropriate landfills and recycling facilities. With further governmental norms encouraging sustainable trash management, New York recycling & composting municipal solid waste management market is another lucrative region garnering hefty proceeds. Estimates claim the U.S. MSW management industry from New York to exceed a valuation over USD 450 million by 2024, owing to the influence of region's rising population base residing in the urban areas and flourishing tourism industry leading to growing investment in waste management infrastructure.
Get a Sample Copy of this Report:@ https://www.gminsights.com/request-sample/detail/2953
Further speaking of the expanding governmental investment in waste management, the U.S. President Donald Trump, recently signed a legislation committing the country to expand its efforts to clean and manage around 8 million metric tons of litter such as plastic, paper, and electronic waste polluting the oceans.
Currently, recycling & composting solid waste has gained immense traction, given the advancement in waste reprocessing and trash conversing technologies. Recycling the waste to convert it into reusable material is significantly helping MSW management agencies in reduced consumption of raw materials and energy usage as well as lowered water & air pollution. The process is further gaining momentum and managed to accumulate over USD 6 billion in 2017, because of the introduction of strict & rigorous anti-dumping laws by both the state & federal regulators and development of recycling approaches for sustainable economic status. For instance, the University of Minnesota has initiated a recycling drive under which it will be recycling more than 3,800 tons of recyclable materials that constitutes more than 40% of the total waste generated in the campus.
In addition to expanding recycling & composting services in the U.S. municipal solid waste management market, it is noteworthy to mention that the paper and paperboard trash accounted for a considerable 26% market share in 2017. Rapid progress of the packaging industry coupled with rising application of recycled paper and paperboard are expected to drive demand.
These above-mentioned trends significantly shed light on the progressive outlook of the U.S. municipal solid waste management market in the recent years. However, it wouldn't be wrong to say that China's ban on import waste has rocked the global solid waste management and recycling industry to gear up for managing their own waste and recycling efforts. It remains to be seen that how the U.S. municipal solid waste management industry will cope with the sudden change in policies as these new accumulating waste loads incur increasingly high rates in managing and recycling waste. Nonetheless, experts believe that as the export market for waste product dries up, the U.S. municipal solid waste management industry will be seen desperately recovering, recycling, and reducing the waste, while surpassing the overall remuneration portfolio of over USD 25 billion market by 2024.
Author Name : Ojaswita Kutepatil
This entry was posted in Sustainable & Smart Technologies and tagged Combustion, Commercial, Composting, Food, Glass, Incineration, Landfill, Metal, Municipal Solid Waste Management Market Overview, Municipal Solid Waste Management Market Size, Paper, Paperboard, Plastics, Recovery, Recycling, Residential, U.S. Municipal Solid Waste Management Market, U.S. Municipal Solid Waste Management Market Industry, United States Municipal Solid Waste Management Market Statistics, Wood, Yard Trimmings.