Parenteral Nutrition
One of the key factors that has had a pronounced impact on the growth of clinical nutrition market in recent times is the ever-growing geriatric population. Given that most of this population is susceptible to chronic conditions such as diabetes and cancer, proper intake of nutrition & other healthy foods has engraved a rather imperative hold in the lives of patients. The increasing patient awareness pertaining to the health benefits of proper nutrition intake is thus set to transform clinical nutrition market outlook. The worldwide clinical nutrition industry size was pegged at USD 43.9 billion in 2016.
China Clinical Nutrition Market, By Product, 2013 – 2024(USD Billion)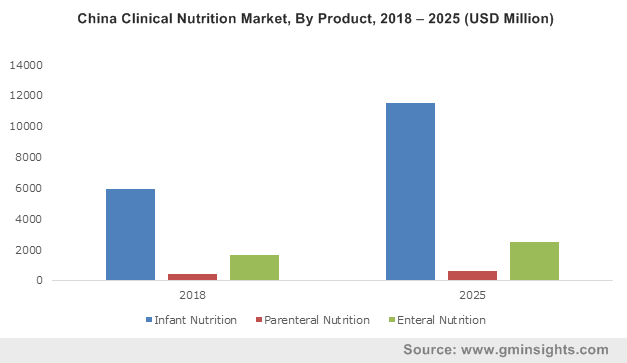 Powered by the growing number of regional governmental initiatives to introduce nutritional awareness programs and upgrade overall patient care fraternity however, clinical nutrition market is expected to traverse alongside a highly lucrative growth path in the forthcoming years. Untapped economies in this regard are likely to get much of attention compared to other geographies, given the vigorous steps taken by food & regulatory bodies in providing nutritional information.
An instance validating the authenticity of the above-mentioned fact is that of the Amref Health Africa that has partnered with Nutritional International to fight nutritional deficiencies across the region. Through their Nutritional Leverage for Transformation model, the organizations intended to provide nutritional benefits to people across the countries in Africa. Reportedly, the investment is anticipated to reach over 10 million of direct & indirect beneficiaries that will include children, adolescent girls, health workers & adult women in Kenya, Uganda, Zambia and other regions.
Get a Sample Copy of this Report @ https://www.gminsights.com/request-sample/detail/1324
If industry experts are to be believed, the partnership will ensure that the masses will have access to important nutritional education & inventions, in turn amplifying the chance to improve overall health status. On account of the strong presence of organizations, the regional sales of nutritional supplements are poised to witness a significant high in the years to come. The involvement of other organizations such as the South African Society for Enteral and Parenteral Nutrition for promoting clinical nutrition practices will support the growth of the regional clinical nutrition market.
Analyzing the current demographics of the clinical nutrition sector, malnourishment in a crucial glitch observed in infants & pre-maturated babies. A fact that further sheds light on the seriousness of the situation has been provided by WHO in 2017 that claims over 15 million babies to have a preterm birth every year on a global scale. In order to further counter balance the growing number to pre-matured births, several regulatory bogies & governmental agencies are focusing on spreading awareness as well as introducing new infant nutritional products in the market.
Nestlé, the food giant, has long since backed WHO's initiative of supporting exclusive breastfeeding of infants. Having been touted as the world's biggest infant formula marker, Nestlé is actively supporting & recommending breastfeeding exclusively for first six months and then following it up through adequate nutritional complementary foods. NESTUM® Infant Cereal, KLIM, and GERBER® are among some of the company's wide portfolio of infant nutritional formulas that it has introduced to encourage the right amount of essential nutritional intake for babies.
The supportive participation of regional players coupled with governmental efforts have further led to infant nutrition emerging as a prominent product segment in clinical nutrition industry. In fact, reliable reports state that the robust demand for infant nutritional products such as milk-based nutritional formula, has empowered this segment to hold the largest revenue share of the global clinical nutrition market in 2016. Infant nutrition segment is further forecast to follow similar growth pattern over 2017-2024.
Analysts deem that clinical nutrition market, thriving on the cusp of a growing elderly population and the incidences of chronic diseases, has registered its name in the billion-dollar fraternity since long and is emerging as one of the lucrative verticals of healthcare. Furthermore, the growing trend of incorporating nutritional foods & dietary supplements into modern lifestyles is likely to chart out a profitable roadmap for this business sphere down the years. According to a research report by Global Market Insights, Inc., the global clinical nutrition market is anticipated to surpass a valuation of over USD 80 billion by 2024.
Author Name :Ojaswita Kutepatil
Over the recent years, home infusion therapy market has witnessed an expeditious growth trend, courtesy –  the exemplary advancements in medical technology space. The rise of innovative technological solutions has been facilitated seamlessly by a robust regulatory framework, which has further positively impacted the competitive prospects among the prominent industry players. Furthermore, the technological progress being observed in infusion pumps, which are increasingly being utilized in medical setups such as hospitals, nursing homes, and homecare, shall propel the home infusion therapy industry in the upcoming years.
To cite the most recent development in this industry, one of the prominent medical device manufacturers, Smiths Medical, has recently unveiled an upgraded version of ambulatory infusion pump, which has now been equipped with wireless communication linked to PharmGuard Server software that allows clinicians to securely employ software updates, track the pump locations, manage the performance of pumps remotely and download data reports. Such dynamic and smart product innovations with high-degree of accuracy and precision are set to assist the swift expansion of home infusion therapy market. As per a report published by Global Market Insights Inc., home infusion therapy market size witnessed a valuation of over $14 Billion in 2016.
U.S. Home Infusion Therapy Market size, By Product, 2013-2024 (USD Million)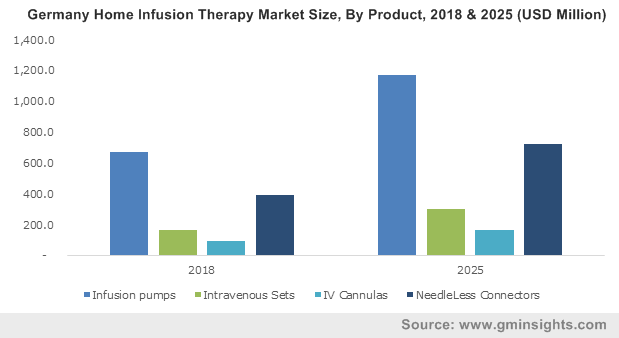 Home infusion therapy, in the recent past, has gained renowned traction across the globe, as it has continuously been contemplated as the most appropriate alternative for people suffering from chronic diseases. Concurrently, the significant rise in the geriatric population around the globe, who are vulnerable to chronic diseases such as cancer, diabetes, cardiovascular ailments, and respiratory disorders have contributed to the growth of home infusion therapy market in an unprecedented way.
Speaking of the application landscape of home infusion therapy industry, the predominant ones include hydration therapy, chemotherapy, anti-infectives, enteral nutrition, specialty pharmaceuticals, among others. Out of these, anti-infectives contributed to a sizeable revenue share in 2016. The investment in anti-infectives has been stagnant in the last few years, as no new anti-infective has been formed for community-acquired bacterial pneumonia (CABP) in the last 15 years. This trend is set to change in the near future, as a leading Irish biopharma Nabriva Therapeutics plc has succeeded in the initial phases of evaluating a new anti-infective to treat CABP. Such encouraging initiatives undertaken by industry players in anti-biotics and other applications are bound to aid the home infusion therapy market expansion.
Get a Sample Copy of this Report:@ https://www.gminsights.com/request-sample/detail/435

Meanwhile, it would be well advised to take note of the anticipated challenges that might affect the home infusion therapy industry in the upcoming time period. The industry has been marred by the haphazard, inadequate and complex reimbursement system that has negatively impacted business growth. Add to it, the inappropriate use of infusion therapy devices and improper dose administration might severely hamper the growth potential of home infusion therapy industry.
Regionally, the U.S. home infusion therapy market is expected to gain commendable momentum over the forecast period, owing to the presence of prominent industry players complemented with increasing demand for homecare facilities, simplified access to healthcare, and suitable reimbursement policies. Speaking along similar lines, the UK home infusion therapy industry, especially Germany, stands to gain noteworthy benefits as the advancing infusion devices and their increased usage in pain management has been encouraging.
The home infusion therapy market is spanned by highly aggressive companies such as Smiths Medical, Carefusion, Baxter, ICU Medical, JMS, Terumo, Caesarea Medical Electronics, Fresenius Kabi, B.Braun Melsungen, to name a few. The predominant industry players have coupled their product innovations and technological advancements with robust mergers and alliances to form a strong framework to accentuate sustained growth and expand the customer base. Citing an instance, the world's preeminent pure-play infusion firm, ICU Medical Inc., has recently wrapped up its acquisition of Hospira Infusion Systems business from Pfizer Inc., a pharmaceutical behemoth. This alliance strengthens the resolve of ICU Medical Inc. to form a company with a complete intravenous therapy product range from non-dedicated infusion sets to smart infusion pumps.
The home infusion therapy industry anticipates further collaborations and acquisitions of leading players with upcoming firm, in turn, boosting the product and profitability portfolio of this domain. According to a report published by Global Market Insights, Inc., home infusion therapy market is forecast to expand at over 9% CAGR from 2017-2024.
Author Name : Ojaswita Kutepatil