Passenger Cars
Electronic stability control system market trends are poised to gain immense momentum over the forecast years, owing to rise in fatal car crashes and serious vehicle accidents causing large-scale damage to the masses. Since the last few decades, the automotive industry has shifted its focus towards implementation of more active safety features like traction control system and antilock braking system which reduce the chances of crashes to a large extent during acceleration and in harsh driving conditions. This increasing demand to improve transport efficiency has undeniably impelled the expansion of the electronic stability control system market size.
India electronic stability control system market size, by vehicle type, 2018 & 2025 (USD Million)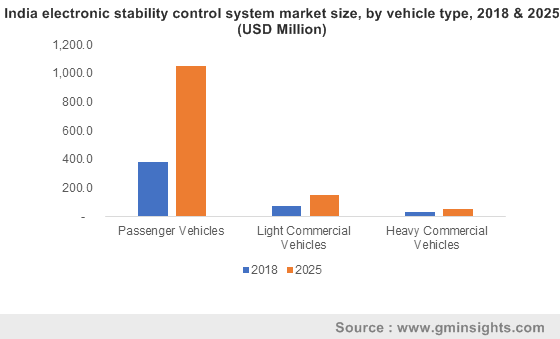 Commercial vehicles are consistently becoming the leading mode of road transportation in the Asia Pacific region. As compared with other transportation vehicles, commercial vehicles exhibit greater safety risks and several performance limitations because of their features including unstable roll motion at higher speeds and poor maneuverability at low speeds. With the advent of the electronic stability control in cars, next-gen driver assistance concepts have taken root, and have played a significant role in contributing towards increasing safety on the roads.
A 2018 report by the U.S. National Highway Traffic Safety Administration (NHTSA) suggests that with the introduction of electronic stability control (ESC) systems, there has been a considerable reduction in passenger vehicle crashes by 34% and SUV crashes by 59%. ESC systems also substantially reduce rollover accidents. Nowadays, commercial vehicles are already incorporated with ESC systems and these vehicles are specifically designed to mitigate understeer and oversteer conditions as well as reduce untripped crashes.
The Asia Pacific market is likely to emerge as a strong contender due to increasing implementation of road safety gears and the design and development of vehicles equipped with safety features. According to International Organization of Motor Vehicle Manufacturers, in 2018, India had witnessed 8% growth in automobile production. China is also a prominent automotive market, the expansion of which will augment APAC ESC market outlook in the forecast years.
Get a Sample Copy of this Report:@ https://www.gminsights.com/request-sample/detail/3410
Of late, India-based multinational automotive manufacturing companies have been working to launch medium and heavy commercial vehicles with electronic stability control with an aim to make Indian roads safer and more secure. The growing adoption of ESC systems and increasing number of safety innovations in several vehicles will further strengthen the regional ESC industry size.
The robust implementation of the intelligent vehicle systems in the automotive sector has enhanced safety protocols while driving and has created an efficient transportation system for vehicle users. From high-tech sensors to vehicle roll rate sensors – everything is being implemented by the manufacturers in the latest vehicles to maintain the stability of the vehicles and reduce any kind of mishap in the future.
In order to fortify their stance in ESC industry, several companies are adopting different growth strategies to move ahead of their rivals. In June 2019, ZF Friedrichshafen, a German car parts manufacturer and partner 2GetThere had launched autonomous shuttles in the Middle East and Europe. The main aim of the company is to improve vehicle handling, reduce motion sickness and deliver safe, clean transportation options that are competitive and comfortable as well. Innovative launches such as the aforementioned will create a positive influence on the product demand and augment the Europe industry share.
The massive deployment of technological advancements across the automotive industry will have a favorable influence on the ESC market. Moreover, the involvement of prominent companies in designing vehicles with advanced safety features are likely to fuel the industry growth in the ensuing years.
The enforcement of favorable government policies are likely to impact the industry outlook. In 2018, the Ministry of Road Transport & Highways of India had announced that by 2023 all Indian vehicles should be compulsorily equipped with safety breaking features like autonomous braking and ESC.  This will further generate lucrative opportunities for automotive players in the ESC industry.
Major companies that have captured a prominent proportion of electronic stability control system market share include ZF Friedrichshafen, General Motors (StabiliTrak), Johnson Electric, Robert Bosch GmbH, Autoliv, IAV Engineering, Denso Corporation and Johnson Electric. Global Market Insights, Inc., estimates electronic stability control system market size to reach US $ 45 billion by 2025.
Author Name : Deeksha Pant
Regarded as a business vertical that has remained quite unnoticed and away from the mainstream popularity, automotive camera market has been gradually making its presence felt in the humongous global transportation industry. The roll-out of the auto sector's first thermal camera-equipped commercial test vehicle by FLIR Systems, Inc., proves that automotive camera industry is evolving to cater the auto enthusiasts and professionals in this age of self-driving cars and is further expanding its sphere of influence across various business verticals.
Germany automotive camera market, by type, 2018 & 2025 (USD Million)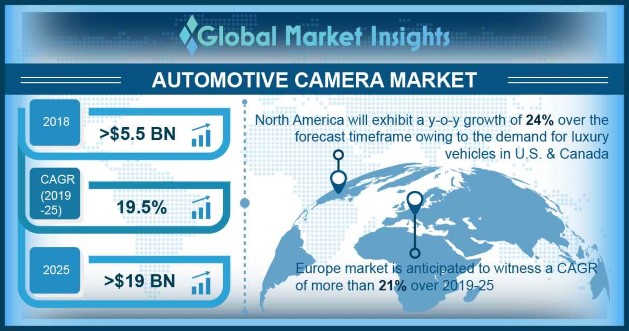 The co-relation between the regulatory guidelines and automotive camera market share
Most vehicle safety features made mandatory by policymakers, such as airbags and seat-belts, ensure protection of those travelling in the vehicle. As a result of such policies, numerous verticals such as automotive airbags market, which is slated to surpass a remuneration scale of USD 85 billion by 2025, have been proliferating at an unprecedented pace.
However, in a move that could change the mindset of the automakers and other prominent stakeholders, the US Department of Transportation's National Highway Traffic Safety Administration (NHTSA) has recently made it compulsory across the nation to install a rear camera in all new vehicles weighing under 10,000 pounds from May 2018.
The significance of this decision can be gauged from the fact that around 210 fatalities and 15,000 injuries are caused by a vehicle crashing into the other due to lack of visibility. Among these fatalities, adults aged 70 and more account for over 26 percent and children under five account for 31 percent. In this regard, reducing the risk of such accidents has long been recognized and the efficacy of rear-view cameras comes handy in ensuring the same. Numerous automakers have already made such technology standard equipment on many car models, essentially expanding the automotive camera market size.
Get a Sample Copy of this Report:@ https://www.gminsights.com/request-sample/detail/3340
Growing awareness and the need to educate vehicle drivers regarding usage of automotive cameras is fueling automotive cameras industry share
Even though the world is witnessing an unprecedented emergence of automation technologies and ADAS systems in passenger vehicles, the appropriate usage of automotive camera remains a cause of concern. It has to be noted that nine out of ten serious road accidents occur due to human behavior and these ADAS systems like automotive cameras possess the potential to save thousands of lives. Therefore, just sticking a camera in a car is of no use if people are not educated on the effective ways to use the information that is displayed on their screens and avoid crashes.
In this context, the auto regulators across developed and emerging nations are not only formulating rules for mandatory installation of rear automotive cameras but are also making efforts to educate people on the correct usage of these devices. Initiatives such as Global National Car Assessment Program in the U.S. and the programs unveiled by National Highway Traffic Safety Administration are of extreme importance in propagating the guidelines pertaining to passenger and pedestrian safety.
Speaking of the developing nations, India has taken centerstage in terms of rolling out improved version of the proposed road safety policy which includes awareness and education as some of the key features. Apparently, even automotive stalwarts are realizing that educating people is the right strategy choice and investing in one-off events is not. The prevalence of these trends across developed and emerging nations is undoubtedly helping to increase automotive camera industry size.
Challenges that may restrict automotive camera market share
The advent of trifocal cameras has enhanced the overall quality of automotive cameras. Moreover, these cameras are integrated with advanced LiDAR sensors which adds to the cost of the overall vision systems. Consequentially, it has been observed that price-conscious customers are reluctant to install automotive cameras in economic and low-cost vehicles, dampening the growth prospects of automotive camera industry.
However, with the launch of improved and technically-superior automotive cameras by startups, the prominent market players are making an effort to reduce the costs of popular automotive cameras. This trend might prove to be instrumental in revitalizing the automotive camera market size.
In the forthcoming years, automotive camera market is likely to be defined by numerous other challenges, though it is expected that core companies will, in all probability, figure out ways to deal with the constraints. As per an automotive camera industry analysis, the market size is forecast to surpass a remuneration figure of USD 19 billion by 2025.
Author Name :Saif Ali Bepari
The growing prominence of low-emission & high-performance engines is projected to fuel automotive part cleaners & degreasers industry in the forthcoming years, owing to the rising significance imparted to maintenance and servicing operations. The array of products that are available across this domain are frequently used to rid the vehicle's engine of different contaminants before an oil change in an effort to enhance the vehicle's fuel efficiency. Moreover, with global vehicle sales growing at an exponential rate owing to improving economic conditions across a number of countries, the automotive part cleaners & degreasers market is expected to accumulate substantial momentum from their maintenance & servicing activities. Furthermore, there has been a growing trend for the sale of vehicle part & repair accessories online as more and more brands are starting to make their products available on global e-commerce platforms.
Automotive Part Cleaners & Degreasers Market Size, By Cleaners, 2017 & 2024, (Million Gallons)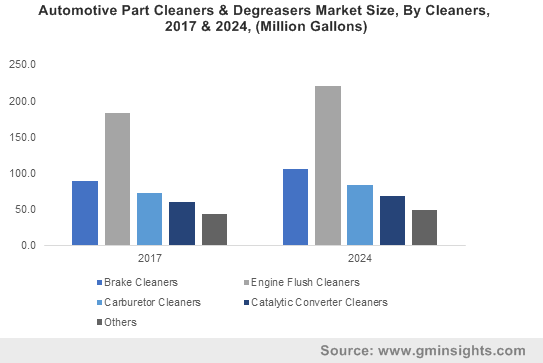 While improving economic conditions have propelled vehicle sales across the world, they have also fueled the sizable boom the construction & e-commerce industries which in turn have driven up the commercial & heavy vehicle demands, further propelling the automotive part cleaners & degreasers industry trends.
Automotive part cleaners & degreasers industry | Impact of growing vehicle demand in the U.S. on engine flush cleaner sales
Defying previous predictions, the sales of vehicles across the United States in 2018 experienced a slight rise in its numbers, highlighting the nation's strong economy with automobile manufacturers reporting a 0.3% surge to approximately over 17 million vehicles. This rise in sales comes despite a highly-volatile stock market, growing interest rates, and increasing vehicle prices that have pushed some of the prospective buyers out of the automobile market. This tendency for the U.S. vehicle market to draw in growth in the face of adverse market conditions would be responsible for driving the growth of the regional automotive part cleaners & degreasers industry, specifically from the sales of engine flush cleaner, on account of the fact that they impart efficiency and longevity to engines that is crucial for the U.S. auto industry.
As a matter of fact, across the United States, owning a vehicle is extremely critical since vehicles are viewed from a utilitarian perspective. Due to scarce options of public transport, a majority of the nation's population depends on automobiles to commute to & from work – that is to say, an average U.S. automobile experiences extensive amount of use throughout its tenure. This has driven the demand for engine flush cleaners that help elongate the shelf life of engines, by eliminating deposits, gum, and varnish, and improving fuel performance. Powered by the requirement of a clean lubrication system and the stringent norms governing VOC emissions, the U.S. automotive part cleaners & degreasers industry share from engine flush cleaners is anticipated to register a CAGR of 2.5% over 2018-2024.
Get a Sample Copy of this Report @ https://www.gminsights.com/request-sample/detail/3105
Automotive part cleaners & degreasers industry | Impact of catalytic converter cleaner sales
According to U.S-based non-profit organization, Manufacturers of Emission Controls Association (MECA), catalytic converters have been an extremely important aspect of mobile-source emission control across the world ever since the mid-1970s. Catalytic converters, from the initial two-way oxidation units to the advanced three-way units that are used today, have helped in cutting down air pollution by more than 10-billion-tons across the U.S. alone.
Today, advanced catalytic converters are more crucial than ever due to the increasing need globally to cut down on carbon emissions and manufacture more fuel-efficient & eco-friendly vehicles, which in consequence has surged the demand for catalytic converter cleaners worldwide. These cleaners, while helping to cut down on emissions also help improve fuel-efficiency & ensure vehicle safety by preventing the clogging of catalytic converters. Attributing to these prominent factors, automotive part cleaners & degreasers industry size from catalytic converter cleaners had been pegged at $2.5 billion in 2017.
The industry would also experience momentum due to increasing government regulations concerning the rate of emissions and the rising investments that automakers are making in their respective R&D activities to control emissions.
Automotive part cleaners & degreasers industry | Impact of China's rising vehicle sales on transmission degreaser sales
China's rapidly rising standard of living and purchasing power have majorly propelled the region's automotive industry, consequently driving the demand for maintenance and servicing products. As per reports, the region has observed exceptional sales of transmission degreasers, that are suitably designed to break down varnish deposits and clean internal transmission components. In a bid to ensure passenger safety and prevent damage, auto maintenance and repair establishments are found to be using these degreasers consistently. China automotive part cleaners & degreasers industry size from transmission degreasers apparently, is anticipated to be pegged at $1 billion by 2024.
Transmission degreasers are also known to maintain optimal gearbox conditions and enhance vehicle speed. In order to cater to the consumer demands for excellent vehicle performance, longevity, regular servicing, and leakage elimination, servicing setups are often found using transmission degreasers, that would further augment the industry growth in the region.
The aforementioned trends characterizing the product landscape of the global automotive part cleaners & degreasers market quite discernibly indicate that this business vertical is here to stay. According to a Global Market Insights, Inc., the overall automotive part cleaners & degreasers industry size is slated to surpass the $47.5 billion renumeration mark 2024.]
Author Name : Akshay Kedari
Global automotive lighting market outlook has observed a plethora of changes in the last few years, driven by the shifting preference toward advanced efficient lighting as opposed to traditional lighting. Designed with highly innovative technologies, excellent aesthetics, and quality, automotive lighting systems, over the last few years, have undergone a sea of change pertaining to the advent of optics and laser technologies. In order to tap the popularity of advanced technologies, most of the automotive lighting market players are looking forward to focusing on product design alternations, acquisitions, and facility expansions. Driven by their efforts and the upcoming technology trends in electronic lighting, automotive lighting industry share is anticipated to observe commendable growth ahead.
China Automotive Lighting Market, By Technology, 2017 & 2024 (USD Million)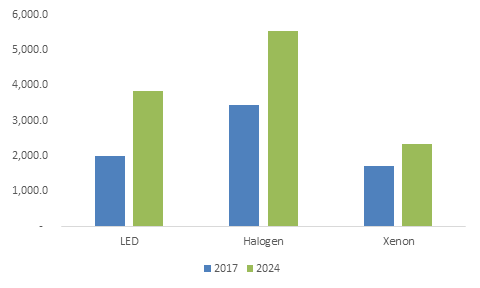 Digitalization of vehicle interiors and exteriors with LED lighting is one of the prominent technologies that has made its mark in modern vehicle lighting systems. The evaluation of highly functional, durable, and innovative products will have a significant impact on industry growth over the years ahead. For instance, recently, one of the world's largest manufacturers of semiconductors, Osram Opto Semiconductors has partnered with ISELED Alliance for developing advanced solutions for automotive LED lighting. The German semiconductor manufacturer and ISELED alliance through this collaboration are looking forward to integrating effective hardware and software system to optimize LEDs.
Over the last few years, with the increasing importance imparted to aesthetic and ergonomics of the vehicles' interior as well as exterior, the design approach of contributors in the automotive lighting industry has indeed changed. They are now giving preference for the advancement of infotainment systems that will turn out to be rather beneficial for them in terms of revenue generation. As of now, the extensive use of LEDs for deploying lighting systems in vehicles will further stimulate the automotive lighting market size. As per estimates, automotive lighting market size from LED technology will register a CAGR of more than 7% over 2018-2024.
Get a Sample Copy of this Report:@ https://www.gminsights.com/request-sample/detail/1444
The revolutionary development of high-performance light sources is also one of the approaches undertaken by companies to gain a competitive edge over their rivals in the automotive lighting market. The growing awareness among the product developers about energy efficient lighting systems has been encouraging them to adopt new business tactics focused around this parameter. Merely a few months before, LG Electronics acquired the well-known automotive lighting and headlight systems provider, ZKW Group. This strategic merger has allowed LG to extend its regional reach across U.S., China, Mexico, and several countries in Europe continent. The ZKW Group incidentally, is one of the leading providers of lighting systems to European automotive giants comprising Daimler, Porsche, Audi, and BMW which have already ditched the use of traditional lighting technologies. The new consortium of LG and ZKW is planning to develop intelligent lighting solutions which will provide high-resolution information collected from the sensors and automotive communication systems. Considerable investments poured in by technology companies in new product development with the intention to expand the product range is slated to propel the automotive lighting industry share.
In August 2018, the Canadian automotive product supplier, Magna acquired the headlight and lighting component provider, Olsa for expanding its automotive lighting business. With the acquisition of the Olsa, Magna has grown its lighting capabilities from designing and manufacturing of headlamps, tail lamps, and other lighting systems. Moreover, the acquisition of advanced technology will also help Magna better its portfolio in distinctive and featured lighting products. The rise in the integration of electronics in lighting systems and shifting focus of automakers toward styling will turn out to be rather fruitful for lighting product manufacturers.
All in all, it would be accurate enough to quote that the transformation in conventional lighting systems has enhanced automotive lighting market trends over the last few years. Tech companies have also been conducting continuous research and development activities to introduce optimized and cost-effective lighting systems. Powered by the surging utilization of modern lighting systems in next generation vehicles, automotive lighting market size will register a CAGR of 5% over 2018-2024.
Author Name : Sunil Hebbalkar
Automotive pedestrian protection system market has emerged as one of the most lucrative business spheres of the automotive domain in the recent years. The increasing awareness among the regional governments and regulatory bodies regarding the importance of pedestrian safety has been stimulating the product demand. In 2016, more than 5,000 pedestrian fatalities occurred due to road accidents in the U.S. alone. In accordance, the Federal Highway Administration (FHWA) and National Highway Traffic Safety Administration (NHTSA) have taken initiatives to raise awareness among the masses about pedestrian safety, that are certain to augment the overall automotive pedestrian protection system industry size.
U.S. Automotive Pedestrian Protection System Market, By Product, 2017 & 2024 (USD Million)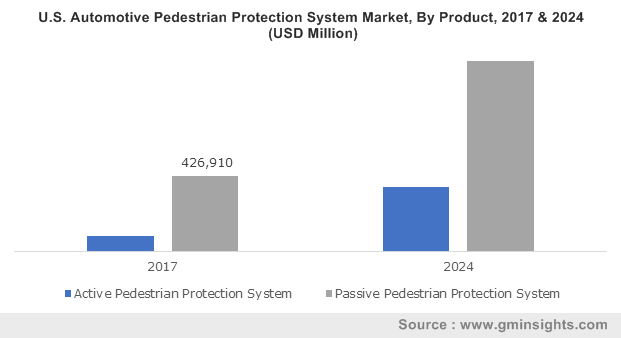 European companies like Bosch and Continental have been continuously conducting research and development activities to invent advanced technologies related to pedestrian protection systems. In the recent years, the regulatory framework governing pedestrian protection systems has become stricter, on the grounds of which Bosch encompasses a cost-effective and safe electronic system in its portfolio, incorporated with an active impact protection system. Given that the current challenges related to sensor equipment have been encouraging industry giants to come up with highly advanced sensing systems, Continental has optimized interfaces and improved quality standards with the development of an acceleration satellite assisted scalable sensor system. Incidentally, this newly developed pedestrian protection system can be efficiently improved with the integration of pressure-based technology.
Speaking along the same lines, telecommunications group, Vodafone and Continental have recently declared their innovation-driving partnership on June 2018. Their main objective of this partnership is to enhance smart vehicle connectivity and road safety across Germany. As per research, the traffic accident rate across Germany has been increasing tremendously with more than 7000 accidents occurring on the roads of Germany every single day. In this regard, the duo plan to develop mobile assisted digital shields for pedestrians and a high traffic warning system. The development of mobile-assisted computing systems will provide cost-effective benefits, as it would not be necessary for automakers to integrate expensive chipsets in the vehicle.
The presence of strong technology companies and vehicle manufacturers across European countries has thus been aiding the growth of Europe automotive pedestrian protection system industry. Incidentally, Europe accounted for more than 45% of the overall automotive pedestrian protection system market share in 2017, and is anticipated to dominate the industry over 2018-2024.
Currently, many automobile manufacturers have been focusing on developing intelligent, clean, safe, and convenient mobility solutions rather going in for high speed and more horsepower technologies. The shifting focus of the automakers toward the development of highly advanced safety features is likely to impel automotive pedestrian protection system industry share. Validating the aforementioned fact, the leading Indian car manufacturer, Maruti Suzuki has invested quite some capital to build an in-house pedestrian safety and crash testing facility near Delhi in compliance with stringent traffic safety and crash regulations. Considering that bad road conditions and the absence of high technology facilities in most of the vehicles lead to road accidents in India, prominent automakers have been working to develop advanced safety systems, propelling the regional automotive pedestrian protection system market trends.
Get a Sample Copy of this Report:@ https://www.gminsights.com/request-sample/detail/2821

Taking into account the surging need for vehicle safety for reducing fatalities, the Indian government is also looking forward to implementing strict rules and regulations. Under the Bharat New Vehicle Safety Assessment Program, the government is planning to mandate the deployment of pedestrian protection safety facilities in the vehicles in the coming years. In addition, the government has given few more years to automakers to equip all their existing vehicle models with this facility. The regulatory initiatives taken by the Indian government will generate commendable business opportunities for the giants in automotive pedestrian protection system market over the ensuing years.
In line with the vehicle safety regulatory policies, automakers have now been manufacturing new vehicle models equipped with pedestrian protection systems. The increasing use of such safety features in newly developed vehicles is poised to propel the product demand over the years ahead. The deployment of strict regulatory standards for enhancing pedestrians' safety also will help augment the revenue scale of automotive pedestrian protection system industry. For the record, by the end of 2024, overall automotive pedestrian protection system market will surpass a valuation of USD 3 billion.
Author Name : Satarupa De
With the automotive industry adhering increased importance to the driver's comfort and convenience,  steering wheel switches market size is projected to witness massive growth in the years ahead, in terms of sales and volume. Traditionally, these wheels were designed only with one button for honking. However, with consumers demanding increased functionality in the car such as controls for playing music and handsfree talking on the phone, steering wheels have come to include more switches.
For most part, additional switches help the driver operate different functions without having to get distracted from driving, thus helping to prevent accidents. Steering wheel switches are more prevalent in passenger vehicles and light commercial vehicles, though they are also gaining prominence in heavy commercial vehicles. Owing to the comfort and functionality that these switches provide, automotive industry players are looking forward to incorporating more such switches in the steering wheel with varied styles, which would eventually boost steering wheel switches industry trends.
Increasing technology propagation to augment Europe steering wheel switches market outlook
It is imperative to mention that in the countries where the demand for luxury cars are greater, such as Germany, Italy, UK, and France, steering wheel switches industry giants have designed wheels to accommodate as many as 10 switches. This trend has been followed in mid-range cars as well, with switches like infotainment, phone connectivity and volume control that can keep drivers from operating the distracting touchscreen for any kind of function control.
Many auto manufacturers are also adding a joystick-like push button controller on the left of the steering wheel, which is intuitive and can be operated without the driver having to seek out the touchscreen display first. The rising demand for such easily functional switches will indeed boost the steering wheel switches market share. Many automobile designers and manufacturers are also working to design a uniform steering wheel switch layout so that it is easier for users to operate controls using intuition and feel, thereby propelling the steering wheel switches industry trends further.
The efforts by prominent industry contenders is anticipated to majorly drive Europe steering wheel switches market size, that is projected to surpass USD 1 billion by 2024. In addition, the region is characterized by stringent regulations focusing on bettering driver safety, which would further bolster the industry outlook.
OEMs and aftermarket to emerge as vital distribution channels driving steering wheel switches industry size
Original equipment manufacturers are able to offer unique and customized designs for steering wheel switches that are amply suited to the customer's specific desires. Also, OEMs have greater capacity for investing heavily in innovation that would lead to better steering wheel designs. As per estimates, steering wheel switches market size from OEMs is anticipated to register a remuneration of more than USD 3 billion by 2024.
OEM segment, as a matter of fact, accounts for the largest steering wheel switches market share. The growth can also be attributed to the increasing disposable incomes that have enabled users to choose the best customization possible for their vehicles.
The high costs associated with steering wheels designed by OEMs will also drive the aftermarket steering wheel switches industry share. Aftermarket steering wheel switches are easier to afford and incorporate into the existing design of the vehicle. The consumer also gets a wider choice of what to incorporate and what to avoid when steering wheel switches are purchased and installed through the aftermarket. Widespread presence of the e-commerce industry and easy availability of the product in online auto stores will further drive the aftermarket steering wheel switches industry.
Get a Sample Copy of this Report:@ https://www.gminsights.com/request-sample/detail/2374
Rising automobile production to drive APAC steering wheel switches industry share
Considering the fact that they ensure driver's safety, steering wheel switches might be made mandatory in the near future. The ease of operation the product provides is also a reason for the rising popularity and demand of steering wheel switches. Automotive manufacturers in the rapidly developing region of Asia Pacific have duly acknowledged this growing demand.
Driven by the massive increase in automotive manufacturing and sales in this region, APAC will contribute over 40% toward steering wheel switches industry share by 2024.
Though the growth prospects of steering wheel switches market are indeed impressive, it is expected that the emergence of autonomous vehicles technology and innovative cars that may come without steering wheels may hinder the steering wheel switches market progress. Nonetheless, it has been forecast that driverless cars would take a while to go mainstream, on the grounds of which it is justified to state that steering wheel switches market would continue to experience an exponential growth graph in the ensuing years.
Author Name : Paroma Bhattacharya
The escalating development of global automotive sector will generate lucrative growth avenues for automotive wheel market. Automobile producers have been adopting new manufacturing techniques to comply with emission control regulatory norms. Researchers have also been implementing novel product designs and improvised concepts to increase the fuel efficiency of vehicles, which in turn, will boost automotive wheel industry size. Rising spending capabilities of consumers across the globe is also fueling the product demand. Of late, consumers have been prioritizing comfort, durability, and product design, which will provide a significant impetus to global automotive wheel industry. In fact, estimates claim automotive wheel market to surpass USD 100 billion in terms of revenue by the end of the year 2024.
U.S. Automotive Wheel Market, By Material, 2017 & 2024 (USD Million)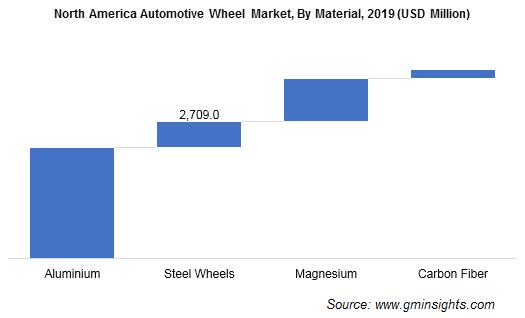 Major automotive manufacturers across North America and Europe are treading towards the production of lightweight vehicles, owing to the increasing concerns over environmental pollution. Aluminum is one of many materials that is used to construct these light weight vehicles, and has also been gaining popularity pertaining to the benefits it provides such as low weight, improved design, and excellent performance. The aluminum-based automotive wheel market will also experience commendable growth in the ensuing years pertaining to enhanced car handling and riding comfort, in tandem with the reduction of unsprung mass.
Surging innovations in product design has generated lucrative opportunities for various OEMs to penetrate automotive wheel market. In fact, OEMs dominated the automotive wheel market in 2017 and the segment is anticipated to retain its dominant position over 2018-2024 as well. The growth in the demand for OEMs in this industry can be appropriately credited to the extended durability, robust performance irrespective of weather, and reduced replacement rates.
Get a Sample Copy of this Report@ https://www.gminsights.com/request-sample/detail/1706
It is prudent to mention that OEMs have also benefitted from supportive manufacturing policies implemented by numerous Asian countries. The Asian zone, as a matter of fact, is anticipated to garner substantial returns in automotive wheel market, particularly on account of the expanding automotive industry in the region and the extensive automobile production across the economies of China and India. Indeed, APAC is known to have been a dominant regional contender and is expected to continue its leadership streak in the global automotive wheel market over 2018-2024. The regional growth can also be credited to the hefty demand for aluminum wheels in passenger cars in tandem with the requirement for aftermarket customization.
Rapid urbanization trends across the globe have changed the consumer standards of living, on account of which consumers across the globe have been giving preferences to passenger cars. Driven by rising passenger cars sales subject to increasing disposable income and high demand for mobility, automotive wheel industry size from passenger cars is likely to depict an incline in the years ahead. In 2018 alone, the European Automobile Manufacturers' Association (ACEA) observed registrations of about 12 million passenger cars, with a growth rate of 2.5% between January-September 2018. Even in China, in 2016, passenger car production was recorded at more than 24 million units. It is thus rather overt from these statistics that the commercialization scale of the global automotive wheel market will experience quite an upsurge from the worldwide demand and supply of passenger cars alone.
OEMs, in recent times, have been making strategic agreements with suppliers to expand the business space. Innovations in product design and manufacturing processes will create numerous growth opportunities for industry players in automotive wheel market. Mergers & acquisitions and joint ventures will continue to remain the key growth strategies that major companies will adopt, in order to stay ahead of their rivals in automotive wheel market.
Author Name : Saipriya Iyer
The automotive electronics control unit (ECU) market has witnessed incredible growth over the last two decades, owing to unparalleled expansion of the global automobile production sector and the influx of technology within vehicles. Continuously evolving knowledge and skills have enabled the integration of advanced electronic elements within automobiles such as fuel injection control and exclusive infotainment systems. Increase in spending power of the general population has encouraged automakers to pioneer connected systems and cutting-edge features, propelling the automotive ECU industry development. As ECUs are programmed to monitor and regulate safety features and vehicle performance, a shifting preference towards safer, more efficient cars will greatly strengthen the automotive ECU market, which boasted of a revenue of more than USD 65 billion in 2017.
China Automotive ECU Market size, by application, 2012-2023 (USD Billion)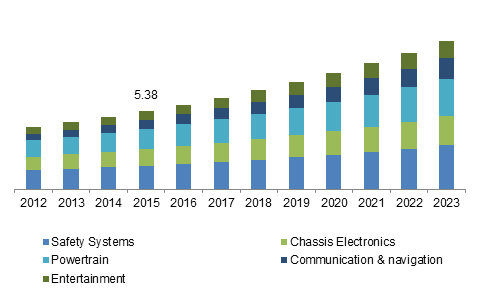 The International Organization of Motor Vehicle Manufacturers had revealed that a total of 97,302,534 cars and commercial vehicles had been manufactured across the globe in 2017. Practically, the number of ECUs in a car could be anywhere between 70 to more than 150, depending on the type of vehicles, indicating the massive demand that exists for the automotive ECU industry. The large number of ECUs have permitted enhanced safety features and external connectivity solutions to be installed in high-end as well as low-cost vehicles. Commercial vehicles have especially benefitted from the ECU's ability to regulate the fuel injection system, as increased fuel efficiency plays a vital role in achieving economical goods transportation.
Notable advancements in ECUs have stimulated auto manufacturers to find ways for reducing emissions through efficient control systems, ushering in a transformation of the automotive ECU industry and leading to the growth of smart technologies. The advent of electric vehicles has furthered the development of ECUs required for complex monitoring and operating of a vehicle. Considered to be a rapidly expanding source of remuneration for the automotive ECU market, the battery electric vehicles (BEVs or just EVs) are gaining increased momentum with each passing year. Worldwide environmental concerns have been the primary driver for the EV industry, coercing nations to invest heavily into boosting the adoption of EVs.
Get a Sample Copy of this Report @ https://www.gminsights.com/request-sample/detail/109
According to the U.S. government, a huge amount of greenhouse gas emissions in the country originates from the transportation sector and in 2016, almost 23% of it was contributed by medium and heavy duty commercial vehicles. As such, not only electric passenger and luxury cars but electric commercial vehicles have also started to attract demand from fleets and major corporations to cut down on their carbon footprint. Tesla, an innovator in the EV industry, has developed all electric Semis for the commercial sector, offering significant power and range to help customers maintain their bottom line while being environment-friendly. Representing a lucrative application scope for the automotive ECU market, the Tesla heavy duty tractor trailers can handle a weight of up to 80,000 pounds at full speed while giving a range of 300 to 500 miles.
Tesla has projected that by 2022, it would have received orders for about 100,000 Semis, with companies like UPS, Pepsi, Walmart, DHL and many others having already placed orders for the electric trucks. As other automobile manufacturers join the race for electric heavy duty vehicles, the automotive ECU market will experience considerable upsurge in investments to speed up productions. The International Energy Agency reported that in 2017 itself, the number of electric vehicles on roads had reached 3.1 million. In Europe, there was a 40% rise in the electric car sales in the first half of 2018, signifying that the EV industry is a budding customer base for the automotive ECU market, with growing inclination towards incorporating commercial EVs within fleets.
Although electric trucks have been used on the streets for many years now, the increased affordability of the technology has allowed vehicle makers to design and introduce new products. For instance, Piaggio Commercial Vehicles' electric power range has been providing customers with clean medium-duty commercial vehicles having, comfortable power delivery system and appreciable range, for over 20 years. The automotive ECU industry is thriving due to the efforts of companies who want to bring forward the transition towards a greener transport industry, like Daimler, who is developing 25 ton truck, and Proterra, which has designed an electric public transportation bus.
Poised to surpass USD 95 billion in earnings by 2024, the automotive ECU market is dominated by key industry participants like Bosch Group, Delphi Technologies, Hyundai MOBIS, Mitsubishi Electric Corp, Continental AG, besides others. Rising awareness about ADAS and other safety systems to prevent road accidents along with continuous research into designing powerful, more efficient ECUs will give significant propulsion to the automotive ECU industry over the coming years.
Author Name :Pankaj Singh