Passenger Information System
The growing prominence of IoT & its intense adoption in the railways prompted by government initiatives are driving railway management system market lately. The increased IoT adoption rate can be aptly credited to the technology's ability of providing rail operators with precise information on the train's location with regards to other trains in its vicinity, facilitating increased passenger safety. The system is also capable of regulating the locomotive's speed automatically based upon the real-time information delivered by the IoT system, significantly reducing the probability of collisions, further fueling the adoption of IoT, subsequently impelling the global railway management system market size.
MEA Railway Management System Market Revenue, By Rail Traffic Management System, 2017 & 2024 (USD Billion)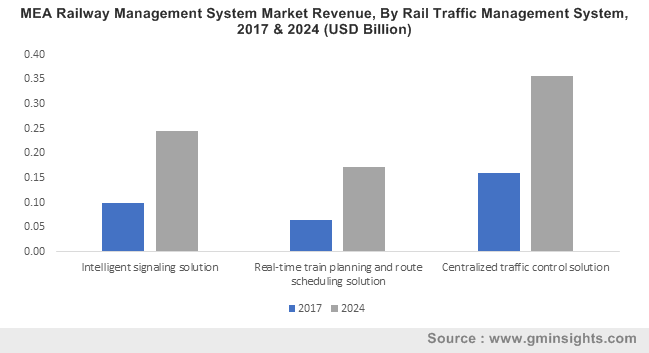 Driven by the railway authorities' increased focus on facilitating a more enhanced customer experience, railways are also deploying a number of digital technologies and services to provide more value-added services to the passengers. This has indeed propelled the safety, reliability, efficiency and overall performance of the railway services, fueling the railway management system market trends.
Rising number of government initiatives to aid the expansion of APAC railway management system market:
The Asia Pacific railway management system market is projected to witness exponential growth in the years to come, primarily powered by the surging number of strategic initiatives adopted by regional governments to up the economic ante of the continent. That said, the increasing GDP of the Asian nations and the vast majority of smart city initiatives that typically revolve around the region's public transportation networks are also expected to boost APAC railway management system industry.
According to a 2018 report by The Economic Times, under the Indian Government's smart city initiative the total amount of investment proposed across 4,500 projects in over 99 cities was approximately INR 203,979 crores with a large chunk of it being utilized in development of smart stations. Attributing to these factors, the APAC railway management system market is anticipated to register a CAGR of 14% over 2018-2024.
Get a Sample Copy of this Report @ https://www.gminsights.com/request-sample/detail/3056
Surging popularity of passenger information systems to expedite the industry growth:
Driven by the increasing level of competition in the industry coupled with rising passenger expectations, the Passenger Information System (PIS) solution holds the largest growth potential in the global railway management system market. The growth of this segment can also be aptly credited to the high level of urbanization coupled with the increased use of smartphones and rapid evolution of technologies.
The popularity PIS components has also triggered a number of partnership agreements in the industry. For instance, back in December 2018 KeTech Systems Limited (KeTech) partnered with Luminator Technology Group (LTG) to develop a real-time enhanced Passenger Information System.
System integration & deployment services to gain traction in railway management system market:
As railway systems work on adopting IoT and bringing in an overall digital transformation to the market, system integration & deployment services are expected to garner intense momentum, as railways replace conventional network systems with new & innovative IP-based technologies. Railway management system market size from system integration and deployment services was pegged at around $1 billion in 2017, and the industry is projected to acquire significant gains from these services in the years to come.
The projected growth can be attributed to the fact that rail companies continue to adopt more efficient system integration & deployment services in an effort to successfully integrate their present legacy systems with new, innovative technologies while also rolling-out new systems to create highly-scalable, cost-effective solutions to facilitate an enhanced end-to-end connectivity.
Rising adoption of the cloud deployment model to positively influence the industry trends:
The various benefits offered by the cloud would be responsible for enabling railway management system market from the cloud deployment model to register the fastest growth rate over 2018-2024. The model helps rail authorities to perform their operations in a highly efficient & greatly convenient manner as it allows for over-the-air updates, easy remote access through a browser while also being highly scalable & secure. These attributes make the model highly sought after, further augmenting its demands across the global railway management system market.
With the rising need to better serve the tech-savvy customers who are demanding for more efficient & easier to access services and the inherent requirement to make the rail authorities' operations more convenient & less complex, the global railway management system market is projected to record significant gains in the forthcoming years. According to Global Market Insights Inc., the increasing rate of IoT adoption across the global rail industry is projected to impel the remuneration scale of railway management system market, slated to cross a valuation of $64 billion by 2024.
Author Name : Akshay Kedari
With the robust penetration of smart technologies in the transit space, smart transportation market has been progressing at a prodigious pace in the recent years. The growth can be aptly credited to the efforts of the automotive industry players that have been striving to bring in innovative products to the masses. However, the governmental bureaucracy is also to be accredited with some appreciation, given that these authorized bodies have been extensively adopting smart technologies to solve traffic problems, in addition to providing substantial financial support for modernizing transportation.
Smart Transportation Market Size, By Mode of Transportation, 2017 & 2024 (USD Million)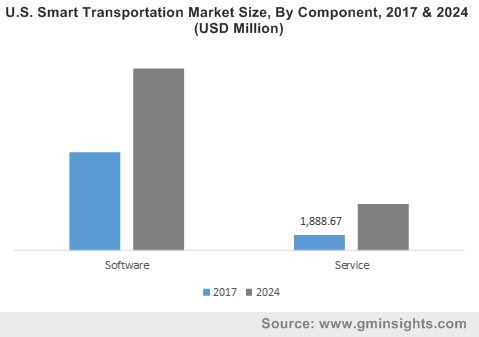 Urban planners along with technology experts are focusing on building smart cities that will use automated transportation, smart grids, artificial intelligence and digital sensors. Such cities are expected to become a hub for the expansion of the smart transportation industry. Furthermore, the advent of the Internet of Things (IoT) and artificial intelligence (AI) will also be playing a major role in popularizing smart transport, extending its reach across the masses. Indeed, it is being speculated that smart transportation market will emerge as one of most revolutionizing business spaces of the 21st century.
How China is contributing toward smart transportation market share
China, the biggest automotive market across the globe, has been highly proactive in improvising its automobiles, thereby emerging as a pivotal contributor in smart transportation market. The nation has seemingly deployed intelligent transportation systems such as traffic signal control systems, variable message signs, car navigation, speed cameras and automatic number plate recognition. This is being done primarily to update transportation systems and resolve various social issues that are often indirectly related to poor transportation. In fact, one of the most iconic instances demonstrating China's proactiveness in smart transportation industry is the construction of an intelligent highway equipped with battery chargers, solar panels and mapping sensors all along the 1.08 km stretch.
Get a Sample Copy of this Report @ https://www.gminsights.com/request-sample/detail/2512
China also aims at ensuring that at least 10% of all automobiles across the country are electric vehicles. This would warrant that smart highway projects such as the aforementioned are always on the run, thereby providing an added growth avenue for smart transportation industry. The Intelligent Transport System Association of China has recently even declared an investment of USD 30 billion in the intelligent transport industry by 2020 that would help construct electronic charging systems and encourage green transport system.
Dubai: Revolutionizing the dynamics of MEA smart transportation industry
Dubai has recently joined the trend of smart city development. Apparently, under the umbrella of the Dubai Plan 2021, the government is aiming at transforming infrastructure, designing ambitious projects and providing citizens with enhanced benefits. The regional smart transportation market has witnessed increased investment under the Dubai Plan, as transportation is being viewed as a key pillar to the development of a smart city.
The Roads and Transport Authority of Dubai has implemented unique smart car rentals that can be collected by tech-savvy commuters on an hourly basis and returned to kiosks located close to metro stations. Apparently, estimates claim that 40% of slow traffic movement in Dubai is caused by drivers looking for a parking spot. On these grounds, intelligent parking systems are being developed that will guide drivers to find parking spots near their destination. Safety of bus commuters is also being developed by the installation of a system of buses that will assess the physical condition of the driver and identify signs of exhaustion or illness. It has been estimated that IoT technologies can amplify Dubai's potential value to reach $5 billion by 2019.
Smart technology, ideally, is still a long time away from reaching market maturation. Besides, even regulatory systems have much progress to make with regards to helping existing roads adapt to the new smart mode of travel. However, smart transit systems offer ubiquitous connectivity, remote sensors, dynamic traffic signals and vehicular communications – commendable social and economic benefits that are certain to aid smart transportation industry emerge as a mainstream vertical.
Experts point out that between 2035 and 2045, the advent of autonomous vehicles can save around 585,000 lives while reducing commuting time by 250 million hours per year on a global basis. Also, machine directed vehicles are likely to stray from distractions and will contribute towards improving highway safety. According to certain statistics, autonomous vehicle technology is expected to add $7 trillion to the global economy by 2050 when they will come to constitute more than half the new vehicles sold worldwide.
In the forthcoming years, vehicle ownership is likely to be displaced with the rapid proliferation of Mobility-as-a-Service technology. Smart transportation market is expected to witness an altogether new scenario of ride-hailing services and pilotless vehicle options, revolutionizing the automotive & transportation space in its entirety. As per estimates, smart transportation industry size is anticipated to increase commendably in the ensuing years, with a target valuation of USD 130 billion by 2024.
Author Name : Paroma Bhattacharya