Passenger Vehicles
Powered by a strict regulatory frame of reference formulated to control vehicular emissions, on-board diagnostics (OBD) aftermarket has emerged as a highly lucrative business sphere over the last few years. Lately, many regulatory bodies have established emission control facility centers to resolve the issues related to the effective working of OBD.  In the U.S. specifically, the National Center for Automotive Science & Technology has established the National OBD Clearinghouse for facilitating the understanding of the on-board diagnostics technology, for which U.S. Environmental Protection Agency (EPA) has even provided a grant. In order to comply with the Clean Air Act, EPA has been encouraging people to conduct vehicle maintenance and inspection that will ultimately control the vehicle emission. As of now, a majority of vehicles are incorporated with the OBD technology for meeting the national air quality standards.
Europe On-board Diagnostics (OBD) Aftermarket Share, By Application, 2017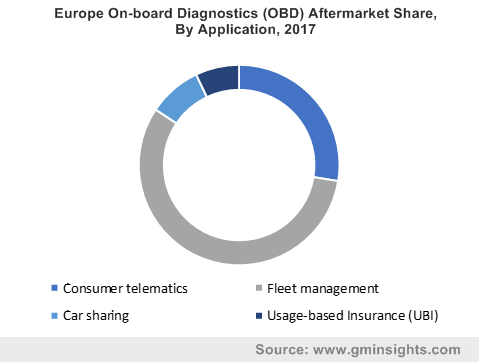 The OBD system is one of the integral parts of the electronic control unit (ECU) and is used for diagnosing and repairing vehicle subsystems and rectifying the malfunctions associated with the systems. The integrity of the emission control unit is maintained with the help of external tools that re-flash and re-configure the vehicle emission parameters. The increasing use of external vehicle diagnostic tools to maintain the shelf life of the vehicle is slated to propel on-board diagnostics (OBD) aftermarket considerably.
Taking into account the strict regulatory norms formulated to curb and monitor vehicle emissions, many diagnostic equipment providers are currently developing new OBD tool facility centers to check problems associated with the engine. For instance, in 2017, the leading suppliers of test equipment and diagnostic reporting for the automotive aftermarket, Innova Electronics Corp launched a modern on-board diagnostic tool line which is totally featured with its newly invented products that will be helpful for excellent diagnostic reporting.
Get a Sample Copy of this Report:@ https://www.gminsights.com/request-sample/detail/2839
The advent of a new range of technologies including cloud computing, Internet of Things (IoT), and smartphones have also had a remarkable influence on the on-board diagnostics aftermarket. In line with the recent product launches, many on-board diagnostics (OBD) aftermarket contenders have been developing new product portfolios comprising the modern technology aids. It has become very easy now for the vehicle owners to calibrate their vehicles' emission control unit. Recently, one of the leading players in on-board diagnostics aftermarket, Verizon has launched a next-generation aftermarket vehicle diagnostic service device that works just by plugging into vehicle's OBD computer port. As soon as it does, it connects to the OBD system of the vehicle and notifies the driver about any maintenance issue. In addition, Verizon has incorporated a smartphone software application as well as GPS technology that will help to resolve the mechanical issues in case of an emergency.
Though the government has mandated the deployment of vehicle health monitoring facilities, many vehicle owners are disabling and tampering on-board diagnostics and pollution control systems. They have also been tampering with laboratory test results and are bypassing emissions around monitoring devices. In U.S., the criminal office of the Environmental Protection Agency (EPA) and the Department of Justice (DOJ) in fact, had sued the employees of Rockwater Northeast LLC which provides operational services across oil and gas sector. The employees of this hydraulic fracturing firm had modified the OBD system and emission control unit of the company's heavy-duty diesel trucks. This strict stand taken by the regulatory bodies for the infringement of Clean Air act has depicted the significance regulations have on the North America on-board diagnostics aftermarket industry growth.
The significant benefits associated with the deployment of on-board diagnostics system to improve air quality through vehicle maintenance and inspection is slated to fuel the product demand across the globe. The installation of vehicle health inspection systems ultimately helps the owners to maintain the vehicle before it violates the air quality standard set by the government. In this regard, many vehicle owners have been implementing OBD systems to monitor and maintain their vehicles which will favorably stimulate on-board diagnostics aftermarket industry size over the years ahead. For the record, driven by a strict regulatory frame of reference, the overall on-board diagnostics (OBD) aftermarket will surpass revenue collection of USD 1.5 billion by the end of 2024.
Author Name : Sunil Hebbalkar
In an era where connected cars are deemed to mark the future of mobility, automotive cybersecurity market is indeed set to occupy a pivotal stance in smart and sustainable tech space. The cyber threats or security breaches in connected cars enable external access to the vehicle's network and not just compromise the driver's data privacy but can also pose serious threats to the driver's physical safety and car's operation. With data security breaches becoming intensely sophisticated, automotive cybersecurity industry has turned out to be an inevitable investment spot that would aid automotive sector's continued roadmap toward connectivity without risk.
Spain Automotive Cybersecurity Market Size, By Security, 2017 & 2024 (USD Thousand)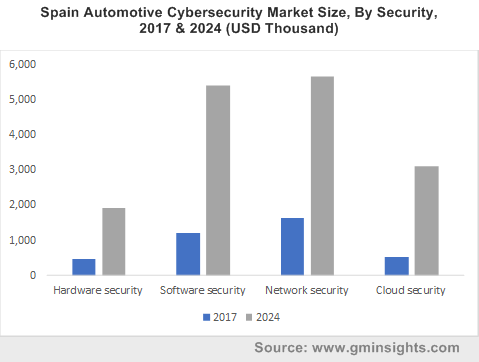 The dynamics of automotive cyber security involves two major rationales; the product's design, developments, maintenance, and operations and the operating environment comprising the regulatory and strategic framework. The multiple aspects associated with the two parameters are sort of prerequisites for the automotive cybersecurity market players to enhance and expand their stance in this landscape.
Speaking of competitive trends, strategic collaborations and partnerships have emerged as two of the top-notch measures adopted by the automotive cybersecurity market giants. One of the recent trends in this regard has been the JVs established between the automotive companies and technology conglomerates, in a bid to understand and resolve the security complexities in modern or connected vehicles.
Get a Sample Copy of this Report @ https://www.gminsights.com/request-sample/detail/2714
One of the recent instances that validates the growing stance of collaborations & JVs as prominent growth tactics has been the partnership between SafeRide, one of the formidable automotive cybersecurity market players and Netherland based digital platform security giant, Irdeto. Under the terms of the recently inked partnership, SafeRide in collaboration with Irdeto is claimed to provide the OEMs and tier -1 automotive suppliers with a holistic cybersecurity solution for autonomous and connected vehicles.  Allegedly, SafeRide's flagship vSentry solution would be integrated with Irdeto's famous Connected Transport solution, Cloakware, to offer a multi-layered approach in protecting the platforms against tampering, automated attacks, and reverse engineering.
The aforementioned instances only bear a fraction of the developments underlining automotive cybersecurity market, which as per Global Market Insights, Inc., would surpass a valuation of USD 837 million by 2024. The growing deployment of in-vehicle connectivity such as infotainment services, navigation, mobile phone connectivity, voice recognition, and communication in modern vehicles has further allowed the automotive cyber security market to make profound inroads in consumer vehicle segment. As per estimates, this particular application segment procured almost 90% of the global share in 2017.
Not to mention, the collaborative approach of the governmental agencies and with software players to provide telematics cybersecurity solutions is another prominent factor characterizing the automotive cybersecurity industry outlook.
In May 2018, The Department of Homeland Security Science and Technology Directorate partnered with the Volpo National Transportation Systems, a subsidiary of DOT, with an aim to build an efficient operational network and cybersecurity implementation for telematics systems in Federal vehicles. In yet another instance, Red Balloon Security, the globally acclaimed embedded security technology leader and Auto-ISAC had recently announced the commencement of a new partnership. The two entities through this tie-up intend to provide advanced security tools and training programs to spread cybersecurity awareness in the automotive sector. Red Balloon Security's advanced specialized tools and trainings are expected to help professionals deal with potential cyber threats in vehicle embedded device systems in a much comprehensive way.
Powered by the dynamism in the growth portfolio, investors are highly optimistic toward the revolutionizing automotive cyber security market outlook and are betting big to exploit the potential opportunities it is likely to offer. The renowned Japanese automotive component manufacturer Denso's USD 2 million investment in Dellfer, the renowned cybersecurity and IOT giant this year marks the onset of this approach by the automotive sector. The deal also implicates the rising focus of the auto giants toward protecting the connected vehicles from potential and rather sophisticated cyber threats.  It is overt that with the increasing commercialization of autonomous and connected vehicles, the deployment of cybersecurity technologies is deemed to be humongous. In terms of profitability, the global automotive cybersecurity market is slated to record a double-digit growth rate over 2018-2024.
Author Name : Satarupa De
Hydrogen Engine Center's recent launched intake manifold technology has marked a quantum leap in automotive air intake manifold market. This new design will apparently overcome the air & fuel imbalance in all the V8 engines, leading to reduced power and operational inefficiency. In addition, the technology is designed to improve the overall power output between 4% to 8% on almost all the internal combustion engines and can work on any type of combustion engine with four or more number of cylinders. The fact that this design will halt the backfiring of V8 engines with the usage of hydrogen as a fuel would certainly impel automotive air intake manifold market in the years to come.
U.S. Automotive Air Intake Manifold Market Size, By Vehicle, 2013 – 2024 (USD Million)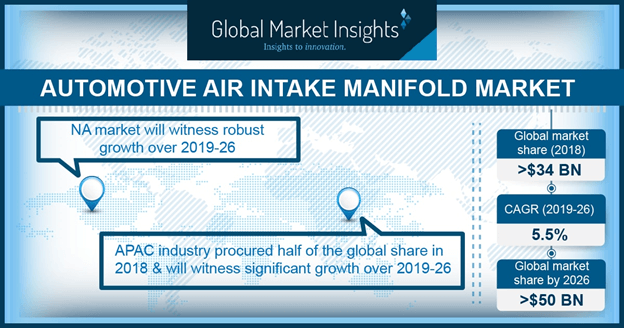 Recently, Ford India unleashed the 1.5-liter Ti-VCT, a three-cylinder petrol engine, that would open new growth avenues in India automotive air intake manifold industry. The manufacturing unit of the firm based in Sanand, Gujarat will manufacture this innovative petrol engine that will fulfill the demands of both the regional and global automobile sector, as it offers enhanced fuel efficiency and helps reduce the carbon emissions in the environment.
Key automobile manufacturers have been striving to expand their production base lately, given the intense competition and product demand. Holley Performance Products Incorporation, for instance, has established a manufacturing unit at Franklin in the U.S, which is likely to augment the vehicle production and increase the number of jobs across the automotive sector. The numerous developments underlining the automotive domain and automotive aftermarket have led experts to predict that automotive air intake manifold market will indeed experience lucrative growth prospects over 2017-2024.
Get a Sample Copy of this Report @ https://www.gminsights.com/request-sample/detail/1810
The substantial rise in the demand for vehicles across Indonesia, China, and India has led to an improvement in the vehicle production capacity, which would certainly augment APAC automotive air intake manifold industry. Furthermore, APAC has been predicted to contribute over 45% toward global automotive air intake manifold market revenue by 2024, driven by the ever-expanding automotive sector in the region.
Germany on the other hand, houses some of largest automobile manufacturing firms such as Volkswagen, Audi, Mercedes Benz, and BMW, which would considerably stimulate Germany automotive air intake manifold market. In addition, escalating demand for passenger cars across the region, resulting in an increase in the vehicle production will further augment the regional growth.
Reputed players such as MAHLE Gmbh, Aisin Seiki Company Limited, Keihin Corporation, Röchling Group, Mikuni Corporation, and Sogefi S.p.A partaking in automotive air intake manifold industry share have been focusing on expanding their consumer base and brand visibility across myriad geographies. Citing an instance, in the second quarter of 2017, Rochling Group commissioned its first automobile manufacturing plant in Mexico.
Favorable trade policies and the prevalence of effective product distribution channels have also considerably augmented this business space. Manufacturers have lately been adopting just-in-time strategies that has resulted in high product penetration across the automotive sector, thereby stimulating automotive air intake manifold industry. As per Global Market Insights, Inc., automotive air intake manifold market will cross a targeted revenue margin of USD 51 billion by 2024.
Author Name : Dhananjay Punekar
The last few years have observed a colossal rise in the requirement for collision warning systems. Automatic Emergency Braking Market revenue is likely to observe an upswing subject to this factor. In addition, the government has mandated regulations pertaining to passenger & pedestrian protection and vehicle safety, which will further spur this industry. Today, original equipment manufacturers are emphasizing more on introducing new technologies in vehicles to ensure the safety of both the driver and commuters. In 2014, the Euro NCAP (European New Car Assessment Program) had made it mandatory for the owners to install active safety systems in their vehicles to prevent road accidents. The introduction of such norms will escalate automatic emergency braking market. According to Global Market Insights, Inc., "Automatic Emergency Braking (AEB) industry size is anticipated to surpass USD 15 billion by 2024, growing at a rate of 29.3% over the period of 2016-2024."
U.S. Automatic Emergency Braking Market size, by vehicle type, 2014-2024 (USD Million)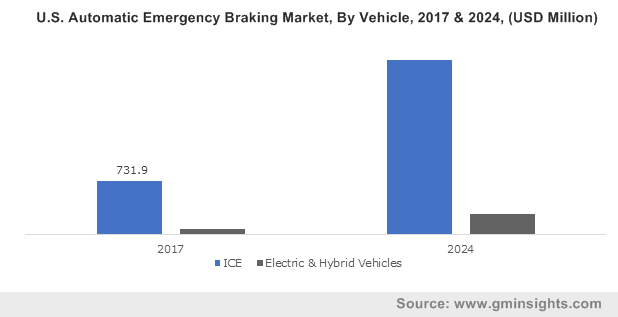 Taking into consideration the topographical trends, EMEA automatic emergency braking industry (Europe, the Middle East and Africa), which accounted for more than 45% of the global automatic emergency braking market share in 2015, is expected to grow notably over the years ahead. High consumer preference for advanced emergency braking systems in vehicles is expected to drive the business expansion in the region. UK and Germany are likely to make substantial contributions toward the regional revenue.
Get a Sample Copy of this Report @ https://www.gminsights.com/request-sample/detail/1171
Asia Pacific automatic emergency braking market is forecast to display a huge surge over the coming seven years, subject to escalated growth of infrastructure development across the region, which will offer huge business opportunities for the numerous players of automatic emergency braking market.
Automatic emergency braking systems find extensive applications in passenger and commercial vehicles. Strict legislations implemented by the government to prevent road accidents are expected to boost the usage of automatic emergency braking systems in heavy & light commercial vehicles, thereby accelerating automatic emergency braking industry expansion.
High customer inclination toward passenger vehicles equipped with additional features will drive AEB market demand in future. High sale of luxury cars such as mini SUVs across the world is expected to enhance the deployment of proficient and reliable technologies in automatic emergency braking systems. City automatic emergency braking systems are extensively used in passenger vehicles to curtail the repair and insurance charges, thereby providing a positive impetus to global AEB market.
In April 2017, Tesla launched a second-generation autopilot hardware as a major update for its new cars. It is predicted that this new 8.1 software update in the automatic emergency braking system of the automobile will help in reducing the collision rate by 90%. As per NHTSA (National Highway Traffic Safety Administration), installation of air bags in Tesla's first generation autopilot vehicles, which was an innovative AEB feature, helped in reducing the collision rate by nearly 40%.
Market players will try to increase their ROI through strategic collaborations and joint ventures. In 2015, Bosch had collaborated with Land Rover to build a stereo video camera through which an emergency braking system can operate merely on camera data. Such strategies are predicted to support AEB industry development.
Autoliv, Continental AG, Volkswagen, Mitsubishi Motors Corporation, The Volvo Group, BMW AG, Robert Bosch GmbH, General Motors Company, TRW Automotive, Delphi Automotive PLC, Tesla Incorporation, Mercedes-Benz, and Mobileye are the key participants of automatic emergency braking industry.
Author Name :Dhananjay Punekar