Passenger Vehicles
Shifting consumer preference towards safer vehicles is driving automotive airbags market size in the last few years, with numerous prominent automakers adopting new crash avoidance measures and tools. Increasing passenger vehicle production along with rising disposable income across developed and emerging nations has accelerated the product demand.
U.S. Automotive Airbags Market, By Position, 2018 & 2025, (USD Million)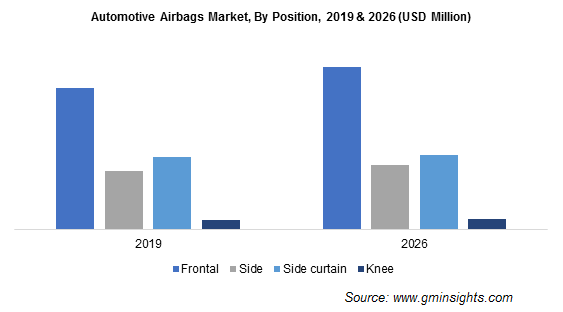 Regulatory organizations such as National Automobile Dealers Association are launching safety awareness campaigns, particularly regarding the live-saving capabilities of airbags. With respect to the deployment types, the frontal segment of the worldwide automotive airbags market is registering a robust growth rate over the past few years and is expected to sustain the momentum in the forecast years.
As driver and front seat passengers are more vulnerable in case of any crash or accident, the frontal airbags are deployed as a standard feature in majority of the vehicles. Moreover, the development of innovative products with electronic control unit (ECU) to improve the efficiency of these airbags is proving beneficial for automotive airbags industry share.
Get a Sample Copy of this Report:@ https://www.gminsights.com/request-sample/detail/3283
In terms of geographical expansion, the Asia Pacific region is emerging as a major growth avenue for the prominent players operating in automotive airbags industry. Over the past few years, emerging economies such as India and China are rolling out stringent regulations with respect to safety systems for vehicle occupants. These regulations apparently encompass a whole new set of safety norms which would drastically improve the existing measures to reduce the number of road fatalities.
Speaking in the similar context, it is prudent to mention that the Indian Road Transport Ministry has recently mandated the installation of airbags in all types of cars from July 1, 2019. Although a directive instructing the vehicle manufacturers to incorporate frontal airbags is in place since 2017, the new regulation makes the installation mandatory. Moreover, various other mandatory fitments are being prescribed to address the issue of over speeding and the consequences of the same. Needless to mention, all these developments are benefiting the in India industry trends as the new safety norms and regulations come into effective in the times to come.
Even though the growth prospects of automotive airbags industry appear highly promising, there exist a few major challenges that may hinder the pace of product penetration across some prominent geographies. It is quite a well-known fact that faulty airbags can cause grave injuries to the driver and the passengers sitting close to the airbags before it deploys.
This has been a serious concern with the first generation of frontal airbags, which get deployed with greater amount of force. In fact, the recent instance of the recall of Takata airbags by leading automotive firms affirms the need to revamp the way new-age airbags are manufactured as they would then be able to provide optimal level of protection in an event of a crash.
Elaborating further on the defective Takata airbags, it is being estimated that around 41.6 million vehicles equipped with 56 million faulty airbags are under recall since 2015. Recently, two of the foremost automakers, BMW and Ford, have recalled around 360,000 and 149,650 vehicles respectively on a global scale to replace the Takata airbags. Moreover, in addition to these recalls, there have been instances where the deployment of counterfeit airbags in vehicles has led to fatal accidents – a factor that has dampened the overall automotive airbags market outlook.
However, despite the challenges posed by counterfeit and defective products, the companies which are globally known as the top airbag manufacturers are being provided with a robust regulatory framework across various nations. These guidelines would certainly assist the automotive airbags market players to eliminate the shortcomings in the manufacturing procedures, which would help in increasing the pace of the product demand in the times to come. In fact, as per report estimates, the overall commercialization portfolio of the automotive airbags industry is slated to surpass USD 85 billion by 2025.
Author Name : Saif Ali Bepari
The escalating efforts to promote passenger safety owing to rising number of road accidents will drive automotive seat belts market trends. For decades, seat belts have been one of the most effective safety precautions used in the automotive industry. In fact, a National Highway Traffic Safety Administration (NHTSA) study claims that, between 1960 and 2012, seat belts have helped save more than 329,715 lives compared to all other vehicle safety technologies including airbags, electronic stability control and energy-absorbing steering.
U.S. Automotive Seat Belts Market, By Type, 2018 & 2025, (USD Million)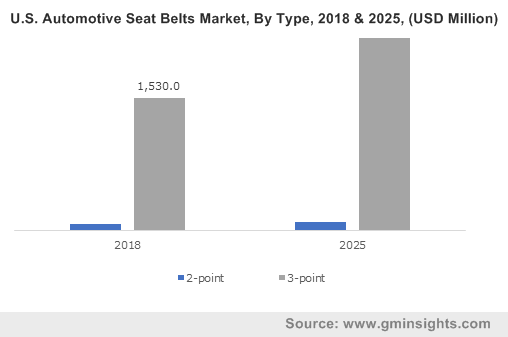 However, despite potential benefits, passengers are still seen avoiding the use of seat belts which has indirectly led to increasing trends in road accidents. For instance, in 2009, road crashes were reported to kill over 33,000 people and injure another 2.2 million, in which about 53% of drivers and passengers were seen not wearing seat belts. Fatalities caused by drowsy driving have also increased dramatically in the past couple of years.
Meanwhile, unbuckled passengers are reported to be more likely of being ejected through the front, rear or side windows, resulting in fatal repercussion. Factors such as these have underlined the sheer importance of seat belts in the current automotive industry and indirectly added impetus to automotive seat belts industry outlook.
Reportedly, to avoid such accidents in the first place, automakers are implementing enhanced seat belt reminder systems in their vehicles that continuously alert drivers and passengers to use seat belts following vehicle startup. Studies also suggest that lap/shoulder seat belts could significantly reduce the risk of fatal injury to front-seat occupants by 45% and the risk of moderate-to-critical injury by 50%.
Get a Sample Copy of this Report:@ https://www.gminsights.com/request-sample/detail/1944
Additionally, primary seat belt enforcement laws and heavy penalties for seat belt law violation are also likely to supplement automotive seat belts market growth. For instance, based on reliable reports, penalty amounts have increased on an average from $39 to $70 in the U.S. while seat belt use has increased by an average of about 9.1% in the country. In addition to stern fines, in 2019, officials in New York have also pushed a bill mandating the use of seat belt in rear passenger seats, cite news reports.
Advancements in seat belt technology coupled with growing investments by OEMs to develop advanced sensor-based seat belts will drive automotive seat belts market growth. Technologies like seat belt tensioners and load limiters have significantly helped improve the seat belt effectiveness whilst lowering impact on travelling passengers. Seat belt reminder (SBR) systems that come with audiovisual aids have also proven to be extremely effective in increasing product traction. In fact, a declining trend in unbelted driving has been recorded while unbelted drivers have reduced by 80% in vehicles with advanced SBR systems.
Meanwhile, automakers are seen promoting the use of seat belts by means of new safety features in last couple of years. For instance, U.S. automaker Chevrolet has recently introduced its 'Buckle to Drive' feature, anticipated to come as standard on all 2020 Chevy Traverse, Malibu, and Colorado vehicles, that will actively help prevent teens from driving until they fasten their seat belts. Initiatives such as these are anticipated to foster product use, in turn boosting the automotive seat belts industry size.
Rising cases of road fatalities and surging passenger vehicle sales are expected to foster APAC automotive seat belts market growth. According to reliable reports, in India, a whopping 75% of passenger vehicle drivers do not use seat belts, causing around 15 deaths per day. While the Ministry of Road Transport and Highway report cite that, in 2016, a total of 5,638 people died on road due to non-usage of seat belts. With stringent government regulation and introduction of advanced seat belt reminding technologies, the regional automotive seat belts industry is slated to record significant growth over the forecast period.
Meanwhile, surging passenger vehicle sales in the country will raise the automotive seat belts market growth to new levels. For instance, according to the Society of Indian Automobile Manufacturers (SIAM), the sale of passenger vehicles (PV) rose by 2.70% in April-March 2019 whereas PV sales are projected to grow by 3-5% in FY20. Furthermore, introduction of new vehicle segments equipped with advanced safety features will boost product penetration.
The demand for automotive seat belts is gaining momentum due to rising awareness regarding passenger safety along with new government regulations to minimize road fatalities. The development of advanced seat belt reminding technologies will propel market share. Reports from Global Market Insights, Inc., suggest that the automotive seat belts market size might surpass USD 10 billion by 2025.
Author Name : Mateen Dalal
Powered by a strict regulatory frame of reference formulated to control vehicular emissions, on-board diagnostics (OBD) aftermarket has emerged as a highly lucrative business sphere over the last few years. Lately, many regulatory bodies have established emission control facility centers to resolve the issues related to the effective working of OBD.  In the U.S. specifically, the National Center for Automotive Science & Technology has established the National OBD Clearinghouse for facilitating the understanding of the on-board diagnostics technology, for which U.S. Environmental Protection Agency (EPA) has even provided a grant. In order to comply with the Clean Air Act, EPA has been encouraging people to conduct vehicle maintenance and inspection that will ultimately control the vehicle emission. As of now, a majority of vehicles are incorporated with the OBD technology for meeting the national air quality standards.
Europe On-board Diagnostics (OBD) Aftermarket Share, By Application, 2017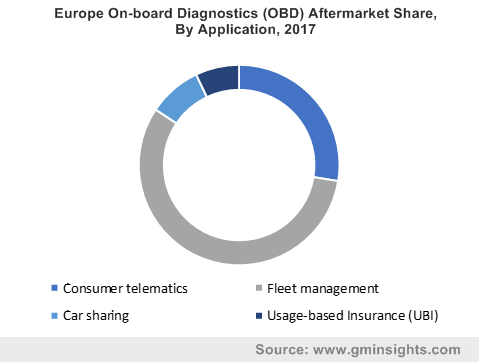 The OBD system is one of the integral parts of the electronic control unit (ECU) and is used for diagnosing and repairing vehicle subsystems and rectifying the malfunctions associated with the systems. The integrity of the emission control unit is maintained with the help of external tools that re-flash and re-configure the vehicle emission parameters. The increasing use of external vehicle diagnostic tools to maintain the shelf life of the vehicle is slated to propel on-board diagnostics (OBD) aftermarket considerably.
Taking into account the strict regulatory norms formulated to curb and monitor vehicle emissions, many diagnostic equipment providers are currently developing new OBD tool facility centers to check problems associated with the engine. For instance, in 2017, the leading suppliers of test equipment and diagnostic reporting for the automotive aftermarket, Innova Electronics Corp launched a modern on-board diagnostic tool line which is totally featured with its newly invented products that will be helpful for excellent diagnostic reporting.
Get a Sample Copy of this Report:@ https://www.gminsights.com/request-sample/detail/2839
The advent of a new range of technologies including cloud computing, Internet of Things (IoT), and smartphones have also had a remarkable influence on the on-board diagnostics aftermarket. In line with the recent product launches, many on-board diagnostics (OBD) aftermarket contenders have been developing new product portfolios comprising the modern technology aids. It has become very easy now for the vehicle owners to calibrate their vehicles' emission control unit. Recently, one of the leading players in on-board diagnostics aftermarket, Verizon has launched a next-generation aftermarket vehicle diagnostic service device that works just by plugging into vehicle's OBD computer port. As soon as it does, it connects to the OBD system of the vehicle and notifies the driver about any maintenance issue. In addition, Verizon has incorporated a smartphone software application as well as GPS technology that will help to resolve the mechanical issues in case of an emergency.
Though the government has mandated the deployment of vehicle health monitoring facilities, many vehicle owners are disabling and tampering on-board diagnostics and pollution control systems. They have also been tampering with laboratory test results and are bypassing emissions around monitoring devices. In U.S., the criminal office of the Environmental Protection Agency (EPA) and the Department of Justice (DOJ) in fact, had sued the employees of Rockwater Northeast LLC which provides operational services across oil and gas sector. The employees of this hydraulic fracturing firm had modified the OBD system and emission control unit of the company's heavy-duty diesel trucks. This strict stand taken by the regulatory bodies for the infringement of Clean Air act has depicted the significance regulations have on the North America on-board diagnostics aftermarket industry growth.
The significant benefits associated with the deployment of on-board diagnostics system to improve air quality through vehicle maintenance and inspection is slated to fuel the product demand across the globe. The installation of vehicle health inspection systems ultimately helps the owners to maintain the vehicle before it violates the air quality standard set by the government. In this regard, many vehicle owners have been implementing OBD systems to monitor and maintain their vehicles which will favorably stimulate on-board diagnostics aftermarket industry size over the years ahead. For the record, driven by a strict regulatory frame of reference, the overall on-board diagnostics (OBD) aftermarket will surpass revenue collection of USD 1.5 billion by the end of 2024.
Author Name : Sunil Hebbalkar
In an era where connected cars are deemed to mark the future of mobility, automotive cybersecurity market is indeed set to occupy a pivotal stance in smart and sustainable tech space. The cyber threats or security breaches in connected cars enable external access to the vehicle's network and not just compromise the driver's data privacy but can also pose serious threats to the driver's physical safety and car's operation. With data security breaches becoming intensely sophisticated, automotive cybersecurity industry has turned out to be an inevitable investment spot that would aid automotive sector's continued roadmap toward connectivity without risk.
Spain Automotive Cybersecurity Market Size, By Security, 2017 & 2024 (USD Thousand)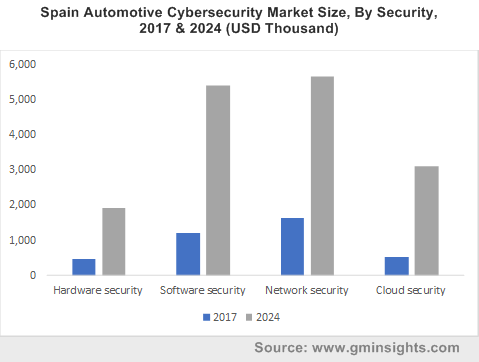 The dynamics of automotive cyber security involves two major rationales; the product's design, developments, maintenance, and operations and the operating environment comprising the regulatory and strategic framework. The multiple aspects associated with the two parameters are sort of prerequisites for the automotive cybersecurity market players to enhance and expand their stance in this landscape.
Speaking of competitive trends, strategic collaborations and partnerships have emerged as two of the top-notch measures adopted by the automotive cybersecurity market giants. One of the recent trends in this regard has been the JVs established between the automotive companies and technology conglomerates, in a bid to understand and resolve the security complexities in modern or connected vehicles.
Get a Sample Copy of this Report @ https://www.gminsights.com/request-sample/detail/2714
One of the recent instances that validates the growing stance of collaborations & JVs as prominent growth tactics has been the partnership between SafeRide, one of the formidable automotive cybersecurity market players and Netherland based digital platform security giant, Irdeto. Under the terms of the recently inked partnership, SafeRide in collaboration with Irdeto is claimed to provide the OEMs and tier -1 automotive suppliers with a holistic cybersecurity solution for autonomous and connected vehicles.  Allegedly, SafeRide's flagship vSentry solution would be integrated with Irdeto's famous Connected Transport solution, Cloakware, to offer a multi-layered approach in protecting the platforms against tampering, automated attacks, and reverse engineering.
The aforementioned instances only bear a fraction of the developments underlining automotive cybersecurity market, which as per Global Market Insights, Inc., would surpass a valuation of USD 837 million by 2024. The growing deployment of in-vehicle connectivity such as infotainment services, navigation, mobile phone connectivity, voice recognition, and communication in modern vehicles has further allowed the automotive cyber security market to make profound inroads in consumer vehicle segment. As per estimates, this particular application segment procured almost 90% of the global share in 2017.
Not to mention, the collaborative approach of the governmental agencies and with software players to provide telematics cybersecurity solutions is another prominent factor characterizing the automotive cybersecurity industry outlook.
In May 2018, The Department of Homeland Security Science and Technology Directorate partnered with the Volpo National Transportation Systems, a subsidiary of DOT, with an aim to build an efficient operational network and cybersecurity implementation for telematics systems in Federal vehicles. In yet another instance, Red Balloon Security, the globally acclaimed embedded security technology leader and Auto-ISAC had recently announced the commencement of a new partnership. The two entities through this tie-up intend to provide advanced security tools and training programs to spread cybersecurity awareness in the automotive sector. Red Balloon Security's advanced specialized tools and trainings are expected to help professionals deal with potential cyber threats in vehicle embedded device systems in a much comprehensive way.
Powered by the dynamism in the growth portfolio, investors are highly optimistic toward the revolutionizing automotive cyber security market outlook and are betting big to exploit the potential opportunities it is likely to offer. The renowned Japanese automotive component manufacturer Denso's USD 2 million investment in Dellfer, the renowned cybersecurity and IOT giant this year marks the onset of this approach by the automotive sector. The deal also implicates the rising focus of the auto giants toward protecting the connected vehicles from potential and rather sophisticated cyber threats.  It is overt that with the increasing commercialization of autonomous and connected vehicles, the deployment of cybersecurity technologies is deemed to be humongous. In terms of profitability, the global automotive cybersecurity market is slated to record a double-digit growth rate over 2018-2024.
Author Name : Satarupa De
Hydrogen Engine Center's recent launched intake manifold technology has marked a quantum leap in automotive air intake manifold market. This new design will apparently overcome the air & fuel imbalance in all the V8 engines, leading to reduced power and operational inefficiency. In addition, the technology is designed to improve the overall power output between 4% to 8% on almost all the internal combustion engines and can work on any type of combustion engine with four or more number of cylinders. The fact that this design will halt the backfiring of V8 engines with the usage of hydrogen as a fuel would certainly impel automotive air intake manifold market in the years to come.
U.S. Automotive Air Intake Manifold Market Size, By Vehicle, 2013 – 2024 (USD Million)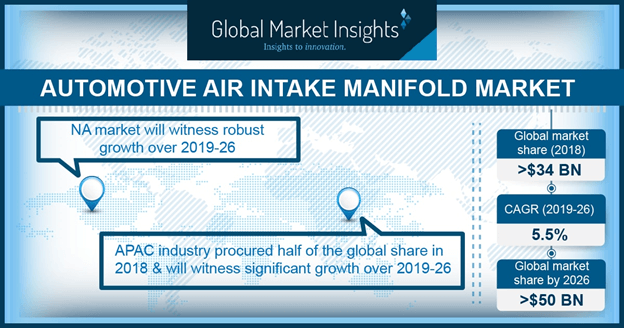 Recently, Ford India unleashed the 1.5-liter Ti-VCT, a three-cylinder petrol engine, that would open new growth avenues in India automotive air intake manifold industry. The manufacturing unit of the firm based in Sanand, Gujarat will manufacture this innovative petrol engine that will fulfill the demands of both the regional and global automobile sector, as it offers enhanced fuel efficiency and helps reduce the carbon emissions in the environment.
Key automobile manufacturers have been striving to expand their production base lately, given the intense competition and product demand. Holley Performance Products Incorporation, for instance, has established a manufacturing unit at Franklin in the U.S, which is likely to augment the vehicle production and increase the number of jobs across the automotive sector. The numerous developments underlining the automotive domain and automotive aftermarket have led experts to predict that automotive air intake manifold market will indeed experience lucrative growth prospects over 2017-2024.
Get a Sample Copy of this Report @ https://www.gminsights.com/request-sample/detail/1810
The substantial rise in the demand for vehicles across Indonesia, China, and India has led to an improvement in the vehicle production capacity, which would certainly augment APAC automotive air intake manifold industry. Furthermore, APAC has been predicted to contribute over 45% toward global automotive air intake manifold market revenue by 2024, driven by the ever-expanding automotive sector in the region.
Germany on the other hand, houses some of largest automobile manufacturing firms such as Volkswagen, Audi, Mercedes Benz, and BMW, which would considerably stimulate Germany automotive air intake manifold market. In addition, escalating demand for passenger cars across the region, resulting in an increase in the vehicle production will further augment the regional growth.
Reputed players such as MAHLE Gmbh, Aisin Seiki Company Limited, Keihin Corporation, Röchling Group, Mikuni Corporation, and Sogefi S.p.A partaking in automotive air intake manifold industry share have been focusing on expanding their consumer base and brand visibility across myriad geographies. Citing an instance, in the second quarter of 2017, Rochling Group commissioned its first automobile manufacturing plant in Mexico.
Favorable trade policies and the prevalence of effective product distribution channels have also considerably augmented this business space. Manufacturers have lately been adopting just-in-time strategies that has resulted in high product penetration across the automotive sector, thereby stimulating automotive air intake manifold industry. As per Global Market Insights, Inc., automotive air intake manifold market will cross a targeted revenue margin of USD 51 billion by 2024.
Author Name : Dhananjay Punekar