Payment
The deployment of IoT in retail market has indeed given rise to a more convenient, smart, and tremendously efficient experience for retailers and consumers. With connected solutions transforming the retail sphere, companies offering IoT and retail solutions have been partnering to provide an all-round, reliable, connected experience to global retail consumers. Demonstrating an instance of this fact, Fujitsu has scarcely collaborated with Arkessa to deploy connected retail and IoT solutions to customers. Through this partnership, Arkessa, a global M2M managed services provider specializing in easing IoT connectivity, plans to enable its ICT solutions for retail, thereby helping Fujitsu's retailers deliver a first-class consumer experience. The partnership is one of the many alliances that underlines the extensive developments prevalent in IoT in retail market, which, as per analysts, generated a valuation of close to USD 9 billion in 2016.
IoT in retail market, by application, 2016 & 2024 (USD Billion)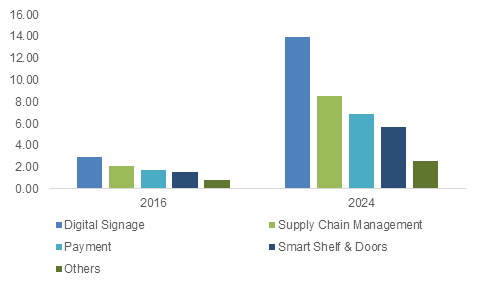 As per a recent research study, the Internet of Things is one of the most paramount trends emerging in the retail space. The scope of IoT in retail industry travels beyond the frontiers of modest customer satisfaction and retailer convenience, as it provides consumers with high-grade browsing service, digitized real-time coupons & offers, and an overall, sophisticated, connected shopping experience. Additionally, retailers are rewarded with smart store operations, smart pricing strategies, and smart inventory management, which enables further deployment of smart solutions in store, thereby fueling IoT in retail market share.
Get a Sample Copy of this Report@ https://www.gminsights.com/request-sample/detail/1591
An insight into some of the most innovative developments witnessed by IoT in retail industry in 2017:
In the middle of September 2017, an LA-based IoT technology provider, Mojix, announced a merger with CXignited, a European IoT firm, with an intent to create a global connected solution providing platform that would help retailers and brand owners boost their consumer experiences and automate their inventory management procedures. The joint entity is slated to be operating under the individual brand names, and is certain to have a considerable impact on IoT in retail market share.
Merely a few days post the Mojix-CXignited JV was announced, the renowned France-based fashion retail giant, Kiabi, declared the onset of a technology alliance with one of the world's most trusted and reliable IoT device management solution providers, Soti. Kiabi's intent behind the supposed runway ready collaboration was to exploit Soti's integrated mobility platform for its stock transfers, delivery processing, and inventory control. The retailer's alliance with Soti is remnant of how robustly IoT in retail industry has been making rapid inroads onto the path of success.
The onset of October witnessed IBM's cognitive AI platform, Watson, helping Indian retailers to decode consumer behavior and reach out to the most appropriate target audience. IBM thus, directs Watson to analyze data collected via IoT sensors, and collect insights for forecasting and upgrading the performance of machines and components to deliver tailor-made solutions to clients. IBM's move to exploit IoT for the Indian retail space is one of the most dynamic instances depicting the vast expanse of IoT in retail market.
Accurately defined as one of the top retail technology trends to look out for, the Internet of Things has been drastically disrupting the traditional retail business model, which has had a commendable impact on IoT in retail industry. Traditional retailers, in a bid to attract consumers and consolidate their stance, would have to live up to numerous challenges, in response to which they would need to keep abreast of the latest technologies influencing the retail sphere. This would subsequently have a massive impact on IoT in retail market outlook, given that retailers would desperately sign up to exploit connected solutions for their brick-and-mortar stores. In effect, retailers have been looking forward to outwitting their rivals when it comes to offering the choicest, most unique, comfortable, and tech-savvy retail experience for customers, which would single them out in IoT in retail market. Analyzing the depth to which IoT is being leveraged by retailers, it can be aptly presumed that IoT in retail industry would traverse a rather successful path over the forthcoming seven years.
Author Name : Saipriya Iyer
The exponentially expanding e-commerce sector has indeed brought a disruption in the operation fashion of traditional brick and mortar stores. Mobile POS terminals market, a major beneficiary of this change, is gaining a substantial traction in this transformative merchandizing landscape. The increasing penetration of EMV contactless payments in digitized financial transaction is undeniably boosting global mobile POS terminals industry share. Payment service providers are scrupulously planning to bring forth an array of products that not only boost their day to day sales but also improve the consumer experience. Concurrently, many central banks, payment networks and other governmental bodies across the globe are also implementing mobile POS systems by virtue of its extensive benefits like ease of installation, less settlement time, and scalability of solution. Reportedly, the number of users in mobile POS payments would be more than 970 million by 2022.
Germany mobile POS terminals market size, by application, 2017 & 2024 (Thousand Units)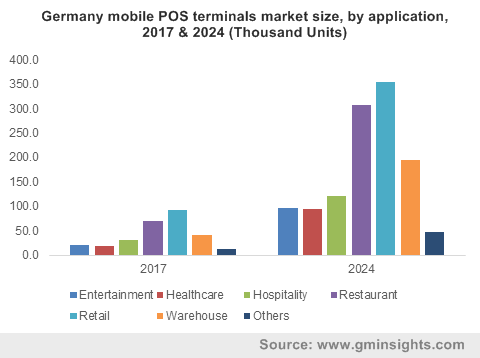 The commercialization potential of the entire business space is further coherent from the estimates brought forth by Global Market Insights, Inc. forecasting the worldwide mobile POS terminals market to exceed a valuation of USD 55 billion by 2024. While the growing inclination toward real-time payment modes create new challenges, joint venture and collaborative approaches can allow industry players to pool competencies. In fact, the trend has already established its presence in the competitive arena of the business space.
For instance, recently renowned payment solution provider, Network International, augmented identity specialist IDEMIA, and tech giant Mastercard have teamed up to introduce a mobile POS terminals project in UAE.  Reportedly, this collaborative project would allow UAE based Network International merchants to avail contactless payments via NFC (near-field communication) enabled smartphones. Network International is claimed to be the largest merchant acquirer in Middle East belt and the conjoint initiative, as per experts' opinion, undoubtedly marks a significant step toward enhancing the region's payment infrastructure. The initiative is rightly touted as the first of its kind in UAE mobile point of sale terminals market.
Get a Sample Copy of this Report@ https://www.gminsights.com/request-sample/detail/464
Technology has always been a key enabler of advancements across the finance-oriented industry verticals. Mobile POS terminals market is probably one of the largest recipients of the transformed payment landscape. The pay-tech revolution is allowing modern digital payment modes to address payment efficiency, speed, risk detection as well as user experience, providing SMEs the access to tailor their operations in sync with the latest advancements. In this regard, cloud based mobile POS terminals industry is gaining a mass popularity across the globe primarily on account of its enlarged storage facility, ease of operation, and better functionality. Incidentally, this has encouraged a host of new vendors to include SaaS-based solutions in their offerings like Toast, Square, Springboard Retail, and Touchbistro.
Say for instance, NewNet Communication Technologies and its partner Neubits have recently made it to the headlines with the successful trial of STC (Secure Transaction Cloud) on AWS (Amazon Web Services) in Singapore. The trial has already set a major benchmark in mobile POS terminals industry after successfully testing transactions for mobile payments via smart POI devices, mPOS terminals, and web payment clients. Reported to be available on AWS marketplace, NewNet's STC allegedly supports usages in private, public, or hybrid cloud infrastructure with advanced level point-to-point encryption, and data security. Inherently stimulated by such highly developed web-based payment models, cloud based mPOS terminals industry is slated to grow at a CAGR of 20% over 2018-2024.
While the growth rate is quite impressive, security concern is the single most factor holding back smartphone payment adoption across some of the geographies, leaving a perpetual impact on the mPOS terminals market share.  Armed with an intent to overcome the challenge, many retailers are now implementing combo terminals that are capable of reading both EMV and NFC transactions. All in all, with the remarkable proliferation in mobile technology and the growing consumer awareness toward contactless payments, mobile point of sale terminals industry is likely to be one of the most challenging yet remunerative business spaces to watch unfold.
Author Name : Satarupa De