PCR
Food pathogen testing market has now evolved into one of those fraternities that mandatorily demands an excessive requirement for sanitation at every stage of production, thereby necessitating the requirement for highly efficient pathogen removal processes. Pathogen testing tools are quite prominently used across the food product manufacturing sectors – right from the pre-process of raw material testing to the manufacturing of the end-product. The evolution of pathogen testing methods has delivered multiple benefits to the food vertical, which would undeniably impel food pathogen testing industry size. Given that the prevalence of health risks associated with contaminated products may impact negatively on the business, food manufacturers have been taking utmost precautions to deploy efficient pathogen testing methodologies during production, thereby carving out a positive growth path for food pathogen testing market in the years ahead. For the record, estimates claim food pathogen testing industry to have held a revenue of USD 3 billion in 2016.
U.S. Food Pathogen Testing Market, By Contaminant, 2013-2024, (Million tests)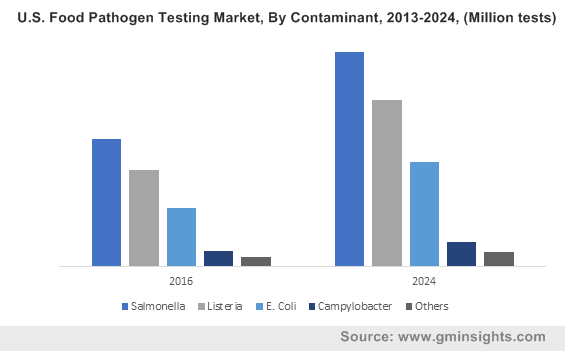 The emergence of new technologies in food pathogen testing market has pushed the conventional pathogen test methods to next level. Considering the benefits of technological interventions, these advanced methods are being instantly accepted across the food and beverages industry. In North America, for instance, F&B sector behemoths have been giving high preference to pathogen testing methods pertaining to the growing use of genetically modified organisms and high medical expenses. This may perhaps be one of the key factors augmenting North America food pathogen testing industry size, which, as per a report compiled by Global Market Insights, Inc., will collect a revenue of more than USD 2 billion by the end of 2024.
Apart from the recent advancements prevalent in food pathogen detection, it has been observed that there are myriad opportunities and challenges to enhance the already existing technology in this business. Many players in food pathogen testing market though, prefer looking out for newer techniques and biosensors for food pathogen detection. Client partnerships with pathogen testing service providers are commonplace in food pathogen testing industry, to avoid product contamination. For instance, SGS, a leading verification, inspection, certification, and testing company plans to provide its services to the pet-food manufacturers in United States and Canada with regards to Salmonella contamination, to prevent health risks in pets. For the record though, in 2016, food pathogen testing industry size from salmonella contamination was valued at USD 1.2 billion. This may be attributed to the increase in the number of food borne diseases, subject to the presence of Salmonella in food products.  Similar to SGS, many other prominent players in food pathogen testing market such as Bureau Veritas, SGS, Eurofins Scientific, RapidBio Systems, Inc.™, Intertek, Lloyd's Register Quality Assurance, Inc., Det Norske Veritas, Genon Laboratories Ltd., and Microbac Laboratories have been observed to undertake efforts with regards to innovating novel pathogen testing methods.
Get a Sample Copy of this Report@ https://www.gminsights.com/request-sample/detail/1417
Taking into account the risks associated with foodborne diseases, the regulatory bodies of various countries have been enforcing strict norms to mandate the deployment of pathogen testing methods. In the U.S., Food and Drug Administration has formed the Food Safety Modernization Act (FSMA) to enhance the food safety system for public health protection. With the FSMA, FDA has also been able to collaborate with other domestic as well as foreign government agencies to build integrated food safety systems, which will prompt other governmental bodies to adopt food pathogen testing techniques, inherently propelling food pathogen testing market.
The governmental bodies across the Asia Pacific are strongly focusing on extensive research and development activities, owing to the rapid growth of the chemical and food processing sectors in the region. In addition, food pathogen testing industry players, having established their bases in the APAC belt, have also been striving to expand their reach across the frontiers and strengthen their customer pool. Recently, for example, Thermo Fisher Scientific Inc. acquired a leading contract development and manufacturing company, Patheon N.V., which has helped the former expand its customer base across the biotechnology and pharmaceutical sectors. These growth strategies are evidence enough to prove food pathogen testing market is likely to carve out a lucrative growth path in the years ahead.
Author Name : Sunil Hebbalkar
Persistently being channelized by technological proliferation, molecular diagnostics market has, of late, been gaining rewarding proceeds from a plethora of healthcare applications including the likes of blood screening, oncology testing, genetic testing, and infectious diseases testing domains. Recent advancements in molecular diagnostic approach have brought a paradigm shift in the overall business perspective from basic research activities to clinical reality, which undoubtedly, has widened the application scope of molecular diagnostics industry.
India Molecular Diagnostics Market, By Application, 2013 – 2024, (USD Million)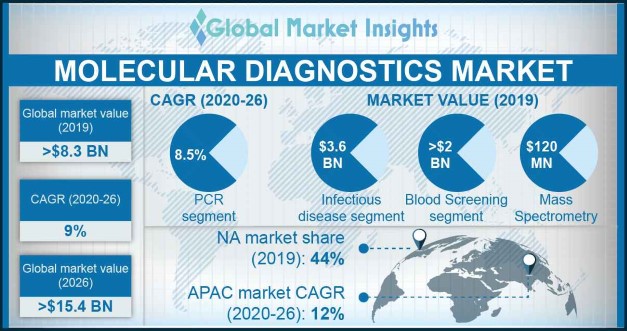 Modern day high-resolution molecular cytogenic analysis can detect duplications or deletions of DNA in thousands of nucleotides at once, ensuring high accuracy and easy operative approach. In fact, health giants claim the diagnostic molecular pathology to emerge from a niche domain to a viable alternative against conventional medical approaches that have been reigning the industry so far. As per Global Market Insights, Inc., overall molecular diagnostics industry size is slated to exceed a revenue of USD 12.5 billion by 2024.
The sheer popularity of molecular diagnostics industry can be primarily attributed to the increasing occurrence of infectious diseases along with spreading public cognizance with regards to the pre-disease detection. According to some of the trusted reports, almost 80,000 new cases of HIV infections were found in India, in the year 2016. Furthermore, sudden outbreak of emerging infectious diseases like Ebola, influenza A (H7N9), MERS, has complimented molecular diagnostics market growth in terms of revenue streams and profitability.
Get a Sample Copy of this Report:@ https://www.gminsights.com/request-sample/detail/434
Another crucial aspect that has indirectly made the stage lucrative for molecular diagnostics market is the growing challenge of meeting optimal patient care, amidst the backdrop of resource-limited settings. Conventional diagnostic approaches are too expensive to be effectuated in RLS, given the economic constraints. In the face of this crisis, clinicians and healthcare giants have been readily inclining toward cost-effective molecular diagnostics that rely less on operator training. In this regard, Myriad Genetics, the American molecular diagnostics industry giant has been on the roll since for a while now, with its consistent effort of expanding the business portfolio. With a lineage of nearly 12 exclusive molecular diagnostics products, the company is making profound inroads in advanced gene sequencing cancer therapy. As per the recent reports, the healthcare biggie is presently thriving on the cusp of two of its patent molecular diagnostic suites, EndoPredict tests, and GeneSight.
Some of the other companies witnessing a strong presence in global molecular diagnostics market include Abbott, Dickinson and Company, Alere, Becton, Biomerieux, Danaher Corporation, Bio-Rad Laboratories, GenMark Diagnostics, Johnson & Johnson, HTG Molecular Diagnostics, MDxHealth, and Novartis (Grifols). Amidst the intense share battle, experts claim product innovation to be one of the major growth rationales underlining the sustainability quotient for the market players.
The current framework of an unclear regulatory landscape is deemed to be one of the major constraints somewhat hindering the molecular diagnostics market penetration across some of the geographies. Nonetheless, ongoing R&D investments to bring advanced molecular diagnostics techniques in the foreground in tandem with public as well as private organizations' encouraging initiatives toward promoting molecular diagnosis are expected to act in favor of the industry proliferation in the coming years. A report put forward by Global Market Insights claims the overall molecular diagnostics industry size to register a modest CAGR of 8.5% over 2018-2024.
Author Name : Satarupa De