PCV
The global automotive EVAP systems market is estimated to register a commendable growth rate over the ensuing years, on account of the growing air pollution levels worldwide. Air quality is deteriorating day by day posing a huge risk to the environment, human health, and food security. Fuel evaporative emissions undeniably, are a significant contributor to global air pollution levels. The gasoline in the fuel tank gradually evaporates over time, contaminating the air with VOCs (Volatile Organic Compounds).
U.S. Automotive Evaporative Emission Control System Market, By Vehicle, 2018 & 2025, (USD Million)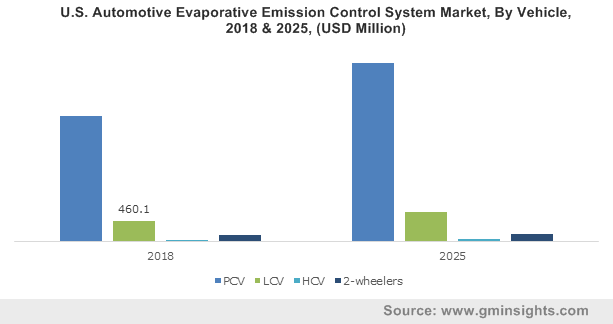 According to the Environmental Protection Agency, there are enough cases of such emissions to contribute to air pollution and pose a risk to environmental and human life. The fuel injected in a car consists of over 150 chemicals including toluene, benzenes and even lead, which can cause headaches, breathing issues, and in worst cases result in death. Hence, it is vital for carmakers to install EVAP systems in their models to control fuel evaporation, which would help expand the global automotive EVAP systems market size.
The need for manufacturers to equip their cars with EVAP systems is further encouraged by the imposition of stringent emission control mandates by governments throughout the world. For instance, Euro 5/6 regulations continue the Euro 4 limit of two grams of evaporative emissions each day. Regulation in the United States limits evaporative emissions to 0.5 grams each day over a three-day diurnal temperature profile.
Even though state regulations don't usually exceed federal regulations, the California Air Resources Board (CARB) permits the imposition of more stringent emission standards. Meanwhile, Japan has jointly developed emission standard by two ministries – The Ministry of Environment and The Ministry of Land, Infrastructure, and Transport. Emission limits in the country are almost similar to Euro 4 standards of two grams of emissions daily.
Get a Sample Copy of this Report @ https://www.gminsights.com/request-sample/detail/3222
It comes as no surprise therefore, that the global automotive EVAP systems industry is heavily governed by regulations. Indeed, according to Global Market Insights, Inc., OEMs presently dominate the global automotive EVAP systems market due to the rising product installations in an effort to conform to government regulations like CARB and Test Procedures to monitor vehicle performance.
One of the most significant reasons for driving the demand for EVAP systems around the world is the increasing rate of passenger vehicle production. In the year 2017, over 80 million passenger cars were produced worldwide, out of which Europe accounted for an appreciable share. Developing nations like India witnessed a significant rise in production from over 3.95 million units in 2017 to nearly 4 million units in 2018.
Recently, Mercedes-Benz Cars announced an investment of over $250 million euros in a passenger car plant in the Moscow region. Through the new plant, Daimler aims to meet the high demand for Mercedes-Benz E-Class SUVs and Sedans in the region. Owing to rising production, automotive EVAP systems market size is expected to witness an upsurge from passenger cars. Rising installation of EVAP systems in passenger cars to enhance fuel economy and reduce fuel losses will drive product demand.
In terms of regional growth, the Latin America market held considerable revenue share owing to rising concerns pertaining to fuel evaporation paired with the imposition of supportive international policies to control air pollution. According to an assessment released by UN Environment and the Climate and Clean Air Coalition, poor air quality and climate change are taking a toll on vulnerable population and environment within the Americas, leading to premature deaths, ecosystem damage, and crop yield losses.
Brazil, which is the fourth largest vehicle market in the world differs from larger economies in terms of policies to promote vehicle-efficiencies. However, the government in these nations and other key vehicle markets in Latin America are working to adopt international best practices regarding emission control to the local economic and policy context. Successful implementation of regulatory practices would further augment the Latin America automotive EVAP systems market share in the coming years.
Key factors such as increasing vehicular emissions, rising awareness regarding poor air quality along with a rise in vehicle manufacturing and supportive government regulations will continue to induce considerable possibilities for industry expansion in the coming years. For the record, the global market is also estimated to surpass a valuation of $65 billion by 2025, according to a research report by Global Market Insights, Inc.
Author Name : Krithika Krishnan
The robust demand for safer vehicles on account of increasing road accidents have led to a massive spurt in advanced driver assistance system (ADAS) market size in recent years. Having recognized the extensive benefits of ADAS systems, numerous automakers have been working toward deploying this feature in their latest automobile brands. This paradigm shift toward implementing safety systems in vehicles on account of the increasing number of road accidents is certain to stimulate ADAS market trends.
U.S. Advanced Driver Assistance System (ADAS) Market, By Vehicle, 2018 & 2025, (USD Million)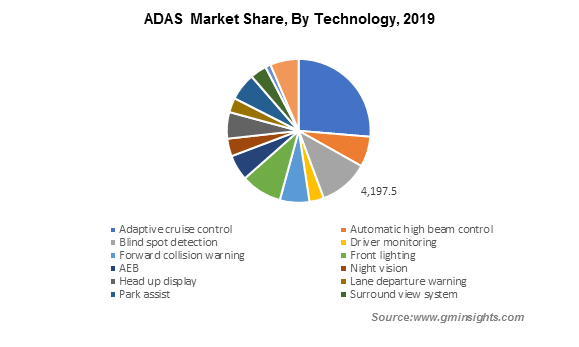 In the face of potentially hazardous driving scenarios, autonomous systems have been taking increasing precedence in recent times. Consequently, major players in advanced driver assistance system industry are focusing on the development of advanced automated ADAS systems. In order to retain a control over driving, these systems are embedded with features like emergency braking, lane keeping, automatic parking, and adaptive cruise control.
The incorporation of additional features such as machine learning and ADAS vision have even enabled vehicles to adapt themselves to adverse climatic conditions. Numerous ADAS market firms have been striving to launch diverse live-saving technologies, which have been instrumental in augmenting the industry trends.
Although ADAS is one of the benchmark features introduced in automotive industry, it has been found that the system is massively prone to cyber-attacks. Therefore, numerous ADAS market giants have been continuously working on LIDAR and Radar sensors to control cybersecurity threats. Tech companies are playing their part in eliminating security issues as well and have been found developing advanced solutions to improve security measures in ADAS systems.
Get a Sample Copy of this Report:@ https://www.gminsights.com/request-sample/detail/2461
In this regard, recently, Groupe PSA collaborated with Harman International to design a cyber security strategy for protecting connected and next-generation autonomous vehicles. The collaboration is a vivid indicator of the fact that the growing concerns regarding cyberattacks and protection capabilities of ADAS integrated vehicles will play a pivotal role in augmenting advanced driver assistance system market outlook.
The Indian OEM Tata Motors has scarcely extended its partnership with the pioneering technology provider, Wabco, having already deployed the latter's ADAS facility in its vehicles. Tata has also conveniently implemented a collision mitigation system (CMS) and a lane departure warning system (LDWS) for its Signa and Prima trucks. The move apparently, is targeted toward the minimization of road accidents and the provision of occupant safety. Having already been a strong player in the India automotive industry, Tata, through this partnership, will further strengthen its position in the regional ADAS market as well.
In 2018, one of the prominent China-based heavy-duty truck manufacturers, Sinotruk Limited, extended its cooperation agreement with WABCO Holdings Inc., that supplies advanced technology for enhancing efficiency, connectivity, and safety of commercial vehicles. The deal is anticipated to substantially improve WABCO's capability in innovative technologies such as ADAS, AMT, EBS, and ECAS. Incidentally, this agreement has so far, spanned almost three decades, and stands as a classic evidence to the fact that long-term business deals across the automotive sector are certain to propel advanced driver assistance system market size over the forecast period.
The robust developments across the automotive cosmos in the economies of India and China vividly portray that APAC will tur out to be a prominent revenue contributor for ADAS market. The rising sales pf passenger vehicles in the continent combined with the increasing demand for road safety and emission control will augment APAC ADAS market trends over the forecast duration.
The rapidly shifting trends toward the adoption of technologically advanced vehicles are thus likely to fuel ADAS industry share in the ensuing years. As the demand for such vehicles continues to increase along with changing consumer preferences, companies in ADAS market will be looking forward to launching advanced safety solutions. In accordance with the same, strategic collaborations, joint ventures, and R&D program are expected to become highly commonplace in ADAS industry soon enough. Driven by a supportive regulatory spectrum and the robust requirement of technically developed automotive parts, advanced driver assistance system market size is forecast to exceed USD 67 billion by 2024.
Author Name : Sunil Hebbalkar
The progressive shift toward a greener, environment-friendly future has been a major driving force for automotive turbocharger market. In an era riddled with the fear of carbon emissions destroying the planet, automakers have been facing several challenges to optimize vehicle efficacy in the best means possible. Consequently, most of the automakers have now been working on bringing about suitable design and operational changes in turbochargers – the highly efficient components that play a major role in downsizing engine emissions. Including the likes of Honeywell and Mitsubishi, renowned companies have thus basically been targeting 2 essential factors – fuel efficiency and emission reduction to bring about a change in turbocharger production, contributing toward automotive turbocharger industry growth.
U.S. Automotive Turbocharger Market, By Technology, 2017 & 2024 (USD Million)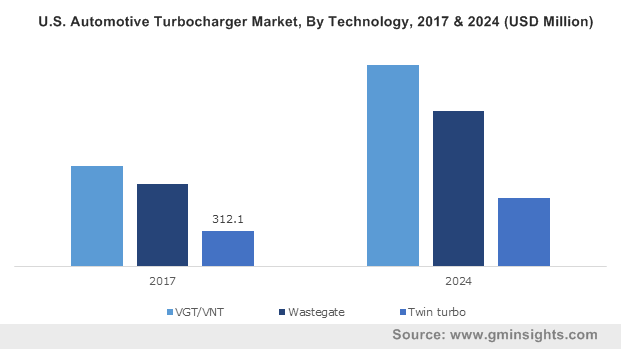 A quick insight into the developments brought about by automotive turbocharger market companies
The incredible advantages of these induction devices have ensured an escalating demand for renewed turbocharging technologies. In consequence, pivotal automotive turbocharger market players have been working toward extending their regional reach by constructing new production facilities across various geographies. An instance validating the same is that of BorgWarner having opened its new turbocharger technology production plant in Thailand recently. Through this initiative, BorgWarner aims to provide clean and efficient turbocharging solutions for hybrid vehicles and EVs across the Asian turf. BorgWarner's plan is also expected to encourage numerous other automakers to expand their already established production facilities in Thailand, that would further help consolidate Asia automotive turbocharger industry.
Incidentally, this hasn't been BorgWarner's first brush with turbocharger technology. In 2017, the company had successfully installed its advanced turbocharging technology into Jaguar Land Rover. The turbocharging system was expected to help Jaguar Land Rover achieve its engine performance target and fuel efficiency from its new SUV models. Of late, numerous light and passenger commercial vehicle manufacturers are also deploying advanced turbocharging technologies for improved fuel efficiency, suitably impelling PCV sales across major geographies. As per the estimates, PCVs are expected to stand as a dominant vehicle segment in automotive turbocharger market landscape over 2018-2024.
Get a Sample Copy of this Report @ https://www.gminsights.com/request-sample/detail/2463
Honeywell has been another lucrative player in automotive turbocharger market that has helped strengthen the competitive spectrum of this business space. The company, a couple of years ago, displayed some of its turbocharger technologies for commercial vehicles at the IAA Hannover 2016. Since then, the company has worked consistently to bring forth advanced turbo technologies for on and off-highway powertrains. The firm has also developed a supremely high-efficiency serial two-stage system to ensure optimum performance in heavy-duty long haul trucks that require to be characterized by increased fuel efficiency and lowered CO2 emissions.
Bringing about innovative product developments is expected to remain one of the prime growth strategies of automotive turbocharger market contenders. The principal aim here is to develop highly advanced products, the design of which would contribute toward maximum engine downsizing. Electric turbochargers for instance, one of the latest trends in automotive turbocharger market, has been found to eliminate turbo lag, which leads to an increase in fuel efficiency. That said, there is no dearth of R&D programs in this business space, that would help alter conventional turbocharger designs as required and further contribute toward transforming automotive turbocharger industry trends.
In the years to come, turbochargers are expected to gain extensive traction in the global automotive space, owing to their substantially high efficiency and their contribution toward environmental safety. Of late, products such as variable geometry turbochargers (VGT) have also gained mass momentum, exceeding their counterparts, due to their cost-effectiveness and technical benefits. Driven by their massive demand on account of the increasing need for a greener environment, automotive turbocharger industry, supported by a strict regulatory framework, will surpass a revenue collection of USD 24 billion by 2024.
Author Name : Saipriya Iyer
Powered by the rapidly expanding automotive industry across myriad geographies, automotive brake caliper market has indeed gained tremendous popularity in recent times. The automotive sector is also rife with a plethora of highly unique innovations that have undeniably had an impact on this business sphere. Indeed, given the pivotal significance of braking systems, technological advancements form the crux of automotive brake caliper industry. Recently for example, Brembo unveiled an aesthetically revolutionary brake caliper at the 2018 NY Auto Show. Apparently, this product helped achieve substantial weight savings – around 400 g per wheel. Brembo's product launch is indicative of the fact that automotive brake caliper market will continue to be characterized by highly innovative solutions that would optimize performance and improve aesthetics.
U.S. Automotive Brake Caliper Market, By Vehicle, 2016 & 2024, (Million Units)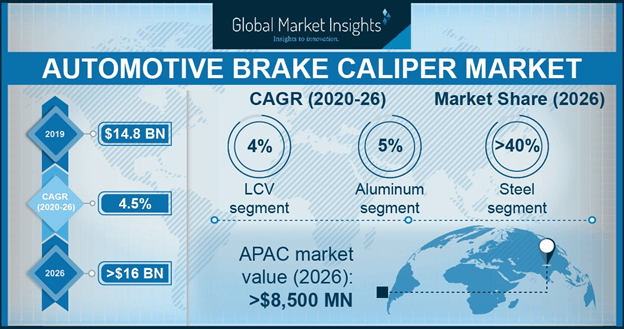 The automotive industry has registered an extremely appreciable CAGR in the Asia Pacific region since the last decade or so. This growth can be essentially credited to the rise of the middle-class populace with increasing disposable incomes and a growing inclination toward leading a more comfortable lifestyle. Due to the presence of affordable and efficient production facilities and increased rate of automobile production, Asia Pacific automotive brake caliper market is poised to grow by 3% over 2017-2024. China, India, Japan, and South Korea are projected to be the major contributors toward this regional market, powered by the enhanced automotive manufacturing technologies now prevalent across these economies.
Speaking along similar lines, the increasing demand for automobiles among the middle-class consumers has led to a significant requirement of passenger carrying vehicles. For instance, in 2017 alone, 73.46 million units of PCVs were sold – a marked increase of 1.08 million units. Driven by the increased consumer spending and the subsequent rise in vehicle production, automotive brake caliper market size from PCVs is expected to increase by 3% over 2017-2024.
Get a Sample Copy of this Report @ https://www.gminsights.com/request-sample/detail/2336
While PCVs take the cake in terms of popularity, it is prudent to mention that two-wheelers are also being increasingly preferred lately, especially in the emerging economies. Two wheelers offer a means of cost effective transportation and are the preferred choice not only in congested cities but also in remote locations. This would perpetually augment automotive brake caliper industry outlook in the ensuing years.
Stringent safety and environmental policies have encouraged technological advancements in the automotive brake caliper market of late. For instance, the French auto manufacturer Bugatti has brought forth a unique innovation in automotive brake caliper industry with the use of 3D printing to print titanium brake calipers. Incidentally, 3D printing of brake calipers helps in reducing the overall weight of the vehicle while maintaining torsional stiffness – a highly sought-after parameter in the automotive industry today. Traditional aluminum alloy brake calipers on Bugatti vehicles weigh 4.9 kg each, however, 3D printing of brake calipers makes each caliper weigh just 2.9 kg, which goes a long way in reducing overall vehicle weight and meeting environmental regulations.
Though 3D printing of brake calipers has not yet become a mainstream procedure owing to the time-consuming nature of the process, the concept has gained sufficient traction. Other methodologies for the reduction of caliper mass, improved styling and performance maintenance are also being researched currently to reduce particulates and carbon emission in the atmosphere.
The emergence of electric vehicles and hybrids is expected to add a new vertical to automotive brake caliper industry, as these vehicles will invariably use a whole new braking system that has little resemblance with the conventional braking system. With the introduction of the Tesla Model 3, electric passenger cars are poised to become the dominant trend for the future. It is rather overt that such cars are being designed to have only one paddle for moving or stopping the vehicle. While the brake system will not be made entirely obsolete, it is certain to undergo some highly innovative changes, that would certainly have an influence on automotive brake caliper market outlook.
Research & development programs are rampant across the automotive industry of late and are likely to majorly transform automotive brake caliper market trends. With the robust growth of automated technologies and the increasing requirement for better mobility, automakers are leaving no stone unturned to bring forth newer and enhanced brake systems. In consequence, this would have a commendable impact on automotive brake caliper market size, anticipated to cross $25 billion by 2024.
Author Name : Paroma Bhattacharya
With the automotive industry adhering increased importance to the driver's comfort and convenience,  steering wheel switches market size is projected to witness massive growth in the years ahead, in terms of sales and volume. Traditionally, these wheels were designed only with one button for honking. However, with consumers demanding increased functionality in the car such as controls for playing music and handsfree talking on the phone, steering wheels have come to include more switches.
For most part, additional switches help the driver operate different functions without having to get distracted from driving, thus helping to prevent accidents. Steering wheel switches are more prevalent in passenger vehicles and light commercial vehicles, though they are also gaining prominence in heavy commercial vehicles. Owing to the comfort and functionality that these switches provide, automotive industry players are looking forward to incorporating more such switches in the steering wheel with varied styles, which would eventually boost steering wheel switches industry trends.
Increasing technology propagation to augment Europe steering wheel switches market outlook
It is imperative to mention that in the countries where the demand for luxury cars are greater, such as Germany, Italy, UK, and France, steering wheel switches industry giants have designed wheels to accommodate as many as 10 switches. This trend has been followed in mid-range cars as well, with switches like infotainment, phone connectivity and volume control that can keep drivers from operating the distracting touchscreen for any kind of function control.
Many auto manufacturers are also adding a joystick-like push button controller on the left of the steering wheel, which is intuitive and can be operated without the driver having to seek out the touchscreen display first. The rising demand for such easily functional switches will indeed boost the steering wheel switches market share. Many automobile designers and manufacturers are also working to design a uniform steering wheel switch layout so that it is easier for users to operate controls using intuition and feel, thereby propelling the steering wheel switches industry trends further.
The efforts by prominent industry contenders is anticipated to majorly drive Europe steering wheel switches market size, that is projected to surpass USD 1 billion by 2024. In addition, the region is characterized by stringent regulations focusing on bettering driver safety, which would further bolster the industry outlook.
OEMs and aftermarket to emerge as vital distribution channels driving steering wheel switches industry size
Original equipment manufacturers are able to offer unique and customized designs for steering wheel switches that are amply suited to the customer's specific desires. Also, OEMs have greater capacity for investing heavily in innovation that would lead to better steering wheel designs. As per estimates, steering wheel switches market size from OEMs is anticipated to register a remuneration of more than USD 3 billion by 2024.
OEM segment, as a matter of fact, accounts for the largest steering wheel switches market share. The growth can also be attributed to the increasing disposable incomes that have enabled users to choose the best customization possible for their vehicles.
The high costs associated with steering wheels designed by OEMs will also drive the aftermarket steering wheel switches industry share. Aftermarket steering wheel switches are easier to afford and incorporate into the existing design of the vehicle. The consumer also gets a wider choice of what to incorporate and what to avoid when steering wheel switches are purchased and installed through the aftermarket. Widespread presence of the e-commerce industry and easy availability of the product in online auto stores will further drive the aftermarket steering wheel switches industry.
Get a Sample Copy of this Report:@ https://www.gminsights.com/request-sample/detail/2374
Rising automobile production to drive APAC steering wheel switches industry share
Considering the fact that they ensure driver's safety, steering wheel switches might be made mandatory in the near future. The ease of operation the product provides is also a reason for the rising popularity and demand of steering wheel switches. Automotive manufacturers in the rapidly developing region of Asia Pacific have duly acknowledged this growing demand.
Driven by the massive increase in automotive manufacturing and sales in this region, APAC will contribute over 40% toward steering wheel switches industry share by 2024.
Though the growth prospects of steering wheel switches market are indeed impressive, it is expected that the emergence of autonomous vehicles technology and innovative cars that may come without steering wheels may hinder the steering wheel switches market progress. Nonetheless, it has been forecast that driverless cars would take a while to go mainstream, on the grounds of which it is justified to state that steering wheel switches market would continue to experience an exponential growth graph in the ensuing years.
Author Name : Paroma Bhattacharya
In recent times, automobiles have emerged from a mode of transport to being a status symbol, on the grounds of which automotive decorative exterior trim market has been witnessing tremendous expansion on a global scale. Right from the color of the car to its bumper type, everything about the automobile not only creates a distinct impression about the vehicle but also determines its present and future value. With shifting consumer preferences, there has been a massive rise in the sales of luxury cars, which has emerged as one of pivotal driving forces of automotive decorative exterior trim industry size. Furthermore, the easy availability of products and rising awareness about the role that trimming plays in protecting a vehicle's exterior have also emerged as key factors pushing automotive decorative exterior trim market.
U.S. Automotive Decorative Exterior Trim Market, By Vehicle, 2016 & 2024, (Kilo Tons)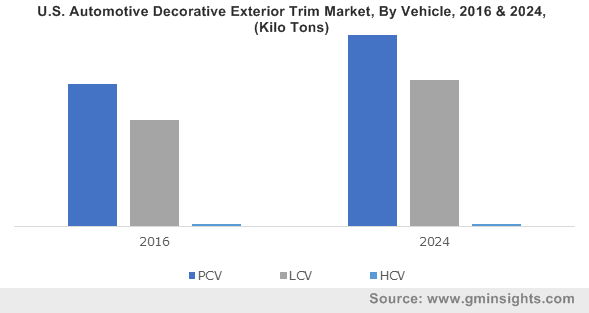 A significant amount of research and development is undertaken while designing a vehicle's interior and exterior, bearing in mind the interest of the consumer. Considerable efforts are undertaken to determine not only what the consumer wants currently, but also what he/she might want in the coming years, since an outdated design can majorly depreciate a vehicle's market value. In this regard, vehicle accessory manufacturers have been robustly driving automotive decorative exterior trim market trends, since they now have the luxury to choose from a variety of materials and styles to manufacture the exterior of the automobile. Consequently, customers are inclined towards adding more personality to their vehicle with decorative exterior trim like pinstripes, bumpers and protective add-ons. Automobile owners have a wider variety to choose from even in the aftermarket, which would no doubt, have a commendable impact on the sales graph of automotive decorative exterior trim market.
Get a Sample Copy of this Report:@  https://www.gminsights.com/request-sample/detail/2298
Vehicle colors have been gaining widespread attention from the consumer pool, since it is the most eye-catching feature of cars. On these grounds, vehicle owners often look to add an extra touch of sophistication or sportiness to their vehicle with an attractive color. Of late, with consumers favoring pearlized paint trims that make the vehicle appear divergently colored as per the different angles of light, automotive decorative exterior trim market players seem to have obtained novel opportunities for improvising on product design and development. Apart from pearlized paint, protective addons are also being deployed, thereby impelling automotive decorative exterior trim industry. Protective rub strips are the most common protective addons that are often used on a vehicle right from the front wheel to the back wheel, given that they serve as a primary protection against careless scratches.
Chrome trimmings are also being popularized in automotive decorative exterior trim market, since the distinct shine of chrome can add a lot of class to a vehicle. Chrome trimming can be easily installed and is compatible with all types of vehicles. Further on, plastic bumpers are also a popular decorative exterior trim, however, since the plain black plastic bumpers often have a less than sophisticated look, consumers are increasingly inclining on adding chrome finish to plastic bumpers.
The rise in the demand for decorative exterior trim has provided a rather lucrative opportunity for automotive decorative exterior trim market players in terms of product differentiation and production. In this regard, it is prudent to mention that OEMS are expected to generate 70% of the automotive decorative exterior trim market revenue in the forecast period. Exterior trim designed and installed by OEMs offer insurance and warranty and are made of comparatively higher quality materials than the exterior trims available in the aftermarket. However, automotive decorative exterior trim industry size from aftermarket sales are also expected to surge over 2017-2024, driven by the cost-effective nature of these trims and their easy availability.
The competitive landscape of automotive decorative exterior trim industry is inclusive of reputed biggies such as Magna International, Altuglass International, Takata, CIE Automotive, MVC, Trinseo, Dura Automotive systems and others, continually vying with each other to capture maximum industry share. With intensified innovations in design and manufacturing techniques and cumulative consumer demand, automotive decorative exterior trim market size is expected to surpass USD 27 billion in terms of revenue, with a target estimation of exceeding 500 kilo tons in terms of volume, by 2024.
Author Name : Paroma Bhattacharya
Electrical steering column lock market has been witnessing a profitable growth rate since the last few years, pertaining to the growing popularity of the electric power steering (EPS). The EPS technology is lately being preferred in automobiles for its ease of use and the fuel efficiency. Also, there has been a paradigm shift in the deployment of automotive components from mechanical to electronic solutions, which has led to electrical steering column lock (ESCL) market carving out a positive growth trajectory. By 2024 ESCL market size is predicted to surpass a valuation of USD 31 billion, driven by innovations in the automotive sector and the existence of a favorable regulatory landscape that mandates the adoption of EPS in new automobiles. As electrical steering column locks make vehicles much more resistant to thefts, there has been an increase in consumer demand for purchasing cars embedded with these products, thereby augmenting ESCL industry share.
U.S. Electrical Steering Column Lock Market, By Vehicle, 2016 & 2024, (USD Million)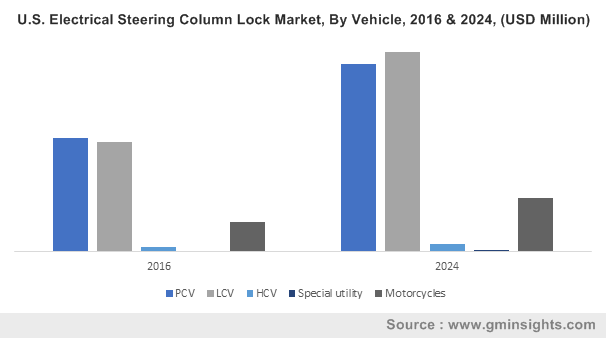 With the emergence of new economies and the rising affordability of vehicles, global automobile manufacturing and sales are expected to soar higher in the years to come. This in consequence, would lead to a robust rise in the sales of automobile integrated with security features, which in turn would impel ESCL market. With security being one of the consumers' principal concerns, cars incorporated with anti-theft features will make them highly viable choice, which will boost the overall electrical steering column lock market size.
A shift of conveyance preference has also been noted with the rise of connectivity and online shopping alternatives. Many consumers nowadays prefer to have goods and services delivered at home – a trend that has provided an impetus to the commercial vehicle industry. In order to make these vehicles more fuel-efficient, the deployment of electric power steering has been made mandatory, which inevitably indicates the implementation of electrical steering column locks in these vehicles to ensure security. In consequence, the commercial vehicle sector would prove to be a lucrative avenue for ESCL market. As per estimates, LCV-based ESCL industry size alone is expected to register a CAGR of 6% over 2017-2024. Significant growth will also be registered in the special utility vehicle segment as customers are leaning towards tailored solutions for specific purposes. Electrical steering column lock market share, as per statistics, is estimated to record a 4.5% CAGR over the next seven years from the special utility vehicle sector.
Get a Sample Copy of this Report:@ https://www.gminsights.com/request-sample/detail/2178
Original equipment manufacturers (OEMs) and traditional automotive players, in recent times, are under continuous pressure to bring about advanced technologies in vehicles that will improve fuel efficiency, reduce emissions and be more capital-efficient. OEMs stand to gain the most advantage with the growth of electrical steering column lock industry, as customers prefer relying on OEMs for their process expertise and reliability. On the other hand, aging vehicles will impact electrical steering column lock market size from the aftermarket domain, as these vehicles are the ones that did not have an installed lock at the time of manufacture, but would now be forced to have one installed or security purposes.
Due to the robust progress of the automotive sector in countries such as China, India and Indonesia, APAC electrical steering column lock market is expected to witness a substantial growth rate over 2017-2024. China alone, in 2016, accounted for 48% of the global SUV shares. In fact, estimates claim Asia Pacific to dominate the overall electrical steering column lock industry by 2024, with a revenue projection of USD 13 billion.
Government directives for better vehicle security has been the driving force for the growth of North America electrical steering column lock market. The National Highway Traffic Safety Administration (NHTSA), for instance, a traffic regulatory body of U.S. has mandated the use of electrical steering column locks in all vehicles. Uniform provision for performance and layout of all vehicle systems as authorized by the European directives will also ensure the implementation of these security products in all vehicles, giving Europe electrical steering column lock market a commendable boost over 2017-2024.
One of the key threats that electrical steering column lock industry will face in the ensuing years is the introduction of fully autonomous vehicles which come essentially without a steering wheel, a fact that will make the electrical steering column locks redundant. However, security risks, lack of consumer understanding and slow rate of market penetration of autonomous vehicles will not make them commercially viable before 2030, which would prove to be an advantage for ESCL industry. For now, OEMs and other major ESCL market players are focusing on making the electrical steering column lock systems in vehicles much better, ensuring not only security but also attracting a wider customer base with better and innovative safety technologies.
Author Name : Paroma Bhattacharya