People Screening
Given the increasing number of terrorist & anti-social activities across the globe, it is no surprise that X-ray security screening system market has been gathering rapid momentum in recent years. Legal authorities no longer consider it safe to permit luggage or cargo remain unchecked through transit areas or highly populated commercial spaces like malls or movie theaters, as terrorist attacks have time and again demonstrated that arms can be easily transported across vulnerable points. On these grounds, X-ray security screening system industry is gaining massive popularity, as contraband items like drugs, weapons, and astonishingly, even humans are being illegally transported across borders, which undeniably requires to be halted in order to ensure safety and protection across the country.
China x-ray security screening system market size, by end-use, 2016 & 2024 (USD Million)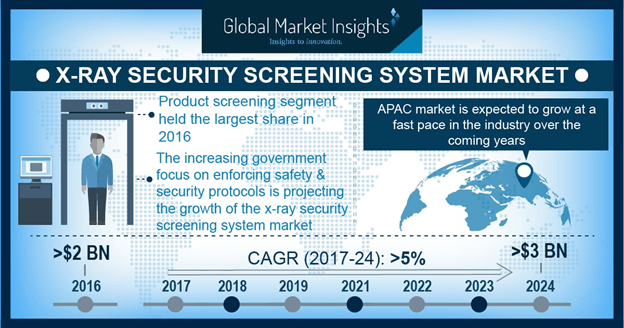 Post the 9/11 attacks in the US, legal authorities have come to recognize terrorist attacks in a new light, that has led to the revamping of transit security to unprecedented levels, impelling X-ray security screening system market share. With the reinforcement of security conditions, especially at vulnerable areas such as airports, X-ray security screening system market size has indeed depicted a major rise. To ensure that products such as knives, explosives, guns, scissors, ropes, etc., (effectively banned from being carried on airplanes), are not actually crossing the safety borders, novel technology is being developed for scanning luggage in the most effective manner to easily detect these objects in bags and suitcases, thereby providing an impetus to X-ray security screening system industry players. The advancements across X-ray security screening system market has had a profound impact on global airport security industry as well, considering that airports seem to be the soft targets for terrorist attacks.
It is imperative to note that organic and inorganic substances are facilitated to be detected separately in X-ray security screening systems, as most explosives are organic. On the other hand, X-ray images of such contraband objects can clearly point them out to airport security staff who can then take necessary steps to assure the security of other passengers. Many airports are also employing full body X-ray scanning of passengers to detect weapons or banned objects being carried on the person, thus adding another growth dimension to X-ray security screening system market.
Get a Sample Copy of this Report:@ https://www.gminsights.com/request-sample/detail/505
It has been observed that security measures have also been strengthened in malls, places of worship, museums, movie theatres, and other places that attract a large number of people together in enclosed spaces, given that terrorists often use civilian crowds as soft targets. On these grounds, it is imperative to state that X-ray security screening system industry has received a significant boost from myriad public places that have consolidated their security systems, especially at the entryways, where baggage is scrutinized under X-rays to identify harmful and illegal objects.
Security threats are indeed prevalent across the globe, however, since international trade activities cannot be hampered due to the same, X-ray security checks are being heavily reinforced to scrutinize cargos and other goods for the protection of human lives and property. Thus, X-ray security screening system market share is projected to witness commendable growth with government and security authorities identifying locations that pose major security risks and subsequently deploying of X-ray systems to safeguard these locations against human trafficking, drugs and weapons transport, and other illegal activities.
Despite the best of efforts undertaken by security personnel and modern technologies, security systems have often failed to detect bombs and other weapons – an observation that is potentially encouraging X-ray security screening system industry players to concentrate on research and development programs that will make security checks even more detailed and precise. X-ray security screening system market firms have also been focusing on enhancing the functionality of X-ray security screening systems to reduce detection time, helping passengers to avoid the hassle of transit security checks. In essence, subject to the protection and convenience offered by X-ray scans and the robust demand for national security, X-ray security screening system market outlook is likely to witness a major transformation over 2017-2024.
Author Name : Paroma Bhattacharya