Personal Computers
Endorsed by plethora of technological interventions, computer engineering market has been one of the fastest developing verticals of electronics & media industry. The concept of computer engineering dates back its commercialization in the late 30s when John Vincent Atanasoff and Clifford Berry began developing the world's first electronic digital computer. Computer engineering market, since then, is on the verge of continuous developments with regards to software and semiconductors advancements & progressions. Over time, the robustly expanding demand for high computing capacity and IT centralization has significantly led the focus on enhancing the efficiency of systems, which as per analyst, brought a renewed dynamism in the computer engineering industry. In fact, according to reliable reports, the global computer engineering market size was valued to be over USD 1800 billion in 2016.
Europe Computer Engineering Market, By Product Functionality, 2016 & 2024 (USD Billion)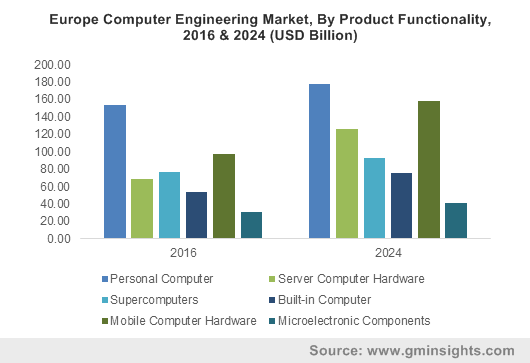 Speaking of the industry drivers, the growing appetite for upgrading present day technologies is slated to revolutionize the computer engineering market trends. IOT and connected devices, the two most buzzing trends of the technology world, are speculated to leave a humongous impact on this business fraternity. The fact can be validated from the increasing penetration of these devices in a slew of industry verticals such as automotive, healthcare, retail, manufacturing, etc. Elaborating on the growth potential of computer engineering applications in medical field, it won't be far that tomorrows digital stethoscope could function as an "intelligent thing" by collecting real-time data, treatment information, data related to diagnosis, and an AI powered physician assistance app.
Get a Sample Copy of this Report:@ https://www.gminsights.com/request-sample/detail/2384
Contemplating on these wide-ranging applications of computer engineering industry, it goes without saying that the technology is set to change the whole idea of how people live. One prominent example of how the technology will extensively penetrate people's daily life are smart vehicles – a classic explanation of computer engineering industry proliferation in automotive domain. Needless to mention, autonomous driving has quickly become a reality, thanks to software and hardware boom in computer engineering industry. In order to provide high levels of connectivity in the smart vehicles, it is a mandate for the vehicles to be equipped with significant amount of computing devices. In essence, given the rapidly-expanding demand for efficient products such as the micro controllers and connected devices, the automotive application is expected to draw lucrative profits for the computer engineering industry in the years ahead. A significant fact validating the authenticity of the aforementioned fact is of a report published by ON Semiconductors that claimed more than 34% of its revenue to be generated via automotive applications.
NVIDIA is another renowned name depicting the strong profitability potential of computer engineering industry players from automotive sector. Needless to introduce, the company has far expanded its application scope in the recent trend of driverless cars by providing AI computer systems to enable self-driving capabilities. The firm has recently hit the news headlines pertaining to its collaboration with a German automobile parts supplier Continental to build an autonomous vehicle system that is slated to tap the market by 2021. The deal is indeed a vivid instance of the conjoint efforts of automotive and computer engineering market players to bring a revolution of sorts in the automotive domain by putting the much-awaited self-driving cars on roads.
Delving deeper into the application landscape of computer engineering industry, it is undeniable that the market is expected to witness versatile growth opportunities – chiefly on the cusp of IoT technology that is practically disputing every business vertical. It has been estimated that the economic impact of the IoT is expected to reach a mammoth valuation of over USD 11 trillion by 2025. The statistic clearly depicts the vast growth potential for computer engineering market players to bring forth high-end products that would be compatible with the rising IoT influenced trends such as the smartwatches, smart homes, digital healthcare, drones, etc. Taking into consideration these technological interventions, industry experts claim computer engineering market to remain one of the most lucrative investment grounds for potential stakeholders. A presumption validating the same is of a report published by Global Market Insights, Inc., that claims computer engineering market to exceed an enormous valuation of over USD 2.5 trillion by 2024.
Author Name : Ojaswita Kutepatil
The consumer electronics sector is soaring with the growing popularity of UHD TVs. The UHD/4K panel market has already generated a heavy momentum in this space with the development of next generation TVs. Ultra HDTV has gradually emerged from a techie's dream to consumer reality in the recent past. This UHD technology is unlocking transformative, awe-inspiring, and enhanced viewing experience with a minimum resolution of 3840 x 2160 pixels. 4K resolution provides around 8 million pixels and is called so as a result of the images being about 4,000 pixels wide.
The increasing number of platforms offering higher resolution of HD content will further expand UHD panel industry growth.  Moreover, government initiatives to minimize custom duties particularly in India and China and the dropping prices of 4K panels will stimulate UHD market over the coming years. UHD/4K Panel Industry is estimated to grow at a rate of 11% over the period of 2016-2024.
North America UHD/4K panel market size by application, 2013-2024 (USD Million)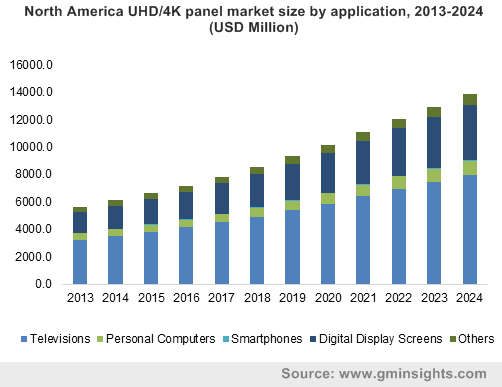 In 2015, the television application accounted for over 55% of revenue share and is set to register a CAGR of 11% over the period of 2016-2024. Demand for better customer viewing due to improved picture quality will propel 4k panel industry growth.
Retail is another booming sector which has been penetrated by the UHD technology. This is undoubtedly helping retailers to display their products with minute details and supreme clarity. A memorable shopping experience with UHD displays owing to its superior quality is attracting larger consumer base, thus driving ultra-high definition panel market. Digital display screens market worth USD 4 billion in 2015 is set to witness a significant growth curve, owing to rising demand from the advertising and publishing sectors. The growth of digital signage market due to rising commercial application in advertising is also worth noticing.
Get a Sample Copy of this Report @ https://www.gminsights.com/request-sample/detail/724
Devices equipped with UHD panel are highly energy efficient and durable. LG, Toshiba, Sony Electronics, Panasonic, Philips, Sharp, BOE Technology Group, Hisense Group, and Samsung Electronics are the major players accumulating maximum share of ultra-high definition panel industry. These players are highly emphasizing on product development and customer service to keep up with growing competition for providing better image quality. The demand for 60-inch and above screen size is projected to record a substantial growth in UHD/4k panel market.
For achieving better displays of mobile and tablet screens, LED technology is used which accounted for more than 45% in 2015 and is estimated to grow at an annual rate of 8.8% over the period of 2016-2024. LCD segment is another booming technology, projected to record USD 18 billion by 2024, owing to its lower power consumption feature. LCD uses the light modulating properties of liquid crystals which is gaining high preference in global UHD panel industry.
In terms of regional split, Asia Pacific ultra-high definition panel market share catered for over 20% of the overall industry in 2015 and is set to hit a CAGR of 11.6% over 2016-2024.  North America 4K panel market, led by the U.S., is estimated to generate a revenue share of over USD 19 billion by 2024. The regional growth is subject to huge tech-savvy consumer base and intensive adoption of HD technologies.
Early deployment of this technology is likely to show tremendous growth prospects for future trends in 4K panel industry. Heavy investments in research and development will send strong undercurrents for the future of consumer electronics. Developments in this area are really going to be interesting to watch over, in the next couple of years.
Author Name : Ojaswita Kutepatil