Petrochemical
Flow chemistry market is poised to witness a lucrative roadmap ahead with the products' ability to enable sustainable manufacturing processes, owing to the minimal energy consumption, maximum production, and cost effectiveness with deployment of these products. Driven by the paradox shift observed in preference of ecofriendly processes both in chemical and pharmaceutical sectors, the market looks extremely promising from growth perspectives in the coming timeframe. As per a report by Global Market Insights Inc., "Flow chemistry market is estimated to surpass USD 2 billion by 2024, registering a remarkable annual growth rate of 10% over the period of 2016-2024."

U.S Flow Chemistry Market share, by end-user, 2013-2024 (USD Million)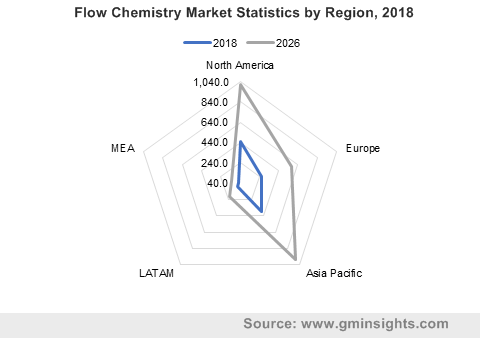 Harmful toxic gas emissions which has been a major concern in the chemical sector for years, now can be addressed with the adoption of flow chemical processes as these involve least heat exchange and consequently offers better reaction productivity. In response to this fact, chemical manufacturing units are emerging as one of the prominent revenue contributors of the flow chemistry industry.
Get a Sample Copy of this Report @ https://www.gminsights.com/request-sample/detail/1106
Pharmaceutical sector is further adding to a huge share of the flow chemistry industry. The report estimates that this sector will be the fastest-growing segment in the end-use landscape. Rising preference of flow chemistry products over batch reactors driven by safety parameters, usage in drug manufacturing, and ability to increase the production rate at a lower cost are the factors driving the flow chemistry market size in pharmaceutical applications.
North America flow chemistry market on this ground is experiencing a rapid growth with the expanding petrochemical and pharmaceutical industry base. It is set to register a CAGR of 9% over the period of 2016-2024. U.S. is the prominent country leading the regional growth with considerable natural gas and petrochemical feedstocks.
Petrochemical and chemical industry is also witnessing a huge adoption of flow chemistry products. In this regard, continuous stirred tank reactor has gained a significant prominence in the flow chemistry industry having dominated the flow chemistry product landscape in 2015. The huge demand for these products is driven by their ability to substantially increase the productivity with a parallel reduction in the cost.
Academic & Industrial research units are also driving the industry share lucratively. The most common product deployed across these units are Microreactor systems, which possess superior heat and mass transfer properties, thereby regulating the heat during chemical reactions. As per the estimates, Microreactor systems flow chemistry market is projected to witness highest gains at 15% over the coming seven years.
In 2015, Asia Pacific led the regional race and dominated the global flow chemistry industry landscape. The growth path ahead looks strong for APAC with the shifting focus of the manufacturers to establish manufacturing units in this region, driven by its low initial investment and promising government backing.  India and China will be the major revenue pockets for APAC over the coming timeframe, backed by the large manufacturing base across these countries.
The commercialization of flow chemistry products is one of the major roadblocks for this industry growth as it requires heavy capital investments and advanced equipment. However, with the current developments in the market such as collaboration of manufacturers with the petrochemical, pharmaceutical, and chemical MNCs will combat the growth restraints.
Flow chemistry market is consolidated with the major giants sharing more than 40% of the business space. However, the company is still competitive and is governed by the major differentiation parameters of pricing and technological advances. Key flow chemistry industry participants include Uniqsis Ltd, Koninklijke DSM N.V. FutureChemistry Holding BV, ThalesNano, AM Technology, Vapourtec Ltd, Chemtrix B.V., and Milestone Srl.
Author Name :Satarupa De
Gas sensors market is one among the few vibrant business spheres where innovations and technology quite aptly outline the key to profitability and opportunities. The industry participants are thoroughly investing in research activities to bring product improvisations in terms of advancements and sustainability quotients, that in extension is enhancing the product and commercialization matrix of this fraternity.
India gas sensors market, by end-use, 2017 & 2024 (USD Thousand)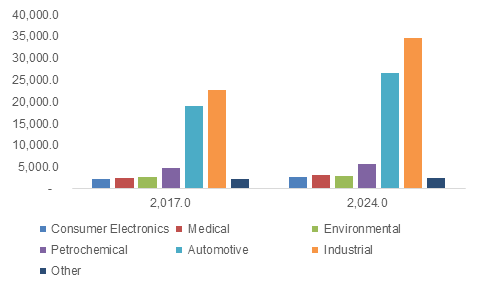 Backing the fact with a recent case in point – Sensirion AG, a leading manufacturer of high-end sensors, has bestowed the marketplace with novel gas sensors that are not only technologically progressive, but are also environmentally viable. As claimed by the experts, Sensirion's upgraded solutions offer precise air quality information based on some of the major environmental grounds such as VOC content, humidity, carbon dioxide presence, temperature, and particulate matter content. Undoubtedly, such exemplary initiatives undertaken by the renowned giants with regards to environmental sensing have opened up a slew of lucrative opportunities for gas sensors market players, in terms of commercialization and sustainability.
In terms of revenue, Global Market Insights, Inc. reports the global gas sensors industry to have surpassed a valuation of USD 2.5 billion in 2017. Safety measures, of late, have become an integral axiom in the manufacturing space, subject to the stringent regulatory framework regarding workplace safety and health hazards due to poor air quality. Gas sensors industry trends is heavily influenced by the growing governmental initiatives across the world. Companies involved in gas sensors industry are introducing innovative application-specific components that comply with the safety standardization such as CSA and ATEX.
Get a Sample Copy of this Report @ https://www.gminsights.com/request-sample/detail/123
In this regard, it is important to note that majority of these air quality standardizations and norms are implemented in industrial and automotive sectors. For instance, EPA's Clean Energy Act has already set limits on some of the air pollutants, that is claimed to be hazardous for the environment. The act also gives the EPA the power to limit harmful emissions of air pollutants from sources like utilities, chemical plants, and steel mills. These mandatory roll-outs have left a huge impact on gas sensors market penetration, subject to the fact that these aforementioned sectors are mandated to install gas sensors in the plants to curb air pollution by efficiently regulating harmful emissions.
Asia Pacific to strongly influence global gas sensors market growth
The expanding automobile sector and rising trend of automation across a myriad range of domains are chronicled to be some of the major factors driving APAC gas sensors market size. Reportedly, China and India are anticipated to be the major revenue pockets for APAC gas sensors industry. The growth in these regions can be primarily credited to the phenomenally increasing technological developments with regards to curtailment of hazardous air pollutant emissions.
Allegedly, China has been remarkably incorporating miniaturized and wireless sensors to enable convenient detection of toxic gases. Moreover, the growing urbanization and demand for technologically upgraded products such as E- compressor and E-turbo is further fueling China gas sensors market share. Beijing and Shanghai are touted to be pivotal contributors to the rapidly deteriorating outdoor air quality, that exceeded the set particulate matter concentration by the WHO by a substantial proportion in 2017, which has further impelled China gas sensors market.
However, in parallel to these developments the industry is also facing some major challenges with the exponentially increasing number of CO and CO2 sensors. The overcrowding of these devices has not only impacted the strategic landscape but has also raised a question on the product differentiation and innovations with regards to these sensors. Keeping this into consideration, the market players are vigorously investing in R&D activities to offer a diversified range of products, addressing the innovation and feasibility parameters. Some of the prominent names in the industry include Amphenol Corporation, Dynament, Bosch Sensortec, City Technology, Figaro Engineering Inc., Honeywell International Inc., Teledyne Technologies Incorporated, Trolex Ltd, and Siemens AG.
With the expanding application spectrum of gas sensors industry across a myriad range of sectors including consumer electronics, medical, environmental, petrochemical, automotive, industrial and the increasing trend of wireless and miniatured devices, it is overt for this business space to record commendable gains in the ensuing years. Statistics project the global gas sensors market size to surpass USD 3 billion by 2024.
Author Name : Saipriya Iyer