Pharmaceutical
With expanding global demand for various pharmaceutical, agrochemical, personal care, additives and chelating agents, the ethyleneamines market is expected to witness exponential growth opportunities over 2018-2024. This can be essentilayy credited to the fact that ethyleneamines have emerged as some of the basic ingredients required for the manufacturing of such products. That chemical industry giants like AkzoNobel Specialty Chemicals are heavily investing in the ethyleneamines market speaks volumes for the future growth prospects for the industry.
U.S. Ethylenediamines Market Size, By Application, 2017 & 2024, (Kilo Tons)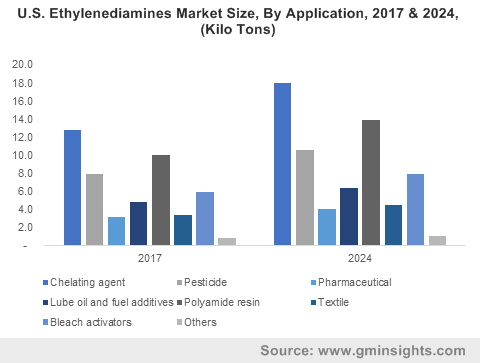 In 2017 AkzoNobel developed a technological breakthrough in the production of ethyleneamines and derivatives, a technology that has been hailed as a game changer in the ethyleneamines market. The process made it possible to reduce raw material consumption which in turn has contributed towards lowering production costs and improving environmental performance when compared to the current process of ethyleneamines production.
Considering the fact that ethyleneamines are potent intermediate chemicals involved in the production of epoxy curing agents that are in high demand in the expanding wind turbine fabrication industry and they also act as additives for oil, road materials, and paper, it is easily explicable why leaders in the chemical industry are interested in increasing their investments in the ethyleneamines market. Key chemical industry players such as Dow Chemical Company, BASF, Huntsman Corporation, Delamine etc. have all made substantial investments in the ethyleneamines industry noting the immense potential held by the business.
After the development of the revolutionary procedure for the production of ethyleneamines, recently AkzoNobel started the construction of a prototype plant in Sweden that is meant to demonstrate the more sustainable production procedure of ethyleneamines from ethylene oxide. The facility is being viewed as a further step towards the commercialization of the innovative technology and with the construction underway, AkzoNobel has started to explore options for a world-scale manufacturing facility.
Get a Sample Copy of this Report:@ https://www.gminsights.com/request-sample/detail/2388
The ethyleneamines industry is expected to register increasing demand with the rapid expansion of the pharmaceutical industry as ethyleneamines find immense application as a raw material for the production of antidepressants, antimalarials, antibiotics, antihistamines, local anesthetics and muscle relaxants. The global population is estimated to increase by 1.24% each year until 2030, and 28% of the global population will be aged between 65 to 80 which is a significant rise when compared to approximately 22% in 2000. The aging population will necessarily add to the demand of common medications such as painkillers and prescription drugs like antibiotics, in turn adding momentum to the ethyleneamines market.
Besides the pharmaceuticals industry, extensive application of ethyleneamines in the agrochemical industry has added significant impetus to the ethyleneamines market. The expanding population will once again promote the scope for the use of agricultural chemicals which will in turn fuel the ethyleneamines industry as it acts as one of the notable ingredients in pesticides. Indeed, ethylenediamines market size from pesticides is anticipated to surpass $290 million by 2024. Ethylenediamines, a sub-product of ethyleneamines, are used in the production of fungicides for the prevention of mildew, scabs, rust and blight in agricultural products. As the population increases, it becomes imperative to improve agricultural production that would help ethyleneamines market to forge new growth avenues.
Chelating agents also make for a considerable portion of the ethyleneamines market revenue. The size of the diethylenetriamine market is poised to surpass 10 kilo tons by 2024 solely due to the increasing demand of chelating agents. The expanding size of the paper & pulp industry is expected to act as a driving factor for the chelating agents market. Paper-based packaging materials demand observed in the packaging sector will register growth due to the developments in e-commerce and the increasing demand for door step delivery system of perishable goods, home appliances and other products.
The increasing global awareness for the usage of recycled paper products will also have a positive influence on the chelating agents market in the ensuing years. Estimates show that global paper and pulp industry registered more than $500 billion in 2015, a growth rate that is expected to be maintained in the forthcoming years adding impetus to the growth of the chelating agents sector, and inconsequence, impacting the expansion of ethyleneamines market.
The application scope of ethyleneamines is immensely humongous, and the product being used as a building block in several industries will eventually contribute towards the growth of the ethyleneamines market. For the record, ethyleneamines industry size is anticipated to surpass $3 billion by 2024.
Author Name : Paroma Bhattacharya
With the increased popularity of the attractive fragrance of citrus fruits, especially oranges in personal care products, dipentene market has registered considerable expansion lately. Dipentene or limonene is the colorless liquid hydrocarbon that adds the distinct citric flavor and fragrance in many processed foods, beverages and cosmetic formulations of hygiene and personal care products. Owing to the versatile characteristics of limonene, dipentene market is expected to cater to a widespread range of applications – indeed, the product even finds deployment as an alternative to mainstream pesticides.
U.S. Dipentene Market Size, By End-user, 2013 – 2024 (USD Million)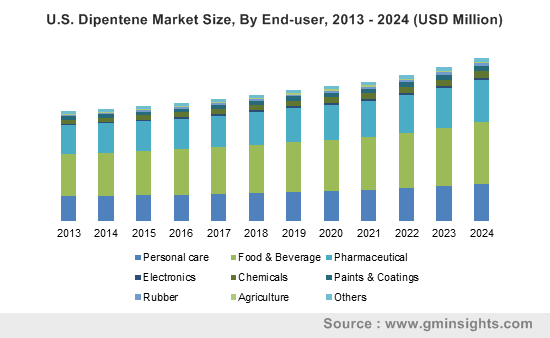 Limonene market has also been expanding rapidly on the grounds of the fact that the product is an alternate solvent to replace petroleum-based ones in several industrial applications such as paints and coatings where VOC emission and low biodegradability of solvents has become a major cause of concern for the wellbeing of the planet.
Global cosmetics and personal care industry statistics clearly point out that the said industry has been earning record revenue as beauty and self-care to preserve a youthful appearance is becoming one of the chief concerns for consumers all over the world. International beauty product companies that offer superior quality products as compared to local products have gained a commendable portion of the cosmetics and personal care industry in emerging nations as income levels of such nations continue to rise. Since limonene is expansively used in beauty products to add a freshening citrus odor, dipentene market is expected to garner major profits in Asia Pacific where the cosmetic market size is projected to surpass USD 126 billion by 2020 and where multinational companies are rapidly establishing a significant foothold. In fact, Asia Pacific has been forecast to be the fastest growing region in the limonene market over 2018-2024.
Get a Sample Copy of this Report:@ https://www.gminsights.com/request-sample/detail/2526
It will be prudent to mention here that dipentene, due to its colorless constitution and fresh, natural fragrance is used in various health care and cosmetic products like suntan products, bath products, cleansers, aftershave lotions, bubble baths, eye shadows, haircare products, lipsticks, perfumes, moisturizers and shampoos.
Rising levels of income is playing a subtler role in the growth of the limonene market as with more disposable income, consumers are opting for more effective ingredients in their products rather than cheaper ones. Manufacturers are therefore touting their products for greater efficiency rather than competitively pricing them which is adding to the enhanced inflow of revenue into the dipentene market. Diversification of distribution channels for cosmetic brands such as online shopping, vending machines, television infomercials, spas and home shopping are adding impetus to cosmetics market and consequently boosting growth of limonene industry.
Dipentene market will diversify its growth avenues beyond the cosmetic industry as research has found that chemicals obtained from orange peel could be utilized as a means of breaking the modern world's reliance on crude oil by being the building blocks in products ranging from plastics to paracetamol. Due to various adverse environmental effects, global industries had been trying to cut down on their dependence on the chemicals and materials that are obtained from fossil fuels, which are rapidly diminishing. As the world is increasing its focus on the development of renewable chemicals from an assortment of sustainable resources such as sugarcane and fatty acids in the production of biofuels, essential oils obtained from waste citrus peels have rapidly come to the forefront as a source that is being investigated with real zest as limonene shares many similarities with the chemicals obtained from fossil fuels.
Though limonene has been recognized as an important component of a bio-based chemical industry it will take the limonene industry considerable time to become a fully commercial means of plastics or polymer production. Issues hindering limonene market include the lack of reliable and greener supply of limonene. As research and development programs exert appreciable focus in bringing petroleum alternatives to the market, it is expected that dipentene industry will massively profit from such endeavors.
Author Name : Paroma Bhattacharya
Endorsing itself as an intrinsic realm in winemaking process, tartaric acid market stands to gain much over the ensuing years, on virtue of its credential to maintain chemical stability of the wine. This organic acid, in fundamental terms, has been commercialized since ages, however in recent times the business space has garnered an appreciable popularity. As per experts' opinion, a large credit of this goes to the massive wine consumption across the globe lately. Statistics claim, in 2016, wine consumption worldwide was approximately around 242 million hectoliters, an increment of almost 16 million hectoliters from what it recorded in 2000. In the same year, global tartaric acid market garnered a revenue of USD 450 million-estimates validating the perpetual impact of one on the other.
U.S. Tartaric Acid Market Size, by Type, 2013 – 2024 (USD Million)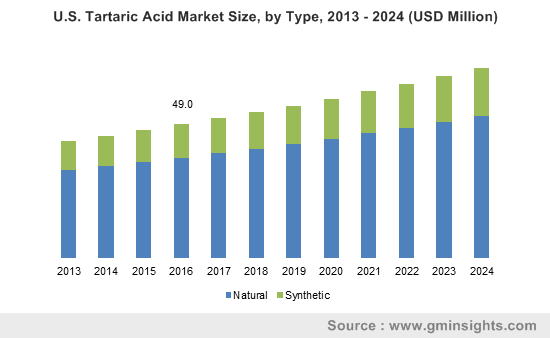 The reason behind U.S. to become the hotbed for tartaric acid market investors is quite obvious – the region's expanding wine sector. According to a latest report by Wines & Vines, nearly 9,091 wineries were operational in the country in 2017.  The country also pegged the title of fourth largest wine production nation across the world with a production volume of almost 23.9 million hectoliters in 2016. These estimates vividly exhibit the growth scope of regional tartaric acid market from wine applications. In this regard, natural wine has created much of a buzz among the wine lovers on grounds of its health viability.
Get a Sample Copy of this Report:@https://www.gminsights.com/request-sample/detail/1673
As per estimates, overall wine applications witnessed a proportion of authority in global tartaric acid industry share in 2016 and is likely to continue its dominance over 2017-2024. Having said that, it is prudent to mention that potential contenders are leaving no stone unturned to explore the possibilities of this acid on other application verticals as well. In this regard, an anticipated trend of utilizing tartaric acid as an anodizing agent for corrosion protection, has generated quite a momentum in tartaric acid market. Citing a relevant instance, Airbus leading aircraft manufacturer has developed a chrome-free Tartaric Sulphuric Acid Anodizing (TSA) as an alternative to traditional chromic acid anodizing that are used in corrosion resistant process. Reportedly, on ground of its environmental viability, TSA has also received a green signal from REACH.
The utilization of tartaric acid anodizing process, as per experts' opinion, undoubtedly falls among one of the few disruptive trends that tartaric acid industry has lately witnessed. This is validated by the increasing number of initiatives that are being undertaken along the similar lines. For instance, Aequs and Magellan Aerospace, two of the most renowned aircraft giants, few years back, signed an agreement, in a bid to expand a special TSA unit in India. Dubbed as Aerospace Processing India, this joint venture plant mainly carries out cadmium plating and TSA anodizing process for OEMs in aerospace sector. This project is also considered as a symptomatic evidence depicting the extent by which tartaric acid market penetrated the aerospace sector.
It is imperative to mention that natural tartaric acid is comparatively costlier than its synthetic counterparts. This is deemed to be one of the fundamental factors acting as a stumbling block in tartaric acid industry's linear growth path. Add to it, with restrictive consumption of synthetic tartaric acid due to stringent regulatory framework, across a plethora of verticals including the likes of pharmaceutical, food & beverage, and wine production, the profit margin further squeezes. However, increasing consumer inclination toward heathy foods and growing commercialization of beverages having fruit flavors, is likely to widen the application opportunities of the business space over the coming years.
Author Name : Satarupa De
Dimethyl Carbonate Market is projected to sketch a profitable roadmap over the years ahead, subject to the extensive product usage in pesticides, polycarbonates, pharmaceuticals, and solvents. Thriving paints & coatings sector, which is expected to accrue USD 165 billion by 2024, is likely to push the product revenue curve in the upward direction. Rapidly expanding electronics & automotive sectors across APAC along with rise in the number of construction activities in BRIC countries are expected to contribute considerably toward the business expansion. According to Global Market Insights, Inc., "Dimethyl carbonate industry, which generated a revenue of more than USD 410 million in 2015, is anticipated to hit USD 738.2 million by 2024."
Taking into consideration the geographical trends, Asia Pacific dimethyl carbonate industry, which dominated the regional landscape in 2015, is forecast to experience a considerable expansion over the years to come. Rising consumer preference for high quality paints with the increase in per capita income will drive the regional development. Indonesia, China, and India are expected to be the key regional revenue pockets.
U.S Dimethyl Carbonate Market size, by application, 2013-2024 (USD million)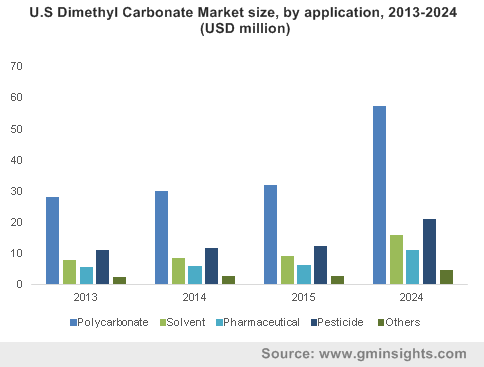 North America dimethyl carbonate market size, which was estimated at more than USD 90 million in 2015, is projected to expand remarkably over the coming seven years. Favorable government policies to improve the public infrastructure along with scaling up of the construction activities is anticipated to support the business expansion. U.S. dimethyl carbonate industry is likely to be a major revenue driver.
Get a Sample Copy of this Report @ https://www.gminsights.com/request-sample/detail/823
Dimethyl carbonate industry size in polycarbonate sector, which was evaluated at more than USD 200 million in 2015, is expected to experience a striking growth over the next few years. Escalating applications of polycarbonates across the medical, automotive, lightning & appliances, glazing, and electronics sectors are expected to boost dimethyl carbonate industry growth. Polycarbonate sector, which produced a revenue of more than USD 14 billion in 2015, is slated to hit USD 22 billion by 2024, which in turn, will help the market players to expand their profits through heavy business investments.
Dimethyl carbonate market share in the solvent sector is anticipated to grow at a CAGR of more than 6% over the coming seven years. The ability to provide exceptional solubility, odor, and low rate of evaporation is expected to make the product more useful in coating resins, concrete coatings, auto refinish, steel drum linings, architectural coatings, floor coatings, and traffic paints. Eco-friendly nature of the product along with its low costs are projected to enhance its demand in the production of solvents and automotive fuels, thereby catalyzing the growth of dimethyl carbonate industry.
Potential application of dimethyl carbonate as a gasoline additive across the energy sector will further enlarge the scope of the business.
Market players are adopting key business growth strategies such as new product development and high R&D funding to increase their ROI. AkzoNobel N.V., HaiKe Chemical Group Limited, EMD Millipore Corporation, Sigma-Aldrich Corporation, All-Chemie Limited, Alfa Aesar, Shandong Shida Shenghua Chemical Group Company Limited, UBE Industries Limited, Dongying City Longxing Chemical Company Limited, and Tangshan Chaoyang Chemical Company Limited are the key participants of dimethyl carbonate industry.
Author Name : Dhananjay Punekar
Flow chemistry market is poised to witness a lucrative roadmap ahead with the products' ability to enable sustainable manufacturing processes, owing to the minimal energy consumption, maximum production, and cost effectiveness with deployment of these products. Driven by the paradox shift observed in preference of ecofriendly processes both in chemical and pharmaceutical sectors, the market looks extremely promising from growth perspectives in the coming timeframe. As per a report by Global Market Insights Inc., "Flow chemistry market is estimated to surpass USD 2 billion by 2024, registering a remarkable annual growth rate of 10% over the period of 2016-2024."

U.S Flow Chemistry Market share, by end-user, 2013-2024 (USD Million)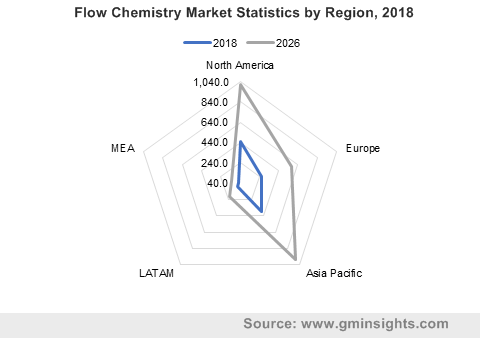 Harmful toxic gas emissions which has been a major concern in the chemical sector for years, now can be addressed with the adoption of flow chemical processes as these involve least heat exchange and consequently offers better reaction productivity. In response to this fact, chemical manufacturing units are emerging as one of the prominent revenue contributors of the flow chemistry industry.
Get a Sample Copy of this Report @ https://www.gminsights.com/request-sample/detail/1106
Pharmaceutical sector is further adding to a huge share of the flow chemistry industry. The report estimates that this sector will be the fastest-growing segment in the end-use landscape. Rising preference of flow chemistry products over batch reactors driven by safety parameters, usage in drug manufacturing, and ability to increase the production rate at a lower cost are the factors driving the flow chemistry market size in pharmaceutical applications.
North America flow chemistry market on this ground is experiencing a rapid growth with the expanding petrochemical and pharmaceutical industry base. It is set to register a CAGR of 9% over the period of 2016-2024. U.S. is the prominent country leading the regional growth with considerable natural gas and petrochemical feedstocks.
Petrochemical and chemical industry is also witnessing a huge adoption of flow chemistry products. In this regard, continuous stirred tank reactor has gained a significant prominence in the flow chemistry industry having dominated the flow chemistry product landscape in 2015. The huge demand for these products is driven by their ability to substantially increase the productivity with a parallel reduction in the cost.
Academic & Industrial research units are also driving the industry share lucratively. The most common product deployed across these units are Microreactor systems, which possess superior heat and mass transfer properties, thereby regulating the heat during chemical reactions. As per the estimates, Microreactor systems flow chemistry market is projected to witness highest gains at 15% over the coming seven years.
In 2015, Asia Pacific led the regional race and dominated the global flow chemistry industry landscape. The growth path ahead looks strong for APAC with the shifting focus of the manufacturers to establish manufacturing units in this region, driven by its low initial investment and promising government backing.  India and China will be the major revenue pockets for APAC over the coming timeframe, backed by the large manufacturing base across these countries.
The commercialization of flow chemistry products is one of the major roadblocks for this industry growth as it requires heavy capital investments and advanced equipment. However, with the current developments in the market such as collaboration of manufacturers with the petrochemical, pharmaceutical, and chemical MNCs will combat the growth restraints.
Flow chemistry market is consolidated with the major giants sharing more than 40% of the business space. However, the company is still competitive and is governed by the major differentiation parameters of pricing and technological advances. Key flow chemistry industry participants include Uniqsis Ltd, Koninklijke DSM N.V. FutureChemistry Holding BV, ThalesNano, AM Technology, Vapourtec Ltd, Chemtrix B.V., and Milestone Srl.
Author Name :Satarupa De