Pharmaceuticals
White Oil Market revenue is projected to observe a massive surge over the next few years, driven by the escalating product popularity in the healthcare, cement, pharmaceuticals, textile, plastic & polymer, food, precision equipment, bakery, wood, and personal care & cosmetics sectors. The product also finds massive utilization in tanks, gears, compressor cylinders, hydraulic equipment, vats, medical equipment, and packaging. Pertaining to the broad application spectrum alone, white oil industry exhibits the competence to flourish over the forthcoming years. As per estimates, white oil industry, which accumulated a revenue of more than USD 1.1 billion in 2015, is anticipated to surpass USD 2 billion by 2024.
U.S. White Oil Market Size, By Application, (USD Million), 2013-2024

The rapid expansion of certain industries such as those of cement, textiles, and farming has brought about an appreciable change in the dynamics of white oil industry in the Asia Pacific region, which accounted for over 60% of the overall industry share in 2015. The introduction of the beneficial government schemes is certain to support the regional growth. For instance, the Indian government launched a Pharma Vision 2020 program to promote developments in the pharmaceutical and medical sectors, a move which is likely to favorably influence the growth of white oil industry across the country. Besides India, Taiwan and China are the other regions that are expected to make considerable contributions toward APAC share.
MEA white oil market is projected to register notable gains of nearly 2.6% over the coming seven years. Intense demand for the product from the end-use sectors such as petroleum and petrochemicals along with its surging application in personal care & cosmetic items will push the revenue. Saudi Arabia and South Africa are likely to be key regional growth drivers.
Get a Sample Copy of this Report@ https://www.gminsights.com/request-sample/detail/1192
High product popularity across food & packaging and healthcare sectors along with a greater urge for refined as well as clean oil will augment the growth of Europe white oil industry. North America white oil industry is projected to expand at a CAGR of over 2.7% over the period of 2016-2024, subject to the introduction of new products specifically in the healthcare sector. The U.S. is predicted to make remarkable contributions toward the regional revenue.
White oil industry size in the personal care & cosmetics sector is projected to experience gains of more than 2.5% during the period from 2016 to 2024. Favorable features such as chemical & biological stability, softness, good emollient effect, and resistance to toxicity & germs will boost the growth.
Food applications are expected to contribute more than USD 68 million towards white oil market revenue by 2024. Rising product application in wrappers, packaging & filling equipment, sugar refining, and the egg-coating will boost the business trends. The thriving animal feed sector will further augment the revenue.
Growing product use in garments, apparels, and fabrics will boost white oil industry size in the textile sector, which is expected to grow at a rate of nearly 2% over the coming timeline. Anti- corrosive features of the product are expected to enhance its use as an anti-rust lubricant in sewing machines, thereby lucratively influencing the business space.
White oil market value in the pharmaceuticals sector is projected to surge at a rate of more than 2.8% over the years ahead. Rising health consciousness among the consumers along with the rising need for laxatives, excipients, and medical ointments are forecast to generate immense growth opportunities for the business.
Plastics & polymers sector, which contributed to more than 50% of the overall white oil market share in 2015, is expected to remarkably influence the business growth. Rising product demand for PVC lubricants, rubbers, extenders, thermoplastic elastomers, and plastic annealing will boost the industry landscape. High usage of the product as mold release agents as well as extrusion aids in the plastic production will also push the revenue.
British Petroleum Plc, Exxon Mobil Corporation, Renkert Oil Incorporation, Sasol Limited, Sinopec Limited, Royal Dutch Shell plc, JXTG Nippon Oil & Energy Corporation, and Seojin Chemical Company Limited are the major players of white oil industry.
Author Name : Dhananjay Punekar
The escalating scientific and commercial interest in xylitol is making the global xylitol industry an appealing commercialization proposition. The growing health consciousness among people has directly influenced the business landscape of the global xylitol market. Its properties of being used as a low-calorie substitute for traditional sweeteners is assisting its penetration across a myriad range of sectors such as personal care, food, pharmaceuticals, confectionary, and nutraceuticals. In addition, the rising healthcare expenditure, which has been indeed addressed as a global concern is further providing a significant impetus to the overall xylitol industry space. The U.S. is one of the prominent countries facing the healthcare costs burden profoundly. The trends depict that obesity is one of the leading causes of this rising expenditure, being the source of several other ailments such as diabetes, cardiac disorders, physical disabilities, etc. According to WHO, globally over 2.8 million people die from obesity and the consequent ailments on an annual basis.
U.S. Xylitol Market size, by application, 2013-2023 (Kilo Tons)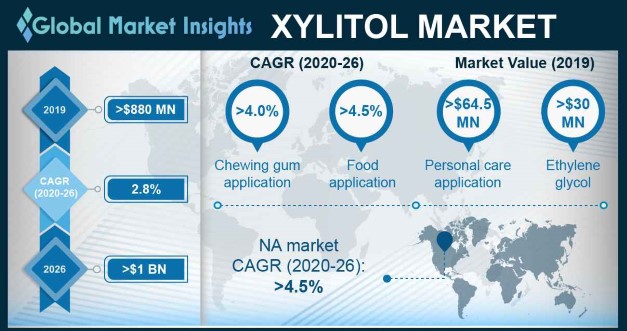 To combat the rising concerns regarding healthcare expenditure as well as to ensure sound health of the global population base, xylitol market has observed massive gains over the recent years. Xylitol has become a prominent name in the overall polyol industry space and had attained a remarkable revenue of USD 750 million in 2015. Through consumption via medicines and food, xylitol serves as a major solution to the issues related to obesity. This has subsequently enhanced the application portfolio of xylitol industry in the food and pharmaceutical sectors. As per the estimates, xylitol market size from food applications is estimated to register the highest CAGR of 7% over the period of 2016-2023.
Get a Sample Copy of this Report @ https://www.gminsights.com/request-sample/detail/795
Owing to the medicinal properties, chewing gum applications led the overall landscape with a revenue record of over USD 450 million in 2015. The growth can be credited to the ability of xylitol based chewing gums to prevent dry mouth, tooth decays, and cavity progressions. As per the estimates, xylitol market share from chewing gum applications is estimated to record a CAGR of 6% over the timeframe of 2016-2024. Personal care industry is also one of the prominent contributors toward the overall xylitol market share. This application is poised to witness a substantial growth rate over the coming years, driven by its usage in fluoride tablets, mouthwash, and toothpaste.
The swift economic development and the rapid urbanization is significantly influencing the global landscape of the xylitol industry. Below are the regional trends pertaining to this market:
The U.S. xylitol industry is expected to surpass a revenue of USD 350 million by 2023. The food applications in this region are likely to drive the product demand with a CAGR of 5.4% over the period of 2016-2023.
Germany market is estimated to witness substantial growth over the coming seven years having held a revenue of USD 65 million in 2015. Chewing gum application is likely to drive the regional demand.
China is estimated to be the major avenue for the overall xylitol industry growth over 2016-2023, with a target market size of 25 kilo tons by 2023. The huge regional confectionary base worth USD 9.5 billion is the major factor boosting the market trends.
France market is estimated to grow at an annual rate of 5.5% over the coming six years, driven by the rising obese and diabetic patient base.
Brazil personal care application is projected to exceed a revenue margin of USD 1.7 million by 2023.
The industry is consolidated with the top four players- Futaste Pharmaceutical, Danisco (DuPont), Yucheng Lujian Biological Technology Co. Ltd., and Hangzhou Shouxing Biological Technology Co. Ltd. sharing 40% of the overall business space. With a strong production base in China, the region has become a prominent export destination. Pricing is one of the chief parameters ruling the competitive scenario.
Despite the industry growth restraints including- tight raw material (corncob) supply and product substitute threat through the replacement by other sugar polyols such as sorbitol, maltol, and mannitol, the xylitol industry will sustain its valuation in the coming years with the diversified application spectrum across the end-use sectors. Global Market Insights, Inc. estimates the xylitol market to surpass a revenue of USD 1 billion by 2023.
Author Name :Shikha Sinha
Overview
Global Coenzyme Q10 (CoQ10) Market size produced $351 million in terms of revenue for 2015 and may register CAGR of more than 10.1%. Strong application overview in cosmetics as well as medical sector in APAC and Europe is projected to promote industry expansion.
The product is extensively used in sunscreen lotion and anti-aging cream preparation to avoid skin damage by free radicals. Growing aging population can propel demand for food supplements and anti-aging creams. All these factors can fuel global coenzyme Q10 (CoQ10) industry trends. Furthermore, growing pollution and rising concerns about ultraviolet radiation effects on skin is projected to promote demand of sunscreen lotion. Product application in treating neurological ailments, kidney failure, periodontal and cancer is projected to propel global coenzyme Q10 (CoQ10) market growth. In addition to this, favorable trends observed in food supplements consumption all across the globe are projected to promote global coenzyme Q10 (CoQ10) market price trends.
Europe Coenzyme Q10 Market size, by application, 2013-2024 (USD Million)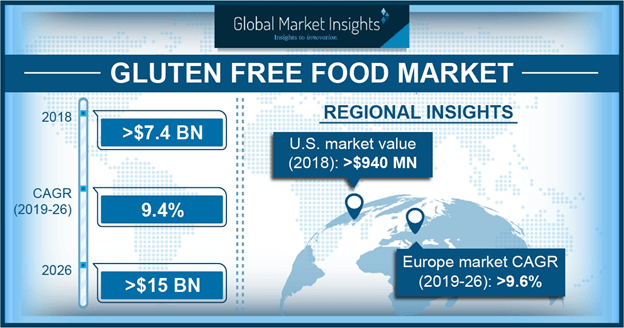 However, lack of stringent rules in medical therapy can inhibit industry expansion. Tight raw substance supply in form of tryptone, peptone and hexane can affect global coenzyme Q10 (CoQ10) industry price trends.
Get a Sample Copy of this Report: @ https://www.gminsights.com/request-sample/detail/741
Application Overview
Global Coenzyme Q10 (CoQ10) industry is segmented into cosmetic application, pharmaceutical application and food supplement application.
Food supplement segment contributed more than $226 million for 2015. Increasing healthcare awareness due to growing levels of malnourishment is predicted to contribute towards segment growth. Furthermore, consumption of coenzyme Q10 through food supplements enhances blood levels and reinforces antioxidant features that prevents occurrence of major ailments caused due to metabolism problems and cellular oxidative injury.
Pharmaceutical application is predicted to experience gains of more than 9.6% during forecast timeline. Favorable effects on Parkinson and Migraine therapies is predicted to drive demand for coenzyme Q10 in this segment.
Cosmetics application segment is expected to exceed $141 million by end of forecast timeframe. It is expected to growth as the coenzyme Q10 product is utilized in cosmetics like skin moisturizers and anti-wrinkle products as well as sunscreen lotions.
Regional Overview
Global Coenzyme Q10 (CoQ10) market is segmented into various regions like North America, APAC, Europe, Middle East & Africa and Latin America.
North American industry, led by U.S. Coenzyme Q10 (CoQ10) market, produced more than $201 million revenue for 2015. Beverages and personal care items contributed a key share in U.S. industry growth.
APAC, with cosmetic sector expansion in India and China, is projected to record CAGR of more than 10.1%. Rising consciousness about nutritional items coupled with increase in per capita income is projected to boost APAC Coenzyme Q10 (CoQ10) industry growth.
Latin America, with growing cosmetic sector in Mexico and Brazil, is projected to promote industry demand. Growing disposable incomes coupled with favorable indicators for medical therapies is anticipated to promote product demand.
Competitive Overview
Key industry participants profiled in the report include Nisshin Sheifun Group Incorporation, PharmaEssentia, Vitamin Shoppe, Healthy Origins, SourceOne Global Partners LLC, Kaneka Corporation, Hwail Pharmaceutical Company Limited, Vitamin Shoppe Incorporation, Gnosis S.p.A, Tishcon Corporation, ZMC USA and Healthy Directions.
Author Name : Dhananjay Punekar