Pharmaceuticals
A major sub-vertical of the specialty chemicals sphere, n-Hexyl alcohol market has established itself as a profitable business space owing to the ever-expanding personal care industry. Given how extensively the product is used across the production of soaps, shampoos, lotions, & creams, the growth of the personal care business is certain to have a highly appreciable impact on n-Hexyl alcohol industry trends. This directly proportional liaison is not confined to a limited set of regions but would be applicable across major geographies. Say for instance, VLCC recently launched a range of personal care and wellness products, the sales of which have been speculated to commendably impact India n-Hexyl alcohol market outlook.
U.S. N-hexyl Alcohol Market Size, By Application, 2013 – 2024 (USD Million)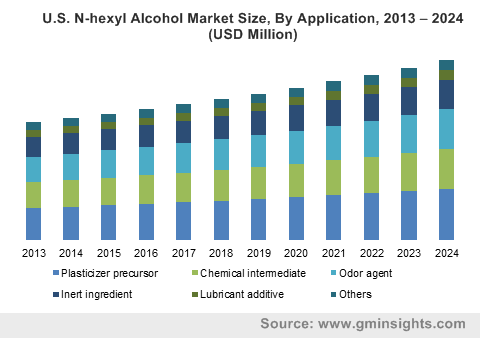 Besides being used as an antiseptic and preservative in cosmetics, n-Hexyl alcohol market has garnered considerable returns from the use of the chemical in modern packaging industry. Pharmaceutical packaging such as wrapping which includes capsules, tubes, bottles, vials, etc., has proved to be exponentially lucrative for the growth of this industry. Speaking of the pharmaceutical space and the use of wrapping materials, it is worthy to mention that N-Hexyl alcohol is also widely used as a plasticizer precursor for packaging. The product is used in the production of PVC – the basic material for many packaging substances that range from wrappings in the medicine industry to wrappers in the cosmetics sphere.
The F&B sector has established itself as a vital application avenue for N-Hexyl alcohol market, essentially because of the chemical's deployment in direct food contact packaging material such as food grade wraps and polymer films. Hexanol also finds widespread application as an emulsifying and preserving agent, with the rising demand of alcohol in food flavoring. Indeed, alcohol plays a huge role in the production of baked foods, ice-creams, gelatins and puddings, enlarging the scope of n-Hexyl alcohol market from the food industry.
Get a Sample Copy of this Report @ https://www.gminsights.com/request-sample/detail/1409
Besides the mainstream uses of hexanol, some unconventional uses of the chemical are also coming to attention that have the potential to augment the commercialization scope of n-Hexyl alcohol market, especially in relation to the current drive to achieve sustainability in fuels. An experiment to increase the sustainability of diesel through the addition of hexanol in ethanol diesel has shown that smoke emission can be significantly lowered by a blend of ethanol-hexanol diesel. The resultant blend apparently encompasses more oxygen content, while helping to improve engine performance as well.
The rising levels of nitrogen oxide in urban areas, depletion of petroleum reserves, and smoke emission from diesel engines have led to research programs being conducted to find sustainable fuel for the automotive industry. The blend fuel method, that requires no changes to the diesel engine while effectively combating the problem of GHG emissions, has emerged as a clearly superior method. Quite overtly, the mainstream use of this methodology is certain to revolutionize n-Hexyl alcohol market trends in the ensuing years.
The availability of chemicals that can potentially substitute hexanol like N-decanol, N-octanol, N-undecanol, N-nonanol, etc., can pose as a major threat to the growth of n-Hexyl alcohol market. However, the chemical's deployment across personal care products is so tremendously vast that the commercialization scope of this industry is certain to expand in the ensuing years. The expansion of the personal care space across the economies of India, China, South Korea and Japan would also significantly impact the overall n-Hexyl alcohol market growth.  According to estimates, n-Hexyl alcohol industry size will register a CAGR of 4% over 2017-2024, further strengthening its stance in the billion-dollar business sphere.
Author Name : Paroma Bhattacharya
In the recent times, sodium acetate market has witnessed a rather lucrative commercialization prospects owing to its extensive application across numerous business verticals including food processing, leather and textile, and pharmaceuticals. Prominently utilized as a food preservative, sodium acetate has further found widespread usage as a neutralizing agent, diuretic agent, and buffering & pickling agent across various end-use domains –  a factor that has contributed significantly toward sodium acetate industry share augmentation. Moreover, rapid industrialization and enormous FDI investment in emerging nations across the globe has spurred the growth potential of the aforementioned industry verticals, which has, in turn, driven the sodium acetate market size expansion.
U.S. Sodium Acetate Market Size, by Product, 2013 – 2024 (USD Million)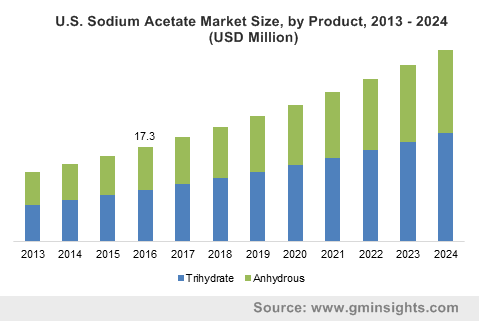 Food processing sector to emerge as a prominent end-user of sodium acetate industry
Owing to its excellent food preservation qualities, sodium acetate has been increasingly preferred by food processing industry over the past decade, which has proved to be quite beneficial for the overall sodium acetate market. The widescale applicability of this chemical can be attributed to the massive rise in the consumption of canned food items subject to fast-paced lifestyles and a drastic variation in dietary habits across developed and developing countries. This has, in consequence, provided a significant boost to the growth potential of sodium acetate industry. Apparently, sodium acetate is being utilized as an acid regulator to prevent the growth of harmful bacteria in canned meat, vegetables, and fruit. Furthermore, it would be prudent to mention that the addition of sodium acetate during the canning and drying procedures not only desists bacterial growth but also extends the shelf life of the product.
Get a Sample Copy of this Report:@https://www.gminsights.com/request-sample/detail/2408
Concurrently, sodium acetate market has found a major foothold in the global dairy sector, as the chemical is being utilized as an emulsifier and preservative in numerous dairy products. Apart from being widely used in condensed milk, sour cream, buttermilk, whey-based yogurts and drinks, sodium acetate has emerged as a preferred preservative in cheese preparations such as processed cheese, ripened cheese, cheese analogues, and processed cheese. In view of the rapid advancement of the global dairy sector, the growing prominence of sodium acetate as a preservative in the overall dairy industry is likely to impel the sodium acetate market size expansion.
Thus, the rising significance of sodium acetate in the global food processing sector can be validated from the aforementioned declarations. In fact, as per the research report compiled by Global Market Insights, Inc., food processing vertical accounted for more than USD 26 million of the revenue share of the total sodium acetate industry size in the year 2016.
The Asia Pacific region has indeed established itself as a profitable growth terrain for sodium acetate market stakeholders, as the expansion of numerous end-use verticals in this region has been much more pronounced when compared to other developing economies. For instance, sodium acetate is regarded as one of the most popular preservatives in Japan with the total demand for the chemical, as per reliable sources, being a humongous 3,500 tonnes. Apparently, such statistics demonstrate the necessity of sodium acetate across various verticals in the Asia Pacific region. For the record, Asia Pacific sodium acetate industry is estimated to have apportioned more than 55% of the total revenue share of this business space in 2016.
Elaborating further, it is quite imperative to mention that this multimillion-dollar business sphere is set to exhibit robust growth rate over the forthcoming years owing to the humongous deployment potential of sodium acetate – right from modest domestic uses to intricate chemical and industrial applications. In addition to this, the leading sodium acetate industry participants have been investing massively in vital research and development activities to strengthen their position in this swiftly emerging bulk and specialty chemicals vertical. Apparently, considering the aforementioned aspects, it quite undeniable that the sodium acetate market growth prospects appear to be substantially profitable in the ensuing years, with a target revenue of USD 220 million by 2024.
Author Name : Saif Ali Bepari
Glass Packaging Market has been undergoing a plethora of changes over the recent years with regards to innovations, enhanced branding, and unconventional packaging formats. Glass being 100% recyclable, is one of the most trusted and proven packaging solutions related to health, taste, and sustainability. In fact, statistics claim that glass is the only extensively used food packaging material that have been granted with the highest standard certification, 'GRAS' (as a recognized safe material) by the Food and Drug Administration.  The impermeable and chemically unreactive characteristics of glass materials is further enhancing the application scope of glass material packaging industry across various domains, pharmaceutical and alcoholic beverages being at the pinnacle.  As per a recent market speculation put forward by Global Market Insights, Inc., global glass packaging industry will surpass a valuation of USD 65 billion by the end of 2024, with an estimated CAGR of 4.5% over 2017-2024.
U.S. glass packaging market size, by application, 2013 – 2024 (USD Million)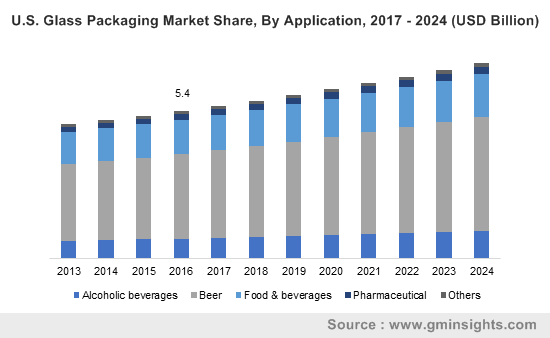 Worldwide, glass packaging industry is fragmented with leading six companies representing only 30% of the revenue share. In this competitive scenario, it has been observed that industry biggies are adopting mergers and acquisitions and strategic collaborations to sustain their geographical presence.  Companies are continuously trying to expand their production capacities by incorporating innovative products that are highly customized. Some of the renowned names in glass packaging market are Saint-Gobain, Owens-Illinois Inc, Gerresheimer AG, Vetropack Holding AG, Hindustan National Glass (HNG), Ardagh Group S.A., Piramal, Stölzle-Oberglas GmbH and Nihon Yamamura Glass Co., Ltd.
Glass packaging market Trends | Pharmaceutical sector
Pharmaceutical sector is one of the most outpacing domains actively driving glass packaging industry commercialization. The prime factor that can be credited for the market proliferation is the unprecedented rate of innovations outlining the business landscape. One such breakthrough is Corning's revolutionary pharmaceutical glass packaging solution, Valor Glass. As it is proclaimed, Valor Glass offers superior strength, enhanced chemical durability, chemical resistance, assuring better protection of the drugs. Recently Corning and Stevanato Group have entered a strategic partnership focusing on merchandizing Corning's Valor Glass to the glass packaging market.  Another instance of such collaborations which is expected to be a potential boost for the overall industry dynamics from pharmaceutical applications is the business alliance between Merck, Corning, and Pfizer over Valor Glass packaging. Keeping into consideration the chain of positive disruptive trends, it is certain that pharmaceutical sector will contribute a significant portion toward the global glass packaging industry in the coming years, with a projected CAGR of over 4% over 2017-2024.
Get a Sample Copy of this Report@ https://www.gminsights.com/request-sample/detail/1988
Glass packaging market trends | Alcoholic beverage & beer sector
Having acquired a major portion of the glass packaging market share in past years, alcoholic beverage and beer sector emerged to be another profitable domain thriving the business landscape. The rising consumption of beer especially across APAC belt can be primarily attributed for the market revenue.  In this regard, it is prudent to note that Asia Pacific almost represented 40% of the glass packaging industry in 2016. Increasing disposable incomes, a significant influence of the westernized lifestyles, and reduced cost of beers across some of the regions have acted in favor of the market growth. In fact, as per statistics, consumption of beer in Mexico and Vietnam have experienced an increase of around 6.5% and 7.5% respectively over the period of 2014-2015. Glass packaging is widely adopted for alcoholic beverages and beers, subject to its sustainability, non-permeability, and negligible chemical reaction rate which allows it to be best fit for long term preservation.
The industry is faced by several challenges, the prime being the rising popularity of plastic packaging which has observed rapid advancements in recent years. The linear growth curve of plastic packaging market can be attributed to some of its adhered benefits like easy transportation, cost effectiveness, durability, and aesthetic features. However, with increasing consumer preference for sustainable packaging materials having a high grade environmental viability, glass packing market is forecast to witness an appreciable growth in the years ahead.
Author Name : Satarupa De
The recent news about Suricate Minerals looking out for hydrothermal barite deposits in North Mauritania depicts the reach of Barite Market across the globe. Mauritania reportedly represents extensive mining investment opportunities, pertaining to the socio-economic and political conditions affiliated with the region. The government has also initiated a favorable mining policy, which is a major factor that may drive the global barite industry. In the milieu of this background, Suricate Minerals has planned to invest USD 4 million for the development of barite, gold, quartz, and lithium projects.
U.S. barite market size, by application, 2013 – 2024 (USD Million)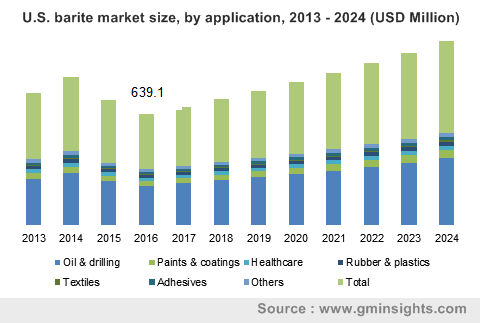 Barite is basically a naturally occurring, barium-based mineral, and is found extensively across United States, Morocco, China, and India. Endowed with the properties of chemical inertness and high density, barite finds utilization across a humongous range of applications, across pharmaceuticals, adhesives, oil & drilling, rubber & plastics, paints & coatings, and textiles. Subject to its widespread application terrain, barite market size was pegged at USD 2.2 billion in 2016, and is apparently poised to cross a valuation of USD 4.1 billion by 2024.
It is noteworthy to mention that some of the African countries also serve as major mining grounds for barite, which are heavily imported by the countries across the North America belt. As per surveys, Asia Pacific and North America are expected to be major growth avenues for barite industry. This is obvious from the slew of mining and export activities that are being undertaken in both the regions.
Get a Sample Copy of this Report@ https://www.gminsights.com/request-sample/detail/1328
Barite market trends across North America
Here's a breakdown of the contributions made by the regional players toward the growth of North America barite industry in the years 2016 and 2017 (until now)
Year – 2016
Companies involved
Contribution toward barite market
Schlumberger
Texas-based Schlumberger's M-I Swaco unit had proposed to develop a classic barite resource in Scotland, which had been approved by the local regulatory authority. The initiative aimed to mine 120,000 tons of barite annually.
Voyageur Minerals Ltd.
Canada-based Voyageur Minerals Ltd. strengthened its position in regional barite market by executing 3 prime projects for barite exploration project. The firm had then, planned to drill 500,000 tons of industrial grade barite at Frances Creek, undertake drilling beyond 100 m of the mined-out zones at Jubilee Mountain, and perform geological research to mine 20,000 to 50,000 ton of barite at Pedley Mountain.
Year – 2017
Companies involved
Contribution toward barite market
Honey Badger Exploration
Honey Badger Exploration recently announced the acquisition of three essential zinc and barite assets in Quebec, thereby contributing its bit toward the regional barite market growth.
Voyageur Minerals Ltd.
Voyageur Minerals Ltd. built a strong portfolio of three wholly-owned BaSO4 (barium sulfate) deposits in British Columbia.
Benz Mining Corp.

Silver Range Resources Ltd.,

Benz Mining Corp. entered into a partnership with Silver Range Resources Ltd., though which the former can buy 100% of the latter's Mel zinc-lead-barite project, for a valuation of CAD 2.7 million in southeast Yukon.
North America barite market size was valued over USD 1 billion in 2016. This comes as no surprise, considering the enormous number of shale gas exploration and oil drilling activities in the area. The region will continue to remain a major contributor of barite industry, with U.S. retaining its paramount position. The continent has also experienced the usage of unconventional energy sources to meet the never-ending demand across the power generation, automotive, and oil & gas sectors, on the grounds of which, analysts claim North America barite market to register a growth rate of 4.5% over 2017-2024.
Barite deposits in North America:
| | |
| --- | --- |
| Country | Regions |
| United States | Missouri, Tennessee, Georgia, Nevada |
| Mexico | Durango, Hermosillo, Pueblo, and Monterrey |
| Canada | Nova Scotia, Newfoundland, and Yukon Territory |
One of the major states that has been achieving great heights in barite production is Nevada. Barite production in this state had risen by more than 20% from 2010 to 2013. In 2012, the numbers had increased to more than 740,000 tons from that of around 690,000 tons in 2011. With the continued shale gas boom and the robustly growing oil & drilling industry North America barite industry will carve out a lucrative roadmap over the years ahead.
Barite Market Trends across the Asia Pacific
Here's a breakdown of the contributions made by the regional players toward the growth of Asia Pacific barite industry in the years 2015, 2016, and 2017 (until now)
Year – 2015
Companies involved
Contribution toward barite market
AsiaPhos

LY Resources (LYR Group)

AsiaPhos, the mineral resource group had declared the acquisition of LY Resources for USD 36.8 million. The deal aimed to acquire the ownership of 55% of Deyang Fengtai Mining, which held the license for the barite rocks in Sichuan.
Year – 2016
Companies involved
Contribution toward barite market
Andhra Pradesh Mineral Development Corp. (APMDC)
Andhra Pradesh Mineral Development Corp. had announced the approval of the Indian barite tender that provided the company with exclusive rights to mine and sell barite for a 12-month period. The govt. approval was a major milestone in the development of the regional barite market.
Year – 2017
Companies involved
Contribution toward barite market
Thermax

Barite Investment

Thermax recently acquired Denmark-based Barite Investment with a view to establish barite facilities in the region.
Asia Pacific barite market is expected to emerge as one of the most lucrative growth avenues for barite market, given that the region has been experiencing a commendable growth across numerous sectors. As per analysts, the continent is anticipated to generate substantial revenue from the sales of white and off-white barite, which is slated to grow at a CAGR of 3% over 2017-2024. This is primarily due to the growing prominence of the paints & coatings sector in the region, since the product is heavily utilized in this industry.
APAC barite market is expected to register a CAGR of 7% over 2017-2024, with India and China at the helm. The substantial shale gas exploration activities in China, say experts, will serve to be one of the major drivers pushing the growth of the regional barite market. Besides, the ever-growing construction, automotive, paints & coatings, and consumer goods will prove to make a marked impact on the growth path of APAC barite industry.
Experts predict that major companies operating in global barite market will make substantial investments toward the global revenue in the future. Having established its footprints across major geographies, barite market is also likely to tap into the areas on lesser potential, especially across Europe. Considering the fact that the mineral is used across numerous sectors, barite market is slated to exhibit an appreciable growth rate over the forthcoming years of 2017-2024.
Author Name : Saipriya Iyer
White Oil Market revenue is projected to observe a massive surge over the next few years, driven by the escalating product popularity in the healthcare, cement, pharmaceuticals, textile, plastic & polymer, food, precision equipment, bakery, wood, and personal care & cosmetics sectors. The product also finds massive utilization in tanks, gears, compressor cylinders, hydraulic equipment, vats, medical equipment, and packaging. Pertaining to the broad application spectrum alone, white oil industry exhibits the competence to flourish over the forthcoming years. As per estimates, white oil industry, which accumulated a revenue of more than USD 1.1 billion in 2015, is anticipated to surpass USD 2 billion by 2024.
U.S. White Oil Market Size, By Application, (USD Million), 2013-2024

The rapid expansion of certain industries such as those of cement, textiles, and farming has brought about an appreciable change in the dynamics of white oil industry in the Asia Pacific region, which accounted for over 60% of the overall industry share in 2015. The introduction of the beneficial government schemes is certain to support the regional growth. For instance, the Indian government launched a Pharma Vision 2020 program to promote developments in the pharmaceutical and medical sectors, a move which is likely to favorably influence the growth of white oil industry across the country. Besides India, Taiwan and China are the other regions that are expected to make considerable contributions toward APAC share.
MEA white oil market is projected to register notable gains of nearly 2.6% over the coming seven years. Intense demand for the product from the end-use sectors such as petroleum and petrochemicals along with its surging application in personal care & cosmetic items will push the revenue. Saudi Arabia and South Africa are likely to be key regional growth drivers.
Get a Sample Copy of this Report@ https://www.gminsights.com/request-sample/detail/1192
High product popularity across food & packaging and healthcare sectors along with a greater urge for refined as well as clean oil will augment the growth of Europe white oil industry. North America white oil industry is projected to expand at a CAGR of over 2.7% over the period of 2016-2024, subject to the introduction of new products specifically in the healthcare sector. The U.S. is predicted to make remarkable contributions toward the regional revenue.
White oil industry size in the personal care & cosmetics sector is projected to experience gains of more than 2.5% during the period from 2016 to 2024. Favorable features such as chemical & biological stability, softness, good emollient effect, and resistance to toxicity & germs will boost the growth.
Food applications are expected to contribute more than USD 68 million towards white oil market revenue by 2024. Rising product application in wrappers, packaging & filling equipment, sugar refining, and the egg-coating will boost the business trends. The thriving animal feed sector will further augment the revenue.
Growing product use in garments, apparels, and fabrics will boost white oil industry size in the textile sector, which is expected to grow at a rate of nearly 2% over the coming timeline. Anti- corrosive features of the product are expected to enhance its use as an anti-rust lubricant in sewing machines, thereby lucratively influencing the business space.
White oil market value in the pharmaceuticals sector is projected to surge at a rate of more than 2.8% over the years ahead. Rising health consciousness among the consumers along with the rising need for laxatives, excipients, and medical ointments are forecast to generate immense growth opportunities for the business.
Plastics & polymers sector, which contributed to more than 50% of the overall white oil market share in 2015, is expected to remarkably influence the business growth. Rising product demand for PVC lubricants, rubbers, extenders, thermoplastic elastomers, and plastic annealing will boost the industry landscape. High usage of the product as mold release agents as well as extrusion aids in the plastic production will also push the revenue.
British Petroleum Plc, Exxon Mobil Corporation, Renkert Oil Incorporation, Sasol Limited, Sinopec Limited, Royal Dutch Shell plc, JXTG Nippon Oil & Energy Corporation, and Seojin Chemical Company Limited are the major players of white oil industry.
Author Name : Dhananjay Punekar
The escalating scientific and commercial interest in xylitol is making the global xylitol industry an appealing commercialization proposition. The growing health consciousness among people has directly influenced the business landscape of the global xylitol market. Its properties of being used as a low-calorie substitute for traditional sweeteners is assisting its penetration across a myriad range of sectors such as personal care, food, pharmaceuticals, confectionary, and nutraceuticals. In addition, the rising healthcare expenditure, which has been indeed addressed as a global concern is further providing a significant impetus to the overall xylitol industry space. The U.S. is one of the prominent countries facing the healthcare costs burden profoundly. The trends depict that obesity is one of the leading causes of this rising expenditure, being the source of several other ailments such as diabetes, cardiac disorders, physical disabilities, etc. According to WHO, globally over 2.8 million people die from obesity and the consequent ailments on an annual basis.
U.S. Xylitol Market size, by application, 2013-2023 (Kilo Tons)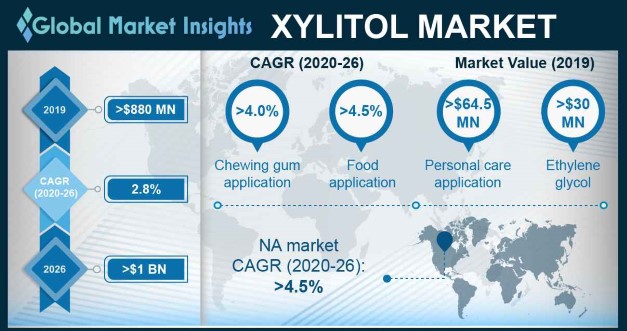 To combat the rising concerns regarding healthcare expenditure as well as to ensure sound health of the global population base, xylitol market has observed massive gains over the recent years. Xylitol has become a prominent name in the overall polyol industry space and had attained a remarkable revenue of USD 750 million in 2015. Through consumption via medicines and food, xylitol serves as a major solution to the issues related to obesity. This has subsequently enhanced the application portfolio of xylitol industry in the food and pharmaceutical sectors. As per the estimates, xylitol market size from food applications is estimated to register the highest CAGR of 7% over the period of 2016-2023.
Get a Sample Copy of this Report @ https://www.gminsights.com/request-sample/detail/795
Owing to the medicinal properties, chewing gum applications led the overall landscape with a revenue record of over USD 450 million in 2015. The growth can be credited to the ability of xylitol based chewing gums to prevent dry mouth, tooth decays, and cavity progressions. As per the estimates, xylitol market share from chewing gum applications is estimated to record a CAGR of 6% over the timeframe of 2016-2024. Personal care industry is also one of the prominent contributors toward the overall xylitol market share. This application is poised to witness a substantial growth rate over the coming years, driven by its usage in fluoride tablets, mouthwash, and toothpaste.
The swift economic development and the rapid urbanization is significantly influencing the global landscape of the xylitol industry. Below are the regional trends pertaining to this market:
The U.S. xylitol industry is expected to surpass a revenue of USD 350 million by 2023. The food applications in this region are likely to drive the product demand with a CAGR of 5.4% over the period of 2016-2023.
Germany market is estimated to witness substantial growth over the coming seven years having held a revenue of USD 65 million in 2015. Chewing gum application is likely to drive the regional demand.
China is estimated to be the major avenue for the overall xylitol industry growth over 2016-2023, with a target market size of 25 kilo tons by 2023. The huge regional confectionary base worth USD 9.5 billion is the major factor boosting the market trends.
France market is estimated to grow at an annual rate of 5.5% over the coming six years, driven by the rising obese and diabetic patient base.
Brazil personal care application is projected to exceed a revenue margin of USD 1.7 million by 2023.
The industry is consolidated with the top four players- Futaste Pharmaceutical, Danisco (DuPont), Yucheng Lujian Biological Technology Co. Ltd., and Hangzhou Shouxing Biological Technology Co. Ltd. sharing 40% of the overall business space. With a strong production base in China, the region has become a prominent export destination. Pricing is one of the chief parameters ruling the competitive scenario.
Despite the industry growth restraints including- tight raw material (corncob) supply and product substitute threat through the replacement by other sugar polyols such as sorbitol, maltol, and mannitol, the xylitol industry will sustain its valuation in the coming years with the diversified application spectrum across the end-use sectors. Global Market Insights, Inc. estimates the xylitol market to surpass a revenue of USD 1 billion by 2023.
Author Name :Shikha Sinha