Phenolics
The relentless pursuit for green and energy saving solutions has led structural insulation panels market to gain substantial acclaim in the recent years, specifically from the construction sector. With the rise in global population and increasing demand for accommodation, volumetric construction is becoming a major necessity.
North America Structural Insulation Panels Market, By Product, 2017 & 2024, (Million Square Feet)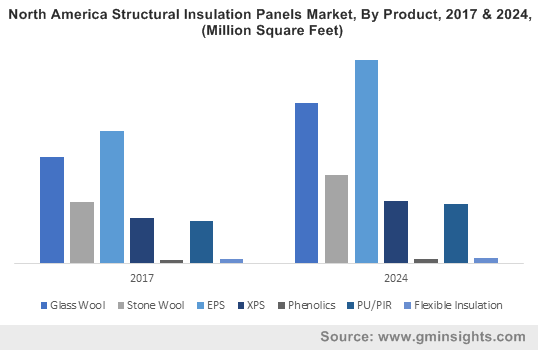 According to the United Nations, countries across the globe are facing a housing crisis that can culminate to the requirement of 440 million affordable urban households by 2025. However, with the future of the planet under the threat of drastic climate change, not only volumetric construction but the demand for ecofriendly construction has gained significant traction. In line with the Paris Agreement, the construction industry is now focusing on building 'zero energy homes', the chief concept that is expected to propel structural insulation panels market share.
The notion of zero energy homes is rooted in the fact that by building energy-efficient buildings, it is possible to considerably bring down the carbon emission levels in the atmosphere. In the U.S., buildings account for 39% of the total energy consumption. Considering that 45% of the energy consumed by homes is used in heating and cooling, a well-insulated building envelop is crucial to achieve a truly zero energy home, where no energy is wasted. Structural insulated panels offer less cracks and joints and make up very airtight homes with effective insulation between conditioned and unconditioned air spaces. Quite overtly, structural insulation panels industry is expected to witness a significant growth through the rise in demand for building green homes.
Get a Sample Copy of this Report @ https://www.gminsights.com/request-sample/detail/2452
Another factor that has made structural insulation panels an increasingly popular choice among the advocates of green buildings is the ecofriendly characteristic of their components that mainly comprise oriented strand board (OSB) and expanded polystyrene (EPS). Since OSB is made of inexpensive wood species grown in managed forests and EPS is a lightweight insulation material made of air and only 2% plastic, these core materials have been massively used for SIP production. EPS in fact, uses pentane that is a non-CFC blowing agent and the energy it saves will offset the costs of the petroleum that was spent in manufacturing. Driven by lowered CO2 emissions and reduced energy consumption, EPS-based SIP market size is anticipated to register a CAGR of 7% over 2018-2024.
The deployment of SIPs has apparently proved beneficial not only for saving energy and reducing waste but also for saving up extensively on construction costs, thereby stimulating structural insulation panels industry outlook. In a study conducted by BASF, it was demonstrated that residential builders can reduce their farming labor requirements by 55% with the use of structural insulated panels. The prefabricated nature of structural insulation panels eliminates on-site construction and they only require to be hoisted into place with the help of a crane, making SIP house installation 25% faster than benchmark houses. Prefabrication also resulted in jobsite debris disposal reduction by 93%. The study categorically depicts that the ongoing requirement of optimizing construction costs would act as a major driving force for structural insulation panels market.
In light of the environmental safety and cost effectiveness offered by structural insulation panels, it is rather justified that organizations such as the EPA are supporting their increased deployment. Backed by governmental initiatives such as tax incentives, structural insulation panels market trends are certain to undergo a positive transformation in the years ahead. The high R-value and low air leakage are making structural insulation panels more preferable than traditional framed construction. Aided by stringent regulations regarding environmental conservation, structural insulation panels market size is anticipated to exceed USD 590 million by 2024.
Author Name : Paroma Bhattacharya
Powered by the rapidly expanding automotive industry across myriad geographies, automotive brake caliper market has indeed gained tremendous popularity in recent times. The automotive sector is also rife with a plethora of highly unique innovations that have undeniably had an impact on this business sphere. Indeed, given the pivotal significance of braking systems, technological advancements form the crux of automotive brake caliper industry. Recently for example, Brembo unveiled an aesthetically revolutionary brake caliper at the 2018 NY Auto Show. Apparently, this product helped achieve substantial weight savings – around 400 g per wheel. Brembo's product launch is indicative of the fact that automotive brake caliper market will continue to be characterized by highly innovative solutions that would optimize performance and improve aesthetics.
U.S. Automotive Brake Caliper Market, By Vehicle, 2016 & 2024, (Million Units)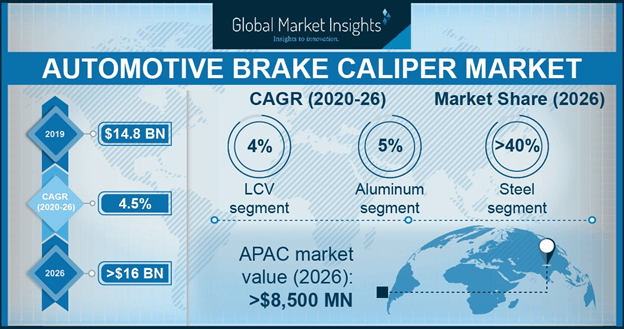 The automotive industry has registered an extremely appreciable CAGR in the Asia Pacific region since the last decade or so. This growth can be essentially credited to the rise of the middle-class populace with increasing disposable incomes and a growing inclination toward leading a more comfortable lifestyle. Due to the presence of affordable and efficient production facilities and increased rate of automobile production, Asia Pacific automotive brake caliper market is poised to grow by 3% over 2017-2024. China, India, Japan, and South Korea are projected to be the major contributors toward this regional market, powered by the enhanced automotive manufacturing technologies now prevalent across these economies.
Speaking along similar lines, the increasing demand for automobiles among the middle-class consumers has led to a significant requirement of passenger carrying vehicles. For instance, in 2017 alone, 73.46 million units of PCVs were sold – a marked increase of 1.08 million units. Driven by the increased consumer spending and the subsequent rise in vehicle production, automotive brake caliper market size from PCVs is expected to increase by 3% over 2017-2024.
Get a Sample Copy of this Report @ https://www.gminsights.com/request-sample/detail/2336
While PCVs take the cake in terms of popularity, it is prudent to mention that two-wheelers are also being increasingly preferred lately, especially in the emerging economies. Two wheelers offer a means of cost effective transportation and are the preferred choice not only in congested cities but also in remote locations. This would perpetually augment automotive brake caliper industry outlook in the ensuing years.
Stringent safety and environmental policies have encouraged technological advancements in the automotive brake caliper market of late. For instance, the French auto manufacturer Bugatti has brought forth a unique innovation in automotive brake caliper industry with the use of 3D printing to print titanium brake calipers. Incidentally, 3D printing of brake calipers helps in reducing the overall weight of the vehicle while maintaining torsional stiffness – a highly sought-after parameter in the automotive industry today. Traditional aluminum alloy brake calipers on Bugatti vehicles weigh 4.9 kg each, however, 3D printing of brake calipers makes each caliper weigh just 2.9 kg, which goes a long way in reducing overall vehicle weight and meeting environmental regulations.
Though 3D printing of brake calipers has not yet become a mainstream procedure owing to the time-consuming nature of the process, the concept has gained sufficient traction. Other methodologies for the reduction of caliper mass, improved styling and performance maintenance are also being researched currently to reduce particulates and carbon emission in the atmosphere.
The emergence of electric vehicles and hybrids is expected to add a new vertical to automotive brake caliper industry, as these vehicles will invariably use a whole new braking system that has little resemblance with the conventional braking system. With the introduction of the Tesla Model 3, electric passenger cars are poised to become the dominant trend for the future. It is rather overt that such cars are being designed to have only one paddle for moving or stopping the vehicle. While the brake system will not be made entirely obsolete, it is certain to undergo some highly innovative changes, that would certainly have an influence on automotive brake caliper market outlook.
Research & development programs are rampant across the automotive industry of late and are likely to majorly transform automotive brake caliper market trends. With the robust growth of automated technologies and the increasing requirement for better mobility, automakers are leaving no stone unturned to bring forth newer and enhanced brake systems. In consequence, this would have a commendable impact on automotive brake caliper market size, anticipated to cross $25 billion by 2024.
Author Name : Paroma Bhattacharya