plastic
Airless tires market has indeed gained a commendable acclaim over the recent years, especially amidst the backdrop where disruptive tech driven trends are aptly reshaping the mobility sector.  Given that forces like diverse mobility, connectivity, autonomous driving, and electrification are already on the horizon, it is expected that airless tires industry would soon conveniently establish itself as the next lucrative investment avenue. This is apparently vivid from the estimates that claim the global airless tires market to have garnered a revenue of USD 120 million in 2016. The growth is chiefly driven by the increasing demand for these next generation tires in heavy off-load vehicles, widely used across the military sector. In fact, military vehicles procured a prominent chunk of the airless tires industry landscape in 2016 and is anticipated to record a CAGR of 9% over 2017-2024.
U.S. Airless Tires Market, By Product, 2016 & 2024, (Units)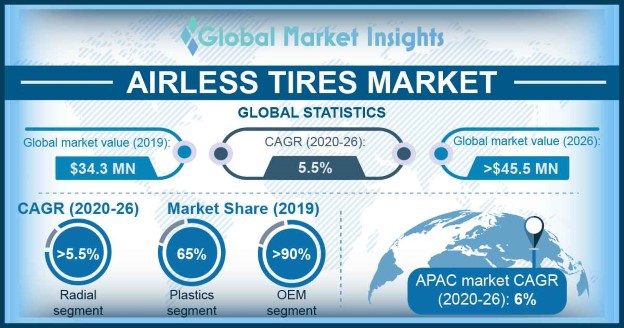 The concept of 3D printing is deemed to bring a disruption of sorts in the airless tires industry. Having recognized the immense potential of this technology, market players have been increasingly experimenting with 3D printing to unlock its credibility to the fullest. Quoting a recent case, Michelin, one of the leading airless tires market firms has recently made its way to the front page with the launch of its airless 3D printed tire. This breakthrough model is reportedly based on alveolar structure, similar to that of air sacs found on human lungs. That is to say that the interior of the tires are structurally solid while the outer layer is flexible, which prevent blowouts. What adds an extra feather to its hat is the product's environmental viability – it is printed from biodegradable, organic, and recyclable materials.
Elaborating further on the competitive landscape, product innovations and development are the two prominent parameters underlining the sustainability quotient for the market players. Below are two of the latest developments in the product landscape of airless tires market.
Get a Sample Copy of this Report@ https://www.gminsights.com/request-sample/detail/1390
Goodyear Tire & Rubber Company, one of predominant players in airless tires market, has recently released an airless or non-pneumatic turf tire solution for commercial mower applications. Reported to be exclusively available on Bad Boy Mowers' Outlaw XP model, this groundbreaking airless tire technology is particularly designed to eliminate air pressure checks, and flat tires. The move is claimed to be a revolution with regard to the launch of non-pneumatic technologies in the automotive sector and is deemed to remarkably strengthen Goodyear's position in the competitive landscape of airless tires industry.
World's first 3D printed airless bicycle tires have been recently tested on the streets of Berlin- the latest scoop that is grabbing the headlines in airless tires market. Reportedly, BigRep, the Berlin based tech giant has tested this new Pro Flex filament tire, which is claimed to be superior than other 3D printing filaments in terms of its unique flexibility, high resistance, and unmatched durability. With airless tires becoming a renowned trend in the transportation space, the move is certain to provide a remarkable competitive edge to BigRep.
It is vividly coherent that technological upgradations in product design and deployment are the top-notch parameters underlining the strategic landscape of this fraternity. The business space is set to garner an appreciable popularity across APAC belt, especially by the extensive growth of military and commercial vehicle sectors in China and India. APAC airless tires market is slated to hold more than 30% of the global landscape by 2024. All in all, with automotive OEMs increasingly exploiting the potential of these cutting-edge tires for overall weight reduction and performance enhancement of the vehicles, airless tires industry is likely to witness a slew of opportunities over the ensuing years. The global revenue share is projected to surpass USD 200 million by 2024.
Author Name : Satarupa De
Considering the increasing inclination toward integrating automation in a majority of the industrial domains, North America precision gearbox market is forecast to carve a profitable roadmap in the coming years. Despite the fact that gearbox technology has always been quite a popular name among manufacturing units since a while, the commercialization of North America precision gearbox industry has gained a remarkable momentum lately. Undoubtedly, technological affluences in major countries like U.S. and Canada has added an extra market value to these gearboxes in terms of reliability and accuracy. Companies involved in the industry are readily adopting long-term supply agreements to maintain the overall product demand, which at the same time would reduce the cost involved in the value chain. This, in effect, is sure to reflect in North America precision gearbox industry share in the coming years, having held a valuation of USD 371 million in 2016.
U.S. Precision Gearbox Market, By Product, 2016 & 2024, (USD Million)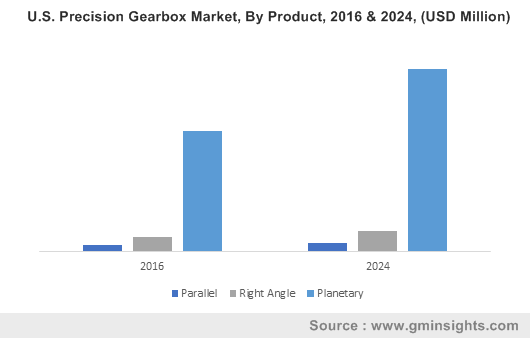 Speaking of competitive profiling, companies involved in North America precision gearbox market have been increasingly adopting some of the conventionally effective growth strategies, product differentiation being at the pinnacle. The recent partnership of Pinion Inc., and Gates Corp. to officially launch low maintenance bicycle precision gearboxes in North America is a validation to the aforementioned fact. As claimed by the company officials, Pinion is planning to opt for low maintenance shifting technology to enable comfortable easy bike rides. Citing another instance, EXSYS Tool Incorporation, another leading name in North America precision gearbox industry has recently enhanced its product portfolio with the launch of a novel type of high-quality EPPINGER gearbox. Reportedly, these new HT-type hypoid gearboxes feature robust and compact designs, suitable for a variety of dynamic and specific solutions. With many other leading giants likely to follow the trend, North America precision gearbox industry is expected to chart out remarkable growth over 2017-2024.
Get a Sample Copy of this Report:@ https://www.gminsights.com/request-sample/detail/2126
Boasting a wide application matrix including healthcare, automotive, agriculture & construction, E-mobility, material handling, façade technology etc., North America precision gearbox market size is forecast to exceed a valuation of 556 million by the end 2024.  Automotive applications recorded a remarkable revenue of over USD 122 million in 2016, and is expected to drive the application matrix over 2016-2024. The expanding automotive sector along with growing popularity of electric vehicles that demands optimum power and energy is sure to upscale North America precision gearbox market penetration.
U.S., having pegged the title of a major revenue contributor for North America precision gearbox market share, accounted for almost USD 332 million in 2016. Stringent regulatory guidelines set by the American National Standards Institute with regards to robotic application, transportation, and packaging are expected to boost the product penetration in U.S. over the coming years. The proliferating food and beverage sector is another important determinant that is expected to catalyze the regional growth, given the relentless innovations in food packaging technology and the growing investments in the developments of food production facilities. As per estimates, overall food and beverage applications is expected to witness a substantial y-o-y growth of 6% over 2017-2024. Having recorded enormous developments in the sectors where the application scope of gearboxes is huge, U.S. alone is slated to cover 90% of North America precision gearbox industry.
Advanced machinery, of late, has become a priority in most of the industrial sectors in North America. Integration of automation has raised the performance bar to great heights and has offered high potential in these industries, by ensuring a strong supply value chain. Technological breakthroughs over the years have further played a significant role in enhancing North America precision gearbox business industry size. As these gearboxes continue to meet a wide array of supply value challenges such as effective pricing and just-in-time delivery, North America precision gearbox market is foreseen to gain a remarkable traction over the ensuing years, with a target market size of 968.9 thousand units by 2017-2024.
Author Name : Satarupa De
Hydrogen Engine Center's recent launched intake manifold technology has marked a quantum leap in automotive air intake manifold market. This new design will apparently overcome the air & fuel imbalance in all the V8 engines, leading to reduced power and operational inefficiency. In addition, the technology is designed to improve the overall power output between 4% to 8% on almost all the internal combustion engines and can work on any type of combustion engine with four or more number of cylinders. The fact that this design will halt the backfiring of V8 engines with the usage of hydrogen as a fuel would certainly impel automotive air intake manifold market in the years to come.
U.S. Automotive Air Intake Manifold Market Size, By Vehicle, 2013 – 2024 (USD Million)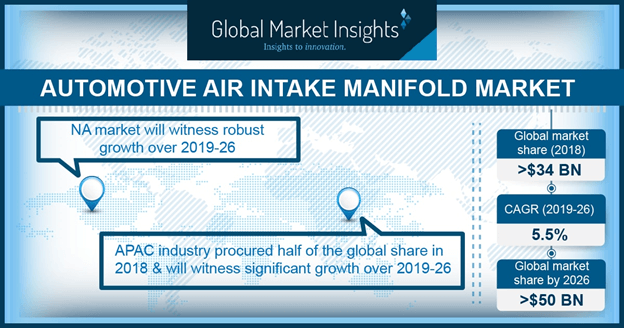 Recently, Ford India unleashed the 1.5-liter Ti-VCT, a three-cylinder petrol engine, that would open new growth avenues in India automotive air intake manifold industry. The manufacturing unit of the firm based in Sanand, Gujarat will manufacture this innovative petrol engine that will fulfill the demands of both the regional and global automobile sector, as it offers enhanced fuel efficiency and helps reduce the carbon emissions in the environment.
Key automobile manufacturers have been striving to expand their production base lately, given the intense competition and product demand. Holley Performance Products Incorporation, for instance, has established a manufacturing unit at Franklin in the U.S, which is likely to augment the vehicle production and increase the number of jobs across the automotive sector. The numerous developments underlining the automotive domain and automotive aftermarket have led experts to predict that automotive air intake manifold market will indeed experience lucrative growth prospects over 2017-2024.
Get a Sample Copy of this Report @ https://www.gminsights.com/request-sample/detail/1810
The substantial rise in the demand for vehicles across Indonesia, China, and India has led to an improvement in the vehicle production capacity, which would certainly augment APAC automotive air intake manifold industry. Furthermore, APAC has been predicted to contribute over 45% toward global automotive air intake manifold market revenue by 2024, driven by the ever-expanding automotive sector in the region.
Germany on the other hand, houses some of largest automobile manufacturing firms such as Volkswagen, Audi, Mercedes Benz, and BMW, which would considerably stimulate Germany automotive air intake manifold market. In addition, escalating demand for passenger cars across the region, resulting in an increase in the vehicle production will further augment the regional growth.
Reputed players such as MAHLE Gmbh, Aisin Seiki Company Limited, Keihin Corporation, Röchling Group, Mikuni Corporation, and Sogefi S.p.A partaking in automotive air intake manifold industry share have been focusing on expanding their consumer base and brand visibility across myriad geographies. Citing an instance, in the second quarter of 2017, Rochling Group commissioned its first automobile manufacturing plant in Mexico.
Favorable trade policies and the prevalence of effective product distribution channels have also considerably augmented this business space. Manufacturers have lately been adopting just-in-time strategies that has resulted in high product penetration across the automotive sector, thereby stimulating automotive air intake manifold industry. As per Global Market Insights, Inc., automotive air intake manifold market will cross a targeted revenue margin of USD 51 billion by 2024.
Author Name : Dhananjay Punekar
The commercialization potential of Aluminum Pigments Market is quite evident from the growing number of strategic partnerships outlining the competitive terrain. Recently, Nexeo Solutions Inc., a giant in the chemicals & plastic distribution industry has entered into a corporate partnership with Silberline Manufacturing Company Inc., a global supplier of high quality aluminum pigments. As per market experts, this strategic move is expected to strengthen the business position of both the firms in the overall aluminum pigments industry with a better value chain and an expanded product portfolio.  Such strategic acquisitions and expansions are quite common in aluminum pigments market to address the increasing product demand from varied end use industries like automotive, construction, and paints & coatings.
U.S. Aluminum Pigments Market size, by end-user, 2013 – 2024 (USD Million)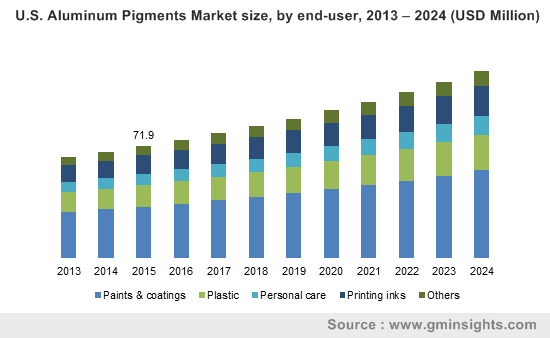 The latest trend of aesthetically designed customized vehicles with lustrous paints is expected to stimulate aluminum pigments market valuation, which is forecast to exceed USD 580 million by 2024, with a projected CAGR of 6.5% over 2016-2024. In the automotive paints and protective coatings, aluminum pigments are primarily used to improve the appearance of the vehicle.  As per statistics, overall paints & coatings is one of the prominent end-use application of aluminum pigments market and accounted for more than 40% of the overall industry share.
Other than the automotive industry, plastic is another prominent end-use segment further catalyzing the growth of aluminum pigment industry. As per the estimates, aluminum pigments market share from plastic applications is projected to record an annual growth rate of 6% over 2017-2024.
Get a Sample Copy of this Report@ https://www.gminsights.com/request-sample/detail/1663
Speaking of the geographical trends, Asia Pacific is one lucrative belt where the aluminum pigments market demand is notably high from automotive applications. Asia Pacific aluminum pigments industry having had a revenue of USD 120 million in 2016, is slated to collect substantial revenue with an annual growth rate of above 7% over the coming seven years. The attributing factor toward the regional growth is the surging use of the printing inks for the advertisements and magazines.
Aluminum pigments are widely used in printing inks to give metallic effect to labels, leather, films, packaging materials, and brochures. The use of leafing grade products gives printing inks a lustrous and brilliant effect. These grades also increase the brightness and impart a glossy finish to the surface, thereby making it applicable to the cosmetics industry. The personal care application segment within aluminum pigments market is anticipated one of the fast-growing segment at a CAGR of 6.5% over 2017-2024. Rising demand for personal care and cosmetics products, particularly in Asia Pacific has fueled aluminum pigment market demand.
On account of the escalating cosmetic sector expansion, North America is further estimated to witness a substantial growth trend in the coming time frame.  Global Market Insights, Inc. projects North America aluminum pigments industry to surpass a valuation of USD 130 million by 2024.
In 2016, the industry space was quite consolidated with the top four participants – Altana, Carl Schlenk, Silberline, and Carlfors Brukhaving, having shared more than 30% of the overall business fraternity. The other prominent names in this industry include Toyal America, Inc., Alba Aluminiu, Zhangqiu Metallic Pigment Co., Ltd., Metaflake Ltd., and Sun Chemical.
Author Name : Ojaswita Kutepatil