Plastics
​
Escalating demand of coatings in construction and expansive growth of the construction industry are anticipated to boost glycidyl methacrylate market size over 2019-2025. Efforts by the glycidyl methacrylate industry players to expand business and revenue share will support market growth. Manufacturing units and printing sectors that extensively use the chemical compound for its excellent properties are also expected to contribute in the expansion of glycidyl methacrylate market.
Some of the top trends which will influence the glycidyl methacrylate market by 2025 are mentioned below:
Printing sector is likely to offer impetus to the glycidyl methacrylate market outlook over the forecast period:
Global printing ink application market size from the <97% purity segment exceeded $2.15 million in the year 2018. The expansion of glycidyl methacrylate market can be credited to significant population growth and growing glycidyl methacrylate uses from packaging and paper media. Glycidyl methacrylate is extensively used as a latex binder and adhesive in printing ink production. In times to come, the printing sector is expected to prove itself a strong end user for glycidyl methacrylate adding significant growth impetus to glycidyl methacrylate market.
For instance, in India, paper printing has been noted to be one of the fastest growing sectors. It has been claimed that since 1989 the growth of printing coupled with packaging printing sector is more than 14%. India has 49,000 publications from which annual revenues totals to around $1.1 billion.
The Indian printing sector, growing at a rate of 12% per annum, comprises more than 250,000 printing companies. The current annual turnover of printing industry in India is over $11 billion. Incidentally, India is the country with largest number of printing presses in the world.
In recent years, the printing sector in India has witnessed record levels of growth, due to globalization, progress in automation, and liberalized regimes. The segment has grown by leaps and bounds due to the introduction of latest machinery and technology, production capacities, and quality standards. Also, the Indian government has been encouraging foreign direct investment into the printing sector. A number of global companies have been investing in the printing sector due to favorable working conditions.
Get a Sample Copy of this Report:@ https://www.gminsights.com/request-sample/detail/4293
According to the prominent studies, publishing printing, commercial and marketing printing, and print packaging, are some of the supporting domains which account for a majority of the worldwide printing market. With the contribution of all these domains, printing industry has been projected to expand from $389 billion in 2017 to $421 billion in 2020, increasing 2.7% on average per year, a growth which is projected to reflect on revenue share of glycidyl methacrylate market as well.
Auto production will influence glycidyl methacrylate market growth in future:
Global manufacturing unit glycidyl methacrylate market share from >=97% purity segment will surpass $95 million by 2025 owing to the thriving automotive, electrical & electronics, food & beverage, metals, and chemicals sector. Wide usage of glycidyl methacrylate in automotive sector is going to significantly promote the growth of glycidyl methacrylate industry by 2025 as the automotive industry continues to expand.
For instance in America, automobile production of 20.8 million units in 2018 represents a 21% share of the global production. In Mexico and the United States, production remains high owing to demand for light duty trucks (+4%). In South America, Brazil has represented significant contribution towards automotive industry with 5% growth.
Also, Asia-Oceania still represents more than half of the global production with auto production of 52.5 million units. The African continent shows a marked growth of 12%, to 1.8 million in 2018 with the substantial contribution of Algeria (+17%), South Africa (+4%), and Morocco (+18%).
The U.S. glycidyl methacrylate market share from <97% purity segment is expected to register a CAGR of 9.5% over 2019-2025. The growth of the regional glycidyl methacrylate industry can be accounted to adhesive applications pertaining to rising demand for composite joints from automotive, aerospace and consumer packaging segments.
Glycidyl methacrylate market players are working to expand their footprints:
With considerable efforts of glycidyl methacrylate industry majors to expand their market share worldwide, the business has been experiencing significant progress. Companies have been planning various strategies like, acquisitions, launching new products and plants, market flotations etc. to spread their business globally.
For instance, in 2018, Dow Chemical Company announced the launch of its coating materials plant in western China. The new facility, situated in the Cheng Mei Petrochemical Zone, around 50 kilometers from Chengdu, would be producing additives and acrylic emulsion to answer the growing demand of architectural, constructional and industrial coating segments.
Expanding printing sector owing to not only publication but growth of ecommerce, growing automobile production and increasing application of glycidyl methacrylate in these segments is among the factors affecting glycidyl methacrylate industry. According to a latest research report by Global Market Insights Inc., glycidyl methacrylate market share is set to exceed $250 million by 2025.
Author Name : Anchal Solanki
​
In the past few years, lithopone market has observed remarkable growth, primarily fueled by the growing investments in the paint, leather, paper, and cosmetic industries. The proliferating industrialization and globalization trends worldwide will further help prominent companies strengthen their consumer base. In addition to this, heavy investment in infrastructural development projects and the automotive industry will also drive the product demand over the coming years.
U.S. Lithopone 28% Market Size, By Application, 2018 & 2025, (Kilo Tons)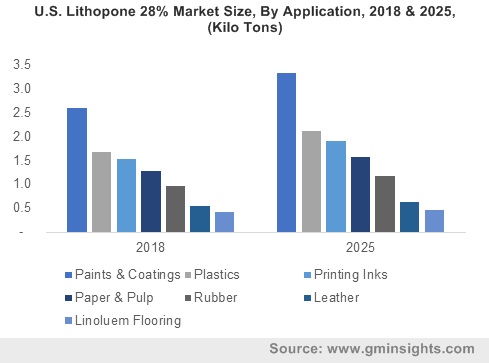 Leather is one of the most widely traded commodities across the globe. The leather industry is mainly driven by the increasing consumption of leather for footwear, interior design industries, and furniture. Owing to the sufficient availability of raw material along with huge population of cattle, India has emerged as one of the lucrative business destinations for leather trade globally. For instance, recently, it had been announced that the Punjab state government has been hoping to sign multiple agreements with French companies pertaining to various sectors, including leather industry. The substantial growth in synthetic leather market will have notable impact on lithopone industry share.
Environment concerns about the hazards caused to biodiversity due to extensive use of chemicals in the aforementioned industries have augmented the use of lithopone in leather, paint, and ink industries prominently. Before the development of lithopone, lead carbonate had been used as a pigment agent for various industrial applications, but due to its poor weathering, and toxic nature, lithopone is now preferred as an alternative. Shifting focus of regulatory bodies toward the deployment of stringent norms to reduce the impact of hazardous chemicals on the environment is slated to generate lucrative opportunities for lithopone manufacturers over the years ahead.
In the last few years, due to rapid urbanization and industrialization, soil pollution level has increased tremendously. The increasing use of plastic products and polythene bags are the prominent factors accelerating environmental hazards. In this regard, several countries have started framing laws for banning the use of plastic bags. As an alternative to the harmful plastic products, most of the companies have shifted their focus to manufacture paper bags, which would augment industry growth.
Get a Sample Copy of this Report @ https://www.gminsights.com/request-sample/detail/3518
As per the United Nations Environmental Program (UNEP), plastic packaging covers around half of all the plastic waste worldwide. The steps undertaken by regulators to control single-use plastic is likely to enhance requirement of lithopone in paper and pulp industry. According to Global Market Insights, Inc., lithopone industry share from paper and pulp application is estimated to surpass a revenue of USD 25 million by the end of 2025.
Countries like China have now banned the distribution of plastic bags, though the country has become one of the largest paper and paperboard producers and consumers. However, despite this, China has been importing raw material required across the paper making industry from the countries like UK, US, and Japan. In addition, now, China has become a hub for automotive manufacturers, that have been fueling the demand for paint, leather, and paper. Thus, it would be possible that China lithopone market thrives successfully over the years ahead.
It is to be noted that the exponentially growing automotive industry is one of the major consumers of leather, paints and coatings. The surge in the investment across automotive sector to meet consumers' requirement for several variants of vehicles comprising electric, hybrid, duel color will improve the industry trends noticeably. In line with the expanding automotive paints and coatings market size, lithopone market will also observe a remarkable rise in its revenue share.
Government policies deployed to maintain social and environmental health hazards will turn out be lucrative opportunity generators for lithopone manufacturers. Increasing awareness among the people about negative impact of plastic waste will further enhance the demand for lithopone over forecast years.
The involvement of international regulatory bodies like UNEP along with improved consumer living standards will majorly promote the use of lithopone for various applications. The global lithopone industry outlook, in the years to come, will be characterized by the impact of environment projects, transforming automotive industry trends, and changing lifestyles.
Author Name : Sunil Hebbalkar
An exclusively discernible example of an industry famous among all and sundry, though not by its christened name, phosphorescent pigments market stands as one of most popularly reputed spheres at the grassroot level. Owing to their widespread popularity, phosphorescent pigments industry players have been continually involved in R&D programs that would enhance the application landscape of this business sphere. Say for instance, the Urban Redevelopment Authority (URA), as recent as early 2017, tested four different types of surface materials on a 1,300-foot stretch of Singapore's Rail Corridor behind a metro station in Bukit Panjang, in order to make the trial safer and more reliable for public use, without the necessity for street lighting. While the response to the luminous trail has been slightly underwhelming, it has been satisfying enough for the notion to gain weightage, prompting regional phosphorescent pigments market players to expand their R&D programs and explore the idea further with regards to practical implementation.
U.S. Phosphorescent Pigments Market Size, by End-user, 2013 – 2024 (USD Million)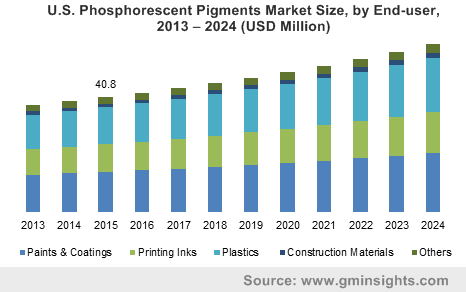 Phosphorescent pigments market may dynamically transform street lighting & energy consumption
These products, better known by their colloquial name – 'glow in the dark' paints, find tremendous applications across the paints and coatings, plastics, and construction sectors, pertaining to their exclusive property of light absorption and quick, controlled emission in a dark environment. Endowed with excellent temperature resistance and longer emission times, these pigments ensure the long-term appearance of a luminous effect, which can be aptly credited for the expansive end-use spectrum of phosphorescent pigments market that includes novelty toys, roads, military equipment, plastic sheets, automobile interiors, wheel coatings, fire exits, and emergency signboards. One of the domains however, that may extensively benefit from these pigments and prove to be a profitable avenue for phosphorescent pigments industry growth, is the energy sector. In recent years, in a bid to save energy and reduce expenditure on highway lighting, companies have been tapping the notion of using bright glow paint signs on roads that would guide the driver and eliminate the necessity of lighting, thereby providing a lucrative growth ground for phosphorescent pigments market players. The concept had been brought under the scanner by a Dutch company in 2014 – Studio Roosegaarde, that joined hands with a Dutch civil engineering firm called Heijmans, with the intention of developing a phosphorescent paint that can glow brightly in the dark, on the outside, creating sufficient luminescence for drivers to see the pathway ahead. Despite not being globally commercialized, the perception, back then, successfully debuted in phosphorescent pigments industry.
Get a Sample Copy of this Report:@  https://www.gminsights.com/request-sample/detail/2284
Phosphorescent pigments market outlook characterized by myriad R&D programs
As on today, 'glow in the dark' paint is being deployed across a plethora of applications in order to reduce energy consumption, which may substantially pave the way for phosphorescent pigments market expansion. Phosphorescent paint for instance, is being used to create luminous cement, that may transform the way the urban landscape is lit. Phosphorescent pigments industry firms have even been researching ways of developing 'glow in the dark' plants, that may direct the global populace toward a more sustainable and eco-friendly lifestyle. The pigments are specifically used for emergency exit signages, given the gravity of the situation. In fact, just recently, Councilor Mabel Acosta of Philippines stated that it would be mandatory for all the establishments to install glowing emergency exits that may help people escape during unforeseen calamities.
Traditionally manufactured from an amalgamation of copper and zinc sulfide crystals, phosphorescence pigments attribute their characteristic to the unique properties of crystalline zinc sulfide and the ability of copper to activate the crystals for absorbing light and emitting the same gradually to generate a phosphorescent sheen. However, these pigments have also been developed from alkaline earth metals such as strontium, after Nemoto & Company, a Japan phosphorescent pigments market player introduced a strontium-based product under the brand name of LumiNova. Apparently, these pigments possess a higher rate of durability and brightness than the traditional zinc sulfide based products – technically speaking, these pigments have an afterglow period that is ten times higher than ZnS-based pigments, and they are also known to be free of radioactive substances, while exhibiting excellent weather resistance. In consequence, this has generated a slew of growth avenues for phosphorescent pigments industry players to come up other unique products that can be used for highlighting the phosphorescence effect, without compromise. The overtly robust demand for the product for emergency exits, lighting, and signage boards, in addition to the rapid transformation in the lighting and construction sectors, will further provide a boost to phosphorescent pigments market trends. As per estimates, phosphorescent pigments industry size is slated to expand at a CAGR of 4.5% over 2017-2024.
Author Name : Saipriya Iyer
Boasting of a wide-ranging application portfolio, the global white oil market, of late, has emerged as one of the fastest growing niche verticals of the bulk and specialty chemicals industry. Increasing uptake of white oil by foremost lubricant manufacturers along with the implementation of innovative technologies is positively favoring the white oil market sphere in the recent times. As per reliable estimates, the remuneration portfolio of this industry is slated to surpass USD 6 billion by 2024.
North America White Oil Market, By Application, 2017 & 2024 (USD Million)

A brief overview of recent trends shaping the application landscape of the global white oil industry
Speaking of the application spectrum, as per a research report collated by Global Market Insights, Inc., the plastic and polymer segment accounted for more than USD 750 million of the white oil market share in 2017. The paraffinic base, low volatility, and high purity are some of the characteristics of white oil which make it ideal to manufacture PVC, LDPE, TPE products. In addition to this, the increasing demand for extrusion aids and mold release agents in plastic manufacturing has augmented the pace of product adoption in the recent times.
Apart from the plastic and polymer segment, two major rapidly expanding application segments of the white oil industry are personal care & cosmetic and food sector. In fact, reliable sources state that the personal care & cosmetic applications apportioned a remuneration of more than USD 1.5 billion in 2017. White oil is chiefly used as a base material in baby oils, lotions, and skin creams as it provides exceptional lubricity, resistance to moisture, and superior smoothness.
Reliable estimates claim that the food industry segment is set to apportion more than 6 percent of the total revenue share of the white oil market by the end of 2024. Usage of white oil in the food industry is further likely to gain traction, given the product has robust application scope in packaging and food grade lubes, release agents, and processing-related activities. Additionally, prominent regulatory organizations such as U.S. FDA have been approving the utilization of white oil in applications that require direct and indirect contact with food, essentially boosting the growth potential of white oil industry.
Get a Sample Copy of this Report@ https://www.gminsights.com/request-sample/detail/1192
One of the major factors that has been strongly driving the expansion of the white oil market is the increasing consolidation of the established players who have been focusing on acquisitions lately. For instance, Fuchs Petrolub SE had acquired the white oils and food machinery specialty lubricants business of energy giant Chevron Corporation in the year 2016. The objective of the takeover was to strengthen the FUCHS Lubricants Co., the subsidiary of Fuchs Petrolub SE which is regarded as the world's largest independent manufacturer of lubricants.
Although the commercialization matrix of the white oil market appears highly promising in the years ahead, there exist a few aspects that may prove to be quite detrimental to the product price trends and subsequently impact the industry negatively. In this regard, it is prudent to take note of the fact that geopolitical events often result in output loss, supply disruption, and harm steady market functioning. Moreover, constant fluctuation in crude oil prices due to political and economic uncertainties can decelerate the pace of white oil market expansion in the times to come.
In terms of geographical penetration, the Asia Pacific region is one of the most lucrative growth avenues for the white oil industry players. Owing to favorable FDI policies and ease of doing business, the APAC nations are transforming themselves into large manufacturing hubs – a factor that has helped market participants to expand their reach in this region. Moreover, the high adoption rate of white oil in food processing, plastic, textile, and agricultural sectors has fostered business growth. For the record, the APAC white oil market recorded a revenue collection of USD 2.5 billion in 2017, cite authentic estimates.
Owing to the presence of numerous prominent firms and regional manufacturers, the overall competitive hierarchy of the white oil market can be termed as moderately fragmented. Encompassing a wide range of product and application domains, the global white oil industry comprises of major companies along the likes of Sasol, British Petroleum, Royal Dutch Shell, JX Nippon, Sonneborn, Chevron, Exxon Mobile, Sinopec Corporation.
Author Name : Saif Ali Bepari