polyamide
The industrial protective fabrics market is slated to witness a prolific demand over the next few years owing to continuous rise in manufacturing, construction and oil and gas exploration activities worldwide. Numerous cases of chemical and industrial accidents occurring annually have prompted businesses and governments to enforce stringent safety regulations and process norms to protect employees in hazardous working environments. Subsequently, effective personal protective equipment (PPE) made using various materials are being deployed that meet the critical requirements of workplace safety, providing substantial growth opportunity to the industrial protective fabrics market. Frequent human errors during operations which lead to unpredictable mishaps make it necessary to adopt decisive protection strategies.
Germany Industrial Protective Fabrics Market Size, By application, 2018 & 2025, (Million Square Meter)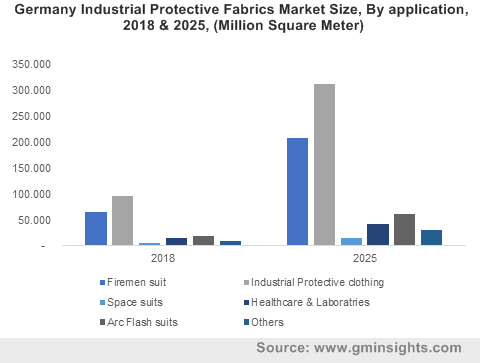 Innovative industrial fabrics such as polyester, polyolefins, polyamide, aramid and even cotton fibers help protect workers against fire, chemical hazard, electric sparks or biohazards they might encounter while performing everyday tasks. The oil and gas sector alone represents a crucial application area for the industrial protective fabrics market, since oil drilling and refinery operations entail considerable fire and injury risk. A small mistake could lead to fire in one part of an oil rig, which can quickly spread to other sections and cause fatalities, along with millions in damages. Flame resistant suits would be indispensable during these situations to help implement fire safety measures and avert major industrial disasters.
Apparently, electrocution is one of the leading causes of industrial accidents and results in several fatalities every year all over the world. It is believed that most of the electrical accidents which could take place in oil and gas facilities can be attributed to an arc flash, an extremely hazardous type of electrical shorting fault. The event occurs when a large electric current passes through ionized air or gases due to different reasons, including manual errors, equipment failure, gaps in insulation or surface impurities on the conductor. Today, the vast scale at which oil companies undertake exploration activities will generate extensive demand for arc flash suits and immensely propagate the industrial protective fabrics market.
Get a Sample Copy of this Report:@ https://www.gminsights.com/request-sample/detail/3264
In essence, arc flash suits are designed to safeguard a technician from arc flash heat exposures and minimize any burn injuries sustained, in addition to providing valuable time to escape a possible secondary explosion in the area. Considering the amount of flammable liquids and gases accompanying an oil and gas facility, occurrence of an arc flash can be catastrophic. Undoubtedly, arc flash clothing will be a vital component in a company's inventory for effectively protecting its employees and minimizing the extent of any burns or other injury. According to a long-term study conducted by Electricite de France, an estimated 77% of all electrical injuries taking place on the job are a result of arc flash incidents, demonstrating the broad scope of the industrial protective fabrics market.
A key driver for the consumption for arc flash suits is the growing awareness among enterprises about the prevention of industrial accidents and support from regulatory agencies who impose strict industrial standards. For instance, the U.S. Occupational Safety and Health Administration has directed businesses to provide necessary PPE to workers at no extra cost, including all types of protective clothing. The National Fire Protection Association's NFPA 70E article specifies the need for electrical hazard analysis for areas where high voltage systems are being operated, further helping to determine the use of industrial protective fabrics against arc flash.
Electrical installations play a prominent role in the operations of oil refineries and drilling rigs and warrant significant concentration of funds towards safety analysis and PPE allocation. With tremendous investments made for exploring new oil and gas fields as well as the growth of various other business verticals, the industrial protective fabrics market will exceed annual valuation of more than US$9 billion by 2025. Leading players outlining the industry's competitive hierarchy include Huntsman Corporation, DuPont, W. Barnet, Honeywell, Loyal Textiles Mills and Teijin, among others.
Author Name : Pankaj Singh
The rising focus on the adoption of lightweight material in the automotive & aerospace sectors has accelerated the long fiber thermoplastics market growth in recent years, given the need to attain high fuel efficiency. Long fiber thermoplastics (LFT) help in sustainable development of automotive structures and robust, lightweight aircraft components as well. Indeed, by adopting LFT, automakers and aircraft manufacturers have been able to lower manufacturing cost, reduce installation time, and deliver lightweight components that provide high level of productivity and recycling potential, supplementing LFT market growth.
U.S. Long Glass Fiber Thermoplastics Market Size, By Application, 2018 & 2025, (Kilo Tons)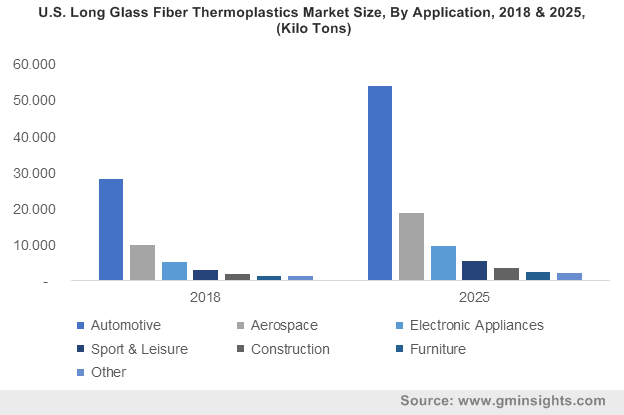 The automotive industry will majorly drive the long fiber thermoplastic market growth over the years to come. The material's high performance in terms of mechanical properties, low cost, processing advantages and low density has led to its application in the automotive industry for making front end modules, bumper beams, instrumental panel career, doors and underbody shields. The product has an edge over conventional materials like aluminum due to its high specific strength, simple manufacturing process, recyclability, good damping capacity, and corrosion resistance has encouraged manufacturers to implement it in their vehicle segments. Moreover, rising customer demand for fuel-efficient vehicles has also propelled the long fiber thermoplastic industry trends.
With increasing emission levels in urban areas along with increased cases of obesity, people are constantly shifting towards cycling to commute in the city, which may in turn increase long fiber thermoplastics market demand. LFT has found application in manufacturing bicycles as it offers frothy properties which ensure better durability, handling and rideability to users. Moreover, as car traffic and commute times at an all-time high, more people are considering cycling as a more efficient and sustainable means for transport. Bike-sharing companies like Lime Bike, Mobike and Jump have recently gained demand from city commuters, generating huge opportunities in the bike manufacturing sector, further augmenting LFT market growth.
Get a Sample Copy of this Report @ https://www.gminsights.com/request-sample/detail/1747
Long fiber thermoplastics market outlook from the expanding aerospace sector
LFT is rapidly being deployed in the aerospace, aviation and missile/defense applications. The material offers lightweight advantages, design flexibility, high specific modulus and strength, ease of installing, and recyclability. Aerospace components featuring LFT mainly comprise of complex-shaped baseplates for electronic housings, stowage doors, structural load-bearing member and more. These products are utilized for making aeronautic equipments that reduce the weight and bulkiness of an aircraft, eventually making air travel more fuel-efficient and safe.
Given the expansive usage of the material in the aerospace & automotive sectors, it is prudent to mention that the Asia Pacific long fiber thermoplastics market, led by South Korea, India, China, and Japan, will accumulate commendable returns in the years to come. China specifically, is predicted to emerge as one of the most lucrative avenues of the regional industry. Since LFT finds long-term applications in the automotive interior manufacturing sector and in the construction of waste treatment plants as well, given its chemical and thermal resistance, China will come up to be one of the most profitable regional grounds for the long fiber thermoplastic industry. As per estimates, China long fiber thermoplastics industry size is likely to record a CAGR of 10.5% over 2019-2025.
Another regional ground that is primed to be rather lucrative for the long fiber thermoplastics market is Europe, led by the countries of France, Italy, Germany and the U.K. The region's automobile industry has evolved rapidly as it comprises renowned auto giant's like Volkswagen, Mercedes-Benz, Audi and more that offer sales worldwide. The LFT market will also witness significant gains as carbon reinforced thermoplastics are used in the manufacturing of vehicles to reduce kerb weight which makes vehicles more fuel efficient.
These thermal & heat resistant components which are largely used in automotive, aerospace and electrical & electronic industries, are lately being amalgamated with carbon and glass fibers to form structures which increase the robustness of a product. This would indeed, give rise to a spate of new growth avenues in the years to come. According to Global Market Insights, Inc., the long fiber thermoplastics market size will surpass $3 billion by 2025.
Author Name : Mateen Dalal