Polyester
The industrial protective fabrics market is slated to witness a prolific demand over the next few years owing to continuous rise in manufacturing, construction and oil and gas exploration activities worldwide. Numerous cases of chemical and industrial accidents occurring annually have prompted businesses and governments to enforce stringent safety regulations and process norms to protect employees in hazardous working environments. Subsequently, effective personal protective equipment (PPE) made using various materials are being deployed that meet the critical requirements of workplace safety, providing substantial growth opportunity to the industrial protective fabrics market. Frequent human errors during operations which lead to unpredictable mishaps make it necessary to adopt decisive protection strategies.
Germany Industrial Protective Fabrics Market Size, By application, 2018 & 2025, (Million Square Meter)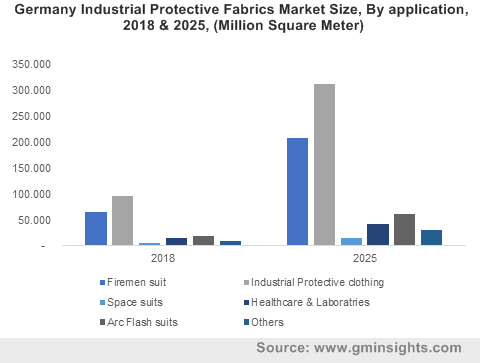 Innovative industrial fabrics such as polyester, polyolefins, polyamide, aramid and even cotton fibers help protect workers against fire, chemical hazard, electric sparks or biohazards they might encounter while performing everyday tasks. The oil and gas sector alone represents a crucial application area for the industrial protective fabrics market, since oil drilling and refinery operations entail considerable fire and injury risk. A small mistake could lead to fire in one part of an oil rig, which can quickly spread to other sections and cause fatalities, along with millions in damages. Flame resistant suits would be indispensable during these situations to help implement fire safety measures and avert major industrial disasters.
Apparently, electrocution is one of the leading causes of industrial accidents and results in several fatalities every year all over the world. It is believed that most of the electrical accidents which could take place in oil and gas facilities can be attributed to an arc flash, an extremely hazardous type of electrical shorting fault. The event occurs when a large electric current passes through ionized air or gases due to different reasons, including manual errors, equipment failure, gaps in insulation or surface impurities on the conductor. Today, the vast scale at which oil companies undertake exploration activities will generate extensive demand for arc flash suits and immensely propagate the industrial protective fabrics market.
Get a Sample Copy of this Report:@ https://www.gminsights.com/request-sample/detail/3264
In essence, arc flash suits are designed to safeguard a technician from arc flash heat exposures and minimize any burn injuries sustained, in addition to providing valuable time to escape a possible secondary explosion in the area. Considering the amount of flammable liquids and gases accompanying an oil and gas facility, occurrence of an arc flash can be catastrophic. Undoubtedly, arc flash clothing will be a vital component in a company's inventory for effectively protecting its employees and minimizing the extent of any burns or other injury. According to a long-term study conducted by Electricite de France, an estimated 77% of all electrical injuries taking place on the job are a result of arc flash incidents, demonstrating the broad scope of the industrial protective fabrics market.
A key driver for the consumption for arc flash suits is the growing awareness among enterprises about the prevention of industrial accidents and support from regulatory agencies who impose strict industrial standards. For instance, the U.S. Occupational Safety and Health Administration has directed businesses to provide necessary PPE to workers at no extra cost, including all types of protective clothing. The National Fire Protection Association's NFPA 70E article specifies the need for electrical hazard analysis for areas where high voltage systems are being operated, further helping to determine the use of industrial protective fabrics against arc flash.
Electrical installations play a prominent role in the operations of oil refineries and drilling rigs and warrant significant concentration of funds towards safety analysis and PPE allocation. With tremendous investments made for exploring new oil and gas fields as well as the growth of various other business verticals, the industrial protective fabrics market will exceed annual valuation of more than US$9 billion by 2025. Leading players outlining the industry's competitive hierarchy include Huntsman Corporation, DuPont, W. Barnet, Honeywell, Loyal Textiles Mills and Teijin, among others.
Author Name : Pankaj Singh
A highly profitable vertical of the expanding construction space, conveyor belt market stands tall in terms of revenue in today's industrial cosmos. With the global populace growing consistently by the day and improving economic conditions, the commercialization prospects of food & beverages industry has observed quite an incline. As conveyor belts have become an integral part of any typical F&B production facility, it goes without saying that the expansion of the F&B space will help conveyer belt industry chart out a lucrative growth path in the years ahead.
U.S. Conveyor Belt Market Size, by Product, 2014 – 2025 (USD Million)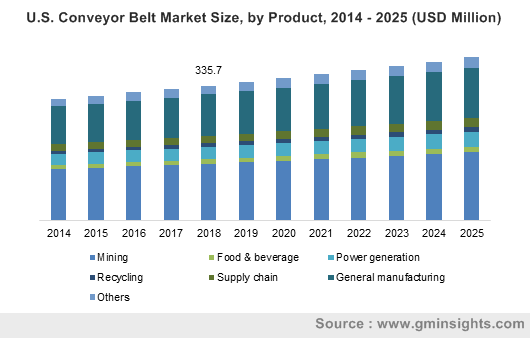 According to Cushman & Wakefield, the world's food & beverage industry has witnessed healthy growth over the previous decade and is expected to grow further in the years ahead. In fact, the lure of food is expected to become a crucial motivator behind the construction of public spaces such as shopping centers & parks experiencing substantial footfall on a daily basis.
Meanwhile, the adoption of conveyor belts across the world's mining sector is on the cusp of witnessing a complete overhaul as the industry undergoes a digital transformation in an attempt to move itself beyond stagnant growth and deliver exceptional value to the shareholders, the customers as well as the environment. Driven by technological advancements and given the product's ability to boost production by a substantial margin while also cutting down labor costs, the conveyor belt industry is expected to consolidate itself as the backbone of the world's manufacturing sector, mainly characterized by mass production.

Impact of the expanding food & beverage industry on the conveyor belt market
According to the Franchise India Holdings Limited, the economic growth experienced by developing nations such as India, Brazil, Russia & China is bringing significant changes to the regional meal consumption landscape. An increasing preference toward packaged food purchase has been observed, thereby providing a lucrative growth opportunity to the conveyor belt market players.
The Drivers: Urbanization is being highlighted as a key driver promoting the expansion of the F&B industry. The populace across the developing nations are immigrating to emerging cities in search for better opportunities, which is making a conspicuous change on their lifestyles & eating habits.
Most of the population sprawled across urban locales seem to often struggle to find the time, or the energy required to preparing their own meals & beverages from scratch at home, which increasingly pushes them towards packaged food & beverages. This consequently leads to the F&B sphere experiencing an exponential growth, bringing about renewed prospects to the global conveyor belt market.
Get a Sample Copy of this Report:@ https://www.gminsights.com/request-sample/detail/3267

The Numbers: According to the World Economic Forum, as the global population rises to 9.7 billion by 2050, it is estimated that humanity would require 70% more food than it is consumed today. With a majority of the aforementioned population slated to live in urban areas, packaged food & beverages would be accounting for a significant chunk of the meal requirements, ensuring an abundant source of growth for the global conveyor belt market.
The Projection: The packaged processed food industry of India alone is estimated to be worth somewhere between $10.87 billion to 13.05 billion. With rapid urbanization and the subsequent rise in the population migrating to cities, the conveyor belt market share from F&B applications is expected to witness a CAGR of more than 4.5% over 2019-2025.
Impact of the mining sector's digital transformation on the conveyor belt market
Initially, the mining industry used conveyor belts that were quite rudimentary & durable to keep up with the taxing conditions in a mine. Ironically, these taxing work environments were exactly why conveyor belts previously struggled to foray further in the mining industry.
The Impact: The influx of substantially high-grade technological advancements have made it possible for conveyor belts to be used on a large scale in the mining sector. Digital technologies are expected to enable the market foray beyond its current stance through automation, operational hardware & robotics.
The Numbers: The World Economic Forum estimates that the digitalization of the mining industry would be bringing in more than $425 million of value to the sector by 2025.
The Projection: The growing demands from mining operations, coupled with the digital transformation of the industry, are expected to provide the conveyor belt market the footing it requires to attract more investments over the upcoming years.
Driven by the digitalization of the mining industry and the expansion of the F&B space, the global conveyor belt market is expected to command significant growth in the years to come. In fact, a Global Market Insights, Inc., report estimates that the conveyor belt market size would be surpassing the $5 billion renumeration mark by 2025.
Author Name : Akshay Kedari
Highlighting the rapid developments across the global flexible foam market, it would be pivotal to state the mention the Germany-based global leader in flexible foams, Armacell. Apparently, the firm has recently opened its new manufacturing facility in Bahrain. According to news reports, the facility has an annual operational capacity of 60,000-cu m of technical insulation foam, in turn providing a wide range of insulation solution for the domestic market including elastomeric insulation & high-density materials for HVAC (heating, ventilation, and air conditioning) systems. Industry analysts deem that Armacell's move to open flexible foam manufacturing facility will not only cater to the strong product demand in the Gulf region, but will also strengthen its foothold in the global flexible foam industry space.
Asia Pacific flexible foam market, By Type, 2018 & 2025, (Million Tons)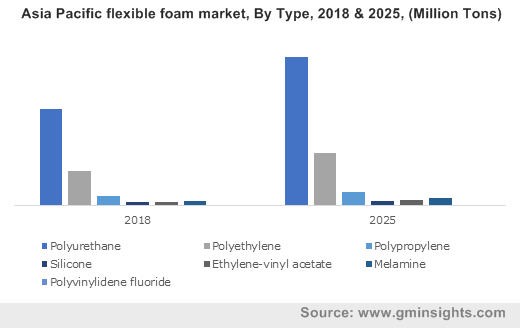 This German company, however, is not the only major flexible foam industry player that's seizing the growing product demand from myriad applications including packaging, construction, furniture & upholstery, bedding, pillows, carpet cushion, mattresses, consumer goods, and automotive interiors.  FRX Polymers Inc., recently for instance has introduced its Nofia non-halogenated polyphosphonates that will be used in UL 94 V-0 high-temp polyurethane flexible foams used in the transportation & electronic industries. For the record, Nofia phosphonate oligomers act as a flame retardant & heat stabilizer in polyurethane flexible foam products and retain mechanical performance.
A statement by FRX claims that the Nofia FR enabled the fire retardant polyurethane foam to conveniently handle higher temperatures – with respect to both, the continuous use temperature and peak temperature. FRX's launch of Nofia is an apt instance validating the significance of polyurethane as a vital type of flexible foam. The material apparently, is characterized by outstanding features such as light weight, lower installation time, enhanced resiliency, improved cushioning, lightweight, increased shelf life, and durability.
Get a Sample Copy of this Report @ https://www.gminsights.com/request-sample/detail/1735
Elaborating on the extensive deployment of polyurethane for introducing light weightiness in vehicles, it would be prudent to mention that high-density polyurethane foam components can be effectively coated to seem like the original product, and can be manufactured with a closed-cell structure that boasts of being water-tight. Ergo, the component is not susceptible to rotting, delaminating from water intrusion, or warping. PU foam is also equipped with exceptional self-skinning properties, making the product ready for painting or coating. This has consequently increased the deployment of PU foams in myriad automotive and aerospace applications, thereby driving the PU flexible foam market share.
Powered by its excellent characteristics, polyurethane foam is widely used across a spate of industry verticals. As a matter of fact, polyurethane dominated the overall flexible foam market in 2018, with a share of over 60% of the demand. Driven by its innumerable applications in lightweight automotive parts, as thermal insulation products in buildings, in automotive interior components, and as cushioning in beddings, upholstery, etc., polyurethane-based flexible foam industry is slated to traverse alongside a highly profitable growth path in the years ahead.
Speaking of the regional spectrum of flexible foam market, the APAC undeniably, has emerged as a forerunner, a feat that can be credited to the expanding automotive and consumer goods industries in the region. As a matter of fact, the continent boasts of increased expenditure on luxurious consumer goods coupled, thereby fueling the demand for memory foams in mattresses and beddings. The region's construction industry has also been undergoing a robust expansion of sorts, that has considerably increased the demand for flexible foams in the continent.
Powered by the expanding hospitality industry, specifically across the South-East Asian nations of Thailand, Singapore, Malaysia, Vietnam, and Indonesia, on account of supportive FDI policies, APAC flexible foam market share is anticipated to depict a commendable rise in the years ahead. Indeed, as per estimates, Asia Pacific led the overall flexible foam market share in 2018, accounting for more than 30% of the demand.
As the demand for flexible foams exhibit an incline across a slew of prominent industry verticals, the global flexible foam market is anticipated to gain quite some traction in the years ahead. The industry is also characterized by the launch of highly innovative products by numerous industry contenders. Say for instance, Deacom, Inc., the popular developer of a comprehensive ERP solution, recently concluded an implementation for an innovative PU foam chemical technology manufacturer, Foam Supplies, Inc., with Ecomate®, its patented blowing agent. The new system is expected to provide the technology foundation to manage Foam's production operations. Aided by a ferocious competitive spectrum and a widespread application landscape, the global flexible foam industry size is set to be pegged at USD 65 billion by 2025.
Author Name : Saipriya Iyer
With building developers becoming more conscious about the strength, ductility, and toughness of construction material, polymer concrete market has observed a renewed traction lately. This material is widely preferred on account of its benefits such as improving adhesive characteristics of old surfaces, tensile strength, freeze durability, and flexural strength. In addition, heavy investments in the global construction sector are being made lately, increasing the demand for various types of polymer concretes for providing impermeable toppings over the bridge decks, additives for plasters, and filling for installing tile. The growing involvement of public and private firms in infrastructure development across residential, commercial, and industrial sectors will thus have a significant impact on the polymer concrete industry share.
U.S. polymer concrete market size, by application, 2014 – 2025 (USD Million)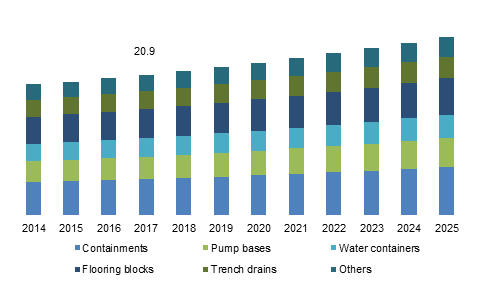 In line with the growing construction activities and rising focus on the surging use of polymer concrete materials, the giants in the polymer concrete market are looking forward to investing in capacity expansions. The countries across the Middle East for instance, have been rapidly expanding their existing facilities. In addition, regional governments have been making substantial investments on infrastructure development across this region, further generating lucrative opportunities for the market players.
Validating the aforementioned fact, one of the leading contributors of polymer concrete industry, Sika has expanded its regional reach across United Arab Emirates recently with the establishment of a new concrete admixture production plant in Dubai. The development of a local polymer production facility is slated to reduce the production cost that will become beneficial for customers across the GCC (Gulf Cooperation Council) to fulfil their concrete admixture requirements considerably. In addition, owing to the depletion of fossil fuel resources, the UAE government is shifting its focus on tourism rather investing in oil and gas exploration to diversify the economy. The increasing development of logistic centers and surging deployment of green technologies will propel Middle East polymer concrete market share over the years ahead.
Get a Sample Copy of this Report:@ https://www.gminsights.com/request-sample/detail/2873
The rising concerns about the carbon dioxide emission is one of the causes fueling the polymer concrete industry outlook. The surging use of cement in road construction activities has led to an increase in carbon dioxide emissions across the globe. On this note, efforts are being made to utilize polymer concrete on a large scale. Reportedly, in Australia across the Victoria region, pavements, roads, and freeways have been developed with the help of geopolymer concrete. Geopolymer is a long molecule that can improve the strength of concrete effectively. The research community, on these grounds, has also been attempting to invest in research and development activities for the betterment of geopolymer concrete. The involvement of regional governments in the development of smart roads for controlling the emissions will thus generate significant business opportunities for the giants in polymer concrete market.
In several earthquake prone regions, to build foolproof earthquake resistant buildings, engineers have been focusing on the use of effective alternate materials. On this note, it is imperative to mention that the researchers from the University of British Columbia have invented new concrete that would be able to withstand tremors. This newly invented eco-friendly ductile cement comprises polymer based fibers that could increase the malleability of concrete instead of letting it crumble under pressure. The increasing importance for lightweight, intelligent, energy producing, and innovative concrete structures across the globe will thus have a positive influence on polymer concrete industry size over the years ahead.
The robust shift in the focus of building developers toward constructing eco-friendly infrastructure over the last few years will push the use of polymer concrete on a large scale. The stand taken by regional governments to improve the economy with considerable investments in roads, buildings, bridges, and renovation of old monuments is also poised to fuel polymer concrete industry trends significantly. For the record, by the end of 2025, polymer concrete market will surpass a revenue collection of USD 600 million.
Author Name : Sunil Hebbalkar