polyethylene
Owing to a rising demand for numerous plastic products during construction activities, Asia Pacific rotomoulding powder market has gained immense traction in recent years. Products made from rotational moulding process, also known as rotomoulding, encompass a wide range of applications including storage tanks in residential, agricultural and commercial sectors as well as industrial equipment.
Asia Pacific Rotomoulding Powder Market, By Material, 2017 & 2024 (USD Million)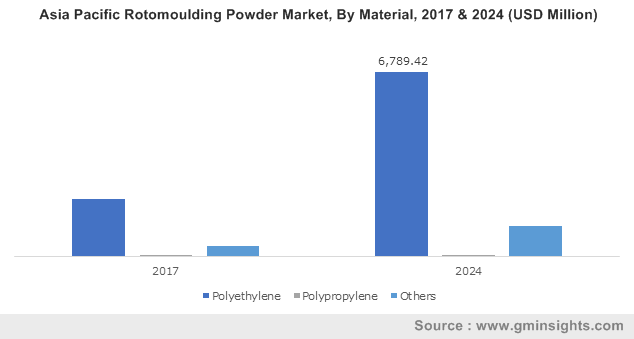 Foreseeing an increased demand for rotomoulded products, rotomoulding powder manufacturers are offering a variety of polyethylene and polypropylene materials to meet the demand for high-quality plastic parts and equipment.
With a slew of material suppliers and molders present across Asia Pacific, the region continues to drive the development of cutting-edge technology for producing various aesthetic and industrial products. Realization among manufacturers that novel eco-friendly materials can now be produced has created new opportunities for APAC rotomoulding power industry.
A prominent study reveals that currently, major industries in APAC are heavily dependent on Polyethylene (PE) composites and most of the rotomoulded products are made from this material, as it is an easily mouldable, versatile, and readily available polymer which can help deliver a variety of styles, colors, and surface finishes.
Growing infrastructure spending in emerging economies of Asia is expected to boost the consumption of rotomoulded products. Nowadays, many developers are broadly using components made from PE that are designed to minimize the environmental impact of plastics on the planet by deploying them in wall coverings, window & door frames, water proofing, and flooring, enhancing the scope of APAC rotomoulding powder market.
Get a Sample Copy of this Report:@ https://www.gminsights.com/request-sample/detail/3341
Modern flooring has already become the latest trend among infrastructure players, with stylish homes and workplace décor representing an image of high living standards. For high quality flooring, protection from moisture is vital because floors inside the buildings are usually covered with tiles and carpet, where penetration of water vapor through concrete slabs could lead to the failure of adhesive in tiling, staining of flooring products and fungal growth. Due to its durability, chemical resistance and load rating properties, PE is widely being accepted among rotomoulding powder manufacturers to meet different flooring needs.
Plastic industry is one of the fastest growing segments in India and PE is the most largely used plastic material by Indian companies, which accounts 43% of total consumption and indicates considerable potential for APAC rotomoulding powder market in the future. PE floorings are also being offered for outdoor tile applications to improve the aesthetic appeal of commercial and residential surroundings. APAC rotomoulding powder market is poised to register remarkable proceeds from augmented construction of housing complexes and industrial or IT parks in developing nations.
Waterproofing of the concrete structures has always been a challenging task and for simplifying the job, they are focusing more on quality of concrete and subsequent proofing solutions that play a vital role in the durability of a structure. Waterproofing a structure may account for only 2% to 3% of the overall building expenditure, but defects arising out of waterproofing failures could lead to nearly 80% of a structure's  defects. Growing need for PE waterproof membranes across emerging economies will reinforce APAC rotomoulding powder industry, with players coming up with a variety of options that not only improve aesthetics but are also environment-friendly in nature.
A large number of chemical companies have extensive operations throughout Asia-Pacific, endorsing the necessity of chemical-resistant plastic frames for industrial structures. Increasing demand for these materials will undoubtedly expand APAC rotomoulding powder market share in developing countries.
Plastic is considered as one of the best suited materials for window and door frames since it is extremely impact resistant as well as impervious to water and corrosion. It is largely deployed in the food industry for professional kitchens and other humid environments. APAC is home to several countries which experience harsh weather conditions and heavy rains are witnessed across the region, which escalate the demand for corrosion resistant door and window frames. Need for suitable plastic materials like uPVC for these products will fuel APAC rotomoulding powder market growth.
APAC rotomoulding powder industry has recently witnessed a rapid adoption in low and medium-income nations in the continent, generating considerable revenues from a host of vital applications. In fact, reports estimate that Asia Pacific rotomoulding powder market will exceed annual valuation of USD 7 billion by 2024.
Author Name : Deeksha Pant
The industrial protective fabrics market is slated to witness a prolific demand over the next few years owing to continuous rise in manufacturing, construction and oil and gas exploration activities worldwide. Numerous cases of chemical and industrial accidents occurring annually have prompted businesses and governments to enforce stringent safety regulations and process norms to protect employees in hazardous working environments. Subsequently, effective personal protective equipment (PPE) made using various materials are being deployed that meet the critical requirements of workplace safety, providing substantial growth opportunity to the industrial protective fabrics market. Frequent human errors during operations which lead to unpredictable mishaps make it necessary to adopt decisive protection strategies.
Germany Industrial Protective Fabrics Market Size, By application, 2018 & 2025, (Million Square Meter)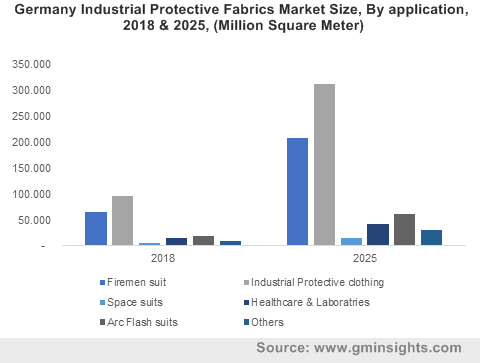 Innovative industrial fabrics such as polyester, polyolefins, polyamide, aramid and even cotton fibers help protect workers against fire, chemical hazard, electric sparks or biohazards they might encounter while performing everyday tasks. The oil and gas sector alone represents a crucial application area for the industrial protective fabrics market, since oil drilling and refinery operations entail considerable fire and injury risk. A small mistake could lead to fire in one part of an oil rig, which can quickly spread to other sections and cause fatalities, along with millions in damages. Flame resistant suits would be indispensable during these situations to help implement fire safety measures and avert major industrial disasters.
Apparently, electrocution is one of the leading causes of industrial accidents and results in several fatalities every year all over the world. It is believed that most of the electrical accidents which could take place in oil and gas facilities can be attributed to an arc flash, an extremely hazardous type of electrical shorting fault. The event occurs when a large electric current passes through ionized air or gases due to different reasons, including manual errors, equipment failure, gaps in insulation or surface impurities on the conductor. Today, the vast scale at which oil companies undertake exploration activities will generate extensive demand for arc flash suits and immensely propagate the industrial protective fabrics market.
Get a Sample Copy of this Report:@ https://www.gminsights.com/request-sample/detail/3264
In essence, arc flash suits are designed to safeguard a technician from arc flash heat exposures and minimize any burn injuries sustained, in addition to providing valuable time to escape a possible secondary explosion in the area. Considering the amount of flammable liquids and gases accompanying an oil and gas facility, occurrence of an arc flash can be catastrophic. Undoubtedly, arc flash clothing will be a vital component in a company's inventory for effectively protecting its employees and minimizing the extent of any burns or other injury. According to a long-term study conducted by Electricite de France, an estimated 77% of all electrical injuries taking place on the job are a result of arc flash incidents, demonstrating the broad scope of the industrial protective fabrics market.
A key driver for the consumption for arc flash suits is the growing awareness among enterprises about the prevention of industrial accidents and support from regulatory agencies who impose strict industrial standards. For instance, the U.S. Occupational Safety and Health Administration has directed businesses to provide necessary PPE to workers at no extra cost, including all types of protective clothing. The National Fire Protection Association's NFPA 70E article specifies the need for electrical hazard analysis for areas where high voltage systems are being operated, further helping to determine the use of industrial protective fabrics against arc flash.
Electrical installations play a prominent role in the operations of oil refineries and drilling rigs and warrant significant concentration of funds towards safety analysis and PPE allocation. With tremendous investments made for exploring new oil and gas fields as well as the growth of various other business verticals, the industrial protective fabrics market will exceed annual valuation of more than US$9 billion by 2025. Leading players outlining the industry's competitive hierarchy include Huntsman Corporation, DuPont, W. Barnet, Honeywell, Loyal Textiles Mills and Teijin, among others.
Author Name : Pankaj Singh
Highlighting the rapid developments across the global flexible foam market, it would be pivotal to state the mention the Germany-based global leader in flexible foams, Armacell. Apparently, the firm has recently opened its new manufacturing facility in Bahrain. According to news reports, the facility has an annual operational capacity of 60,000-cu m of technical insulation foam, in turn providing a wide range of insulation solution for the domestic market including elastomeric insulation & high-density materials for HVAC (heating, ventilation, and air conditioning) systems. Industry analysts deem that Armacell's move to open flexible foam manufacturing facility will not only cater to the strong product demand in the Gulf region, but will also strengthen its foothold in the global flexible foam industry space.
Asia Pacific flexible foam market, By Type, 2018 & 2025, (Million Tons)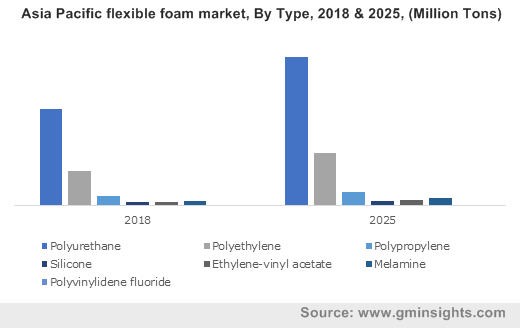 This German company, however, is not the only major flexible foam industry player that's seizing the growing product demand from myriad applications including packaging, construction, furniture & upholstery, bedding, pillows, carpet cushion, mattresses, consumer goods, and automotive interiors.  FRX Polymers Inc., recently for instance has introduced its Nofia non-halogenated polyphosphonates that will be used in UL 94 V-0 high-temp polyurethane flexible foams used in the transportation & electronic industries. For the record, Nofia phosphonate oligomers act as a flame retardant & heat stabilizer in polyurethane flexible foam products and retain mechanical performance.
A statement by FRX claims that the Nofia FR enabled the fire retardant polyurethane foam to conveniently handle higher temperatures – with respect to both, the continuous use temperature and peak temperature. FRX's launch of Nofia is an apt instance validating the significance of polyurethane as a vital type of flexible foam. The material apparently, is characterized by outstanding features such as light weight, lower installation time, enhanced resiliency, improved cushioning, lightweight, increased shelf life, and durability.
Get a Sample Copy of this Report @ https://www.gminsights.com/request-sample/detail/1735
Elaborating on the extensive deployment of polyurethane for introducing light weightiness in vehicles, it would be prudent to mention that high-density polyurethane foam components can be effectively coated to seem like the original product, and can be manufactured with a closed-cell structure that boasts of being water-tight. Ergo, the component is not susceptible to rotting, delaminating from water intrusion, or warping. PU foam is also equipped with exceptional self-skinning properties, making the product ready for painting or coating. This has consequently increased the deployment of PU foams in myriad automotive and aerospace applications, thereby driving the PU flexible foam market share.
Powered by its excellent characteristics, polyurethane foam is widely used across a spate of industry verticals. As a matter of fact, polyurethane dominated the overall flexible foam market in 2018, with a share of over 60% of the demand. Driven by its innumerable applications in lightweight automotive parts, as thermal insulation products in buildings, in automotive interior components, and as cushioning in beddings, upholstery, etc., polyurethane-based flexible foam industry is slated to traverse alongside a highly profitable growth path in the years ahead.
Speaking of the regional spectrum of flexible foam market, the APAC undeniably, has emerged as a forerunner, a feat that can be credited to the expanding automotive and consumer goods industries in the region. As a matter of fact, the continent boasts of increased expenditure on luxurious consumer goods coupled, thereby fueling the demand for memory foams in mattresses and beddings. The region's construction industry has also been undergoing a robust expansion of sorts, that has considerably increased the demand for flexible foams in the continent.
Powered by the expanding hospitality industry, specifically across the South-East Asian nations of Thailand, Singapore, Malaysia, Vietnam, and Indonesia, on account of supportive FDI policies, APAC flexible foam market share is anticipated to depict a commendable rise in the years ahead. Indeed, as per estimates, Asia Pacific led the overall flexible foam market share in 2018, accounting for more than 30% of the demand.
As the demand for flexible foams exhibit an incline across a slew of prominent industry verticals, the global flexible foam market is anticipated to gain quite some traction in the years ahead. The industry is also characterized by the launch of highly innovative products by numerous industry contenders. Say for instance, Deacom, Inc., the popular developer of a comprehensive ERP solution, recently concluded an implementation for an innovative PU foam chemical technology manufacturer, Foam Supplies, Inc., with Ecomate®, its patented blowing agent. The new system is expected to provide the technology foundation to manage Foam's production operations. Aided by a ferocious competitive spectrum and a widespread application landscape, the global flexible foam industry size is set to be pegged at USD 65 billion by 2025.
Author Name : Saipriya Iyer
Rising demand for strong and durable plastic products across a slew of industry verticals has helped augment rotomoulding powder market, given that the rotomoulding process enables the production of efficient and high stress-bearing products. Rotationally, molded parts can be manufactured from different materials, can be multilayered and the process facilitates the production of standard or even custom designed parts. As compared to other plastic molding techniques, rotomoulding is less labor-intensive and the equipment can be configured for complex shapes, offering design flexibility, enhancing the rotomoulding powder industry scope.
North America Rotomoulding Powder Market, By Product, 2017 & 2024 (Kilo Tons)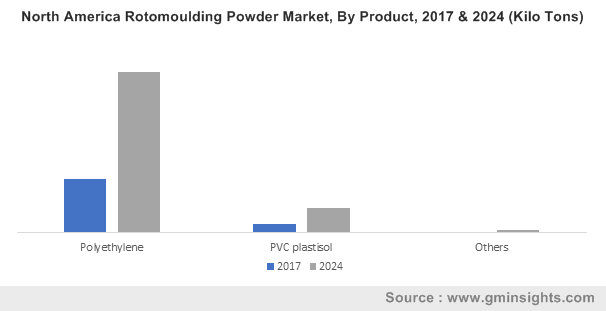 Manufacturing light, strong, corrosion resistant and durable components, whether big or small, is achievable through rotomoulding. Thus, the need for weight reduction in automobile, construction and material handling applications will boost the rotomoulding powder market consumption in the years ahead.
A wide variety or containers are available in the market for shipping and material handling, such as shipment containers, barrels and drums, refrigerated boxes and bulk containers, combined bins and military containers. The rotomoulding powder industry has gained massive remuneration owing to a large demand for small and heavy industry material handling containers worldwide. Rotomoulded crates and eskies are considered ideal for transporting vegetables, fruits, liquids and chemicals since most of such products are made from food-grade plastic. As they are long-lasting and do not deteriorate like wood or get corroded like metals, these containers can prove to be a good investment due to their utility in fulfilling innumerable material handling needs, promulgating the rotomoulding powder market. Many businesses opt for rotomoulded containers for transporting goods because their one-piece design offers a higher capacity for load-bearing and guarantees durability.
It is a well-known fact that global economic growth and the purchasing power of citizens immensely affect the material handling activities, as material handling orders are dependent on the demand for goods. The International Monetary Fund (IMF) in January 2018 had forecast that the global growth rate from 2018 to 2019 would be a strong 3.9%, indicating a positive industrial environment and the augmented need for material handling. The rotomoulding powder industry has additionally capitalized on a large number of small scale enterprises preferring rotomoulded containers and tanks for their low maintenance properties. Another promising source of revenue for the rotomoulding powder market could be the increasing number of recycling activities which require appropriate containers for sorting and handling waste materials.
Get a Sample Copy of this Report:@ https://www.gminsights.com/request-sample/detail/1337
To elaborate, environmental concerns and government initiatives have emphasized the need for waste management and have led to the establishment of numerous waste recycling and metal scrapping facilities across the globe. For catering to these requirements, manufacturers have been providing customized rotomoulded containers and bins to the waste management services or recycling plants, where different kinds of materials are handled every day, even chemically reactive ones. The Asia-Pacific (APAC) region comprises of several emerging economies where recycling initiatives are intensifying and thus presents a great opportunity for the rotomoulding powder market. Recently, it was revealed that just 8 countries in APAC are responsible for 63% of the total plastic waste flowing into the oceans. Add to it, the mounting surplus of electronic and metal scrap has escalated the waste recycling industry in the region, in turn highlighting the material handling requirements.
The APAC region subsequently contributed nearly 25% to the overall rotomoulding powder market in 2017, with the increased demand for containers as well as other rotomoulded plastic products like tanks, porta-loos, components used in construction and automobile parts. Lightweight parts help to reduce the gross vehicle weight and improve fuel efficiency, leading to the deployment of rotomoulded automobile components such as fuel tanks, dashboards, instrument panels and wheel arches. Reportedly, in 2017 more than 37.1 million passenger cars were produced by just three countries combined, namely China, India and Japan. With surging population, pollution concerns and the economic uplift across most of the APAC countries, the rising investments made to expand manufacturing capacities by automakers will propel the rotomoulding powder market.
All in all, the low cost, eco-friendly production of rotomoulded containers or parts with minimum material wastage and least design constraints have prompted the material handling and automobile manufacturing segments to adopt these products. The industry growth is further aided by the efforts of rotomoulding powder market players such as BASF, Reliance Industries, ExxonMobil, Dow Chemical Company, GreenAge Industries, Pacific Poly Plast and Eco-polymers.
Author Name : Pankaj Singh